Our customers have been hired by:
You're about to open a video chat with your recruiter. But before you do that, let's get you ready for acing that meeting!
To do it, you'll need some solid video interview tips to make sure it won't come down to "Houston, we have a problem." Read on and see how to prepare for a video interview to impress the recruiter and land the job you're after.
This guide will show you:
Video interview tips for various scenarios.
10 practical video interview tips to use before, during, and after your video interview.
Advice on preparing for a video interview and growing your chances of getting into the next round.
Technical tips for a video interview to avoid issues and delays.
Want to save time and have your resume ready in 5 minutes? Try our resume builder. It's fast and easy to use. Plus, you'll get ready-made content to add with one click. See 20+ resume templates and create your resume here.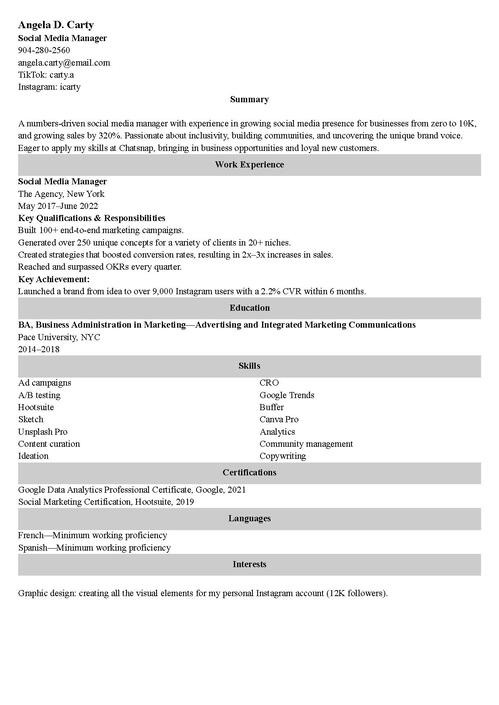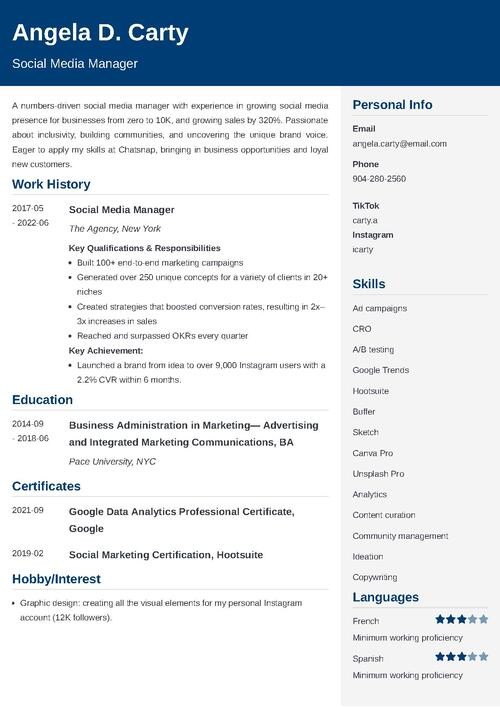 Sample resume made with our builder—See more resume examples here.
Looking for more advice? Try these guides:
Jump between tips:
So first—the basics.
What is a video interview?
A video interview is an interview conducted via Zoom, Skype, or other online means in real-time and involves both parties simultaneously. One-way interviews can be used for the initial screening of the candidates, where they respond to predetermined questions and send the video to the recruiter.
The way to get ready for these interviews is very similar, so let's get right to the video interview tips.
Here are the top 10 video interview tips that will prepare you for everything:
1. Don't Skip the Usual Prep
First of all, you rock. We've been collecting HR stats, so we know that out of up to 250 candidates, only 4–6 actually get an interview. Kudos to you!
The problem is, there's only one job. As the classic goes, "Another one bites the dust." Add up the extra challenge of interviewing over the video, and that's enough pressure to push down on anyone.
It's easy to get overwhelmed! But some things remain constant, and that means you can at least face them 100% ready. Okay, maybe 98% ready, stuff is nerve-wracking.
So, basic tips for a video interview will be just the same as regular interview tips:
Pro Tip: According to a report, the majority of candidates (over 43%) only research the employer superficially (less than 1 hour). If you do better, you're already ahead of the competition!
2. Install the App in Advance to Prepare for a Video Interview
This might look like the most ridiculously straightforward tip of all video interview tips, but trust me.
Even if it's a Zoom interview, and you've used Zoom a million times before—it may begin updating right when you least need it to (when you have 30 seconds till the interview starts, that is).
Google Meet would turn the camera and the sound on automatically, and by the time you notice, you might have already made some weird noises (and faces, possibly).
Don't let that happen. Download everything way before the actual interview, call your mom or friends to see how the tools behave—so that when the time comes, you navigate the technology like a pro.
Pro Tip: Forgot your Skype password? And username? Yup, that's what I'm talking about. Do log in ahead of time.
3. Test the Tech
Speaking of technology: a little trial run never hurt anybody. Maybe you've done all the prep, explored the features, blurred your background, etc.
But if you have a chance, launch the tool before the call and:
Test your video. Make sure it's not just your head floating, there are no odd shadows on your face, and, well, that the camera works.
Test your sound. Any tool these days has the functionality to test your mic and speakers/headphones, so make sure you do that not to waste any precious interview time.
Pro Tip: A video interview tip from TikTokers: wipe your camera. And don't forget to remove anything covering it, too—let Big Brother watch this one time.
4. Plan for an Oops
Things start happening when you least expect them to, and you really, really don't want that "when" to be during your interview.
While you can't control everything (there's always space for a force majeure), you can take care of the things that go wrong a lot.
So, video interview tips to help you avoid "oops" situations are:
Charge your devices. You don't want to grab that laptop only to see that it's dead, then run around the apartment looking for the cable.
Have some backup. Charge that phone of yours, too, just in case. If possible, keep a second headset handy.
Check your background. If there's a mess behind you, it may spoil the first impression big time. Also, be wary of mirrors.
Take care of your pets. Your cat jumping into the screen may provide much-needed comic relief, but it can also make you extra stressed and distracted.
Make sure the time zone is correct, just in case.
Pro Tip: Fun Zoom backgrounds are fun, up until you forget to change them before the interview. Then suddenly, you're not as delighted that the recruiter at EY now knows you're a big Rick and Morty fan.
When making a resume in our builder, drag & drop bullet points, skills, and auto-fill the boring stuff. Spell check? Check. Start building a professional resume template here for free.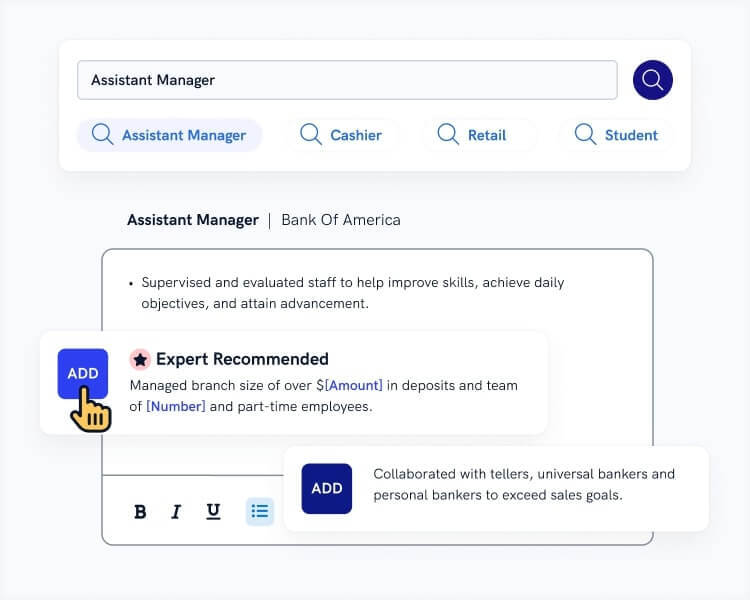 When you're done, our free resume builder will score your resume and our resume checker will tell you exactly how to make it better.
5. Dress Up for a Video Interview (Yes, Pants Too)
What's the point of working from home if you can't work in your PJs, right?
While this may be true for when you get that job, it's a very bad idea when you're trying to get it. Yes, even if you keep business up top (and pajama party below the screen).
Tips on how to look better in a video interview:
Be fully dressed. Smart casual will do, just like if you had to come to the office.
Wear pants (please). Not only will it make you feel more put together, but it will also save you from insane awkwardness if you jump up from your chair when your cat drops something in the other room.
Adjust for video. Check how your clothes appear on-screen. Things may look very decent in real life, but the camera can be tricky.
Read more: What Should I Wear for My Interview?
6. Crack the One-Way Interview
This section contains tips on getting through an on-demand video interview.
One-way interviews allow the recruiters to determine whether you'll move forward to the actual "face-to-face" interview. Depending on the system in place, you may sometimes get a chance to re-record your answers, but that's not always the case.
Pre-recorded interview focus areas are:
The quality of the picture & sound
The timing and pace
The way you handle yourself on camera
Use the test run to see if the sound is loud enough (but not too loud), whether there's any background noise, it's not too dark, etc.
Practice answering the questions with a timer. This will help you develop a good sense of how long a response takes on average and prevent you from spilling over the given time during the actual interview.
Record yourself before the interview to check if you:
Sit up straight, and don't start fidgeting or moving too much as you start speaking.
Maintain eye contact and don't look down.
Speak with average speed and clarity.
Remember to smile.
Talking to a screen is harder than it seems! These one-way video interview tips will help you get ready so that when the time comes, you can focus on your answers and your answers only.
Pro Tip: Keep in mind that your first sentence is always the most important part of your answer. Choose your words wisely, and get to the point as soon as possible.
7. Get Ready for Typical Interview Questions
Now, this tip for a video interview works equally well both for candidates who are doing an online interview live and recorded. Ready?
Know the answers to what's asked all the time.
You may think you can't predict that or expect questions like "How many basketballs can fit in a bus?". But unless you're applying for CEO of Google, questions will look more like:
Tell us about yourself.
Tell us about a time when you had to deal with a difficult situation at work.
What would you do if you had a misunderstanding with your supervisor?
A great way to find compelling responses is using the STAR method for interview questions. It stands for Situation, Task, Action, Result:
Situation: Describe the situation/challenge you faced.
Task: Talk about your responsibilities and what you were supposed to do.
Action: Explain what steps you took to fix the problem.
Result: Illustrate what good things came of it.
Read more: Answers to Common Job Interview Questions
8. Keep Calm
According to a study from Microsoft, voice is the most important communicative mode for 51% of the respondents, even during video meetings.
Your voice will say everything about you—even if you look calm and composed on the outside, a trembling "hello" will instantly give you away. To avoid that, try doing some breathing exercises (like the 4-4-8 breathing technique), simple yoga, or stretching. It does work—according to studies, breathing deeply lowers your heart rate and blood pressure while improving your cognitive performance.
Feeling prepared will ease your mind immensely, too.
Pro Tip: Remember that you can always pause and take a bit of time to think your answers through. Recruiters don't really expect you to respond immediately, so you can take a deep breath before you start talking.
9. Take Notes and Ask Questions
A lot of interview prep involves getting ready with great answers to typical questions. But these are not the only questions you have to focus on.
Did you know you're also expected to ask questions?
It's vital to find all the important details about the potential job before signing up. The following video interview tips will help you not miss anything:
Brainstorm and write down a list of work aspects that are significant to you (is the position remote, are you supposed to come to the office, what are the typical tasks, how long is the vacation, etc.). These are the questions you can ask at the end of your interview.
Be sure to take notes about the specifics during the interview. Many people get so nervous that they completely forget the whole thing—the memos will help you recall relevant information.
Read more: Best End of Interview Questions
10. Follow Up
The last (but surely not the least) of our video job interview tips: always follow up after the call.
This comes in two forms:
You can definitely ask the recruiter when you can potentially expect to hear back from them—and follow up a day after the expected date if you don't. Email them around 5 (business) days after the interview if no date was established.
Pro Tip: "It ain't over 'til it's over." When you've said your goodbyes at the end of the call, make sure you log out before making comments or letting out that scream of joy. You'd be surprised by how often that happens. Be careful so that your thank-you letter doesn't become a letter of apology.
Plus, a great cover letter that matches your resume will give you an advantage over other candidates. You can write it in our cover letter builder here. Here's what it may look like: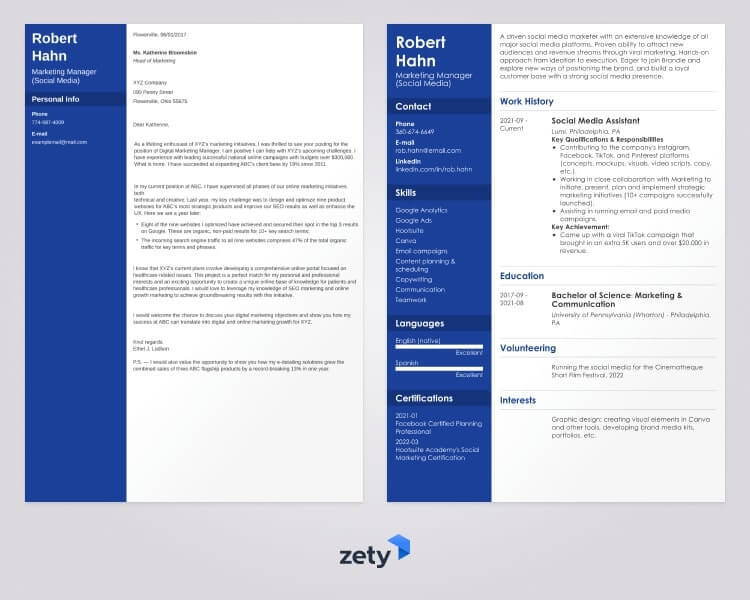 See more cover letter templates and start writing.
Key Takeaway
Let's go over our tips for a video interview one more time:
Come to the interview thoroughly prepared.
Test your equipment, and eliminate potential hiccups.
Don't disregard professional attire.
Practice, and do some exercises to reduce stress.
Ask your questions, and document the important details.
Keep in touch with the hiring manager.
And just like that, you're ready to go!
Hope you found this guide helpful.
Is there anything else you'd like to know? Some more pre-recorded video interview tips, maybe? Give us some tips in the comments! We'll be happy to add some more practical video interview tips based on your feedback.
About Zety's Editorial Process
This article has been reviewed by our editorial team to make sure it follows Zety's editorial guidelines. We're committed to sharing our expertise and giving you trustworthy career advice tailored to your needs. High-quality content is what brings over 40 million readers to our site every year. But we don't stop there. Our team conducts original research to understand the job market better, and we pride ourselves on being quoted by top universities and prime media outlets from around the world.
Sources