Research Assistant Cover Letter (For All Experience Levels)
There's no need to conduct experiments with different cover letter formats. Just follow our tried-and-tested research assistant cover letter guide and get ready for your new job.
You've studied hard and honed your research skills.
And then something went wrong.
Everyone seems to advertise for research assistants, but it looks like all the jobs get filled by candidates who know someone who knows someone who knows someone. So if you don't have a vast network of friends at the right places, getting a research assistant job can get tricky.
But here's a not-so-secret tip: a well-written cover letter can get you very, very far.
This guide will show you a research assistant cover letter example, plus the best tips on how to write a research assistant cover letter step-by-step.
Want to write your cover letter fast? Use our cover letter builder. Choose from 20+ professional cover letter templates that match your resume. See actionable examples and get expert tips along the way.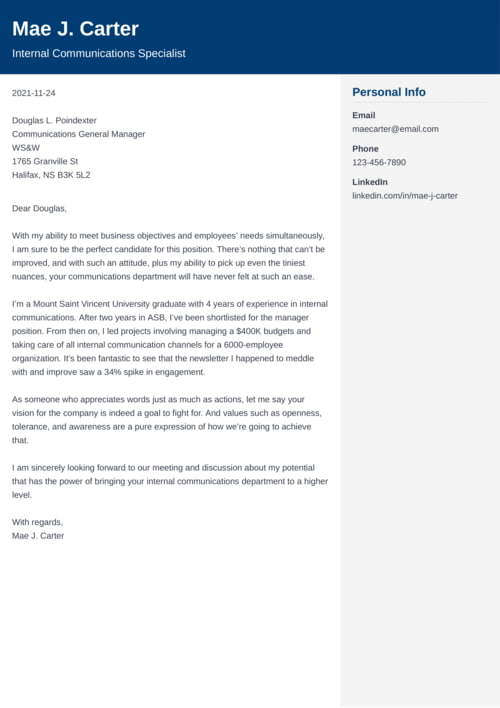 Cover letter sample for a resume—See more cover letter templates and create your cover letter here.
Research Assistant Cover Letter Example
Erin T. Smith
Research Assistant
4367 Gateway Blvd
Edmonton, AB T6H 1J5
780-436-9823
erin.smith@eemaill.com
linkedin.com/in/erin.a.smith
Edmonton, 1/3/2022
Mr. Dennis J. Wright
Head of Human Resources
Healthrific
4316 Pool Street
Edmonton, AB T6H 1J5
Dear Mr. Wright,
Melissa Davis suggested that I apply for the position of research assistant here at Healthrific—she knows how I scheduled, coordinated, and conducted 20 interviews with the participants of a qualitative study that's similar in scope to your recently announced research project in the field of neuropathology.
During my previous research internships, I gained exposure to data analysis techniques and both quantitative and qualitative methodologies used in health research. Here's what I've done so far:
Eliminated 200 errors in a clinical study database by implementing data quality checks
Assisted in preparing and analyzing the data for a major study conducted by my academic supervisor at the University of Alberta, Daniel Sholes, Ph. D.
Transcribed and annotated 20 hours of interview data
I've been following Healthrific's research for several years, and I'm deeply impressed by the methodological precision and high ethics standards of your studies. I'm eager to leverage my skills to support the ground-breaking research conducted at Healthrific and improve the lives of neuropathology patients worldwide.
Could we schedule a call to discuss how I could best contribute to your newest research projects?
Sincerely,
Erin T. Smith
Want a cover letter like this? Just follow our step-by-step process.
Research Assistant Cover Letter Template
Writing a research assistant cover letter is quick, almost fun, and achievable in just 7 steps.
1. Opt for a proven research assistant cover letter format
Ever read a research paper that made your eyes and your brain hurt because it was a massive wall of text printed in what looked like a 5 pt font?
Well, then you know what your cover letter should NOT be like.
Make sure your research assistant cover letter has a reader-friendly format that's easy to scan:


Set the line spacing to somewhere between 1 and 1.15 (forget the double spacing commonly used in academic manuscripts)
Set the page margins to 1" on all sides
Pick a simple, modern, easy-to-read font and set its size to 12 pt
Add double spaces between paragraphs so that the reader can scan your cover letter within seconds
These simple steps can make a huge difference in the readability of your research assistant cover letter.
2. Create a professional research assistant cover letter header
Now that you've set up the page and the formatting, it's time to start writing your cover letter header. It's wonderfully straightforward:


Write your name and job title in the top left corner of the page
Add your contact information: address, phone number, email address, and relevant online profiles (like LinkedIn or Academia.edu)
Make sure that any profiles you're linking to are up-to-date and professional
Add the city and date right below your personal information
Now, write the reader's name, title, and address
If you can't find the recruiter's name anywhere in the job ad, do some research (you're a research assistant, after all!). Check the prospective employer's website, do a quick LinkedIn search, try Google, or, if all else fails, call the employer and ask.
3. Start with a greeting and an attention-grabbing first paragraph
Most research institutions prefer a rather formal style of writing, so addressing the recruiter by their first name would be a bit too much. In most cases, we recommend you start your cover letter with the classic salutation formula Dear Mr./Ms. Lastname.
By mentioning the reader's name, you've got their attention. Now don't let it slip away:
Clearly mention the position you're applying to
If you've got a name to drop, do it straight away
Then, move straight to your most relevant professional or academic achievements
That's your intro. Short, catchy, and to the point.
4. Offer proof that you're the exact person they need
You can't just say you're the best candidate for this job. You have to prove it.
And it's just like proving a scientific claim: the best evidence involves hard facts and numbers. Here's how to prove your worth:


Briefly explain how your skills and qualities are the exact solution to this specific employer's unique challenges
Mention some of your professional achievements, preferably with numbers (e.g. "reduced data entry mistakes by 30%")
If you're applying for your first job as a research assistant, you may want to focus on your academic achievements instead. That's OK, as long as they're relevant to the specifics of your job.
A word of warning: avoid copying and pasting information from your resume. It just looks lazy and discourages the recruiter from hiring you.
5. Explain why you want this particular job
There's a profound reason why you want to work for this particular company or organization. Maybe you find their previous research deeply meaningful, so you want to contribute to their future projects. Maybe they just won an award, so you'd be truly honoured to work with such an excellent team.
Make this reason clear. Here's how:
Compliment your prospective employer on an achievement
Show that you understand and share the employer's values and philosophy
Explain why you want to work at this particular company or organization
Now that you've made it clear why you want to help with these specific research projects at this specific organization, you're almost done.
6. Ask the reader to act
What is the purpose of your cover letter?
To encourage the reader to take action and invite you to an interview (or at least to schedule a call with you).
And the best way to get someone to act is… by asking them. Here's how to end your cover letter:
Ask for a meeting or a call
Repeat how valuable you could be
Yes, it's really as simple as that. Just make sure you don't sound too needy (please hire me ASAP because I need to pay off the debt I accumulated from buying all those biology textbooks!).
7. Sign your research assistant cover letter
If you've been following the previous steps, you've probably written around 200–400 words. That's a good cover letter word count to aim for.
Now, all you have to do now is to sign off:
Sign with your full name
If you have a scanned copy of your handwritten signature, include it in the cover letter for a super-professional touch
Add enclosures (letters of recommendation, academic certificates etc.) if needed
Create a footer with your contact info
Save your cover letter as a PDF file (unless specifically asked to submit it as a Word document) and give the file a name like Erin_Smith_Research_Assistant_Cover_Letter.pdf (but, of course, use your name)
Done! Now you can complement your excellent cover letter with an equally outstanding resume, submit your job application, and lean back. Or, if you're looking for in-depth guidance on writing cover letters, check out our ultimate cover letter writing guide.
When making a resume and a cover letter in our builder, drag & drop bullet points, skills, and auto-fill the boring stuff. Spell check? Check. Start building a professional resume template here for free.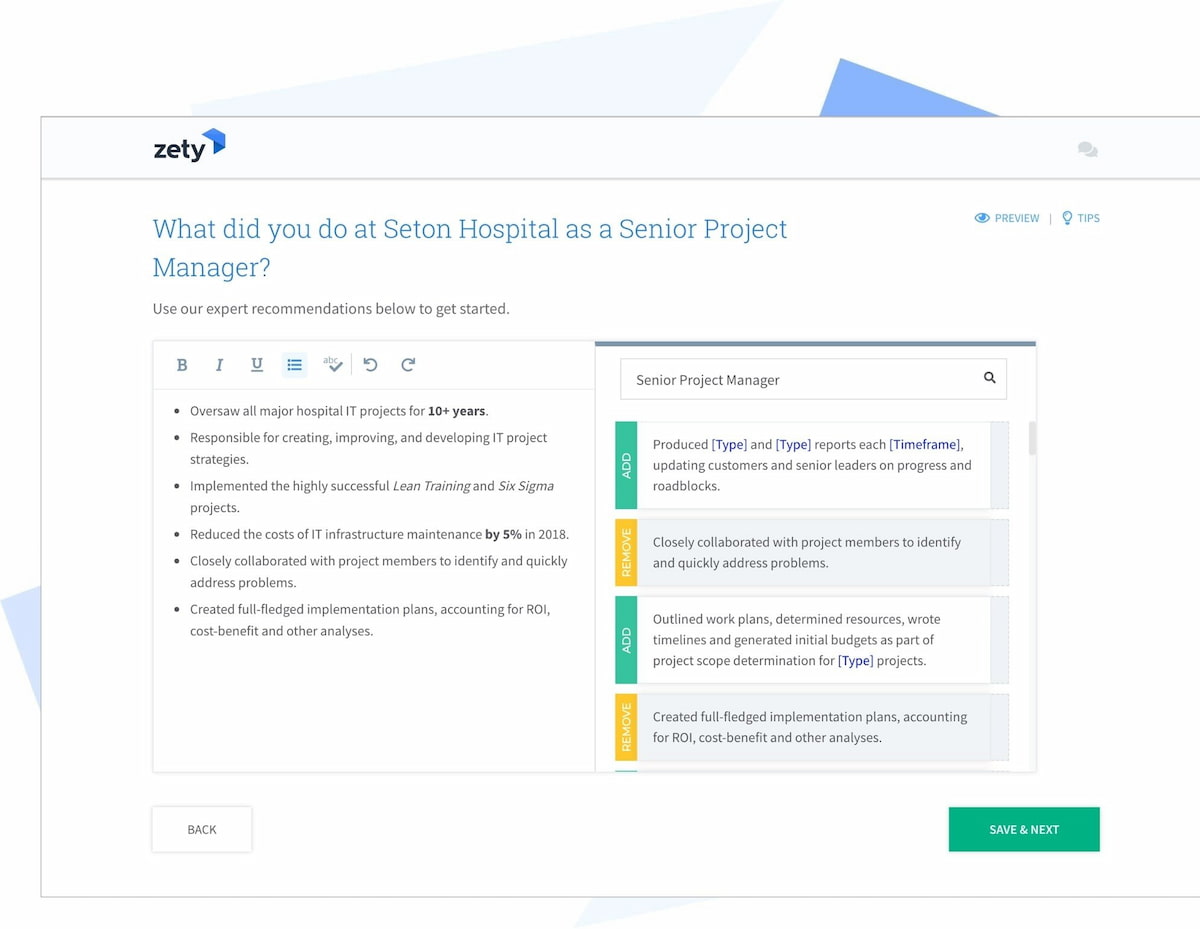 When you're done, Zety's resume builder will score your resume and tell you exactly how to make it better.
Thanks for reading! What do you think of this sample research assistant cover letter? Are there any tips you think are missing? Let us know in the comments below!