Every square is a rectangle, but not every rectangle is a square.
That's easy. Yeah.
What about this: every resume is a CV, but not every CV is a resume?
Now, that's a real puzzle!
You'll be able to figure it out without looking at your math notebooks, though. Thankfully, there's a guide like this one that responds to that question straight away.
This guide will tell you:
What a CV in Canada is and how it's different from a Canadian resume
When to apply for a job with a CV and what to include to nail it.
The things you should know when writing a CV or resume template to start a career in other countries.
Want to save time and have your CV ready in 5 minutes? Try our CV maker. It's fast and easy to use. Plus, you'll get ready-made content to add with one click. See 20+ CV templates and create your resume here.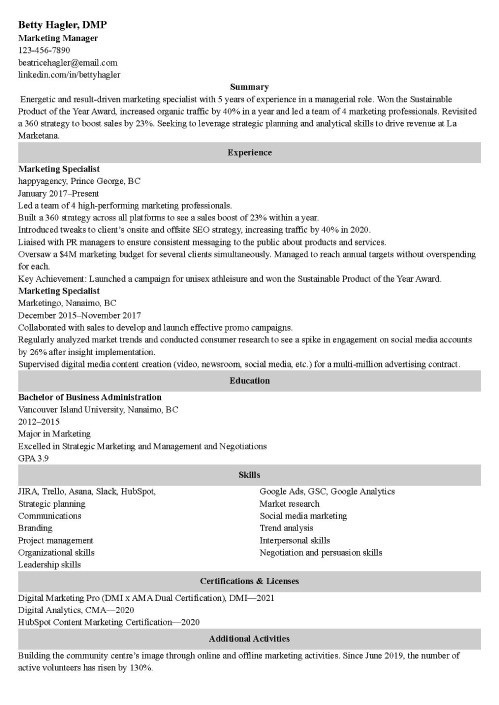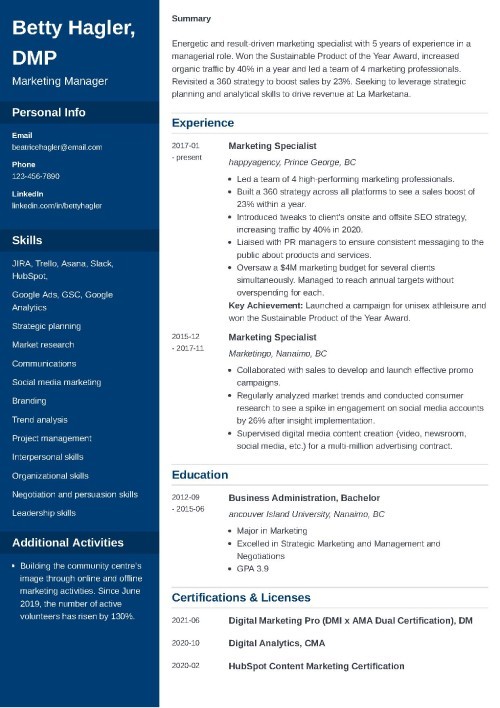 Sample CV made in our builder—See more templates and create your CV here.
What is a CV in Canada: Template
Betty Hagler, DMP
Marketing Manager
123-456-7890
beatricehagler@email.com
linkedin.com/in/bettyhagler
Summary
Energetic and result-driven marketing specialist with 5 years of experience in a managerial role. Won the Sustainable Product of the Year Award, increased organic traffic by 40% in a year and led a team of 4 marketing professionals. Revisited a 360 strategy to boost sales by 23%. Seeking to leverage strategic planning and analytical skills to drive revenue at La Marketana.
Experience
Marketing Specialist
happyagency, Prince George, BC
January 2017–Present
Led a team of 4 high-performing marketing professionals.
Built a 360 strategy across all platforms to see a sales boost of 23% within a year.
Introduced tweaks to client's onsite and offsite SEO strategy, increasing traffic by 40% in 2020.
Liaised with PR managers to ensure consistent messaging to the public about products and services.
Oversaw a $4M marketing budget for several clients simultaneously. Managed to reach annual targets without overspending for each.
Key Achievement: Launched a campaign for unisex athleisure and won the Sustainable Product of the Year Award.
Marketing Specialist
Marketingo, Nanaimo, BC
December 2015–November 2017
Collaborated with sales to develop and launch effective promo campaigns.
Regularly analyzed market trends and conducted consumer research to see a spike in engagement on social media accounts by 26% after insight implementation.
Supervised digital media content creation (video, newsroom, social media, etc.) for a multi-million advertising contract.
Education
Bachelor of Business Administration
Vancouver Island University, Nanaimo, BC
2012–2015
Major in Marketing
Excelled in Strategic Marketing and Management and Negotiations
GPA 3.9
Skills
JIRA, Trello, Asana, Slack, HubSpot,
Google Ads, GSC, Google Analytics
Strategic planning
Market research
Communications
Social media marketing
Branding
Trend analysis
Project management
Interpersonal skills
Organizational skills
Negotiation and persuasion skills
Leadership skills
Certifications & Licenses
Digital Marketing Pro (DMI x AMA Dual Certification), DMI—2021
Digital Analytics, CMA—2020
HubSpot Content Marketing Certification—2020
Additional Activities
Building the community centre's image through online and offline marketing activities. Since June 2019, the number of active volunteers has risen by 130%.
Without further ado—
What is a CV?
A CV (Curriculum Vitae) is a detailed and thorough description of your professional and academic history, including publications, grants, awards and honours, conferences, research projects, and whatnot. It's usually two to ten pages long.
In contrast, a resume is a short, one- or two-page summary of your relevant experience, qualifications and skills, tailored to the job description.
The meaning of a CV and resume in Canada is exactly the same, though. Both resume and CV are short documents with only a gist of your professional career. Employers use the terms interchangeably most often.
But—
Life's boring without exceptions to the rules, so here comes another:
You should apply with an in-depth CV for academic jobs, grants, or to join fellowships in Canada. In 99.99% of cases, it'll be explicit in the ad, but you never know with that .01%, so stay on the safe side and type the pages away.
To sum up what we've learnt so far:
In the context of applying for a job, a CV is the same as a resume in Canada. However, an academic CV is a different, more detailed document.
Pro Tip: In the UK, Ireland, and New Zealand, a CV is the same short application as a resume that doesn't get into details. So, if you want to apply for a job there, make sure you know which type of application you need to submit and don't write an essay any recruiter would feel like reading.
When making a CV in our builder, drag & drop bullet points, skills, and auto-fill the boring stuff. Spell check? Check. Start building a professional CV template here for free.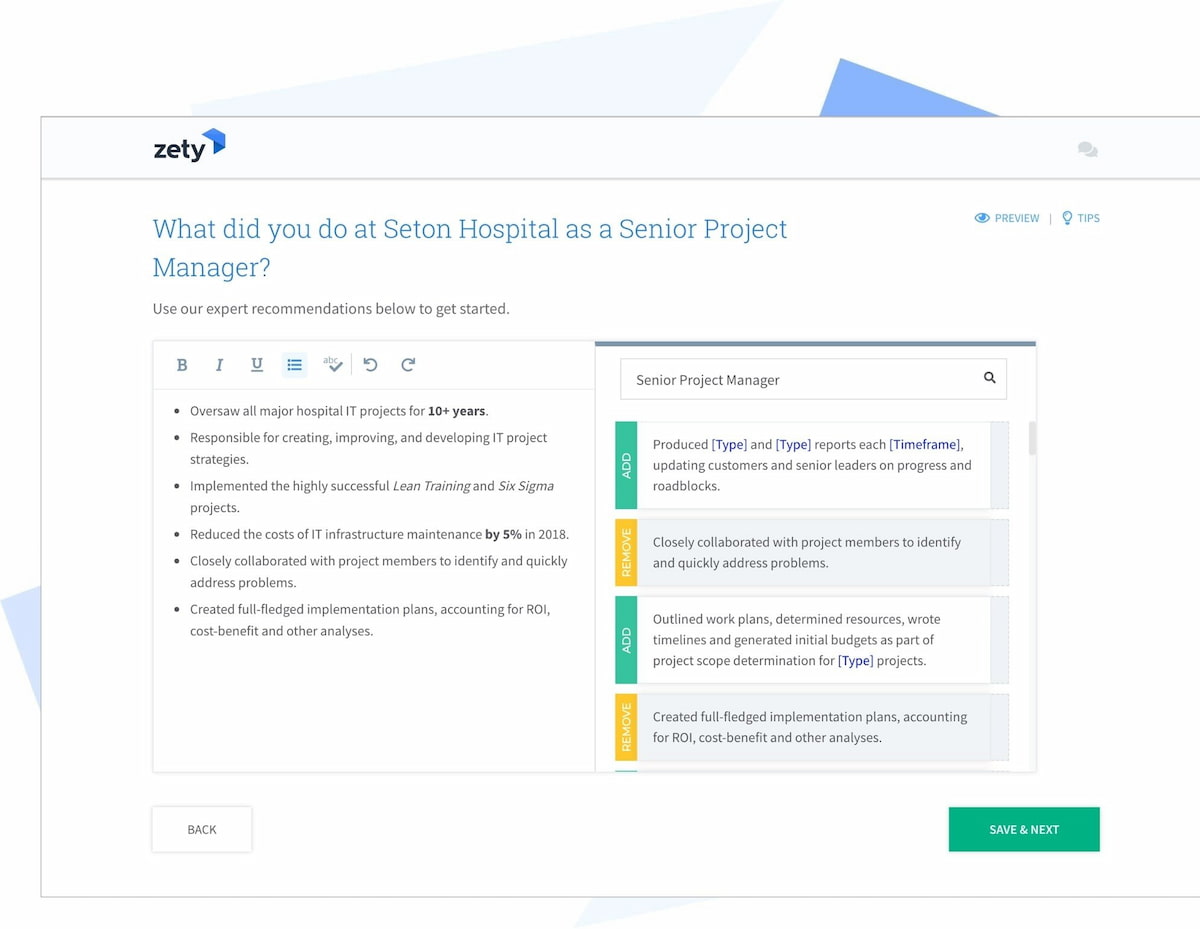 When you're done, Zety's CV maker will score your CV and tell you exactly how to make it better.
Difference Between CV and Resume
The fog's almost gone, but additional vitamin D is always a good idea.
Blow away any confusion left about a CV for all jobs and academia in particular. Have a look at the below table:
Resume vs. CV in Canada
CV for any job (resume)

CV for academia

Competence-based

Credential-based

A brief of relevant highlights of your career and education

An in-depth description of your entire academic and professional career

For all kinds of jobs

For academic or medical jobs, scientific research, grant applications, fellowships

1. Contact information

2. Personal statement

3. Experience

4. Education

5. Skills

6. Languages (Optional)

7. Certificates & Licenses (Optional)

8. Volunteering (Optional)

9. Awards (Optional)

10. Hobbies & Interests (Optional)

1. Contact information

2. Academic history

3. Professional experience

4. Research experience/Fieldwork

5. Teaching experience

6. Publications

7. Awards and Honours

8. Grants/Funding

9. Fellowships and Professional Affiliations

10. Conferences

11. Extracurricular activities

12. Languages

13. References

Tailored to every single job application

Updated with new information only

1 page

No length limit, although usually, it's 2-10 pages long

Equivalent: American, Australian, New Zealand, and South African resume, plus European CV for all types of jobs

Equivalent: American CV for academia and research
So—
Can you feel the sun rays on your skin now?
A great cover letter that matches your CV will give you an advantage over other candidates. You can write it in our cover letter builder here. Here's what it may look like: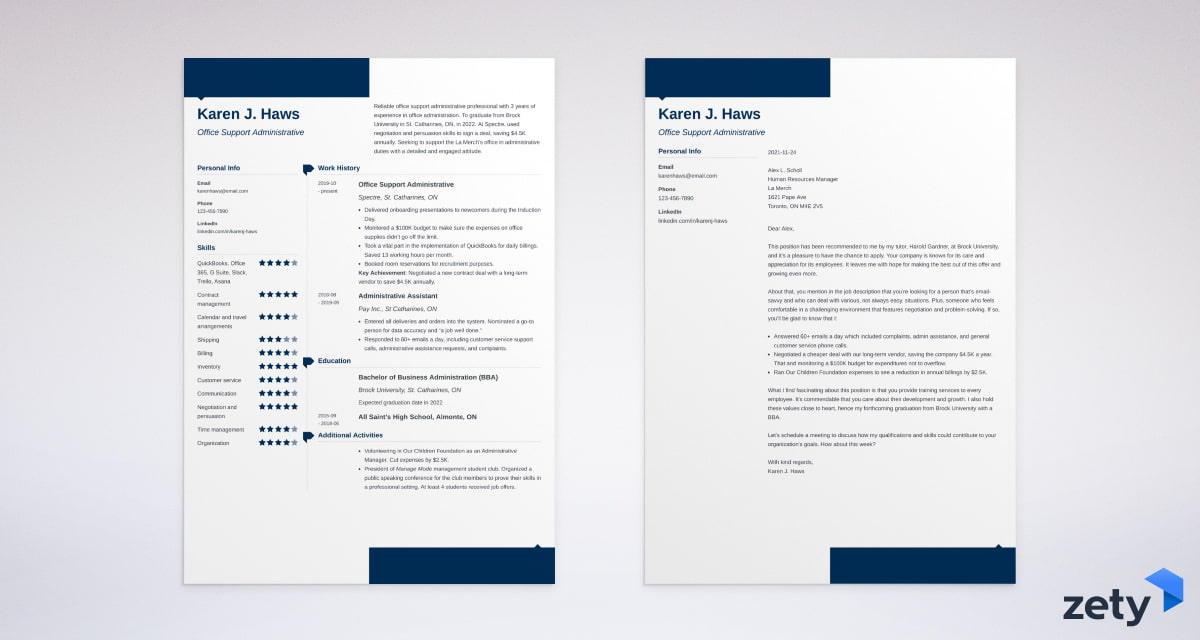 See more cover letter templates and start writing.
Key Takeaway
That's what you've learned today:
A CV in Canada means the same as a resume, apart from when applying for academic and research jobs or fellowships.
A CV for academia thoroughly describes your professional and academic history and can be up to ten pages long. An American CV is its equivalent.
A CV with the resume's layout and format applies to any other job. It's one page, has only several sections, and sums up your qualifications and qualities. Other examples of such documents are American and Australian resumes, as well as a European CV.
So now you know.
Please tell us—
Do you have questions about the difference between CV and resume? What do you consider the most difficult confusing between resume and CV? Would you take the chance to apply internationally with a CV?
Give us a shout in the comments! Let's get the conversation rolling.