Customer Service Cover Letter: Example (for Australia)
Solve one more problem, but this time let it be yours. Read how to write a customer service cover letter and stop scratching your head over it.
You've got 99 problems but positive feedback ain't 1.
And still—
You handle complaints like a pro.
You know that beneath those nasty emails hide people who were once happy.
With the customer service cover letter, you'll help them wear a smile again.
This guide will show you a customer service cover letter example and the best tips on writing a cover letter for customer service step-by-step.
Want to write your cover letter fast? Use our cover letter builder. Choose from 20+ professional cover letter templates that match your resume. See actionable examples and get expert tips along the way.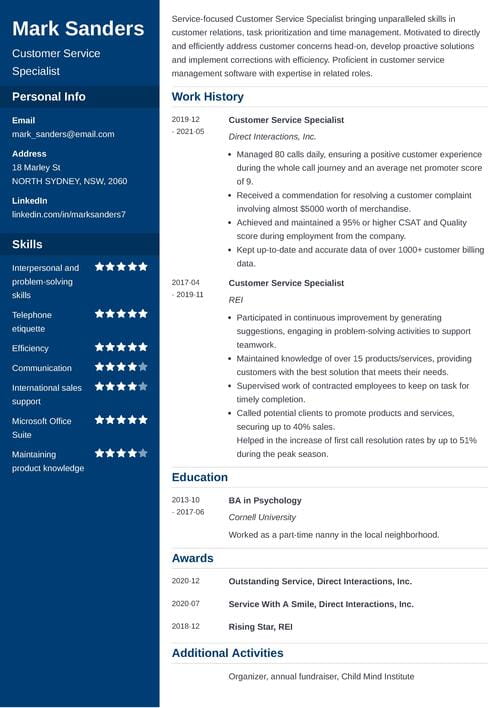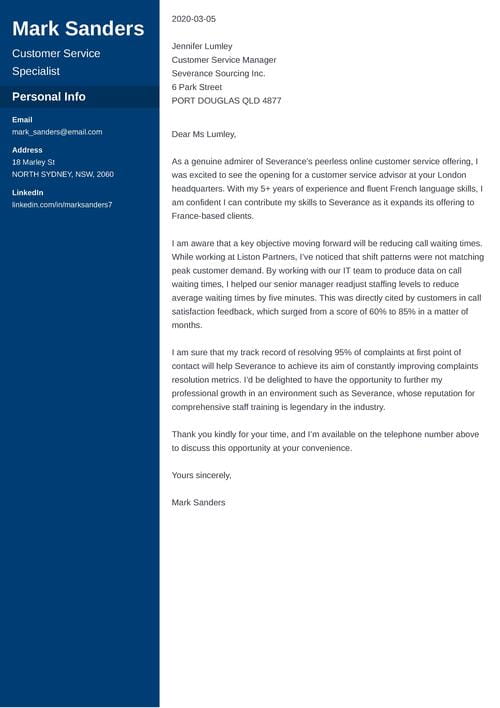 Sample cover letter for a resume—See more cover letter templates and create your cover letter here.
Jump between chapters with the below list of contents:
Onto the real deal—
Customer Service Cover Letter Example
Edward Irvine
71 Gloucester Avenue
PORT ADELAIDE BC SA 5015
(01) 2345 6789
edirvine@email.com
2 September 2021
Benjamin Nolan
Customer Service Manager
Naski
47 Nerrigundah Drive
CRANBOURNE VIC 3977
benjamin.nolan@naski.com
RE: Customer Care Representative — Position Number: XYZ
Dear Mr Nolan,
As a customer service advisor, I have handled various customer support channels with results exceeding corporate targets. Noticing an opportunity at Naski, I wish to continue delivering customer service to the best standards and, simultaneously, help keep highly positive feedback from your customers.
During over five years in the customer service industry, I have become a proficient user of PureCloud and Zoho desk CRM software, plus grew skills in providing support via telephone, email, and chat. In the third year of my employment at Senco Systems, my role included running training sessions about written and verbal communication techniques for both new and existing customer service representatives.
Providing support for over 150 000 customer accounts taught me resilience and time management. Solving complaints is a matter of urgency; to meet the goals for complaint resolutions, I have managed to resolve 90% of cases at the first point of contact and maintain an above-average score for the quality of my work (96%).

I am an eager learner, and the fact that you put great efforts into training your staff makes me thrilled about this position. Having the opportunity to take part in workshops and training sessions that will help customer service representatives continually grow their skillset will automatically bring increased customer satisfaction and retention.
I would welcome the opportunity to discuss my skills and qualifications that I am sure will positively impact the Neski Customer Service department. When can we schedule a meeting to talk them over?
Yours sincerely,
Edward Irvine
Attachments:
Resume
Customer Service Cover Letter Template
Here's how to write a cover letter for customer service:
1. Format Your Customer Service Cover Letter First
Resolving complaints at FPOC is the ultimate goal of every customer service rep.
Sure as.
If you format your customer service cover letter, there'll be no complaints in the first place.
Let's get to it, then:
Line spacing between 1 and 1.15.
Margins set at 1" (2.5 cm) on each side and content sticking to the left one.
Double-spacing between paragraphs.
Legible cover letter font: Arial or Calibri.
Cover letter header with your basic contact information: name, job title, address, phone number and email address.
Date of writing under the heading (9 July 2021).
PDF file format, unless the job posting says .docx, and uncluttered title (JobTitle_YourName_CoverLetter.pdf).
When making a resume in our builder, drag & drop bullet points, skills, and auto-fill the boring stuff. Spell check? Check. Start building a professional resume template here for free.
When you're done, Zety's resume builder will score your resume and tell you exactly how to make it better.
2. Address Your Recruiter in a Cover Letter Heading
"Hi, Sarah! This is Kurt from Your Best Mates. Your laptop is finally up and running. Which store would you like us to send it to for a pick-up?"
"Err, hello… But uhm, I, I sent headphones to you guys…."
Crikey.
Don't make such a mistake when addressing your hiring manager. It needs to be the one.
Find their name on the Internet or call the office if you failed.
Write their name and job title, and company name and address to keep the business letter format.
Two lines under add the job title and number you're targeting with your customer service cover letter.
Open the letter with a salutation using "Dear Ms/Mr LastName". You can go for "Dear Hiring Manager" if, for any reason, you couldn't get their name. But never, and I mean never, choose "To Whom It May Concern" or "Dear Sir or Madam."
Enough of the editor's job. Let's write.
3. Open With a Successful Cover Letter Introduction
It's time you embraced your show-off nature and made a Lady Gaga entrance. (But maybe less dramatic.)
Start with the best accomplishment to date that's relevant to the job's profile.
Pepper it with positive statements and examples of your customer service skills and personal traits.
Say what appeals to you in the job offer.
KISS: Keep it short and sweet, but leave a lasting impression.
ProTip: If you write the job title and number as part of the heading, don't mention it again in the opening paragraph. It's best to use that space for your achievements that'll hook the reader.
4. Prove Your Customer Service Skills and Experience
Skills and experience to your customer service cover letter are like Tim to Tam! They can't go separate.
In one or two paragraphs, write about your relevant qualities and qualifications. It means you need to refer to what your employer wants.
Where do you find that information?
The job description is the answer.
Go back to the job ad and mark the keywords—phrases that refer to selection criteria.
Pick what's relevant from your customer service resume and elaborate on that.
Add an accomplishment that proves your picks, sprinkle it with numbers, et voilà!
ProTip: If you're writing an entry-level customer service cover letter, think of any experience and skills you got from other gigs. Volunteering, internships, or even time at school are pretty good sources of relevant examples you can use for your cover letter.
5. Double-Size Your Worth
There's no person on earth more committed to problem-solving than a customer service professional. But—
You can't be only a problem solver.
You need to be Tom Cruise in Mission Impossible.
So try the below strategies for highlighting your motivation that sweep recruiters off their feet:
Refer to values you both share.
Drop names if an employee referred you.
Comment on a recent industry or company event.
Show your enthusiasm for the company or their products and services.
6. Ask for an Interview
"If you don't ask, you don't get."
One sentence is enough to have a call scheduled in your calendar.
Call your hiring manager to action by asking when you can meet to talk over your candidacy.
Add a dose of impatience towards discussing your successes even further. "Looking forward to hearing from you" or "Thank you for your consideration" don't say you're thrilled at the thought of getting in touch.
Keep a positive and respectful attitude.
Sign off with "Yours sincerely" and your full name.
Plus, a great cover letter that matches your resume will give you an advantage over other candidates. You can write it in our cover letter builder here. Here's what it may look like: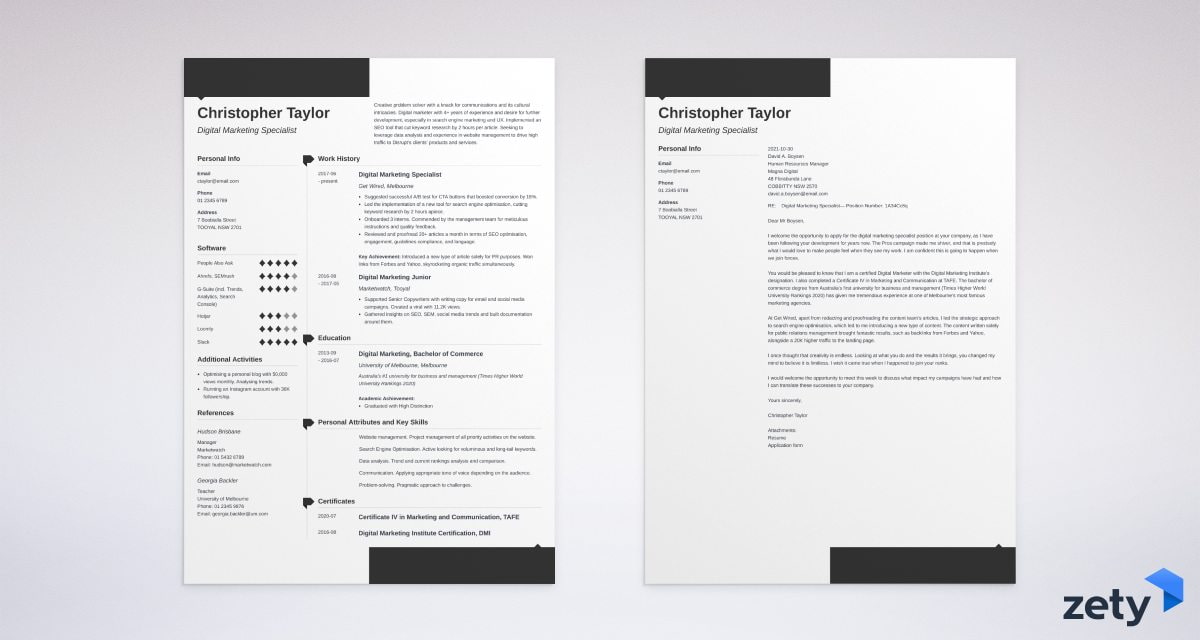 See more cover letter templates and start writing.
And you're done!
Thank you for reading!
What do you think of this customer service cover letter sample? Are there any tips you think are worth adding? Perhaps we should've covered more for entry-level customer service jobs?
Let us know in the comments!