To apply, please submit your CV and cover letter.
… please attach a resume with your application.
…please send your CV.
Huh?
…applications without a curriculum vitae will be rejected.
What?!
There's no reason for this to be so complicated, so let's clear things up, once and for all.
This article will show you:
What is a CV?
CV meaning and its role in job applications.
An excellent CV sample you can use to create your own CV for a job.
Want to save time and have your CV ready in 5 minutes? Try our CV maker. It's fast and easy to use. Plus, you'll get ready-made content to add with one click. See 20+ CV templates and create your CV here.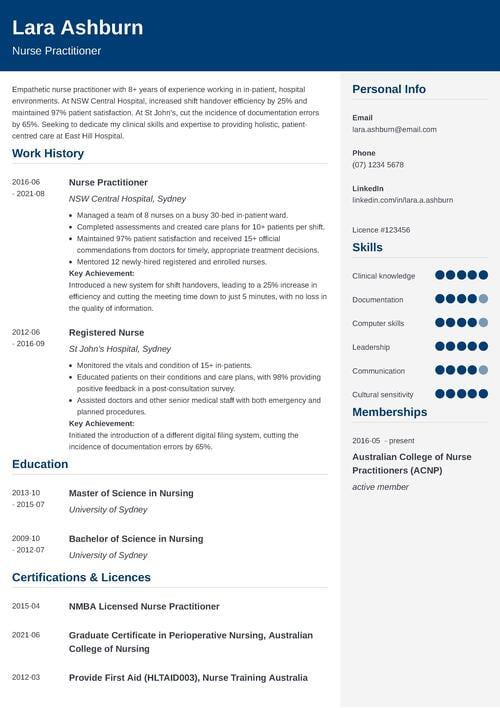 Sample CV made with our builder—See more templates and create your CV here.
What is a CV: Example
Lara Ashburn
Nurse Practitioner
Licence #123456
(07) 1234 5678
lara.ashburn@email.com
linkedin.com/in/lara.a.ashburn
Summary
Empathetic nurse practitioner with 8+ years of experience working in in-patient, hospital environments. At NSW Central Hospital, increased shift handover efficiency by 25% and maintained 97% patient satisfaction. At St John's, cut the incidence of documentation errors by 65%. Seeking to dedicate my clinical skills and expertise to providing holistic, patient-centred care at East Hill Hospital.
Experience
Nurse Practitioner
NSW Central Hospital, Sydney
June 2016–August 2021
Managed a team of 8 nurses on a busy 30-bed in-patient ward.
Completed assessments and created care plans for 10+ patients per shift.
Maintained 97% patient satisfaction and received 15+ official commendations from doctors for timely, appropriate treatment decisions.
Mentored 12 newly-hired registered and enrolled nurses.
Key Achievement:
Introduced a new system for shift handovers, leading to a 25% increase in efficiency and cutting the meeting time down to just 5 minutes, with no loss in the quality of information.
Registered Nurse
St John's Hospital, Sydney
June 2012–September 2015
Monitored the vitals and condition of 15+ in-patients.
Educated patients on their conditions and care plans, with 98% providing positive feedback in a post-consultation survey.
Assisted doctors and other senior medical staff with both emergency and planned procedures.
Key Achievement:
Initiated the introduction of a different digital filing system, cutting the incidence of documentation errors by 65%.
Education
Master of Science in Nursing, University of Sydney
2015
Bachelor of Science in Nursing, University of Sydney
2012
Skills
Clinical knowledge
Documentation
Computer skills
Leadership
Communication
Cultural sensitivity
Certifications & Licences
NMBA Licensed Nurse Practitioner, 2015
Graduate Certificate in Perioperative Nursing, Australian College of Nursing, 2021
Provide First Aid (HLTAID003), Nurse Training Australia, 2012
Memberships
Australian College of Nurse Practitioners (ACNP), active member since 2016
1. What is a CV?
A CV is a document used for job applications. It lists a candidate's work experience, education, skills, and other relevant information. Recruiters and hiring managers use CVs to help them decide who would be a good fit for the role. A CV can be submitted on its own, though often it's accompanied by a cover letter.
CV is short for curriculum vitae, which means "course of life" in Latin. Fancy, huh?
So that's one question answered already: a CV and a curriculum vitae are exactly the same thing.
Whew!
What is the difference between a CV and a resume, though, and what's that about a cover letter…?
In Australia, a CV and a resume are the same thing, too. Employers use them interchangeably: it doesn't matter whether they say CV or resume, they're after the same document.
Well, that was a short mystery. Now, cover letters—
They're a different beast altogether. They take the form of a business letter, where candidates expand on the work history outlined in their CV/resume and explain why they want to join the company.
Read more: How to Write a Cover Letter: Guide & Examples
2. CV Meaning in Australia vs Elsewhere
Now, just because CV and resume mean the same thing Down Under, it doesn't mean that's true for the rest of the world.
Yeah—
It did seem too simple, didn't it?
If you're applying for a job outside of Australia, keep the following in mind:
In the United States and in Canada, a CV is often more detailed than a resume and can follow a different structure. CVs there are used to apply for academic positions, and typically list publications, academic achievements, important lectures, and other things you wouldn't find on a resume for a standard job.
In the UK and New Zealand, CVs and resumes are the same thing. The term "CV" is a lot more common than "resume" in these countries, especially in the UK.
Other English-speaking countries, such as India or South Africa, also typically use the terms "CV" and "resume" interchangeably.
Don't worry—
It's not like you need to remember all of this. It's pretty simple, really:
Unless you're applying for a job in academia, treat the word "CV" as "resume" and submit a standard job application document—wherever you are in the world.
When making a CV in our builder, drag & drop bullet points, skills, and auto-fill the boring stuff. Spell check? Check. Start building a professional CV template here for free.
When you're done, Zety's CV builder will score your CV and tell you exactly how to make it better.
3. CV Meaning: What Does a CV Include?
A CV for a job application should present relevant information about you as a candidate, arranged into sections.
So, a CV will include, from top to bottom:
Header with your contact information: full name, phone number, email address. If you want and if it's relevant to your application, you can include social media handles here (e.g. LinkedIn) or a link to your online portfolio.
Resume profile: a short (3- to 4-sentence) paragraph, providing an overview of the best, most impressive bits of your resume. Its purpose? Hook the reader and immediately show your value.
Work experience: details of what you achieved at each of your previous jobs, listed in reverse-chronological order (most recent first).
Education: your highest completed level of schooling, plus graduation year. If you're a recent graduate, this is the section in which to describe your academic accomplishments.
Key Skills: a list of up to 10 of your best professional skills relevant to the role.
Additional sections: everything else that can help you land the job, like certifications, foreign languages, projects, volunteer work, memberships in professional associations, or relevant interests.
For a preview of what a completed CV looks like, check out the sample document at the beginning of this article.
Remember that a CV should be easy to read and visually appealing. Setting one-inch margins and 1–1.15 line spacing, using a professional font, and adding clear section headings make for a great start.
Read more: How to Write a CV for a Job in Australia: Guide, Examples & Tips
Plus, a great cover letter that matches your CV will give you an advantage over other candidates. You can write it in our cover letter builder here. Here's what it may look like: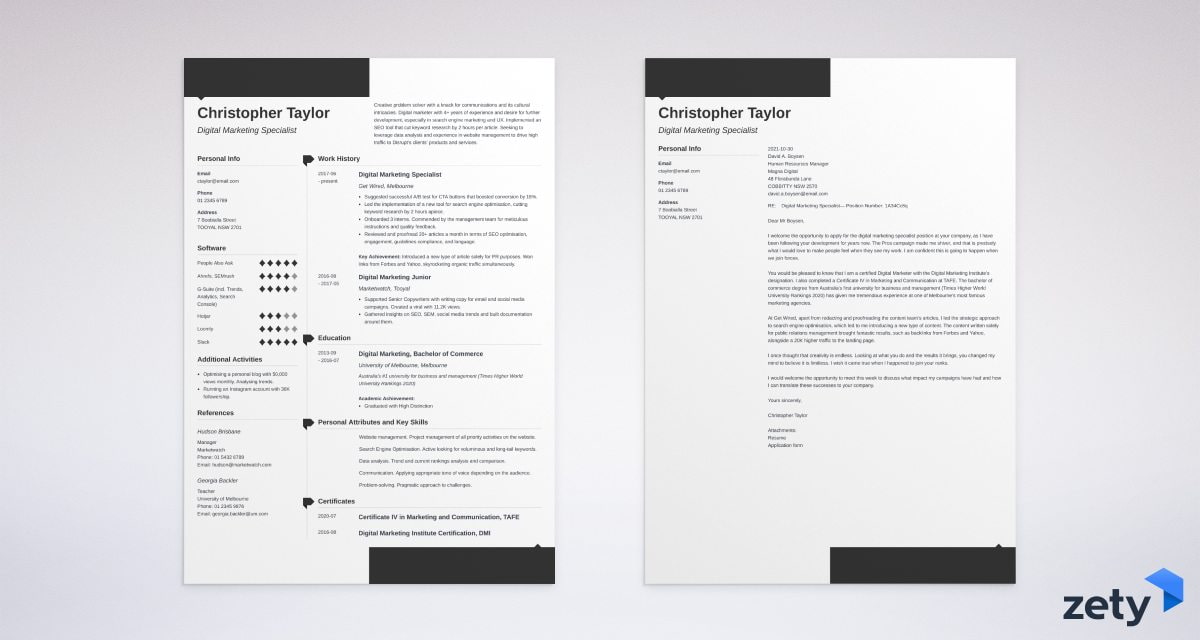 See more cover letter templates and start writing.
That's all!
Thanks for reading. Do you have any questions about CV meaning, resume differences, or anything else mentioned in this article? Let us know in the comments, we'll be happy to chat!