Customer Service Cover Letter Sample & Writing Tips
Before you get to satisfy customers, you need to impress hiring managers with a customer service cover letter that shows you're the hero customers deserve. Here's how to write it.
As a client service representative, there's no issue that you can't solve. Does a customer want a refund for a non-refundable item? Did a delivery attempt fail because a dog ate the package? No problem!
But there's a group of people that are notoriously hard to satisfy, no matter how hard you try.
Hiring managers.
If you're sending out job application after job application and still wondering how to please those people, you're not alone.
But hey, we've got a solution for you: a quick, painless approach to writing cover letters that melt recruiter's hearts and make them want to give you 5 stars.
This guide will show you a customer service cover letter example, plus the best tips on how to write a cover letter for client service representatives step-by-step.
Want to write your cover letter fast? Use our cover letter builder. Choose from 20+ professional cover letter templates that match your resume. See actionable examples and get expert tips along the way.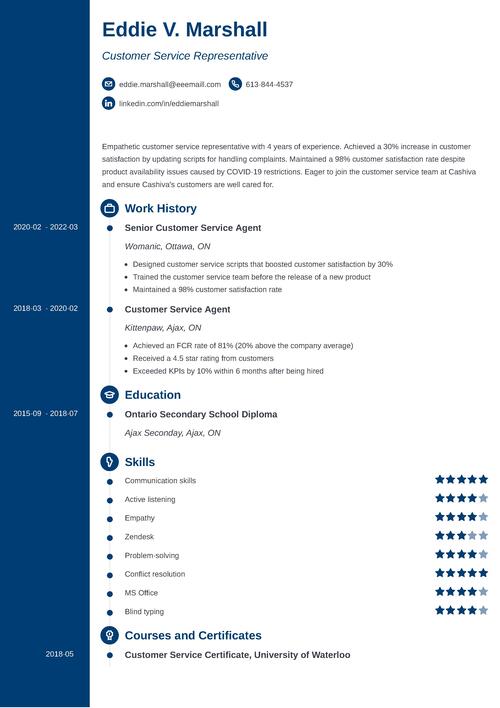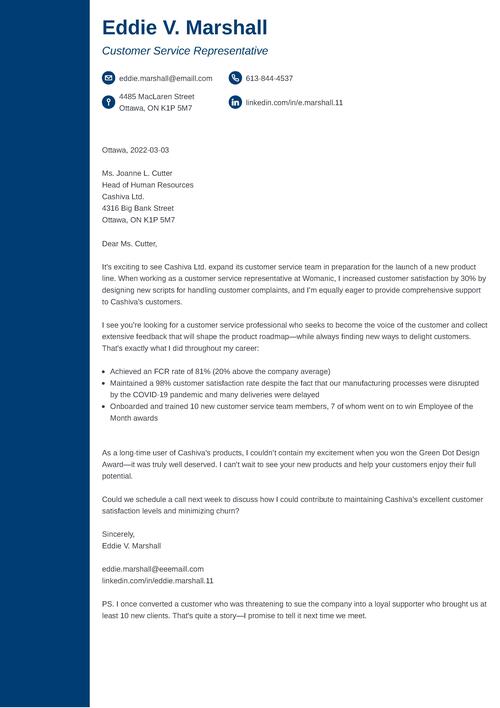 Cover letter sample for a resume—See more cover letter templates and create your cover letter here.
Customer Service Cover Letter Sample
Eddie V. Marshall
Customer Service Representative
4485 MacLaren Street
Ottawa, ON K1P 5M7
613-844-4537
eddie.marshall@eeemaill.com
linkedin.com/in/eddie.marshall.11
Ottawa, 3/3/2022
Ms. Joanne L. Cutter
Head of Human Resources
Cashiva Ltd.
4316 Big Bank Street
Ottawa, ON K1P 5M7
Dear Ms. Cutter,
It's exciting to see Cashiva Ltd. expand its customer service team in preparation for the launch of a new product line. When working as a customer service representative at Womanic, I increased customer satisfaction by 30% by designing new scripts for handling customer complaints, and I'm equally eager to provide comprehensive support to Cashiva's customers.
I see you're looking for a customer service professional who seeks to become the voice of the customer and collect extensive feedback that will shape the product roadmap—while always finding new ways to delight customers. That's exactly what I did throughout my career:
Achieved an FCR rate of 81% (20% above the company average)
Maintained a 98% customer satisfaction rate despite the fact that our manufacturing processes were disrupted by the COVID-19 pandemic and many deliveries were delayed
Onboarded and trained 10 new customer service team members, 7 of whom went on to win Employee of the Month awards
As a long-time user of Cashiva's products, I couldn't contain my excitement when you won the Green Dot Design Award—it was truly well deserved. I can't wait to see your new products and help your customers enjoy their full potential.
Could we schedule a call next week to discuss how I could contribute to maintaining Cashiva's excellent customer satisfaction levels and minimizing churn?
Sincerely,
Eddie V. Marshall
eddie.marshall@eeemaill.com
linkedin.com/in/eddie.marshall.11
PS. I once converted a customer who was threatening to sue the company into a loyal supporter who brought us at least 10 new clients. That's quite a story—I promise to tell it next time we meet.
Want a cover letter like this one? No problem, let's sit down and write it step by step.
How to Write a Customer Service Representative Cover Letter
Writing a customer service cover letter doesn't have to be difficult and confusing. Just follow our tried-and-tested 7-step process, and your "recruiter satisfaction rate" will shoot through the roof.
1. Use the Appropriate Customer Service Cover Letter Format
How do you make your cover letter scream, "This person is GREAT at communicating clearly and paying attention to detail"?
Just use the right cover letter format and structure:
Set the margins to 1" on all sides and the line spacing to 1 or 1.15
Choose a sleek, professional cover letter font that's easy on the eyes, set its size to 12 pt
Add a blank line between paragraphs. This will make your cover letter look more structured
Making your cover letter easy to read suggests that you genuinely care about your reader—and that's a sign you're definitely worth hiring.
2. Give Your Client Service Cover Letter The Header it Deserves
Now that you've formatted the page and picked a font, let's start writing the header of your customer service representative cover letter.
Put your name in the top left corner
Add contact info, including your phone number, email address, and LinkedIn profile (optional)
Then, write the name of your city and the date
Now add the addressee's name, job title, and company address
It's a good idea to address your cover letter to a specific person. If you can't find the hiring manager's name in the job ad, check the company's website or do a quick Google search.
3. Open With a Personal Greeting and a Compelling First Paragraph
Your first paragraph is arguably the most important one because it can make or break your entire job application. Here's how to write a bulletproof cover letter opening:
Start with a universally accepted salutation like "Dear Mr./Ms. X."
Open the cover letter by dropping a name or highlighting one of your key achievements. This will grab the reader's attention and make sure they read on
Do your best to avoid boring clichés like "I'm writing to apply…"—your hiring manager is definitely allergic to them after seeing them hundreds of times every day. Just like a customer who gets annoyed when hearing the same customer support script over and over again.
4. Prove Why You're The Candidate They Need in Your Customer Service Representative Cover Letter
The next step of your cover letter writing script is proving how your experience and skills will solve the employer's problems and boost their business results. Here's how to write the next paragraph:
Refer back to the job ad and show that you understand what they're looking for in a candidate
Add some bullet points showcasing your most relevant achievements
Add numbers wherever you can—they make your expertise more believable
You may be tempted to copy and paste the bullet points from your resume, but don't. Your cover letter isn't supposed to be a remix of your resume, so do your best to be original.
If you're still wondering what to write in this paragraph, check out our in-depth guide to writing cover letters.
Still not sure what to write? Read more: How to Write a Cover Letter: Full Guide with Examples
5. Explain Why This Is The Customer Service Job You Need
You've explained why the company needs you. Now, show why you need a job at this particular company. Here's how:
Congratulate the company on a recent achievement or give them a compliment or two
Demonstrate that you know what challenges the company might be facing
Make it clear that you want this job, not just any customer service job
If you're not sure what to write in this section, check the company's press releases or just Google their name. Yes, you'll have to rewrite this section from scratch each time you apply to a different company—but that's true for the other cover letter sections, too.
6. Ask The Reader to Take Action
The most reliable way to get a person to do something is to ask them. Heck, you know this—as a client service representative, you know a thing or two about how people tick.
So when you're about to end your cover letter, do the following:
Ask the recruiter to schedule a call or a meeting
Remind them how valuable you could be
Don't be bossy, but don't beg on your knees either. Remember that you're an expert who's here to boost the employer's business metrics. So be confident and professional.
7. Sign Your Customer Service Cover Letter (And Maybe Add a P. S.)
Congratulations, your customer service representative cover letter is almost done!
If you've followed all the steps, you've come up with 200–400 words. This is a good cover letter length to aim for.
But before you give a big sigh of relief, let's add a few final touches:
End the cover letter with a classic closing like "Sincerely"
Sign off with your full name
Add a digital copy of your handwritten signature if you have it (yes, it looks really cool)
List any enclosures if necessary
Paste your contact info in your cover letter footer
Save your cover letter as a PDF file and give it a professional-looking filename
For an extra boost, add a P. S. under your signature and drop yet another epic achievement of yours. Promise to tell more about it in the job interview. The hiring manager will be more likely to invite you, even if it's just to hear the story.
After that, you're finally done! Pair your customer service cover letter with a matching resume and lean back as you wait to get invited to your job interview.
When making a resume and a cover letter in our builder, drag & drop bullet points, skills, and auto-fill the boring stuff. Spell check? Check. Start building a professional resume template here for free.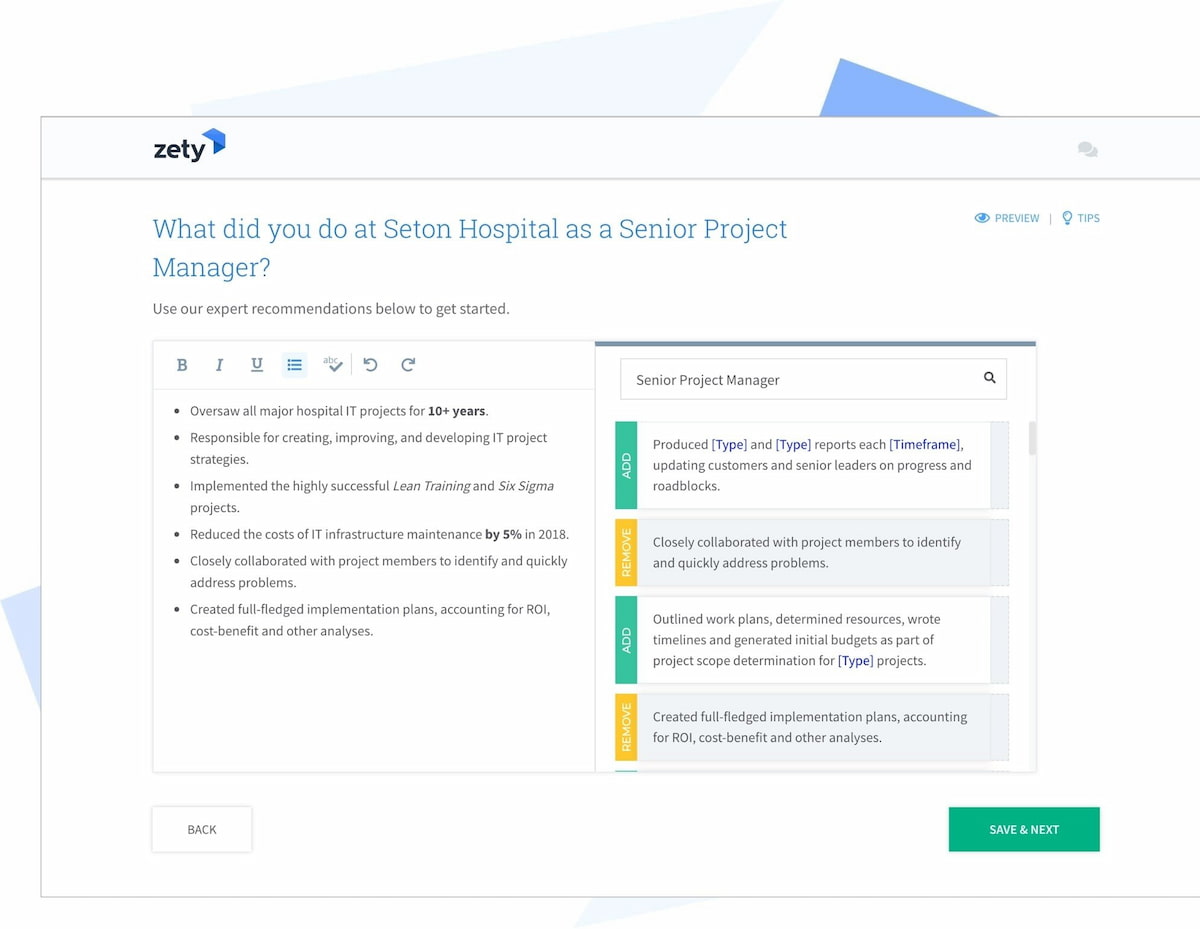 When you're done, Zety's resume builder will score your resume and tell you exactly how to make it better.
Thanks for reading! What do you think of our customer service cover letter sample? Are there any tips you think are missing? Let us know in the comments below!