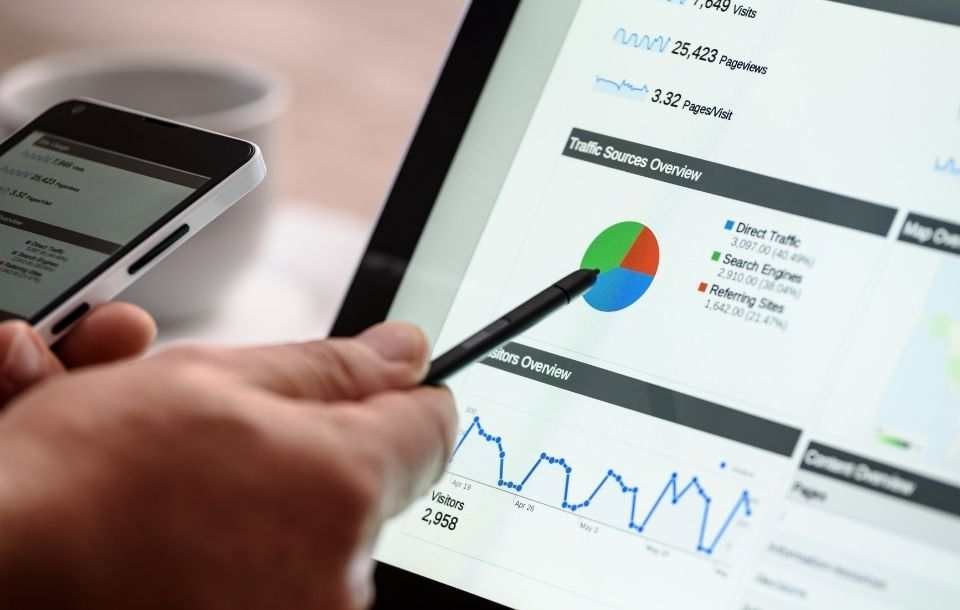 Business Analyst Cover Letter Sample & Writing Guide
In analysis, there may be internal factors and external factors. But for your business analyst cover letter, you need the wow factor—and you're about to learn how to get it.
You know how to charm stakeholders and you excel in Excel—but do you know how to delight a hiring manager?
Want a hint? Their user story would look something like this:

"As a recruiter, I'd like to quickly learn if the applicant's top qualities are a match for my company, and to see what kind of person they are".
Where I'm going is: the resume alone won't cover that.

But a good business analyst cover letter will. So you'll definitely have to write it.
Not happy, Jan? Don't worry, it's easier than you think.
This guide will provide cover letter writing tips, plus a business analyst cover letter sample.
Want to write your cover letter fast? Use our cover letter builder. Choose from 20+ professional cover letter templates that match your resume. See actionable examples and get expert tips along the way.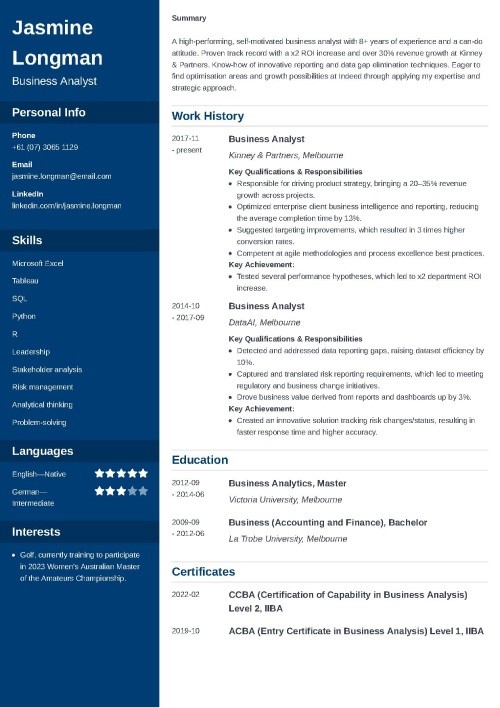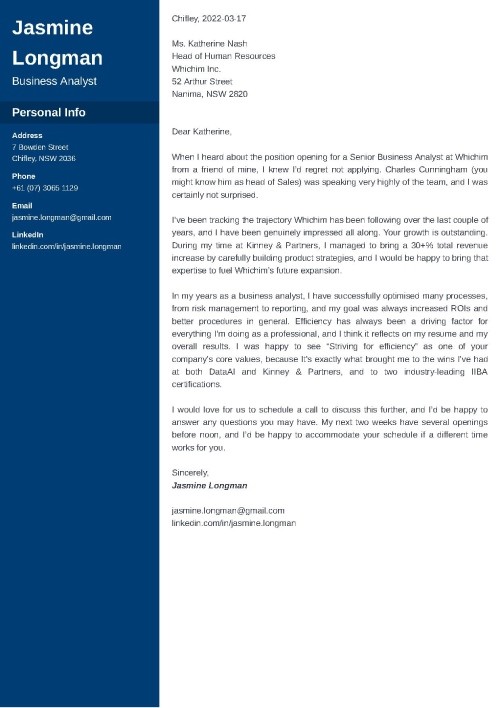 Sample cover letter for a resume—See more cover letter templates and create your cover letter here.
Business Analyst Sample Cover Letter for Australia
Jasmine Longman
Business Analyst
7 Bowden Street
Chifley, NSW 2036
+61 (07) 3065 1129
jasmine.longman@gmail.com
linkedin.com/in/jasmine.longman
Chifley, 3/17/2022
Ms. Katherine Nash
Head of Human Resources
Whichim Inc.
52 Arthur Street
Nanima, NSW 2820
Dear Katherine,
When I heard about the position opening for a Senior Business Analyst at Whichim from a friend of mine, I knew I'd regret not applying. Charles Cunningham (you might know him as head of Sales) was speaking very highly of the team, and I was certainly not surprised.
I've been tracking the trajectory Whichim has been following over the last couple of years, and I have been genuinely impressed all along. Your growth is outstanding. During my time at Kinney & Partners, I managed to bring a 30+% total revenue increase by carefully building product strategies, and I would be happy to bring that expertise to fuel Whichim's future expansion.
In my years as a business analyst, I have successfully optimised many processes, from risk management to reporting, and my goal was always increased ROIs and better procedures in general. Efficiency has always been a driving factor for everything I'm doing as a professional, and I think it reflects on my resume and my overall results. I was happy to see "Striving for efficiency" as one of your company's core values, because It's exactly what brought me to the wins I've had at both DataAI and Kinney & Partners, and to two industry-leading IIBA certifications.
I would love for us to schedule a call to discuss this further, and I'd be happy to answer any questions you may have. My next two weeks have several openings before noon, and I'd be happy to accommodate your schedule if a different time works for you.
Sincerely,
Jasmine Longman
jasmine.longman@gmail.com
linkedin.com/in/jasmine.longman
Business Analyst Cover Letter Template
Here's a guide on how to write a great cover letter for a business analyst:
1. Follow a Trusted Business Analyst Cover Letter Format
Now that you know that a cover letter is a requirement, let's make sure you've got everything teed up for your writing.
Specifications go as follows:
Use the same style you used for your resume. It may be a good idea to go with a cover letter format template to make your life easier.
Choose a professional-looking font (think Arial or Cambria), 10–12 pts will be just right.
Align text left.
Make room for white space with 1-inch margins, 1–1.15 line spacing, and double-spacing between paragraphs.
Download it in PDF and don't forget to rename it to JobTitle_YourName_CoverLetter.pdf.
Fit your business analyst cover letter onto one page, this is more than enough. To send the right message through, you need to be precise—more on that in the next sections.
Pro Tip: Don't have a resume yet? Read our article: How to Write a Business Analyst Resume: Guide & Examples
2. Start With a Professional Business Analyst Cover Letter Header
You may be looking for some attention-grabbing cover letter examples, but trust me: a classic, proven header structure will be just enough to deliver the goods.
Go with the flow:
The top-left corner is for contact details.
State your full name, address, and contact information (phone number, email address, possibly LinkedIn profile). Mention you're applying for a business analyst role.
Put the date and location below.
Follow with the recruiter's name, job title, email address, company name, and address at the bottom.
Address the recruiter by their full name. If you don't have it, take some time and do some research.
Pro Tip: LinkedIn is the most convenient place to be looking for the recruiter's full name. Or, you can call the company and ask them directly. This is a crucial step that can add more points to your overall score.
3. Impress and Don't Settle For Less
The introduction of your business analyst cover letter has to be off the wall, simple as that.
You don't get a second chance to make a first impression.
Tips for a best-in-class intro:
Greeting: write "Dear Ms/Mr [Last name],", or "Dear [Name]," [TK]. If all else fails, go with "Dear Hiring Manager,".
Opening: knock them off their feet with your most relevant accomplishment.
Plus, there's a secret sauce: give the hiring manager something to relate to. A study has shown that familiarity can be subjectively perceived as something positive, so:
Mention people within the company who referred you, or
Add something you like about the company or a project it's known for.
Pro Tip: Addressing the hiring manager by name will contribute to the overall feeling of familiarity.
4. Show Them You're the Right Person for the Job
Another study concluded that recruiters are heavily focused on trying to predict future job performance when making a choice.
Don't leave them guessing.
When you talk about your experience, the goal is to excite and have them wanting more.
Conduct a SWOT analysis, then leave out the weaknesses and threats.
Focus on strengths and opportunities in the middle of your cover letter:
Write your business analyst cover letter with your future job in mind.
Match your achievements to the requirements, showing that you are an actual solution to their problems.
Don't waste time repeating things you wrote in your resume.
Add things about you that may be relevant. Make the logic about how this applies to the case clear.
If you're writing an entry-level business analyst cover letter, all of the above still applies. Consider adding a real-life example of how you developed certain soft skills or situations that shaped you as a professional.
5. Give Them A Reason To Call You Back
Raise the hiring manager's happiness index to the max. Make it absolutely clear you are perfect for the job and save them from unnecessary doubt.
Here's how you could do it:
Speak about how you can relate to the company values.
Comment on how your vision or approach to work aligns with theirs.
Mention how you first heard about them and how you immediately wanted to become part of the team.
Hiring managers are humans. Yes, they do want a qualified employee, but they also want a person who would blend well with the team and be a pleasure to work with.
6. Seal the Deal with a Call To Action
Set the right expectations from the get-go.
Make the recruiter's life easier by prompting a desired next step—a response with an invitation to that interview. Total win-win.
To do that, use what all marketers swear by: a CTA.
Here's how you CTA like a pro:
Forget the good old "I look forward to hearing from you." It's not really saying anything.
Instead, go for something along the lines of "I would be glad to discuss our possible next steps in a call."
Consider creating some urgency: "I am available mornings, from 9 to 12, in the upcoming week."
Don't be needy. That one's pretty straightforward, ey?


7. Mind Your Sign-off
Last but not least: don't lose your competitive advantage by not ending the letter properly.
Get this wrong, and you're on the outer.
Sign off with:
"Yours sincerely,
[your full name]"
"Best regards" and "Kind regards" are other good options.
Add your contact detail below as well. If you include any attachments, list them below.
And just like that, you're all set!
Pro Tip: This may be common knowledge for seasoned professionals, but not if you're a fresher business analyst writing your first ever batch of work-related emails. The tip is this: you can set up an email signature in your email client (like Gmail) so that you don't have to input it manually every time.
When making a CV in our builder, drag & drop bullet points, skills, and auto-fill the boring stuff. Spell check? Check. Start building a professional CV template here for free.
When you're done, Zety's CV builder will score your CV and tell you exactly how to make it better.
Thanks for reading! Hope this business analyst cover letter guide was just what you needed.
If not, let us know in the comments: we'd be happy to cover some extra points!