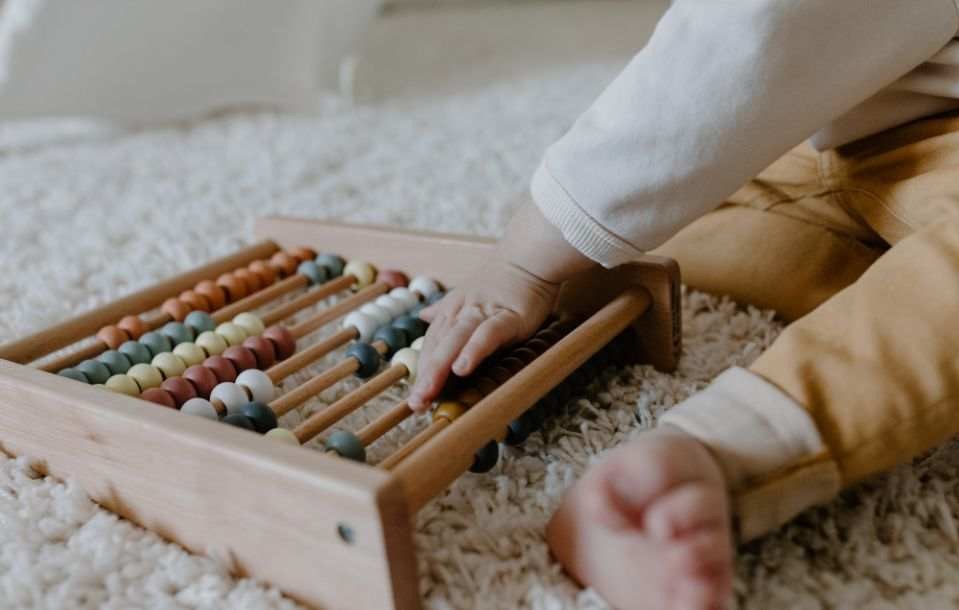 Child Care Resume: Sample for Australia & Writing Guide
Writing a child care resume shouldn't take a month of Sundays. You're busy enough. Read our guide, learn the best practices, and cross it off your to-do list.
You shape the future through nurturing the talents and inclinations of the children you meet. And even though the results of your work may only be seen in the years to come, you're rewarded with genuine laughter and everyday successes of your little students.
Great news: you don't have to wait to benefit from a well-written child care resume! If done right, the interviews will follow immediately.
It shouldn't take years to land your dream job. Learn the rules of a brilliant child care resume, and get ready to shine!
This guide will show you:
A child care resume example better than 9 out of 10 other resumes.
How to write a child care resume that will land you more interviews.
Tips and examples of how to put skills and achievements on a child care resume.
How to describe your experience on a resume for child care educators to get any job you want.
Want to save time and have your resume ready in 5 minutes? Try our resume builder. It's fast and easy to use. Plus, you'll get ready-made content to add with one click. See 20+ resume templates and create your resume here.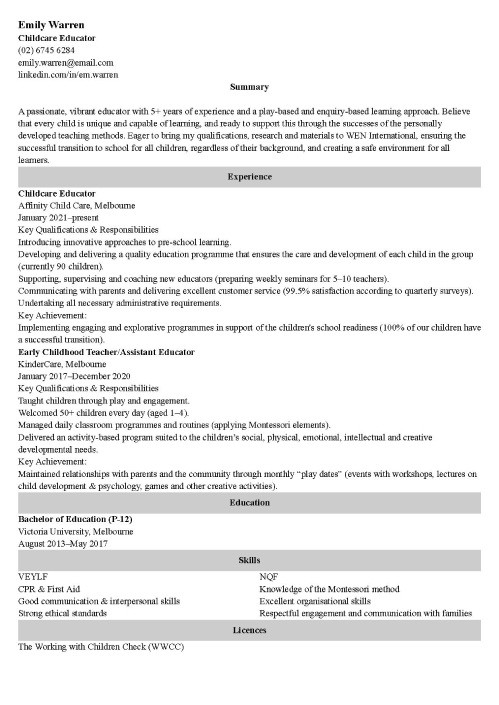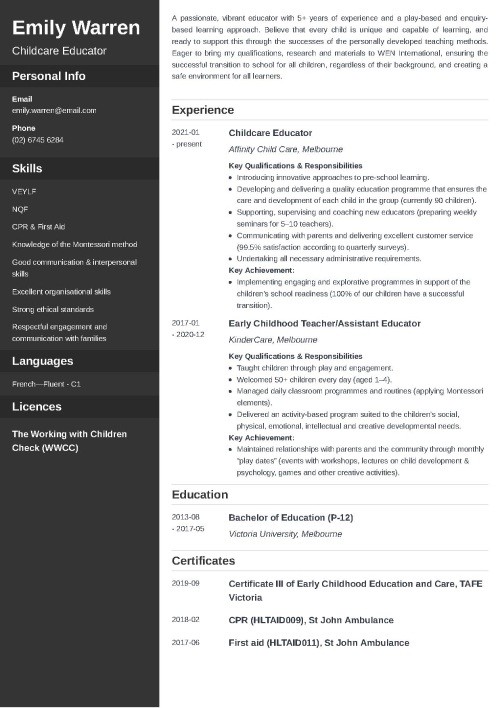 Sample resume made with our builder—See more templates and create your resume here.
Childcare Resume Sample
Emily Warren
Childcare Educator
(02) 6745 6284
emily.warren@email.com
linkedin.com/in/em.warren
Summary
A passionate, vibrant educator with 5+ years of experience and a play-based and enquiry-based learning approach. Believe that every child is unique and capable of learning, and ready to support this through the successes of the personally developed teaching methods. Eager to bring my qualifications, research and materials to WEN International, ensuring the successful transition to school for all children, regardless of their background, and creating a safe environment for all learners.
Experience
Childcare Educator
Affinity Child Care, Melbourne
January 2021–present
Key Qualifications & Responsibilities
Introducing innovative approaches to pre-school learning.
Developing and delivering a quality education programme that ensures the care and development of each child in the group (currently 90 children).
Supporting, supervising and coaching new educators (preparing weekly seminars for 5–10 teachers).
Communicating with parents and delivering excellent customer service (99.5% satisfaction according to quarterly surveys).
Undertaking all necessary administrative requirements.
Key Achievement:
Implementing engaging and explorative programmes in support of the children's school readiness (100% of our children have a successful transition).
Early Childhood Teacher/Assistant Educator
KinderCare, Melbourne
January 2017–December 2020
Key Qualifications & Responsibilities
Taught children through play and engagement.
Welcomed 50+ children every day (aged 1–4).
Managed daily classroom programmes and routines (applying Montessori elements).
Delivered an activity-based program suited to the children's social, physical, emotional, intellectual and creative developmental needs.
Key Achievement:
Maintained relationships with parents and the community through monthly "play dates" (events with workshops, lectures on child development & psychology, games and other creative activities).
Education
Bachelor of Education (P-12)
Victoria University, Melbourne
August 2013–May 2017
Skills
VEYLF
NQF
CPR & First Aid
Knowledge of the Montessori method
Good communication & interpersonal skills
Excellent organisational skills
Strong ethical standards
Respectful engagement and communication with families
Licences
The Working with Children Check (WWCC)
Certifications
Certificate III of Early Childhood Education and Care, TAFE Victoria, 2019
CPR (HLTAID009), St John Ambulance, 2018
First aid (HLTAID011), St John Ambulance, 2017
Languages
Write a child care educator resume with these tips:
1. Choose a child care resume format
Child care workers are professionals who are qualified to look after children, supervise them, and oversee their learning and development. The purpose of a child care resume is to show that the care provider is fit for service and able to create a safe and engaging environment for infants, toddlers, or younger children.
The demand for Australian childcare workers is growing (at least a 7% increase is expected by 2026). So it's important to carefully craft your resume to persuade the hiring manager you're a top choice.
We'll have to start by making sure it looks the part. That begins with good formatting:
Aim at 2–4 pages with a 12 pts font size.
Choose a presentable font (like Verdana or Arial, something simple).
Set even margins on all sides of the page.
Add your contact info (usually takes a top position, along with your name and desired job title).
These are the basics of writing a resume. You can arrange the layout yourself, or go with a ready-made resume template.
Pro Tip: Once you're done, make sure to download your resume as a PDF. Otherwise, it might scatter on other devices like the kids who just heard it's nap time.
2. Write a child care resume summary / objective
This section will differ slightly between an entry-level child care resume and that of an experienced professional.
In essence, both the summary and the objective open your resume to give the recruiter an idea of what you're all about as a specialist (and fast). Keep in mind that the attention span of the hiring manager may be suspiciously similar to the attention span of a toddler: they will look at your resume for around 6 seconds, and then you lose them.
The child care resume summary paragraph is best crafted this way:
Make a list of your accomplishments, talents and qualifications.
Compare it to the description of the job you're applying for, and keep the results that match.
There's no easy answer to what an objective in a resume for child care should include, and examples may vary. You'll have to get creative to get the recruiter's attention:
Focus on your academic achievements, research, practice—anything that proves your aptitude for the job.
Write about any measurable results from your previous jobs/experiences (even in other spheres), think about transferable skills, or your personal qualities that matter.
The key is to keep the opening paragraph relevant, concise, and to the point.
3. Tailor your child care resume job description
An A1 resume for a child care educator always follows one rule: it perfectly matches the position requirements.
Just as your summary/objective, the remainder of your child care resume should stay strategically targeted at the specific job you want. Describe your previous work experience from this perspective.
Structurally, the entries should:
Go from the most recent (in reverse-chronological order).
Include the job title, company name, and dates when you worked there.
Feature 4–6 bullet points with your results (not just duties) + a key achievement.
Start with "power verbs" (like "accomplished" instead of "did", "supervised" instead of "looked after", etc.)
You don't necessarily need to mention each and every job you've ever had, just the experiences that are applicable to child care work.
Writing a child care resume for assistants with no experience? Consider shifting focus onto your education or skills with an alternative resume format. Read more: Best Resume Format Samples
4. Mention education on your childcare resume
It doesn't really matter if you'd like to be working as a child care educator, assist in daycare, preschools, or child care centres—a resume for any child care job in Australia will require an education section.
If your childcare resume is centred around your work experience, it's sufficient to list your higher education like this:
Name of degree
School and location
Period of studies
But, if you don't have a lot of experience yet, you can amplify your strengths by mentioning:
A high GPA
Outstanding achievements
Interesting research or relevant coursework, etc.

Certificates in child care are also an expectation, but you can use additional sections to show you have them (more on that below).
When making a resume in our builder, drag & drop bullet points, skills, and auto-fill the boring stuff. Spell check? Check. Start building a professional resume template here for free.
When you're done, Zety's resume builder will score your resume and tell you exactly how to make it better.
5. Highlight skills on your child care resume
A good child care resume relies heavily on skills. After all, the recruiter would want to know you can make sure the kids don't just fiddle about.
So, it's important to list certain core competencies that early childhood practitioners should have in order to provide adequate care to children.
Here's a piece of a child care educator resume sample featuring skills:
Childcare Skills for Resume
Early childhood education
EYLF
VEYLF
NQF
CPR
First Aid
Asthma and Anaphylaxis trained
Computer proficiency
Knowledge of the Montessori method
Good communication & interpersonal skills
Excellent organisational skills
Time management
Patience
Strong ethical standards
Respectful engagement and communication with families
You can see that hard skills go side-by-side with soft skills, and that's a good way to go about it.
6. Include other child care resume sections
Besides your degree, there are other important credentials that show you're competent to perform child care services.
Your child care resume will hugely benefit if you add:
Certifications (in Early Childhood Education, First Aid, etc.).
Licences (like the Working with Children Check that most employers ask for).
Workshops or conferences you attended, additional training.
Research or publications.
Volunteering (may give you extra credit if you don't have a lot of experience).
Language skills (can also be supported by certificates).
Don't be shy. Even certificate III level training may be considered basic (or even "insufficient for the demands of the job", as some research might say), so make sure there's evidence to support your claims from the Skills section.
Pro Tip: You can highlight your hobbies, interests, or passion projects as well, but only if they help strengthen your application. Keep things relevant, and Bob's your uncle.
7. Compose a child care cover letter
Hope you're not completely rooted yet, because there's one (last) important thing left.
You might want your application to have a personal touch, to provide more insight into who you are as a person and an educator. Stories about how you helped foster a child's resilience or facilitated kindergarten transition may not make sense on your child care resume, and this is where a cover letter comes in handy.
A good cover letter example would provide some details about yourself, and showcase your value as a potential employee. To get it right, do this:
Format your cover letter properly (or find a match for your child care resume template).
Start your cover letter with a powerful point.
Provide accounts of your professional successes, and show how you can translate those into the new environment.
End your cover letter with a call to action (ask for a call/interview), and make an offer ("I'd be happy to share my ideas on [what the employer needs and you can give them]").
Attach both to your email (your child care resume and cover letter combo), and get ready! Because they will call you back.
Want extra tips? Read more: Writing a Cover Letter (With Templates)
Plus, a great cover letter that matches your resume will give you an advantage over other candidates. You can write it in our cover letter builder here. Here's what it may look like: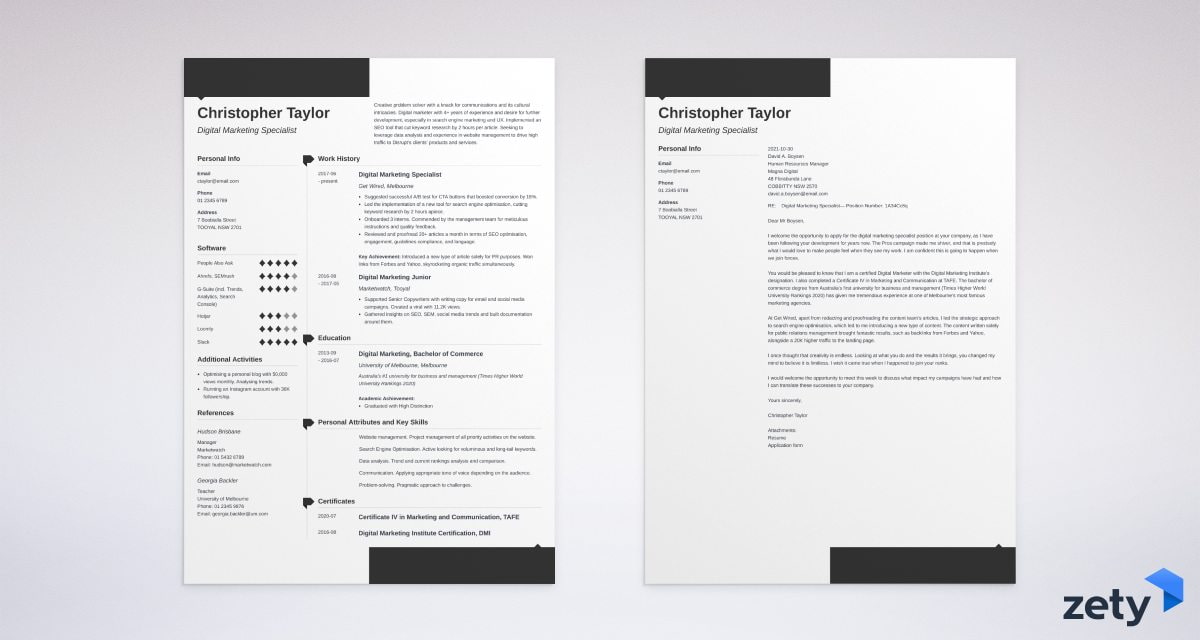 See more cover letter templates and start writing.
And that's all you need to know to write a great child care resume.
Thanks for reading, and cheerio! Anything we missed? Did you find the child care educator resume sample for Australia helpful? Let us know in the comments below.