Information Technology (IT) Resume Examples & Guide
Looking for a full stack guide to writing your IT resume? You're in the right place. Turn your job hunting 404s into 200 OK success.
Information technology jobs are more in demand than ever, and the market is hotter than a badly overclocked CPU.
But in an industry that demands you demonstrate top-notch tech skills, your job application has to be coded cleaner than a whistle.
All you need to do is take five minutes to read this guide, and you'll have the exact syntax for writing a job-winning IT resume.
We'll show you:
An IT resume example better than 90% of the competition.
How to write an IT resume that'll score you more interviews.
Tips and samples to show you how to put your skills and achievements on an IT job resume.
How to describe your experience on a resume for IT jobs to get any role you want.
Want to save time and have your resume ready in 5 minutes? Try our resume builder. It's fast and easy to use. Plus, you'll get ready-made content to add with one click. See 20+ resume templates and create your resume here.
Sample resume made with our builder—See more templates and create your resume here.
IT Resume Example
Chelsea Lee
Phone: 0412 345 678
E-mail: chelsealee@mail.com.au
linkedin.com/in/chelsealee
Summary
Solution-focused technical support representative with 6+ years of experience in hardware and software support, seeking to leverage my skills and grow with Raymond James Financial. Provided excellent technical support service, developed strong working relationships with customers, and displayed expert knowledge on all products offered at Trimble.
Experience
Senior Technical Support Representative
Trimble Solutions, Adelaide
December 2017–Present
Provided excellent technical support service for Trimble products (Windows & Android) and developed strong working relationships for over 6500 different farms in the US in 3+ years.
Received 50+ commendations from start-up farms in setting up their Trimble products (hardware & software) and educating them on their features and proper usage.
Displayed expert knowledge on all 11 Iron Solutions products and other Trimble products and have trained new technical support representatives in Canada, China, and India.
Analysed data and collaborated with colleagues from around the globe in updating the support knowledge base used by internal and external customers.
Technical Support Representative
Great Australian Byte, Adelaide
April 2015–December 2017
Received a commendation for assisting and resolving a complex customer issue through fixing Windows Registry settings and installing necessary product software.
Also commended for successfully assisting a high profile client in setting up the speakers and conference camera for his meeting due in 10 minutes.
Gained expert knowledge of over 40 different peripherals for both Mac and Windows.
Education
University of Adelaide, Bachelor of Information Technology
2011–2015
Key skills
Technical product knowledge
Interpersonal skills
Customer service
Problem-solving
HTML & CSS
Splunk
Agile methodology
Multitasking
Operating systems (Windows/macOS/Android)
Office 365 & Google Workspace
Certifications
Six Sigma Yellow Belt (Trimble)
Certified Helpdesk Support Technician
Awards
Circle of Joy award, Trimble, December 2020
Circle of Joy award, Trimble, December 2019
Hobbies & interests
Creating digital art and coding using Raspberry Pi
References available upon request
Now here's how to write an IT resume that'll land you a job faster than an Alienware gaming rig.
1. Choose the Best Format for Your IT Resume
IT professionals perform a wide variety of tasks associated with testing, building, repairing and maintaining computer hardware and software. Your IT resume should prove you have the skills to address IT issues, and the ability to keep up to date with evolving technologies.
But—

Recruiters only spend seconds looking at your resume. In the time it takes to 'turn it off and back on again' they'll have finished with yours and moved on to the next. To make sure your IT resume has their full attention, you need to follow these formatting rules:
Start with your contact information.
Choose chronological layout for your resume format. It puts your experience and achievements front and centre, showing your strengths at a glance.
Create a good UX with plenty of white space and clear, readable CV fonts.
Keep your layout intact and ensure cross-platform compatibility by saving your IT resume in PDF format.
And how long should a resume be for IT jobs? 1–2 pages is best. Write a two-page resume if you've got enough experience and achievements to justify the page real estate, otherwise stick to a one-page resume.
2. Write a Resume Summary or Resume Objective
Also known as a resume profile, a resume summary or objective is a short paragraph, 3–4 sentences long, that acts as the introduction to your resume. It's there to quickly prove that you're the best candidate for the job.

It should go right at the top of your resume and should always be tailored to the job you're applying for.
Use a resume summary if you have 2+ years of experience in IT work:
Boot up your onboard memory and think of a list of all your strengths as an IT professional.
Then write your summary by combining three or four of the most relevant points from your list with your years of experience and your job title.
Use a resume objective for writing an entry-level or IT graduate resume, or if you're a career changer.
List measurable achievements and transferable skills you've obtained from previous work experience and your education.
Select a few of the most relevant points and use them to prove how much you've learned and that you'll be the perfect fit.
3. Program the Perfect IT Resume Job Description
Your IT resume experience section has to be bug free and prove you're the flagship candidate:
Start with your most recent or present job and work back in reverse chronological order.
Include the same specs in each entry: your job title, company and location, dates of employment and up to six bullet points.
For less recent jobs, reduce the number of bullet points and only include relevant achievements.
Begin each bullet point with a resume action word for energy and impact.
Add measurable and quantified achievements, not just a roll call of responsibilities.
Write a targeted resume work experience section. Address the key requirements of the job on offer.
4. Make Your IT Resume Education Section Shine
A properly written education section is essential for an effective IT resume. Despite what you might have heard, hiring managers do read it, and it can be decisive in getting you the job.
If you're an old hand with 5 or more years of experience, you only need to list the essentials: Uni name and location, your years of attendance and the name of your degree.
Haven't got that many years under your belt? Add some oomph to your education section by adding extra details. Just as you did with your work experience, make a list of standout educational achievements and activities and add a few relevant ones as bullet points.
And for IT certifications, add them as an extra section. More on that in a minute.
When making a resume in our builder, drag & drop bullet points, skills, and auto-fill the boring stuff. Spell check? Check. Start building a professional resume template here for free.
When you're done, Zety's resume builder will score your resume and tell you exactly how to make it better.
5. Highlight Your IT Resume Skills
IT jobs cover a huge range of constantly changing technologies, so demonstrating your skills is key. Here's how to show off them off in your IT resume:
Make a list of all the skills you have. Soft skills and hard skills, technical skills, anything that helps make you a consummate IT pro.
Choose skills that are most relevant to the job you're applying for and include them in your IT resume. Add 5–10 bullet points in your skills section and prove your abilities by also including your skills in your experience section, education and resume profile.
IT Resume Skills
Technical product knowledge
Interpersonal skills
Customer service
Problem-solving
HTML & CSS
Splunk
Agile methodology
Multitasking
Operating systems (Windows/macOS/Android)
Office 365 & Google Workspace
And if you don't think your skills are up to scratch, fire up Google and search for training courses in your field of choice. It's been estimated that 87% of jobs in Australia now require digital skills, so you'll be boosting your value to the broader job market too.
6. Add Extra Sections to Your IT Resume
Adding extra sections shows you're more than just an average candidate. They help show your unique abilities and give you the chance to throw in even more professional skills and abilities.
Good ideas include certifications, projects, achievements, language skills, hobbies and volunteer work.
If it's relevant to the job and adds value to your resume, it's worth mentioning.
Pro Tip: If you've got knowledge of multiple programming languages, include a separate section dedicated to them.
7. Attach a Cover Letter to Your IT Resume
Cover letters are still important. Around half of hiring managers still expect to see them, so not writing one is like writing a program that has a 50% chance of a fatal exception error every time it's used. Not a great idea.
Write your IT cover letter using these tips:
Use a neat and business-like cover letter format.
Come up with a compelling 'hook' to start your cover letter with.
Show how your experience will contribute to the success of your prospective employer.
Don't just regurgitate your resume.
Throw in a tempting offer and a call to action to end your cover letter.
And the final step? Always follow up your IT job application. It can be just the thing to get you over the finish line.
Plus, a great cover letter that matches your resume will give you an advantage over other candidates. You can write it in our cover letter builder here. Here's what it may look like: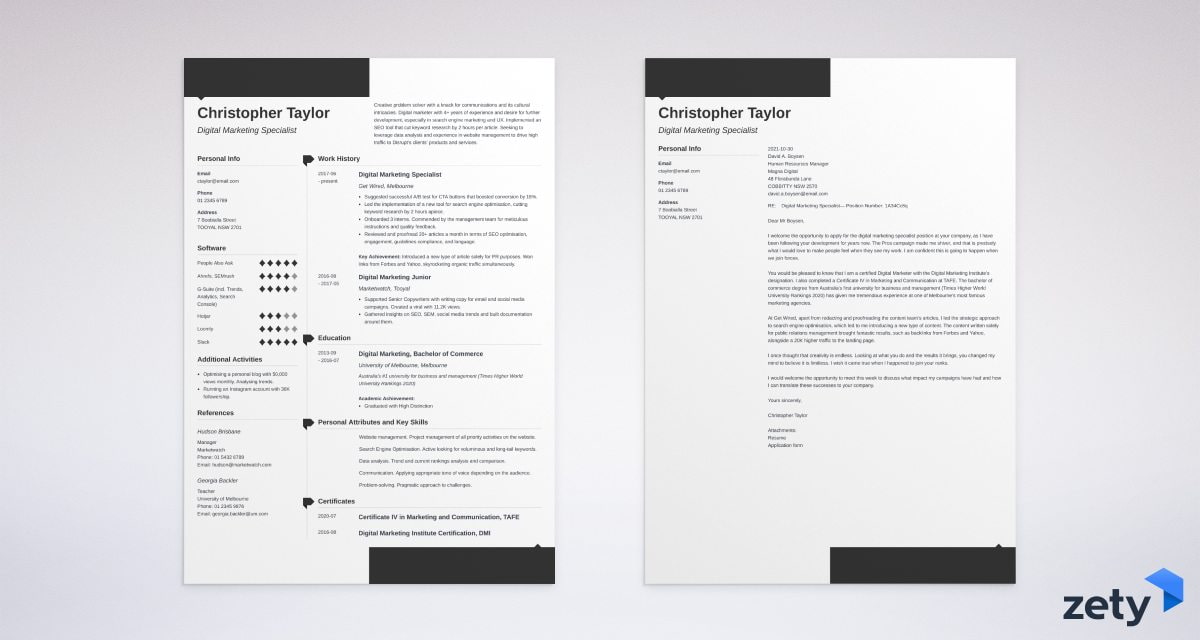 See more cover letter templates and start writing.
So that's all there is to it. Everything you need to write the perfect IT professional resume.
Thanks for reading. Do you have any questions or feedback for us? Need advice for specific roles like an IT help desk resume? Whatever your question, feel free to ask us in the comments section and we'll be happy to help.