Chef Resume: Template, Samples, and Writing Guide
You create magic in the kitchen, but you're not sure how to prove it in your resume? Follow these expert tips and look at our examples to turn your chef resume into a chef's kiss.
You are a culinary wizard, a trained expert in the exquisite art of gastronomy, and every dish you create and present looks like an artistic masterpiece.
But if you want to get the best chef jobs out there, you cannoli get so far with a resume that doesn't stand out.
Season your resume to perfection, and whet employers' appetites with a mouthwatering chef resume recipe for success.
This guide will show you:
A chef resume example better than 9 out of 10 other resumes.
How to write a chef resume that will land you more interviews.
Tips and examples of how to put skills and achievements on a chef resume.
How to describe your experience on a resume for a chef to get any job you want.
Want to save time and have your resume ready in 5 minutes? Try our resume builder. It's fast and easy to use. Plus, you'll get ready-made content to add with one click. See 20+ resume templates and create your resume here.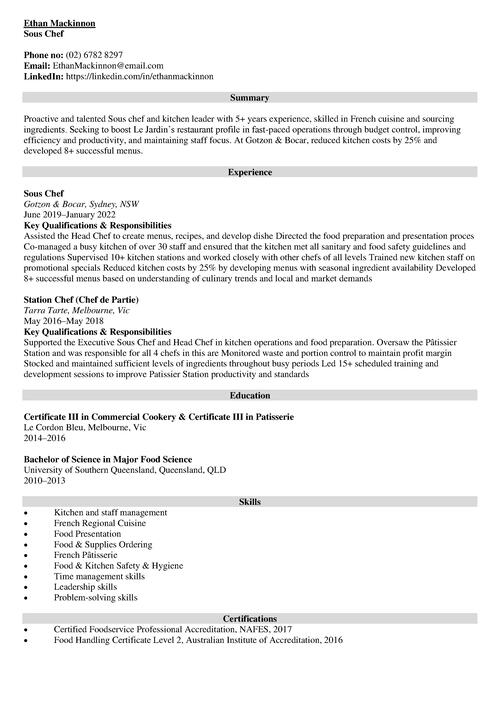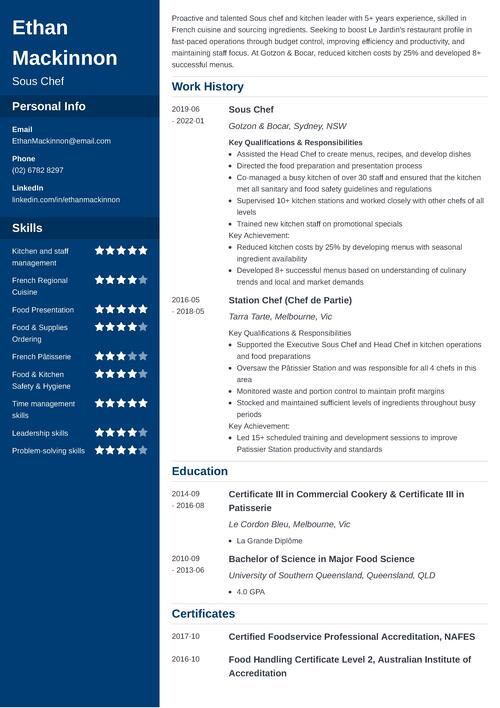 Sample resume made with our builder—See more resume examples here.
Chef Resume Template
Ethan Mackinnon
Sous Chef
Phone no: (02) 6782 8297
Email: EthanMackinnon@email.com
LinkedIn: https://linkedin.com/in/ethanmackinnon
Summary
Proactive and talented Sous chef and kitchen leader with 5+ years experience, skilled in French cuisine and sourcing ingredients. Seeking to boost Le Jardin's restaurant profile in fast-paced operations through budget control, improving efficiency and productivity, and maintaining staff focus. At Gotzon & Bocar, reduced kitchen costs by 25% and developed 8+ successful menus.
Experience
Sous Chef
Gotzon & Bocar, Sydney, NSW
June 2019–January 2022
Key Qualifications & Responsibilities
Assisted the Head Chef to create menus, recipes, and develop dishes
Directed the food preparation and presentation process
Co-managed a busy kitchen of over 30 staff and ensured that the kitchen met all sanitary and food safety guidelines and regulations
Supervised 10+ kitchen stations and worked closely with other chefs of all levels
Trained new kitchen staff on promotional specials
Key Achievement:
Reduced kitchen costs by 25% by developing menus with seasonal ingredient availability
Developed 8+ successful menus based on understanding of culinary trends and local and market demands
Station Chef (Chef de Partie)
Tarra Tarte, Melbourne, Vic
May 2016–May 2018
Key Qualifications & Responsibilities
Supported the Executive Sous Chef and Head Chef in kitchen operations and food preparations
Oversaw the Pâtissier Station and was responsible for all 4 chefs in this area
Monitored waste and portion control to maintain profit margins
Stocked and maintained sufficient levels of ingredients throughout busy periods
Key Achievement:
Led 15+ scheduled training and development sessions to improve Patissier Station productivity and standards
Education
Certificate III in Commercial Cookery & Certificate III in Patisserie
Le Cordon Bleu, Melbourne, Vic
2014–2016
Bachelor of Science in Major Food Science
University of Southern Queensland, Queensland, QLD
2010–2013
Skills
Kitchen and staff management
French Regional Cuisine
Food Presentation
Food & Supplies Ordering
French Pâtisserie
Food & Kitchen Safety & Hygiene
Time management skills
Leadership skills
Problem-solving skills
Certifications
Certified Foodservice Professional Accreditation, NAFES, 2017
Food Handling Certificate Level 2, Australian Institute of Accreditation, 2016
Here's how to write a job-winning chef resume:
1. Choose the Best Format for Your Chef Resume
You want your resume to read like a fine dining restaurant menu—not a cheap and inexperienced fast-food diner.
And like a three-star Michelin menu, it's important to have a well-formatted resume that's neatly structured.
Here are some chef resume template formatting rules to follow to make sure you get it right:
Stick to tradition and use the resume format that hiring managers know best. For a chef resume, opt for the reverse chronological format to highlight your most recent experience.
Just as you would for your menu, create a nice-looking layout with a resume header and your contact information. Choose a classic font with 1.15 line spacing and even margins on all sides.
Add a summary statement followed by your work experience, education, and relevant skills.
Divide your resume into clear sections. Make each one easy to distinguish by using big headings and even margins on the side.
When it comes to length, stick to the standard 2–4 pages, but try to only use 4 if you have lots of experience.
Keep your chef resume nice and safe and send it in PDF format unless specifically instructed otherwise. Microsoft Word documents can often change the format and look weird on different devices—saving it as a PDF is a sure-fire way to keep your resume looking pristine.
Read more about resume formatting: Resume Formats: How to Pick the Ideal One
2. Serve up a Chef Resume Work Experience Section
Your work experience section is, without a doubt, the most important part of your resume—so it's best to spend the most time on crafting it to perfection.
Nothing proves that you can conjure up a culinary masterpiece and know the tricks of the cooking trade better.
Here's how to ensure that it's chef's kiss:
Put your most recent chef job first and work your way back.
Include a job title, the name of your employer, and dates of employment for each entry.
Use no more than 6 bullet points and start each one with an action word like organised, planned, or designed for more impact.
Quantify wherever possible to highlight your professional achievements. Don't just list your responsibilities—you have to show, not tell how well you did.
Follow the PAR (Problem-Action-Result) formula and always target your work experience section to match the job requirements that you are applying for. The hiring manager needs to see that your experience matches what is required and that you are qualified.
Chef Resume Sample: Work Experience
RIGHT
Sous Chef
Francia Zinn
February 2018–November 2019
Developed 10+ successful menus based on consumer research and local demand.
Reduced kitchen costs by 9%, to a budgeted 24%
Co-managed a busy kitchen of over 40 staff and managed daily kitchen operations.
Identified and provided solutions for problem areas, and implemented standards that exceed health and safety regulations.
Performed monthly inventory duties, approved menu designs, and held weekly staff meetings to ensure a smooth-running operation.
Received a 5-star rating in Sydney Magazine restaurant review.
WRONG
Gaston Botford, 2014–2016
Sous Chef
Developed new recipes.
Responsible for kitchen duties.
Boosted team morale and productivity.
Stocked the line and maintained sufficient levels of ingredients.
What a difference, right?
I bet you won't believe that they are both from the same candidate.
In the right example, they focused on quantifiable results, while highlighting achievements that are backed up.
In the wrong example, the candidate simply listed a few basic achievements and responsibilities, but didn't develop them further or provide any measurable results.
Hoping to get your foot in the door with an entry-level beginner chef resume and don't have any outstanding achievements just yet? Don't worry.
You can still create a great impression and an effective work experience section even if you don't have much experience.
This example below will point you in the right direction.
Entry-Level Chef Resume Sample: Work Experience
RIGHT
Volunteer Cook
Craft Dish
February 2018–November 2019
Prepared various dishes according to the supervisor's instructions.
Garnished cooked dishes according to provided instructions.
Assisted chefs by handling food portioning tasks, ingredient preparation, and food rotation.
Maintained sanitisation standards.
Prepared ingredients while maintaining proper food safety practises and procedures.
WRONG
Aspiring chef fresh out of university with no professional experience, but with a passion for cooking that is driven to succeed.
Completed 500 hours of on-the-job experience at a fast food restaurant.
Recognised by the professor for culinary knowledge and attention to detail.
The right example emphasises aspects that are relevant to being a chef, whereas the wrong example barely contains any information, and what it does include is very vague.
Did you have an internship experience that is somehow related to cooking? Include it!
Your entry-level chef resume experience section still needs to be tailored to the job that you are applying for, with your strengths and skills highlighted so that they are impossible for the hiring manager to ignore.
Read more: How to Write a Resume in Australia
When making a resume in our builder, drag & drop bullet points, skills, and auto-fill the boring stuff. Spell check? Check. Start building a professional resume template here for free.
When you're done, Zety's resume builder will score your resume and tell you exactly how to make it better.
3. Include an Education Section
There's no denying that it takes more than just a formal education to make a good chef. But even with the most impressive work history in the world, recruiters are still bound to check what kind of education you have.
Most education sections in resumes tend to be the same—so you want to make yours sizzle as much as you possibly can.
As an experienced chef, show off your skills and culinary expertise and let the basics speak for themselves by only highlighting your highest degree or diploma of education. There's no need to add extra seasoning where it's not required.
Don't quite have a La Grande Diplôme in French cuisine? No problem. Show off your culinary skills and potential by listing relevant academic achievements, coursework, or extracurricular activities such as food safety classes instead.
Chef Resume Examples: Education
RIGHT
Certificate III in Commercial Cookery & Certificate III in Patisserie
Le Cordon Bleu, Melbourne, Vic
2014–2016
Bachelor of Science in Major Food Science
University of Southern Queensland, Queensland, QLD
2010–2013
4. Show Off Your Culinary Skills
As a chef, your skill is your bread and butter.
Whether it's whipping up a creme brulee or creating a Pasta Con Pomodoro E Basilico, your skills are what defines your success.
It's what earns you your bacon.
But how do you know which to include on your resume?
The right recipe? Tailoring to the job you are applying for while making sure that you include the perfect mix of soft skills and technical culinary abilities.
Read the job advertisement carefully to identify which skills the employer is looking for and write them down. Next, think about your own skills and write them down on a list. Feeling stuck? Look over your education and work experience sections on your resume to help you.
Compare the two lists and see which skills match the job requirements. Choose 5–10 and include them in your resume.
Remember to include a mix of soft, hard, and technical skills.
Look at your work experience again. Do the bullet points demonstrate your skills? Remember, you want to tell, not just show. If not, rephrase them slightly.
Chef Resume Skills
Here's a list of chef skills that would look great on a resume:
Menu planning
Leadership
Attention to detail
Creativity
Health & safety
Culinary knowledge
Ability to work under pressure
Cooking techniques (specific to your target job)
Inventory management
Negotiation skills
Budgeting
Kitchen safety
Computer skills
Active listening
Problem-solving skills
Decision-making skills
Delegating tasks
Food quality
Supplier relations
Customer service
Sourcing produce
Presentation skills
Creative thinking
Critical thinking
Time management
Chef Resume Sample: Skills Section
Here's an example of what your skills section should look like:
RIGHT
Skills
Kitchen and staff management
French Regional Cuisine
Food Presentation
Food & Supplies Ordering
French Pâtisserie
Food & Kitchen Safety & Hygiene
Time management skills
Leadership skills
Problem-solving skills
5. Add Additional Sections To Your Resume For Chefs
A resume without an extra section? That may look like a meal that's a little under-cooked.
And nobody wants to take a risk on that—especially not recruiters.
Add a pinch of seasoning and an extra section to elevate your resume to the next level and show your potential employers that you're not just a great chef—but a culinary genius who practises their craft in many different forms.
These are some great options for chef jobs:
Professional achievements, licences, and certifications to highlight your cooking prowess.
Hobbies relevant to the job, showing recruiters your passion for the industry and why you'd be a good fit.
Ever done some volunteering cooking to help out local charities? Add it to your resume.
Do you know another language? Impress your potential employers with your linguistic skills as well as your cooking. Kitchens are international environments after all, and being bilingual can go a long way.
Chef Resume Examples: Extra Sections
RIGHT
Certifications
Certified Foodservice Professional Accreditation, NAFES, 2017
Food Handling Certificate Level 2, Australian Institute of Accreditation, 2016
Languages
English—Native
French—Fluent
Italian—Beginner
6. Write a Chef Resume Summary or Objective
Choosing the perfect candidate is like sorting rice from lentils one by one.
Pretty tiresome.
Each resume only gets a few seconds, so you need to grab the employer's attention straight away. Wham. Bam.
And while you can't serve up a dish that makes their taste buds dance to do that, you can still entice.
How? Create a resume objective or summary at the top of your chef resume.
You're a well-seasoned chef that's whipped up dishes in various restaurants? Write a resume summary that will summarise your work history and show your future employer how you would elevate their business.
Looking to earn your chef's hat with your first job in a restaurant? Go for a resume objective instead. Not only will it promote your culinary skills, but it will also show your willingness to work hard and learn.
Here are some extra tips to get you started:
Read through your resume and look for pieces of information that stand out and are most relevant to the position you are applying for.
Pick your top 2–3 achievements and skills from your work experience, education, and skills sections.
Put them all together using this winning formula: Adjective + Job Title + Years of Experience + Achievements + Skills + What you will do for the employer.
Let's take a look at some examples:
Chef Resume Template: Summary
Right
Self-motivated chef who leads by example. 5+ years of proven track record of managing kitchen operations and staff, estimating food costs, planning 20+ menus, developing recipes, and tracking inventory. A versatile individual who can work under pressure, seeking to reduce labour costs while motivating and coaching staff at La Guinguette to improve performance.
Wrong
Having been head chef for over seven years now, I am highly skilled and specialise in Italian cuisine. I am brimming with experience and would make a great addition to any team.
See the difference?
The first example explains HOW they would benefit the new employer.
The second example sounds friendly and nice, sure. BUT anyone can say they have experience—it doesn't always mean it's true. And recruiters know that.
You want to show how you are the best fit for the job.
Now for some entry-level examples:
Chef Resume Objectives: Example
Right
Passionate Culinary Arts Management graduate from William Angliss Institute with a Certified Chef de Cuisine (CCC) credential. Looking to apply management, creativity, and menu planning skills to deliver high-quality meals and hospitality at Le Restaurant. Skilled in American and Middle Eastern dishes and fluent in Spanish.
Wrong
Recent university graduate with a BA in Food Science and certificate in food preparation and cooking. Seeking a chef position to learn from an experienced team.
The right example shows a specific skill that can benefit the employer while highlighting soft skills, making them an attractive all-around candidate.
The wrong example talks about what they want to gain from the employer, not what they can offer. Remember, you need to make the employer an offer, not the other way around.
7. Attach a Chef Cover Letter
It's true—some employers require cover letters, while others don't. And even when it is a requirement, not everyone will read them.
But it's also true that they can be the extra sprinkle of salt that brings out the flavour in your whole application.
In fact 83% of recruiters have said that cover letters were important in their hiring decisions, so if you're thinking of giving it a miss—don't. Employers will appreciate the extra effort.
Need some extra motivation? In 2020 there were 94,000 chefs in Australia. This figure is expected to rise to reach 112,700 by 2025 showing that you are in demand.
So follow these instructions and add a chef cover letter to go with your resume to give yourself an advantage over other candidates, and give yourself a fighting chance:
Hook the recruiter with an eye-catching opening line and make sure your cover letter is short, punchy, and to the point so that they'll want another mouthful and read on.
Remember that presentation matters in the culinary world, so always use a neat cover letter format.
Show how your skills and experience will translate to great results in the kitchen.
Only write a maximum of one page—like with a steak, you don't want to overdo it.
End your cover letter with the icing on the cake—add an extra cooking achievement!
Read more: How to Write a Cover Letter for a Job
Plus, a great cover letter that matches your resume will give you an advantage over other candidates. You can write it in our cover letter builder here. Here's what it may look like: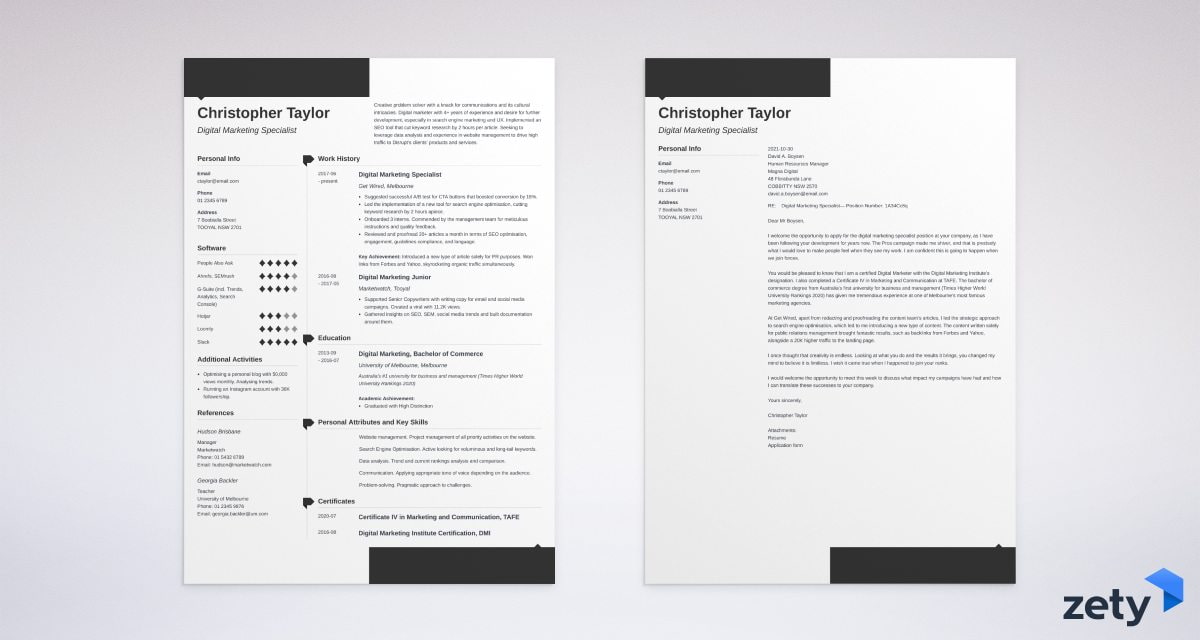 See more cover letter templates and start writing.
Key Takeaways
Here's how to write a resume for chef step by step:
Use a neat resume format/structure.
Craft a solid work experience section.
Show off your knowledge with a well-thought-out education section.
List skills that are relevant to the position that you are applying for.
Add another course with an extras section that includes your hobbies, awards, and certifications.
Grab the employer's attention with a resume objective/summary that's difficult to ignore.
Tip the scales in your favour with a short and punchy cover letter.
Now you are all set to write your resume for a chef!
Remember, always follow up on every job application and contact the employer by phone or email if you haven't heard back within a week to get an update on your application.
Thanks for reading my guide! Now I'd love to hear from you:
What are the biggest challenges of writing a chef resume?
What part do you struggle with the most?
Let's chat below in the comments, and thanks for reading!