30+ LinkedIn Profile Tips to Make Your LinkedIn Stand Out
Your LinkedIn page is more than a copy of your resume. It represents your personal brand. Make it irresistible to headhunters with these unbeatable LinkedIn profile tips.
It's true that LinkedIn is a great place to find a new job. But filling your profile with basic information isn't enough to impress potential employers. There's no place for average in business. Your profile must stand out and overshadow other users with similar backgrounds.
Even 15 minutes of tweaking can significantly improve your page. You just need to use the right LinkedIn profile tips to turn it into a work of art.
This guide will show you:
How to make a good LinkedIn profile from scratch.
Over 30 LinkedIn profile tips to turn a boring page into your personal brand.
How to make your LinkedIn stand out from the crowd.
A good LinkedIn profile is a great start, but most recruiters still expect you to send a resume. Don't let them wait—create a resume in 15 minutes to reply to job offers immediately.
Sample resume made with our builder—See more resume examples here.
Are you looking for a new job? Check these guides:
This guide includes a lot of LinkedIn profile tips, so I've divided them into a few categories to make things easier for you:
Jump to the part that interests you the most or read all the tips to learn how to make a good LinkedIn profile that gets awesome job offers.
Best LinkedIn Profile Tips to Improve Each Profile Section
This chapter includes 16 LinkedIn profile tips that will help you polish each part of your page. These tips are generic, and they don't pertain to specific industries. A good LinkedIn profile for a graphic designer will look different from the profile of a plumbing company owner. You don't have to follow every piece of advice verbatim if you feel that it doesn't suit your profession.
1. Upload a Good LinkedIn Profile Picture
It's not a secret that we all judge others based on their appearance. That's just biology—research shows that even babies prefer attractive faces. Adults have learned to value other qualities besides physical ones but still tend to judge personality traits based on looks. Your profile photo must represent your professional persona.
Here are a few tips for a good LinkedIn profile photo:
Use a recent and good-quality photo that shows your face clearly.
Crop the photo to 400x400 pixels. A bigger one is fine too, but square photos work best.
Make sure your face covers around 60% of the photo.
Keep your expression natural, or smile a little.
Wear an outfit that you would normally wear to work.
Consider getting a professional headshot from a photographer if you don't have suitable photos.
2. Customize Your LinkedIn Profile URL
LinkedIn assigns slightly randomized URLs to profiles, which means that your page's URL might have some numbers or letters. It's better to edit it so it includes only your name and surname. If a URL like that is already taken, try to add a business name. A personalized LinkedIn URL will look great in the contact information section of a resume.
3. Add Your Pronouns
Adding your preferred pronouns to the profile makes it easier for recruiters to talk to you, especially if your first name is gender-neutral. It also helps to create a more inclusive environment in workplaces as well as on LinkedIn.
4. Keep Your Contact Information Up to Date
Imagine that a headhunter wants to reach out, but your LinkedIn profile includes an old e-mail address. Their message ends up lost in a limbo of old spam mail, and you don't notice it because you haven't checked your profile in two weeks. Updating your contact details sounds like a very obvious LinkedIn profile tip, but it's really important.
5. List Your Location
Let's face it—many companies prefer to hire locally. Even if you want a remote job, work regulations might prevent you from working for a company from a different country. And if you're a business owner seeking clients, it's most likely that locals will be more interested in your services than someone overseas. Remember to update your location when you move to a new town, state, or country.
6. Use the Background Picture to Tell Your Story
Sure, you can add a selfie with your beloved dog to your profile. But how about using the background picture to advertise your area of expertise? For example, if you're a psychotherapist working in Seattle, you could create a banner with a nice shot of the city and a few bullets listing your services. Or simply add a photo of your office so clients know what to expect. Much more effective than a selfie.
7. Write a Captivating LinkedIn Profile Headline
Your professional headline must sell your assets in just a few words. LinkedIn allows you to use up to 220 characters—enough to highlight your key qualifications and areas of expertise. You might show off your creative skills by crafting a witty and catchy headline, or just stick to the basics and follow the simplest formula to create a good LinkedIn profile headline: Job Title at Company | Area of Expertise.
8. Turn Your LinkedIn Profile Summary Into an Elevator Pitch
You don't need Tolkien's writing skills to write an effective professional summary. A good LinkedIn profile summary is like an elevator pitch: short and filled with key information about your career. Aim for 3–8 sentences that say what you do, and showcase your professional achievements.
9. State Your Professional Goals
A potential employer or business partner wants to know one thing: what will you bring to the table? So, add a career objective to your LinkedIn profile summary. Mention what kind of job you're looking for so headhunters don't waste your time sending offers that don't interest you.
10. List Job Titles Along With Your Areas of Expertise
The Experience section is one of the essential parts of a good LinkedIn profile. When listing your jobs, add more than just a professional title: mention the areas you focused on when working in this role. For example: Photographer | Portrait & Real Estate Photography.
11. Fill the Experience Section With Your Career Highlights
Instead of listing every job duty you've had in your previous roles, focus on the best bits. Make this part of your LinkedIn profile stand out by using action words at the beginning of each line and adding achievement statements when describing professional accomplishments.
12. Pick the Skills That Represent Your Professional Experience
You can add up to 50 skills to your LinkedIn profile. But don't go for random ones—add the professional skills you can prove through your experience or knowledge. Focus on hard skills first, and then fill the rest with soft skills you've mastered. Afterwards, go through the description of your work experience and check if it matches your skill set.
13. Don't Skip the Education Section
Many jobs have strict education requirements, so don't forget to add information about your education to your LinkedIn profile. If you have no work experience, provide more details, such as descriptions of extracurricular activities or relevant coursework you excelled at.
14. Make Use of Additional Profile Sections
Make your LinkedIn stand out using additional sections! Just like extra sections on a resume can boost your chances of landing a great job, bonus sections allow you to show off publications, certifications, language proficiency, awards, and so on.
15. Add Keywords to Every Section of Your LinkedIn Profile
This step is not optional—it's essential. Without keywords, your LinkedIn profile will get lost among thousands of others. Go through a few job offers that sound interesting to you and scan for words that refer to requirements and future job responsibilities. Then make sure that your LinkedIn profile includes these words. It's very similar to tailoring a resume to a job advertisement.
16. Avoid Meaningless Clichés
A good LinkedIn profile advertises a person without using clickbait terms and clichés. Don't call yourself a ninja or a guru of anything. Most users are tired of seeing these words. Instead, keep your tone professional, as that will never go out of style.
Pro Tip: Use LinkedIn to find others working in the same industry as you, and take a look at their profiles. They can be a great source of inspiration for improving your own page.
Tips on How to Make Your LinkedIn Profile Represent Your Brand
Like it or not, your LinkedIn profile represents your personal brand. How you present and advertise your brand depends solely on you. The more thought you put into it, the more attractive it will be to headhunters and business partners. So, use the tips below to build it well.
17. Add Your LinkedIn Profile to Your Resume
Once you've used our LinkedIn profile tips to improve your page, remember to add your profile's URL to a resume. The best place for that is the resume header area. Check this handy guide for more information: Adding LinkedIn to a Resume.
18. Link to Portfolios or Business Websites
Got an online store, a portfolio website, or your own business site? Remember to add it to your LinkedIn profile. You can list it along with your contact information.
19. Create Your Persona and Story
Wait, wait—I'm not telling you to pretend to be someone else. By all means, be authentic. Just brainstorm a little and think about who you are as a professional in your chosen industry. How do you want to be seen? What do you want others to know about you? Do you want to appear strictly serious and focused on work, or do you want to be chill and people-oriented? Do you have a unique story that can be your selling point? Consider these points and decide what you want to project. Then, make sure that all the contents of your LinkedIn profile as well as your posts align with your persona.
20. Share a Value Proposition on Your LinkedIn Profile
Individuals viewing your profile want to know: what can this person do for me? No matter if you're a business owner, entrepreneur, freelancer, or a full-time employee. So, answer their question straight away. Make sure that your Linkedin profile states what you can offer to others.
21. Keep All Information Relevant to Your Career
Don't mix your personal life with your professional life on LinkedIn. Sure, many people post their personal wins on this platform, too, but if that's all you do, it won't get you many job offers. A good LinkedIn profile presents a coherent vision of a person who's behind it, with all information relevant to their chosen career.
22. Grow Your Professional Network
LinkedIn is a great networking tool. You can connect with experts from your profession and follow visionary thinkers. And the great thing about it is the more connections you have on your LinkedIn, the more visibility your profile gets. That's how this social media platform works. Here's a good LinkedIn networking tip: try to add 10 new connections every day. After a month, you'll have 300 more connections!
23. Connect With Industry Experts
That's not just about networking—following experts and influencers can help you stay in touch with industry news. It will also give you access to content you can re-blog or comment on, leading to better visibility on the platform. No pain, all gain.
24. Join LinkedIn Groups
Want to be in the loop with new developments relevant to your profession? Then LinkedIn groups are the perfect place to be in. You can use them to meet other professionals, share your insights, ask for advice, and even learn about job opportunities.
25. Write Engaging Posts
Most users post on LinkedIn only to announce they're starting a new job. But you can write so much more. Celebrate your achievements, give advice, announce new products or services, share your 5 cents about industry news, tell stories from work, and post about office life. Writing engaging posts increases your visibility dramatically.
26. Use LinkedIn Regularly
If you log in to LinkedIn once per six months when you're considering switching jobs, no amount of LinkedIn profile tips will work effectively. Even if you're not a social media enthusiast, try to dedicate a time slot daily—or at least weekly—to update your profile, check on your connections, and engage with other users. As little as 10 minutes a day can make a difference.
Pro Tip: You should proudly display your best qualities on LinkedIn, but don't exaggerate or try to upsell your qualifications. If you're caught pretending to be someone you're not, you can lose your credibility, just like lying on a resume can ruin your chances of landing a job.
How to Make Your LinkedIn Profile Stand Out
LinkedIn has over 900 million members all over the world. Suffice to say, it's not that easy to stand out from the crowd. But there are some tips & tricks that will help boost the attractiveness of your profile. Check them out:
27. Prove Your Skills Through Assessments
Anyone can add Microsoft Excel skills to their LinkedIn profile. But only some can really prove their knowledge. The platform has the option to take a free skill assessment, and if you pass it, it will be confirmed on your profile.
28. Ask for Endorsements From Your Connections
You can endorse hard and soft skills for other LinkedIn users, and you can ask them to endorse yours. It will make your profile seem more trustworthy. And it only takes a single click!
29. Get Recommendations From Colleagues and Managers
Forget about boring reference letters, it's time for LinkedIn recommendations. They appear at the bottom of a profile, together with the name and photo of the person who left it. You can also give them to your former colleagues, managers, and subordinates to show you care about them.
30. Show Continuous Learning
You can't be successful if you quit learning 20 years ago and stopped developing since. LinkedIn is a great place to show that you're still working on expanding your knowledge and skill set. You can use the built-in online learning platform, or go for other methods that you prefer, and then post about what you've learned on your profile.
31. Write Long-Form Original Content
Did you know that you can post longer articles on LinkedIn? It's a great way to create and share engaging content that gets love from other users. You can publish your research, describe case studies, write essays, or go for evergreen forms such as listicles, how-tos, and tutorials.
32. Post Videos and Infographics
If you have a creative streak, give visual content a try. Even a simple infographic is more likely to get more clicks and shares than a text post. And making videos isn't rocket science nowadays. If you're truly adventurous, you can consider broadcasting live videos—they're a great format for tutorials, Q&A sessions, and workshops.
33. Update Your LinkedIn Profile Regularly
This is the key LinkedIn profile tip. I'm adding it near the end of this list, so you won't forget about it. You must update your profile regularly, not once a year. It's better to spend 15 minutes per week tweaking your page rather than spend two hours one evening in December and then not touch it the rest of the year.
34. Make Sure Your Resume Matches Your LinkedIn Profile
When you get a job offer on LinkedIn, there's a pretty big chance you'll need to send a resume anyway. Most companies expect it because it's easy to print out and review by hiring managers. So, don't forget to put work into making your resume perfect. A good LinkedIn profile needs a matching resume.
If you need more information about making a resume from scratch, check here: Step-by-Step Guide to Making a Great Resume From Start to Finish
When making a resume in our builder, drag & drop bullet points, skills, and auto-fill the boring stuff. Spell check? Check. Start building a professional resume template here for free.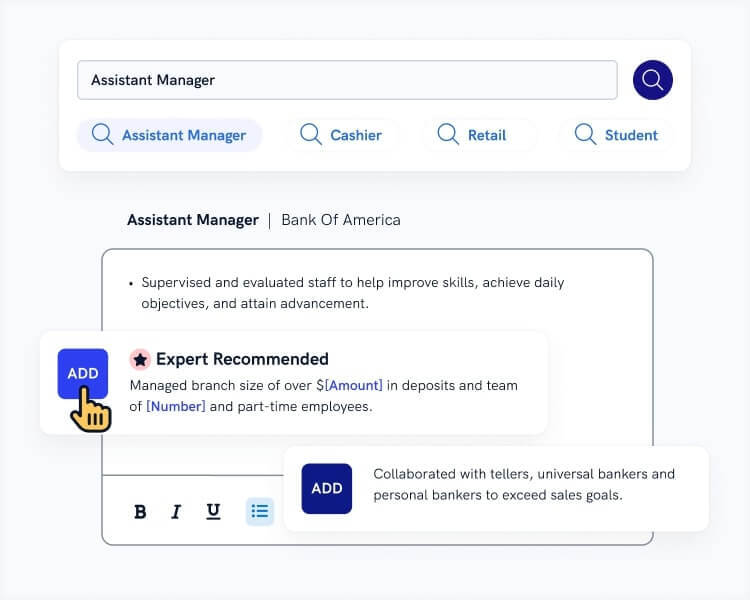 When you're done, Zety's resume builder will score your resume and our resume checker will tell you exactly how to make it better.
Key Takeaway
Phew, that was a lot of info. Here's a reminder of a few essential points made in this guide:
Fill every essential section of your LinkedIn profile with relevant information about your professional background.
Include industry keywords in your profile descriptions to appear in search results.
Engage with other users to build credibility and improve your profile's visibility.
Update your profile regularly to ensure all information is correct.
Have an updated resume ready in case you receive an attractive job offer via LinkedIn.
That's all!
Got any other LinkedIn profile tips you want to share? Do you need more information about any points made in this article? Let us know in the comments.
About Zety's Editorial Process
This article has been reviewed by our editorial team to make sure it follows Zety's editorial guidelines. We're committed to sharing our expertise and giving you trustworthy career advice tailored to your needs. High-quality content is what brings over 40 million readers to our site every year. But we don't stop there. Our team conducts original research to understand the job market better, and we pride ourselves on being quoted by top universities and prime media outlets from around the world.