We'll get to how you can make a professional website in just a moment, but first:
You nail your resume, cover letter, and get that phone interview.
Then, the hiring manager asks you to send in examples of your work. If only there was a way to provide information and show your work in one place…
This is one of the many pain points solved by creating a professional website for your career. With a website, you can show your work, tell your story more effectively, and stand out among the competition.
If you don't know how to design a website for professional use, don't sweat it. At MOJO Marketplace, we specialize in helping people with building and designing websites on their own. We help small businesses, entrepreneurs, and freelancers find success online.
We're guest posting on Zety to provide our perspective and hopefully give your career a boost by helping you figure out how to design a more effective professional website.
In this article, you'll learn how to create a webpage that will maximize your impact on recruiters and hiring managers.
1
Why You Need a Professional Website
Surprisingly, skepticism about having a professional portfolio website persists today. If you fall into that camp, here are three big reasons to change your mind.
One Place
Your own professional website enables you to provide information, examples of your work, your story, and ways to get in touch, all in one convenient place.
Control
You will gain more control over your online presence (what comes up in search results) and how recruiters learn about you.
Impress
When you create your own website, you demonstrate resourcefulness and skills hiring managers value for any job, such as communication and organization.
2
How to Create a Website Step by Step
If you're seeing a matrix of candy-colored lines of code after reading that header, don't worry. You won't need to code to set up your personal website. You just need to understand the concepts explained here to figure out how to set up a website for professional and personal use.
There's every reason to DIY your website right now. The tools are cheaper, easier, and more effective than ever. But there are some potential pitfalls.
Choosing the wrong website platform can cause headaches. Using a simple site builder like Wix or Squarespace may seem like the path of least resistance. But their templates and features are quite limited, and restrict you to a certain look and feel.
WordPress, the CMS (content management system) that powers 27% of the internet, provides way more options, themes, plugins, and has a larger community of developers and users to support you.
We recommend using WordPress to make your personal website. You'll have more theme designs (a.k.a. templates) to choose from, more customization options, and better support throughout the process.
In addition to creating a better site, you'll learn more useful career skills simply by using WordPress: Here's our step-by-step guide to building a great website with WordPress.
3
How to Structure Your Website to Get More Interviews
Now you're chomping at the bit to create a personal site. But where do you start?
Here are a few crucial tips on how to set up a professional website for job-seeking purposes.
Do Your Research
First, take a page from the marketing playbook and research your audience. Start by reading job descriptions you're interested in and jot down the keywords.
To help visualize it, you can copy and paste some job descriptions into a word cloud generator like this: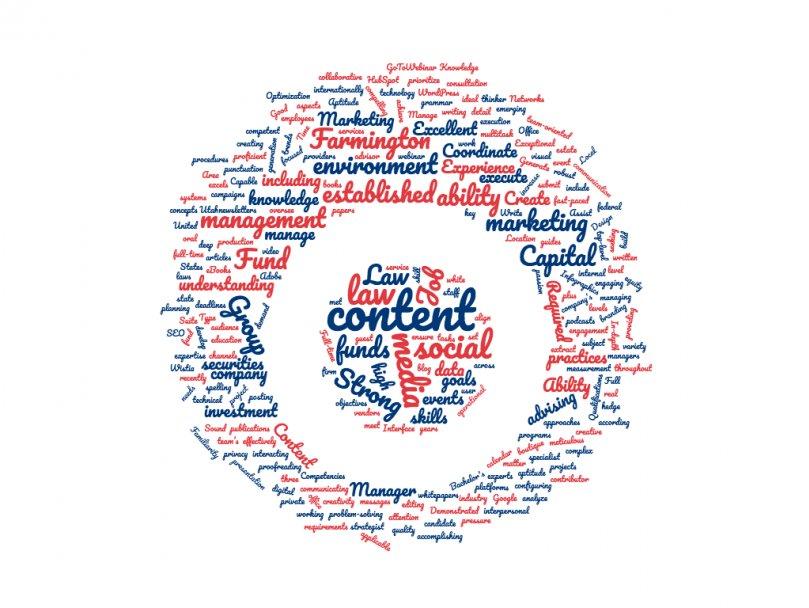 Example from a content strategist job posting.
Identify the keywords and requirements for your ideal job description. You'll use them to craft a personal statement—like a resume summary—that will guide the structure and content of your professional website.
Craft Your Personal Statement
The reason you should take this step is simple.
When companies design a website, they first define their identity and goals as an organization. To create a knockout personal website, you should do the same.
Simply put, who are you and what do you want to do?
Here's an example of how you might phrase it.
I'm a UX designer with 5 years of experience. I'm seeking to improve accessibility on the web through more conscientious, user-first design.
Finishing this might be the hardest part. But when you complete your personal statement, you're teeing up the rest of your professional portfolio website, including:
What you show on your homepage.
Site layout and design.
Portfolio content/work examples.
Essentially, your website will set out to prove your personal statement.
The First Impression
On average recruiters spend six seconds on a resume before making the decision to trash or pursue it.
And research shows that you have about ten seconds to reel someone into your website before they click away.
The best way to beat the odds? Make your statement clear and present from the get go. Like this example of a professional portfolio website from melaniedaveid.com.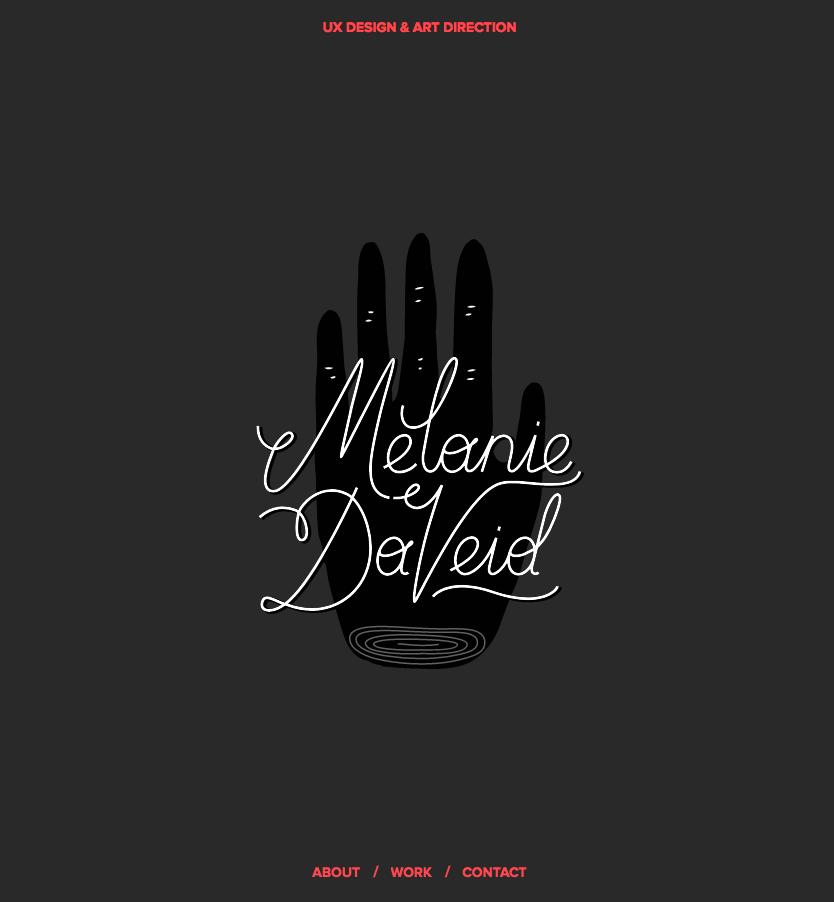 This first impression is stripped down to the core idea: UX design & art direction.
Here are the elements that make this first impression work:
It tells you who Melanie Daveid is.
It clearly states what she does.
And it provides direction to learn more.
Site Navigation and Layout for a Professional Website
Your website structure works a lot like an interview. You can think of it the same way you'd answer the infamous tell me about yourself question.
For instance, think about the difference between a wildly colorful grid layout versus a spacious typography-driven design. That design choice shows your personality, thought process, and more importantly, how those characteristics intersect with your work.
Here's a few professional website ideas to get you going.
Christopher Lee, illustrator and toy designer, uses a grid layout to put his visual prowess up-front.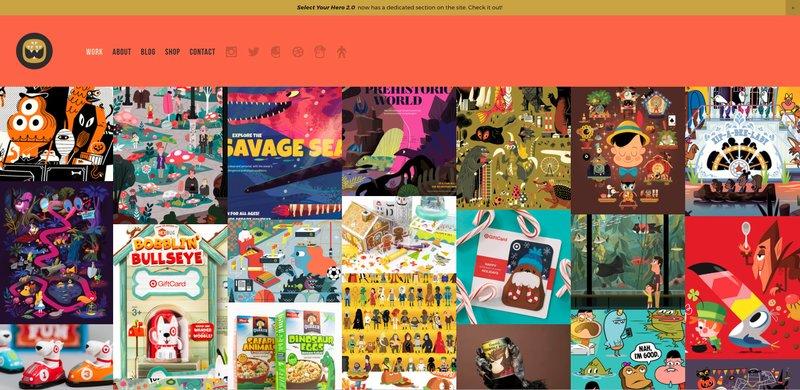 As an illustrator, the proof is in the pudding. So his homepage is a feed of projects that gives an immediate impression. He offers more about himself by providing clear navigation to learn more through his website and social media platforms.
Another good example comes from Sean Halpin, a web designer.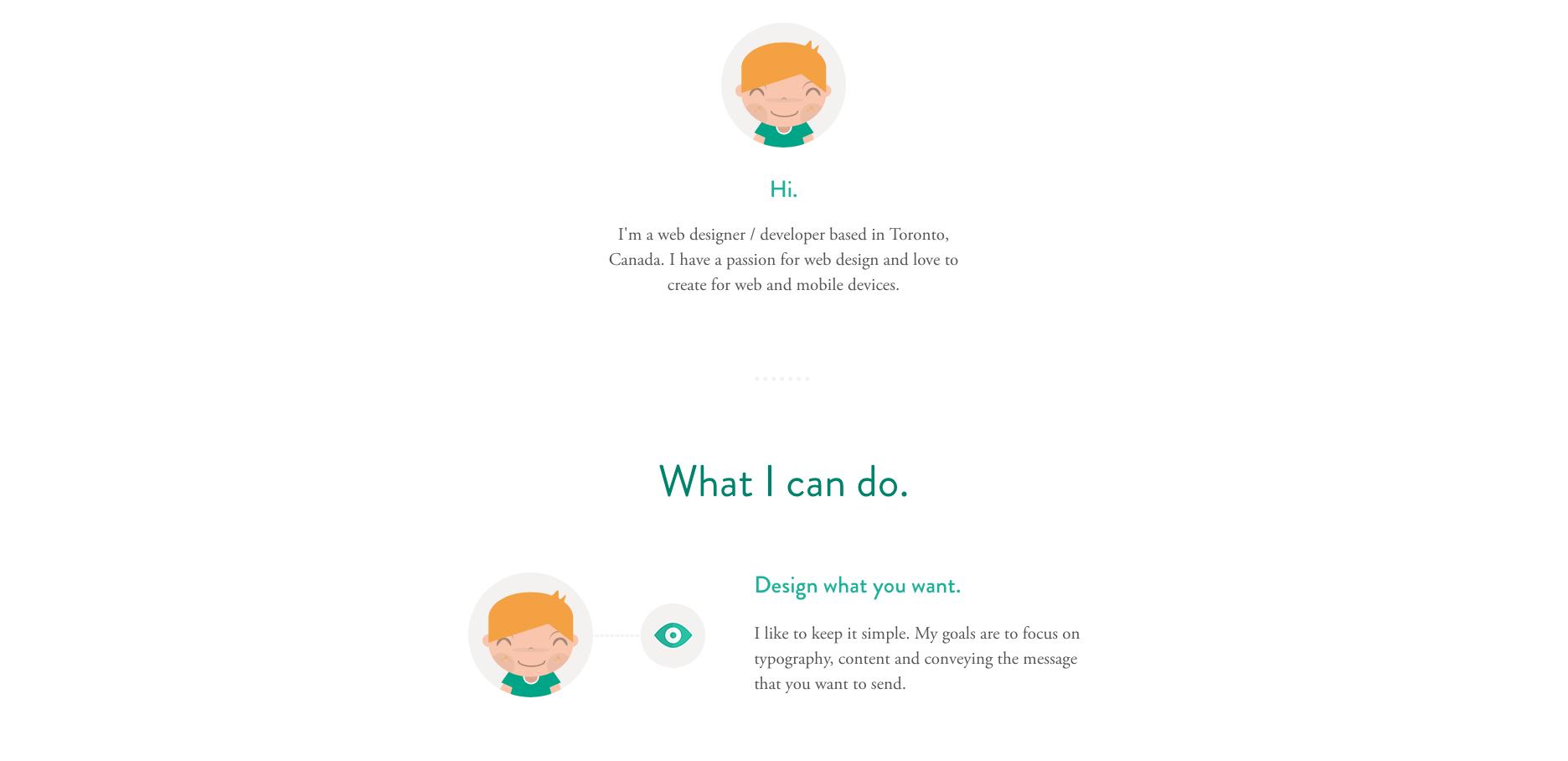 Sean uses whitespace to demonstrate his tact as a web designer. And his message comes across purely and simply.
Go back to your job description research and personal statement. Think about what kind of layout lends itself to your work. Like a grid display or long scrolling page.
And what tabs you need in your navigation to get your point across. For example, Christopher Lee's site puts his work out in front, and Sean Halpin's keeps it in a separate tab.
Your choice depends on your audience and what will draw them in. But it also depends on how fast they can process information. So, if your work is visual-heavy, you should put that up front because images are easier to process quickly.
But if your work consists of in-depth technical analyses, you'll want to give that its own page, and use some compelling visuals and copy to draw them in.
Browse MOJO Marketplace for more professional website ideas and inspiration.
Your Online Resume
A resume and a professional website are not one and the same. You still need a well-crafted resume to apply for jobs.
However, your website can help people find you organically (through search engine optimization, or SEO) and prove the statements you make in your list of experience and skills.
I advise against regurgitating your education, skills, and experience on your website. But you absolutely should provide a link to download your resume front and center.
Side note: This is very easy to do with WordPress. You simply upload the pdf to your media library, copy the media url, and paste it in the text or area where you provide the download (usually on the home page, in the about section, or a resources area).
Instead of rewriting your resume on the web, you can use your site to show your work.
How to Show Your Work
As we mentioned before, your goal is to strike a strong first impression with a specific audience. You can do this more visually and effectively with a professional website than with a resume alone. You can show your work rather than just describing it.
After you make a statement like UX designer with a passion for accessibility or accountant with a proven track record of finding savings where it counts, you have to back that up with some proof.
For a great example of how to do this, and what to include, let's get a little spacey. Brandon Johnson, a planetary scientist, uses his website to showcase the core idea behind his work.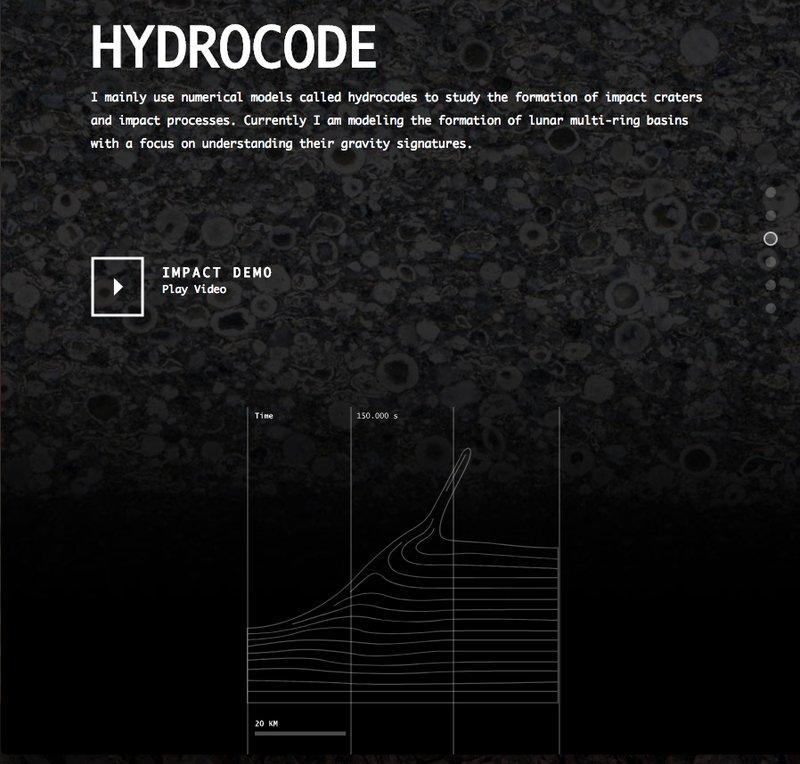 In this section (he chose a one-page, scrolling layout), Brandon explains the approach to his research and links to a YouTube video that models the impact which created the Copernicus crater on the moon.
This presentation captures three critical concepts that help Brandon show his work.
It establishes the problem he's trying to solve: understanding how craters are formed.
It identifies his approach to solving the problem: hydrocode.
And it shows the results: Copernicus crater model video.
This is an impressive way to show your work. Brandon took something very complicated and academic and broke it down into the key components needed to prove he can do this job. And that's critical. Your audience isn't always as technically well-versed as you are, so you have to translate.
I can pick out his personal statement just from this one section of his website. I'm a planetary scientist specializing in impact crater research through hydrocode modeling.
Further down, he provides a list of publications, other areas of research, and a link to his resume. This website reels you in with one great example and then gives you everything else you need to know. But it puts the important stuff first.
To show your work, identify the different examples you need based on the job description. What do you need to prove or back up?
Then, formulate the problem, approach, and results for each of those examples. Where possible, include extra resources and insights into your process.
Showing your work will help hiring managers learn how you think and what kind of work they can expect from you. This goes a long way toward reassuring their decision to hire you.
Putting It All Together
When you sit down at the keyboard with the goal of making your site, you'll probably feel overwhelmed. It's hard to translate all the things you do into a website. And even harder to do it effectively for a specific audience.
But use these concepts as your North Star, and you'll be able to steer that ship in the right direction.
Research job descriptions and learn the requirements and expectations for your role.
Craft a personal statement in the form of I'm a [job title] with [experience] seeking to [your specialization in the field].
Using your personal statement as a guide, choose a layout and style for your professional website. (Exploring some WordPress theme demos can help you figure this out).
Communicate your core message on the homepage or first section of your webpage.
Ensure that the most important information or examples are at the forefront of your site.
Add pages and navigation that provide supporting information and examples.
Include a link to download your resume. (Just remember, don't make your website a digital version of your resume!)
Show your work. Put together a portfolio of examples that proves you can fulfill each job requirement and shows your ability to identify a problem, come up with an approach to solving it, and process the results.
And finally, provide any resources a hiring manager for your job would find relevant, such as publications, social media channels, and organizations or groups you belong to.
Creating your own website for professional use is a lot of work. And if this is your first rodeo, the bull looks a lot bigger.
Luckily, the WordPress community is also big (and more inviting). Help is easy to find.
If you need to expedite the learning curve or just talk to someone who's more experienced, try WP Live. It's MOJO Marketplace's on-demand WordPress support product, which gives you live access to WordPress developers who will show you the ropes and save you a lot of time.
Don't forget that resume-writing tips often work for professional websites, too.
Remember how you should provide specific facts and figures about your stellar performance? Examples of your achievements, e.g., quantified sales results, can be visualized on a web page.
For professionals outside creative industries, having a work-oriented home page is also a great way to show off assets that just don't fit in with the traditional, and somewhat restrictive, resume (i.e., creativity).
Good luck with the job search!
Have you got ideas for a professional website that you don't feel certain about? Let us know in the comments and we'll work out the best and simplest way to set up a site that lands you that job!