Aren't you fed up with the security guard's image that Hollywood sells? The loud snoring behind a glass wall or eating a Scooby-Doo-way packed sandwich with ranch falling out.
The worst part is that bosses also watch TV. So show them you're more than that with your security guard resume and prove you can stay on high alert and protect the premises.
This guide will show you:
A security guard resume example better than 9 out of 10 other resumes.
How to write a security resume that will land you more interviews.
Tips and examples of how to put skills and achievements on a security guard resume.
How to describe your experience on a resume for a software engineer to get any job you want.
Want to save time and have your resume ready in 5 minutes? Try our resume builder. It's fast and easy to use. Plus, you'll get ready-made content to add with one click. See 20+ resume templates and create your resume here.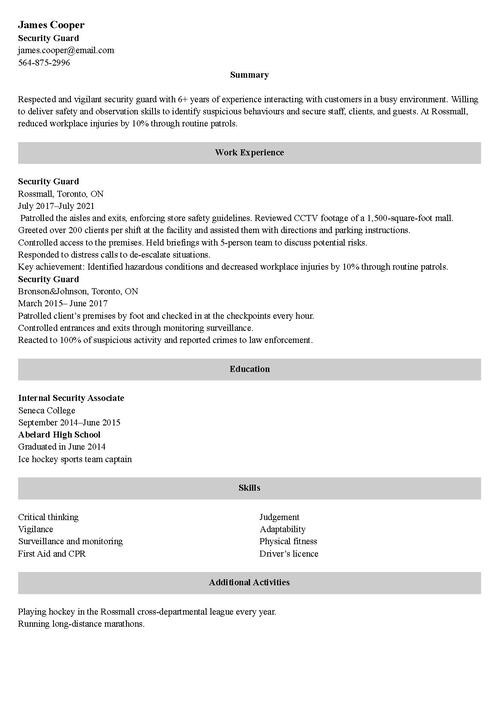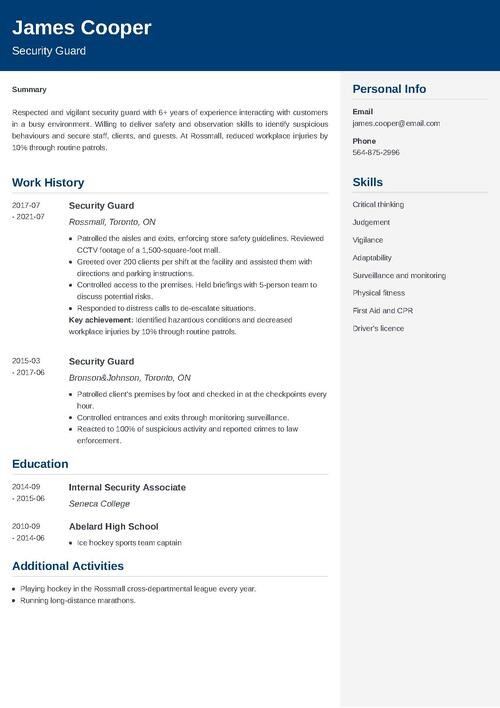 Sample resume made in our builder—See more templates and create your resume here.
Are you on the lookout? Find other resume guides that we wrote:
Security Guard Resume Template
James Cooper
Security Guard
james.cooper@email.com
564-875-2996
Summary
Respected and vigilant security guard with 6+ years of experience interacting with customers in a busy environment. Willing to deliver safety and observation skills to identify suspicious behaviours and secure staff, clients, and guests. At Rossmall, reduced workplace injuries by 10% through routine patrols.
Work Experience
Security Guard
Rossmall, Toronto, ON
July 2017–July 2021
Patrolled the aisles and exits, enforcing store safety guidelines. Reviewed CCTV footage of a 1,500-square-foot mall.
Greeted over 200 clients per shift at the facility and assisted them with directions and parking instructions.
Controlled access to the premises. Held briefings with 5-person team to discuss potential risks.
Responded to distress calls to de-escalate situations.
Key achievement: Identified hazardous conditions and decreased workplace injuries by 10% through routine patrols.
Security Guard
Bronson&Johnson, Toronto, ON
March 2015– June 2017
Patrolled client's premises by foot and checked in at the checkpoints every hour.
Controlled entrances and exits through monitoring surveillance.
Reacted to 100% of suspicious activity and reported crimes to law enforcement.
Education
Internal Security Associate
Seneca College
September 2014–June 2015
Abelard High School
Graduated in June 2014
Ice hockey sports team captain
Skills
Critical thinking
Judgement
Vigilance
Adaptability
Surveillance and monitoring
Physical fitness
First Aid and CPR
Driver's licence
Additional Activities
Playing hockey in the Rossmall cross-departmental league every year.
Running long-distance marathons.
This is how to write a job-winning security guard resume:
1. Create a Security Guard Resume Format
As a security guard, you'll be responsible for enforcing security rules and patrolling the premises to keep people safe from any harm. Your security resume will need to include your licencing and safety training certificate to be considered for the position.
To keep you and your employer safe, I must enforce some rules myself.
Make your resume formatting simple so that the reader can easily run through the information on your security resume. Follow these steps:
Create a header with your contact details, i.e., your full name, phone number, and email address.
Leave off such information as age, gender, religion, etc.
Space out your resume by setting 1–1.15 line spacing and 1-inch margins.
Pick a readable font, like Calibri or Arial.
Go for a reverse-chronological resume layout that emphasizes your professional experience.
Stick to a one-page resume.
Name your resume file like this: JobTitle_Resume_FullName_.pdf.
Pro Tip: Save your file as a PDF to ensure it doesn't crash. However, double-check in the job ad if the recruiter doesn't require a Word file format.
2. Write a Resume Summary or Security Guard Resume Objective
Depending on how much experience you have, whether you're Bryan Mills or Larry Daley, that is, you'll have to write either a resume summary or an objective.
Write the resume summary if you have enough experience that you can give a gist of, and that'll present you as the best candidate for the position.
But if you have only little to no experience, write an objective. It focuses on your career goals rather than expertise and highlights your skillset.
3. Create the Perfect Security Guard Job Description
Imagine your recruiter as if they sat in front of a video feed, monitoring the recruitment process from their hub. Suddenly someone's resume caught their attention, but it was a false alarm.
On the other hand, yours stood out like a thief waving at the camera.
How to achieve that?
List your achievements, not responsibilities.
Use bullet points for that list.
Start with an action verb followed by a SAR statement.
Add numbers to your achievements to raise their impact.
Go read the job description to know which qualifications and skills you need to refer to in your application.
Stay relevant at all times.
When making a resume in our builder, drag & drop bullet points, skills, and auto-fill the boring stuff. Spell check? Check. Start building a professional resume template here for free.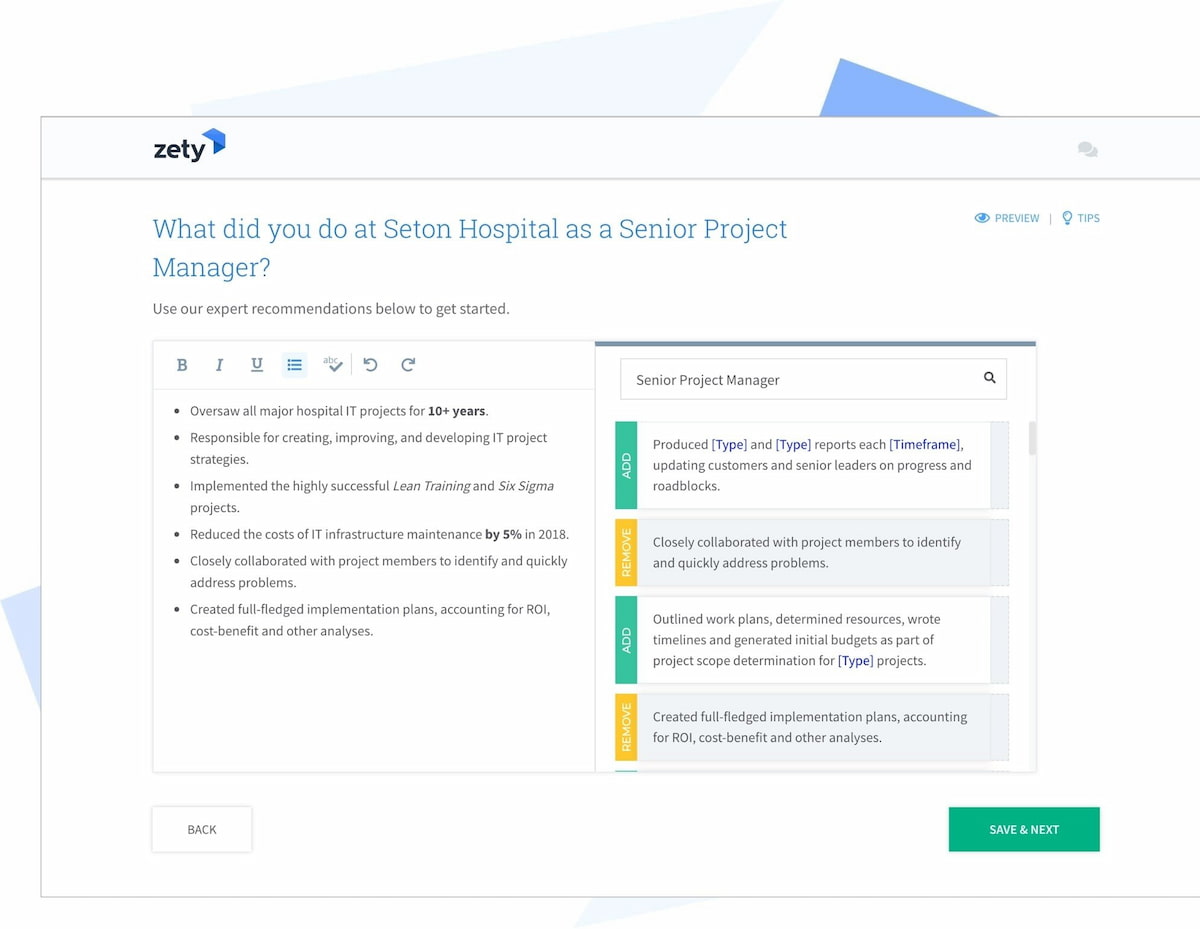 When you're done, Zety's resume builder will score your resume and tell you exactly how to make it better.
4. Include Education Section on Your Security Resume
A security guard job doesn't require a higher education qualification. It may, however, help you move up the ladder.
Here are the basic rules for the education section in your security guard resume:
If you have security job experience, include only your degree, university, and graduation date.
But if you're only writing a beginner security guard resume, you'd have to do more than that. Add information about your academic accomplishments to shed light on your skillset relevant to the position. Volunteering or sports achievements from your school years can serve as proof of your skills, too.
5. List Your Security Guard Skills
Briefing, building relationships with law enforcement, or resolving conflicts—day-to-day duties in a security guard's life.
Are those hard skills? Nu-uh. You'd be surprised how soft skills are invaluable in a security guard skillset.
See for yourself:
Security Guard Skills for a Resume
Security Services Act
Firearms
Reporting
First Aid and CPR
Surveillance and monitoring
Patrolling
Deescalation strategies
Physical fitness
Driver's licence
Leadership
Integrity
Critical thinking
Decision making
Problem solving
Conflict resolution
Judgement
Perceptiveness
Communication
Coordination
You won't have room on your resume to include every single one. So do you know which to choose?
Read the job description first and mark the keywords relating to skills. Then pick and mix soft with hard skills to make the best impression. List 10 at the most.
Pro Tip: Pepper your skills all over the place. Include them in your summary or objective, experience history, and the skills section.
6. Highlight Your Other Assets
Additional sections can be the bridge between you and your employer, so remember to include such items as:
Certifications and licences required in your province or territory to do the security guard job, e.g., Basic Security Training (BST).
Association memberships, e.g., CANASA.
Attended conferences, e.g., IFSEC or International Security Expo.
Hobbies and interests, e.g., running or any other type of physical activity that boosts your stamina.
7. Attach a Cover Letter to Your Security Guard Resume
Think of a recruiter hiring someone without having read their cover letter as if you let someone into the office without a badge.
Not happening.
So if you wish to enter, follow the below steps:
Copy the header and formatting from your security resume.
Address the letter to the hiring manager by using their name. Never go for "To whom it may concern."
Use double spacing between the paragraphs to accentuate the opening, the body, and the closing of your cover letter.
Excite the reader at the start, then move on to your qualifications and qualities, and finish off with a call to action.
Stick to the right cover letter length: 3–4 paragraphs on one page.
Read more: How to Write a Cover Letter & Land the Job
A great cover letter that matches your resume will give you an advantage over other candidates. You can write it in our cover letter builder here. Here's what it may look like: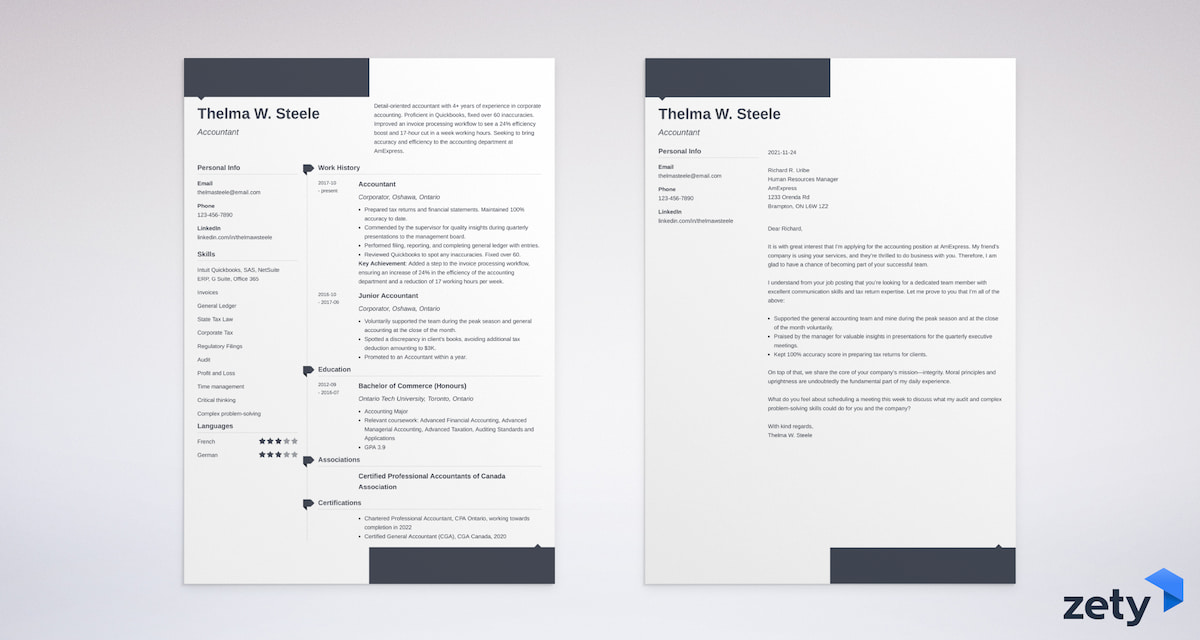 See more cover letter templates and start writing.
So there you have it—
Everything you need to know about writing a perfect resume for a security guard position.
Do you have tips or thoughts about making a great professional security guard resume? Give us a shout in the comments section!