Supervisor Cover Letter: Examples & Templates for 2023
You're an expert in your field who knows how to optimize, encourage, and lead. Now, it's time to learn how to translate that onto your career-furthering supervisor cover letter.
Lesson #1 starts right now: cover letters matter.
Even more so for leading positions because of the added responsibility.
The company needs to know you're a team player if they are to give you a team to supervise. What message do you think it sends when you obtusely refuse to add one next to your resume?
I'll tell you: a pretty selfish one.
In this article, we'll show you how to write a cover letter for supervisor positions. First, we'll start with a sample supervisor cover letter, then break down the steps to creating a supervisor cover letter of your own.
Want to write your cover letter fast? Use our cover letter builder. Choose from 20+ professional cover letter templates that match your resume. See actionable examples and get expert tips along the way.
Sample cover letter for a resume—See more cover letter examples and create your cover letter here.
See these guides in case you're interested in something else:
Supervisor Cover Letter Examples
William Peacock
Production Supervisor
3401 Atha Drive
Bakersfield, CA 93301
661-636-9623
williampeacock@zetymail.com
11/4/2019
Heidi R. Robinson
Chief of Human Resources
Hawthorne Inc.
3048 Rainbow Road
Rosemead, CA 91770
Dear Heidi,
I am excited to apply for the position of production supervisor at Hawthorne Inc. After seeing the opening was directed primarily at candidates with expertise in reducing operating costs, it became clear applying was the right choice for me. During my 5+ years of experience as production department supervisor in NVR Inc, I happen to have done exactly that—and more.
Other than slashing operation costs, at NVR my responsibilities included supervising the quality of work of up to 120 employees rotating during 4.5-hour shifts. The large warehouse infrastructure and logistical systems of Hawthorne are bound to function similarly, meaning my experience would surely prove invaluable. Additionally, my optimization efforts allowed NVR to revise its onboarding and training policies, resulting in less backlog in junior employees (which we later extended to older hires, cutting their backlogs by 20%, too).
As a company, Hawthorne places a lot of focus on seamless professionalism. Reaching your clients on time and meeting their needs is a true inspiration in this industry, and joining your ranks would be an honor. If you're willing, I'm available to chat next week about the ways I'd optimize product flow around your facilities.
Sincerely,
William Peacock
661-636-9623
williampeacock@zetymail.com
That person would be quite a supervisor indeed!
Let's show you the steps to making marked improvements in your cover letter. But first, don't forget that a cover letter is only as good as its accompanying resume. Don't have one yet? After you're finished here, go over to our Supervisor Resume Guide.
Cover Letter for Supervisor Positions: Template
Here's how to write a supervisor cover letter:
1. Format Your Supervisor Cover Letter Correctly
So, straight up: what does a cover letter look like, exactly?
The clue is in the name: a letter.
In order to make it look like one, you need to know how to format your cover letter:
Set the margins of your cover letter to 1 inch on all sides of the page.
Include reasonable cover letter spacing, 1 or 1.15. You don't want to submit a scrounged-up wall of text.
Divide your cover letter into parts: the heading, opening paragraph, middle paragraph, and closing paragraph. We'll be diving into each of those in just a minute.
Don't know what your cover letter should say? Ease up, we'll go through that, too.
Let's keep in mind that there are as many kinds of supervisor positions as there are supervisor jobs in the United States, so about 10 million. Well, maybe not that many.
On that other note, though, all supervisor and manager-level jobs are projected to rise by 9% and produce over 900K new positions over the next decade. That makes it super important to make your cover letter shine and sparkle!
Want to streamline the process and use a ready-made template? Check these out: 15+ Simple Cover Letter Templates to Use Today
2. Start with a Proper Supervisor Cover Letter Header
Heads up: you will be judged from the very first second.
If you make even the tiniest slip-up, that could cost you your chances.
Sounds pretty bad. Let's avoid that, shall we?
A proper cover letter header lets everybody know this isn't your first rodeo:
First, add your contact information. That should include your email and telephone number. Your mailing address is optional.
Optionally, include professional social media links, like your LinkedIn profile. This is only worth doing if you regularly use LinkedIn to network and share professional insights.
After that, leave a line empty, write the current date, leave another line, then address the cover letter to the right person and place.
Pro tip: Don't know whom you'll be writing to? Take this as an opportunity to prove your resourcefulness, and seek out the person(s) in charge of recruitment through Google or the company's website.
3. Lead with a Powerful Opening Statement
Perhaps you're a warehouse supervisor who's never had an accident happen.
Or maybe, you're a data management supervisor, with nothing slipping by you unnoticed.
Whatever the case may be, the opening of your cover letter needs to grab the employer's attention right away.
Do it by choosing the right salutation for your cover letter. A simple "Dear [Name]" will suffice, as opposed to the better-avoided "To Whom It May Concern".
Next, mention what position you're gunning for, so they know your letter reached the right hands. After that, immediately list an achievement or two to give them a reason to keep reading.
Read more: What to Include in a Cover Letter & How to Do It Right
4. Show Exactly Why This Job Matters to You
We've talked about what makes a good cover letter, but what about a bad one?
For starters, bad cover letters are too general.
They make you look featureless. A Karen who "demands to see the supervisor because she is a paying customer" would eat you up.
That's not great, so do this for a better get-up:
Look through the job posting and try to locate specific requirements.
Your task is to make yourself as good as possible while linking your experience with their present needs.
Using numbers to quantify your achievements is also a great way to boost your metrics, so don't be shy.
Read more: Killer Cover Letter Examples
5. Prove Why You're the Candidate That They'll Succeed With
Unsurprisingly, when leadership changes, workers fear layoffs and reductions in force the most.
The truth is that a change in leadership often signals tumultuous times.
Meaning that a successful supervisor cover letter will show you're willing to stick around to avoid causing unnecessary uncertainty.
To achieve that effect, search around the company's website for tidbits about their culture and challenges and see what you like.
Mention these ideas in the body of your cover letter to show that you're not only ready to help them achieve greatness, but also you won't bail on them after a month or two of paycheck-scoring.
Read more: 35+ Cover Letter Tips from Career Experts
6. Close out the Supervisor Cover Letter Professionally
Time to seal the deal!
Your ability to see a project through to the end will be plenty verified on the job, but this is ending a cover letter right is just the first step.
In a brief summary, state once again why you're excited to join the company.
Tempt them with the value you'd be bringing to the table, and suggest talking about the details in person.
Read more: The Right Way to Follow Up on a Job Application
7. Name Your Cover Letter in a Stand-Out Way
Here are the steps to ending a cover letter. It's unfortunately not as simple as clicking "Send" or signing off on an expense report. Not quite, anyway.
Sign off the cover letter using "Sincerely" and repeating your name underneath one last time.
If you have a personalized digital signature, go for it and sign with that, too.
Sometimes HR reps require cover letter enclosures to be attached. If that's the case this time, be sure to do so.
Save as a PDF, title the cover letter file correctly, and you're ready to send.
Pro tip: Keep your supervisor cover letter burnt in their minds with a simple postscript statement. If you write a catchy line in there (see the example above), you're bound to be remembered for longer.
When making a resume in our builder, drag & drop bullet points, skills, and auto-fill the boring stuff. Spell check? Check. Start building a professional resume template here for free.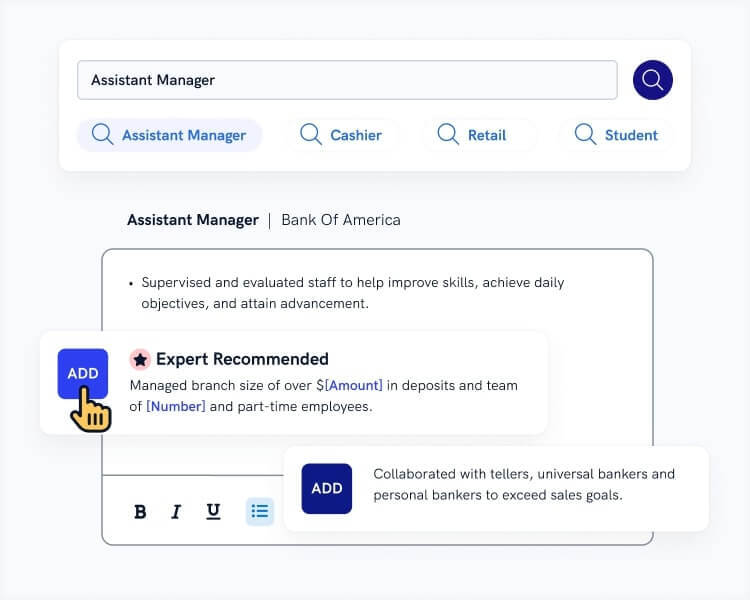 When you're done, our easy resume builder will score your resume and our resume checker will tell you exactly how to make it better.
Thanks for reading. What did you think of this supervisor cover letter sample? And what about your own, need any more help closing or starting yours? Our experts are ready and waiting in the comments!
About Zety's Editorial Process
This article has been reviewed by our editorial team to make sure it follows Zety's editorial guidelines. We're committed to sharing our expertise and giving you trustworthy career advice tailored to your needs. High-quality content is what brings over 40 million readers to our site every year. But we don't stop there. Our team conducts original research to understand the job market better, and we pride ourselves on being quoted by top universities and prime media outlets from around the world.