Receptionist Resume: Examples & Guide [Skills, Duties]
Writing a receptionist resume doesn't have to be a nuisance. Check out our samples and tips, and create a document that will impress the recruiters and get you a job interview.
It's no secret that without a receptionist, the majority of offices would simply sink into chaos. Who would greet the visitors, answer calls, and manage documentation? No professional business can do without a proper person in place managing their front desk.
Now, you feel like you can be that person at the forefront of a company. But you're staring at a blank screen and don't know how to start writing your receptionist resume.
You have come to the right place. Read on to find out how to write your job-winning document.
This guide will show you:
A receptionist resume example that will impress the recruiters.
Tips on how to write a resume for a receptionist that will put you ahead of other candidates.
How to prepare a job description section in your receptionist resume.
Examples of skills that you should include in your document.
Want to save time and have your resume ready in 5 minutes? Try our resume builder. It's fast and easy to use. Plus, you'll get ready-made content to add with one click. See 20+ resume templates and create your resume here.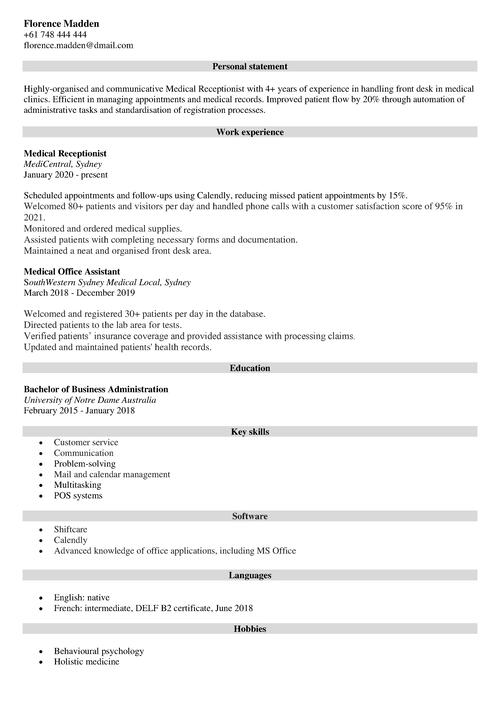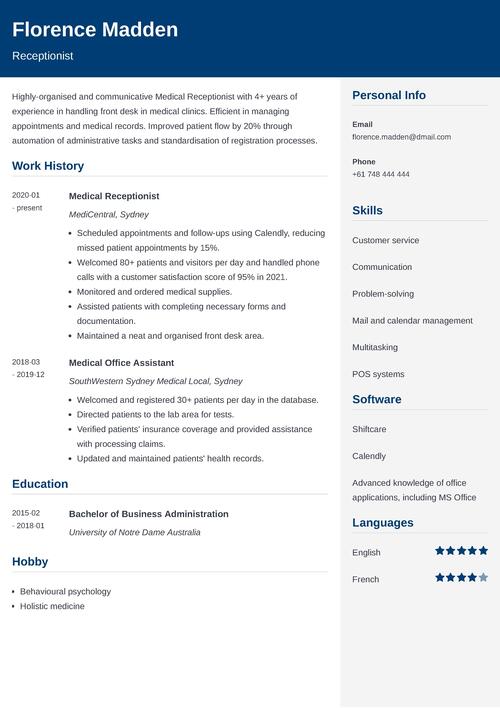 Sample resume made with our builder—See more templates and create your resume here.
Want to see more resume examples? Check out the guides below:
Receptionist Resume Example
Florence Madden
+61 748 444 444
florence.madden@dmail.com
Personal statement
Highly-organised and communicative Medical Receptionist with 4+ years of experience in handling front desk in medical clinics. Efficient in managing appointments and medical records. Improved patient flow by 20% through automation of administrative tasks and standardisation of registration processes.
Work experience
Medical Receptionist
MediCentral, Sydney
January 2020 - present
Scheduled appointments and follow-ups using Calendly, reducing missed patient appointments by 15%.
Welcomed 80+ patients and visitors per day and handled phone calls with a customer satisfaction score of 95% in 2021.
Monitored and ordered medical supplies.
Assisted patients with completing necessary forms and documentation.
Maintained a neat and organised front desk area.
Medical Office Assistant
SouthWestern Sydney Medical Local, Sydney
March 2018 - December 2019
Welcomed and registered 30+ patients per day in the database.
Directed patients to the lab area for tests.
Verified patients' insurance coverage and provided assistance with processing claims.
Updated and maintained patients' health records.
Education
Bachelor of Business Administration
University of Notre Dame Australia
February 2015 - January 2018
Key skills
Customer service
Communication
Problem-solving
Mail and calendar management
Multitasking
POS systems
Software
Shiftcare
Calendly
Advanced knowledge of office applications, including MS Office
Languages
English: native
French: intermediate, DELF B2 certificate, June 2018
Hobbies
Behavioural psychology
Holistic medicine
This is how to write a job-winning receptionist resume:
1. Choose Proper Format for Your Receptionist Resume
Receptionists greet visitors to the office, handle phone calls, calendars, and appointments, and stock the office with supplies. The purpose of your receptionist resume is to show your potential employer that you have the experience and qualifications to be at the front line of their business.
But—
Recruiters go through hundreds of resumes every day, so you really need to make sure that your document captures their attention. To give your document a bullet-proof resume format, follow the rules below:
Make sure to add your contact information: name, surname, telephone number and email address.
Use the chronological order to showcase the best of your experience in your resume for a receptionist.
Select professional fonts, such as Arial, Calibri, or Helvetica, 12-point font size.
Set the margins to 1 inch on each side and line-spacing to 1–1.15; remember to left-align, don't use justification.
Save your receptionist resume in the PDF format to preserve the layout.
Pro Tip: If you are not sure how to use formatting options, you can always use a template. Read more: Simple Resume Templates to Download for Free
2. Write a Resume Summary or a Resume Objective in your Receptionist Resume
Working as a receptionist, you will introduce yourself to visitors at least a dozen times a day. You will also have to do that in your receptionist resume. For this purpose, depending on the level of experience that you have, you will write:
A resume summary—if you have 2+ years of experience:
Make sure your personal traits shine at the very beginning of your receptionist resume summary.
Provide information on your current job title and professional experience.
List your key professional achievements (career highlights, include quantifiable data, percentages etc.)
A resume objective—if you are a fresh graduate and want to write a resume for a receptionist with no experience:
Again, start with your strong personal trait – have a look at the job ad to see what qualities are desired by the employer and include them in your summary objective.
Say who you are (e.g. a recent graduate in Business Administration) and what you want to do for the company.
List your key achievements obtained in university projects, volunteering jobs, and extracurricular activities. Make sure to include numbers wherever possible.
Pro Tip: Avoid first-person pronouns and use action verbs for more impact.
3. Impress Recruiters with Your Receptionist Resume Job Description
Your job description is one of the most important sections in your receptionist resume. This is where you need to showcase your professional background to prove that you're the right candidate for the job. Remember about the following tips to nail this section:
List your most recent position first, and follow with your previous gigs.
For each position, provide a job title, a company name, dates worked, and up to 6 bullet points demonstrating your professional background.
List your relevant job experience only; remember your work experience section has to match the job offer.
Start each bullet point with an action word.
Focus on measurable achievements in your resume, not just duties and tasks.
Pro tip: If you are a fresh graduate and want to write a resume for a receptionist with no experience, reverse the order of your document and let your education take the centre stage. Then, list volunteering activities and internships you had up to that point, showing the recruiters they have found the right fit for the job.
4. Draft an Impeccable Education Section for Your Receptionist Resume
Some may say that education is of secondary importance when you seek employment as a receptionist. They couldn't be more wrong! In fact, education may play a decisive role in whether you get hired or not, so make sure to prepare this section as follows:
If you are an experienced candidate, include your highest degree only.
If you are writing a receptionist resume with no experience, list your highest degree and spice up your document with information about academic awards, honours, extracurricular activities, or relevant coursework.
Read more: How to Write a Resume in Australia: Examples, Guide & Tips
When making a resume in our builder, drag & drop bullet points, skills, and auto-fill the boring stuff. Spell check? Check. Start building a professional resume template here for free.
When you're done, Zety's resume builder will score your resume and tell you exactly how to make it better.
5. Highlight Your Skills in Your Receptionist Resume
How to choose skills to provide in your resume for a receptionist? Here is the answer:
Make a list of all skills you have—they can be soft skills, hard skills, technical skills etc.
Read your job ad carefully and identify the skills preferred by your potential employer. Check if any of them are present in your list. Include those skills in your receptionist resume.
Receptionist Resume Skills
Verbal and written communication
Customer focus
Calendar management
Organisation and planning
Attention to detail
Administrative skills
Initiative
Multi-tasking
MS Office Suite
Typing 90 WPM
Data entry
Read more: List of Skills to Put in a Resume (with Examples & Tips).
6. Add Other Sections to Your Receptionist Resume
This is where you add unique information about yourself to demonstrate that you're a one-of-a-kind candidate for the job. Make sure to include information on:
Language skills
Certificates
Special awards
Hobbies
Volunteering activities
Pro Tip: When you list your language skills, do not forget to state yourproficiency level.
7. Write a Cover Letter for Your Receptionist Resume
Are you one of those people who think that nobody reads cover letters? Time to change your mind! A well-written cover letter sets the right tone for your resume and shows the recruiter that you have gone that extra mile to get the job. Here is how to write it:
Select an elegant cover letter format.
Introduce yourself in your cover letter.
Show how your experience and qualifications can benefit the company.
Explain your motivation and why you want in.
Finish your cover letter with a call to action.
Read more: How to Write the Perfect Cover Letter: Step-by-Step Guide & Examples.
Plus, a great cover letter that matches your resume will give you an advantage over other candidates. You can write it in our cover letter builder here. Here's what it may look like: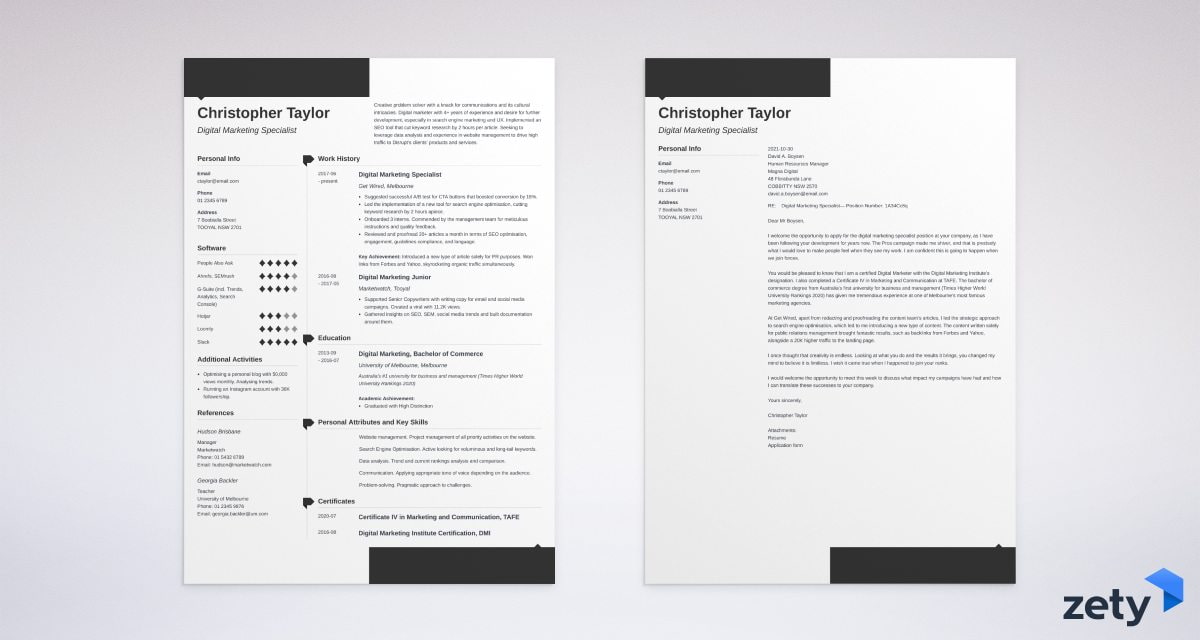 See more cover letter templates and start writing.
That's all you need to know to write a perfect resume for a receptionist.
Any thoughts or comments about making a job-winning receptionist resume? Let us know in the comments section!