Our customers have been hired by:
Managing the entire school is a great responsibility. You take care not only of the students but also of the teachers. But being an assistant principal can be very rewarding. Especially if you work at a school that values diversity, creativity and helps young people to become great adults.
However, to start working there, you need a perfectly-written assistant principal cover letter. And this is a lesson just for you. So let's start our class by creating an amazing cover letter for an assistant principal.
This guide will show you:
An assistant principal cover letter example better than 9 out of 10 others.
Cover letter for assistant principal tips that let you plug in your core strengths.
The work plan for how to write an assistant principal cover letter.
Want to write your cover letter fast? Use our cover letter builder. Choose from 20+ professional cover letter templates that match your resume. See actionable examples and get expert tips along the way.
Sample cover letter for a resume—See more cover letter examples and create your cover letter here.
See more of our guides dedicated to specific teaching positions:
Want to explore your options even further? Check out our full selection of cover letter examples:Professional Cover Letter Examples to Apply for a Job in 2023
Let's have a look at a great example of a cover letter for an assistant principal!
Assistant Principal Cover Letter Sample
Hilary Mulligan
Assistant Principal
2536 Cork Street
Richmond, VA 22428
534-233-9834
hilary-mulligan@gmail.com
15/02/2023
Cathleen Jones
Superintendent
Richmond Community High School
201 E Brookland Park Blvd
Richmond, VA 23222
Dear Mrs. Jones,
As an assistant principal with 5 years of administrative experience and 10+ years of teaching experience, I was delighted to see an opening for my position at my alma mater, a renowned Richmond Community High School. At my current school, Trinity High School, I supervise a diverse group of 500+ students and manage the work of 30+ educators. My methods have led Trinity High School to be amongst our region's top 5 high schools within the last 3 years of my leadership.
I'm a specialist in evaluating teachers and enforcing school policy due to my excellent communication skills and strong leadership. Currently, my main focus is developing a curriculum and planning extracurricular activities for students. As a great leader and effective manager with outstanding communication skills, I manage to build strong relations with our students, teaching staff and parents. Implementing my ideas, created during meetings with the entire community, our school has also increased students' success rate by 7% during my years as an assistant principal.
As a proud Richmond Community High School alumni, working in your high school seems like a dream come true. I strongly believe in all the values that your school shares, which have been my compass since I graduated with cum laude distinctions. During my work at Trinity High School, I always aimed to make it as similar to Richmond Community High School as possible, as it was always my definition of a perfect teaching facility for both teachers and students.
I would love to have the opportunity to discuss how my work at Richmond Community High School will help improve your students' scores and their satisfaction, and how we can create a better place for young minds to develop. Would you be willing to meet me at your school and discuss my candidacy further? Perhaps we can meet right next to my favorite place in the whole high school, which is the students' art wall on the second floor? Would 11 a.m. next Friday work for you?
Best regards,
Hilary Mulligan
Assistant Principal
534-233-9834
hilary-mulligan@gmail.com
That's one of the great assistant principal cover letter examples. Now let's start our lesson on how to make one just like that for you!
Having a great cover letter for assistant principal is only one step toward getting the job you want. The second one? Having a perfectly-crafted assistant principal resume!
Assistant Principal Cover Letter Template
Follow the instructions to write a professional cover letter for assistant principal jobs:
1. Create an Amazing Assistant Principal Cover Letter Format
There's probably a strict policy in the principal's office regarding how the documents should look like. It's what helps you keep everything in order. It's safe to assume that it's the policy that's also applied by your recruiter.
How to format a cover letter for an assistant principal?
Planning your cover letter structure is much simpler than yearly curriculum preparation. Okay, so let's fill this document with some content, shall we?
Need more info on making your document look stunning? Check here: Cover Letter Layout Guidelines
2. Add a Header to the Cover Letter for Assistant Principal Jobs
You should start writing your cover letter with a proper header. It's where most of your reader's attention is focused, right at the top left side. No room for mistakes here!
How to write an assistant principal cover letter header?
Put your name, precise job title, and contact information in the top left corner.
Link your LinkedIn profile. A good online presence can only boost your chances of getting hired!
Include the city and date.
Write the addressee's name, title, and address.
Of course, you require your students to start every interaction with a proper greeting. Your sample cover letter for the assistant principal should also follow that rule!
Address your cover letter properly. Read our guide and make sure you know how to do it: How to Address a Cover Letter Correctly
3. Grab the Recruiter's Attention From the Top of Your Assistant Principal Cover Letter
You were probably present at many job interviews at your school. So you know how difficult this process can be. Especially after ten, twenty, thirty candidates…
But there is a way to stand out amongst them, even at an early application stage, such as writing a cover letter. You just have to grab their attention right from the start. That's easy to say, huh?
Here's how to start a cover letter for an assistant principal:
Don't start with "To whom it may concern". Finding out what's the principal's name should be easy peasy lemon squeezy!
Include some information about the school you're applying for. That's how you engage with your reader and show them that it's not just a copy-pasteof another cover letter!
Speak about your most relevant accomplishments. Nothing grabs a recruiter's attention better than a wow effect!
That's a perfect way to avoid a generic cover letter and to stand out more than a football team mascot during a state final. Now, since you've mentioned your accomplishment, let's wow your recruiter even more!
Pro tip: Your greeting is the first thing that recruiters see when they start to read your cover letter. There's only one chance to make a great first impression. That's why selecting the right salutation for a cover letter is essential!
4. Show You're a Professional in Your Assistant Principal Cover Letter
Listing your work experience is not enough for a resume, let alone for a cover letter. What you need to do is demonstrate that you're the perfect match for the assistant principal in the school you're applying for.
How to write a great middle for your cover letter for the assistant principal?
Explain how your work experience can be helpful for the school.
Highlight some of your relevant skills while delivering all they need to know about your achievements.
Use numbers whenever you can, as they are what change nice wording into hard proof of experience.
You've got the start, and you've got the middle, so now let's finish your assistant principal cover letter perfectly!
How do you decide what kind of experience is actually relevant? See here: What Does Relevant Experience Mean?
5. Tell Your Reader Why You Want This Specific Job in Your Assistant Principal Cover Letter
Employment of elementary, middle, and high school principals and assistant principals is set to grow by 5% between 2021 and 2031. So the competition's growing faster than a line in your school cafeteria during a pancake day. You need to beat them. To do it, finish your cover letter with a bit more personal touch.
How to end a cover letter for an assistant principal?
Compliment your future employer. Tell them how much you value their work is a great answer to the "Why do you want to work here?" question.
Explain how you'd bring value to the school by addressing some of the issues is another important part of a cover letter. To learn what these issues are, visit the school's website and social media channels.
Inform them precisely that you want to work for them and not just for any other institution.
Well, it's not really an end yet. You still have to ask for an interview!
Finishing your cover letter is how you make sure your candidacy is remembered. Learn how to nail it: The Perfect Cover Letter Ending
6. Conclude Your Cover Letter for Assistant Principal With a Call to Action
You won't depend fully on your substitute teachers to prepare your students for their final exams, right? And would you depend on the recruiter to take full action? Of course not! That's why requesting an interview is what a good cover letter must say. Seems like a bold move, perhaps, but you don't get hired for not being proactive.
How to add a call to action to your cover letter for an assistant principal?
Suggest a precise time and place for a call or a meeting.
Give them a promise of what you can deliver during this meeting.
You're almost ready to start learning all the teachers' names in a new school. But before you do that, let's learn how to sign off your cover letter correctly.
You don't need to write a long essay if you know how to make every word count. Learn how to ace it: Best Short Cover Letter Format & Examples
7. Complete Your Cover Letter for an Assistant Principal With a Right Sign-off
Whether it's an assistant principal cover letter with no experience or the one whose first students have their grandchildren now, you need a correct sign-off for your document. It ensures your name and contact information are more visible to the recruiter. And you want them to know them!
How to sign off your assistant principal cover letter?
Use your full name, job position, and contact details. Just like you did at the header!
Choose a professional cover letter title for your file.
Here's where our assistance ends. You're fully equipped to create an amazing assistant principal cover letter that will impress recruiters in a new workplace.
Have an amazing first day at your new school!
When making a resume in our builder, drag & drop bullet points, skills, and auto-fill the boring stuff. Spell check? Check. Start building a professional resume template here for free.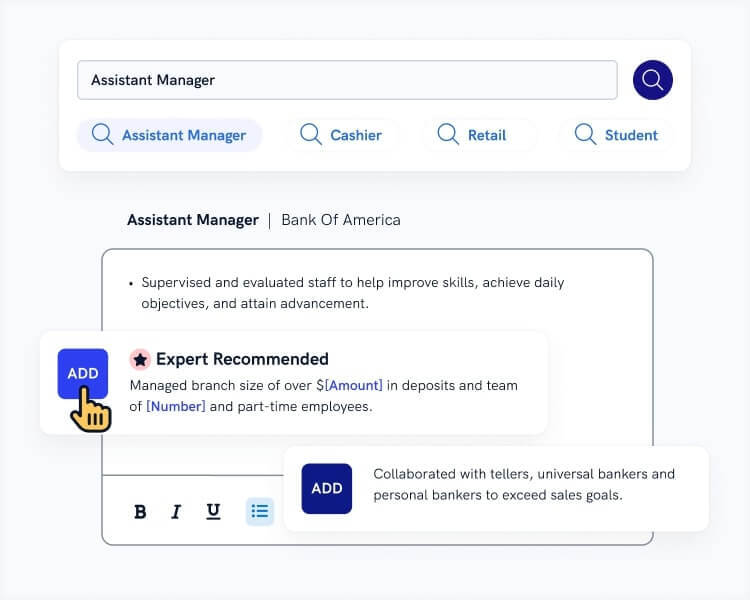 When you're done, Zety's resume builder will score your resume and our resume checker will tell you exactly how to make it better.
Thanks for reading our article! We believe it was a valuable lesson! Let's talk more about YOUR assistant principal cover letter in the comments below!
About Zety's Editorial Process
This article has been reviewed by our editorial team to make sure it follows Zety's editorial guidelines. We're committed to sharing our expertise and giving you trustworthy career advice tailored to your needs. High-quality content is what brings over 40 million readers to our site every year. But we don't stop there. Our team conducts original research to understand the job market better, and we pride ourselves on being quoted by top universities and prime media outlets from around the world.