Medical Resident CV Example & How to Write
If your medical resident CV isn't performing, all of your hard-earned education will be for naught. Examine the health of your application with our medical resident CV guide.
How about a proper, paid residency, in an establishment full of experienced professionals who can teach you loads without actually exploiting you?
The answer is obvious, but a key question remains: can you write a sufficiently good medical resident CV?
In a few minutes, you will know exactly what to do.
This guide will show you:
A medical resident CV example better than 9 out of 10 other CVs.
How to write a medical resident CV that will land you more interviews.
Tips and examples of how to put skills and achievements on a medical resident CV.
How to describe your experience on a CV for a medical resident to get any hospital job you want.
Want to save time and have your CV ready in 5 minutes? Try our CV builder. It's fast and easy to use. Plus, you'll get ready-made content to add with one click. See 20+ CV templates and create your CV here.
Sample CV made with our builder—See more CV examples here.
Other positions interest you too? Check out these articles:
Medical Resident CV Example
Helen Duke
Resident Physician
419-534-6073
HelenDuke@zetymail.com
Summary of Qualifications
Respected resident physician with 3+ years of hospital experience specializing in cardiology. Enrolled 72 patients in a cardiovascular disease awareness campaign, inspiring them to introduce sweeping lifestyle changes. Analyzed myocardial tissue samples for 6 months in groundbreaking study. Demonstrated legal knowledge and intervened when necessary when supervising a team of 5 junior residents.
Education
Doctor of Medicine
University of North Carolina at Chapel Hill
2010–2018
Combined GPA: 3.6
Relevant Coursework: Cardiovascular System, Patient Care, Core Clinical Experiences, Emergency and Critical Care, Science of Medicine, Pharmacology, Transplantation
Professional Experience
Junior Resident Doctor
Wayne State University Hospital, Detroit, MI
August 2018–September 2021
Served as consultant for cardiological matters in over 250 cases.
Participated in safe and effective patient care, recording a 90% positive assessment from patients.
Performed patient examinations and diagnostics under supervision of chief cardiologist.
Demonstrated outstanding professionalism and resolved patient-doctor conflict.
Reduced waste and cut costs by $40,000/year by promoting better use of office supplies.
Key Skills
Cardiology
Cardiovascular Health
Diagnostic Skills
Working under Pressure
Active Listening
Empathy
Professionalism
Teamwork & Collaboration
Efficient Communication
Journal Publications
"Evaluating New Generational Health Risk Markers in Overweight & Obese Populations"—co-author, American Journal of Cardiology, 2020
Certifications
American Board of Internal Medicine, Certified Cardiologist, 2018
This is how to write a perfect Medical Resident CV of your own:
1. Write Your Medical Resident CV Using the Best Format
Medical residents are students of medicine who graduated from school and are in the middle of obtaining a specialization in their field. They need to possess knowledge of treatment plans, patient care, and, in addition, your medical resident CV has to show teamwork skills, communication, and empathy.
But how?
Before we get to the good stuff, we have to evaluate the structure of your CV. Follow this checklist to make sure your CV looks the part:
Read more: What's the Difference Between a CV and a Resume?
2. Prepare a Professional Medical Resident CV Profile
How many residents are gunning for that sweet top-of-the-line hospital job?
Could be anywhere up to ~145 thousand, according to the AAMC.
That number's just too high. You know it, I know it, and the director knows it, too—there's a stack of other CVs on his table, all from McGill, UCSF, and Chapel Hill.
There's no chance in this world or the next that he's reading all of them top to bottom. So you have to impress him in a flash.
You can do that with a career summary or objective.
Write a career summary if you've got experience in your field already. Jot down the key achievements, quantify them using numbers, and make sure they are tailored to the hospital's needs.
If you're at the beginning of your residency, choose to write a career objective instead. Explain your aspirations, mention what you do know, and how much you're willing to go the extra mile to be the best you can be.
Read more: How to Start Writing a CV
3. Polish the Education Section of Your Medical Resident CV
Elephant in the room: you're a resident, you may not necessarily have the most experience.
Also, your work as a healthcare professional immediately bumps up the weight of your education.
Better learn how to write an education section so excellent, even House would give you a pat on the back:
Mention the name of your medical school, years of attendance, and what degree you graduated with.
Thinking about including your GPA on your CV? Do so only if it was exceptionally high.
Include any relevant coursework, although this will depend on what your specialization of choice is.
All of your obtained honors are naturally prime material to put on your CV!
Pro Tip: If you're on the tail end of your medical residency and have been working as a resident for more than 5 years, you can move past this point without mentioning any extras beyond the first bullet. Also, if that is the case, your work experience section should take precedence over this one.
4. Get the Most Out of Your Medical Resident CV Work Experience Section
The work experience section has the potential to elevate your entire application.
It can also be your downfall if you don't do it right. Remember, one CV tip a day keeps career disappointment away!
And, would you look at that, we have way more tips about how to put work experience on your CV, right here:
Start your work experience section by listing your current / most recent position.
Go for 4–6 well-written bullet points describing your primary duties and biggest accomplishments.
For older jobs, that bullet count should come down to a maximum of 3.
Write those bullet points utilizing action words at the beginning
Other tips include using numbers, sticking to relevant experience only, and not forgetting to keep that application tailored to the particular position.
Read more: How to Write a Targeted CV
When making a CV in our builder, drag & drop bullet points, skills, and auto-fill the boring stuff. Spell check? Check. Start building a professional CV template here for free.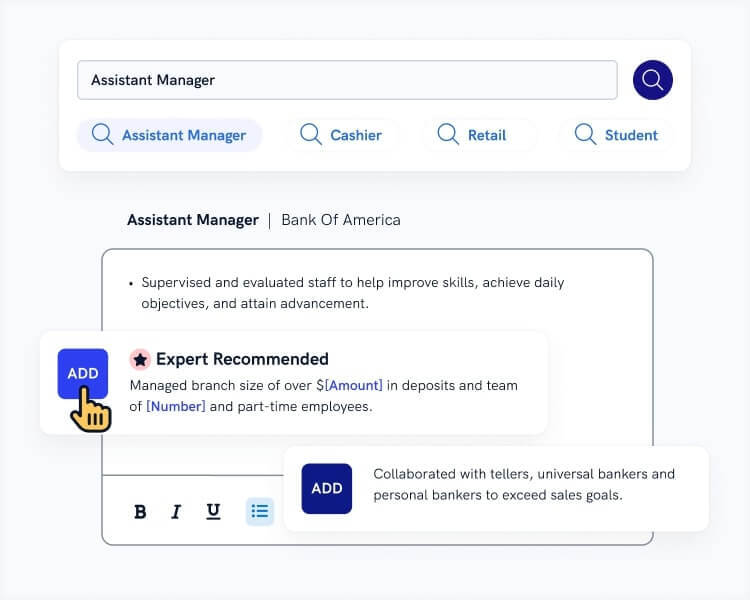 When you're done, Zety's CV builder will score your CV and tell you exactly how to make it better.
5. Prove the Right Skills on a Medical Resident CV
Below is a sample list of general medical skills to use as a reference:
Medical Resident CV Skills
Family Medicine
Patient Therapy
Patient Care
Surgery
Medical Record-Keeping
Trustworthiness
Independent Learning
Friendly Attitude
Internal Medicine
Differential Diagnosis
Pediatrics
Pharmaceutical Knowledge
Critical Care
Treatment Plans
Cardiology
Efficiency
Attention to Detail
Active Listening
But don't kid yourself, if you add all of that, all they'd do is ask why you haven't cured cancer yet.
No residents can boast skills like that and look believable. There are more intelligent ways to craft a great skills section:
Create a master list of all of your skills. For ease of use, you can divide it into categories, like hard skills,soft skills, and technical skills.
Using the job ad for help, look out for relevant keywords to discover what kind of expert the hospital expects to hire. You should be able to get a good idea what skills are worth premium points in their mind.
Pro Tip: You may find your skill set to be quite extensive, since over 75% of residents switch specializations over the course of their residency. If that's you, the skills that matter are the skills relevant to the position you're applying for.
6. Add Extra Sections to Your Medical Resident CV
Remember, the hospital director has literally hundreds of applications on his desk.
So far, your CV is decent, but it doesn't stand out that much.
Time to make a miracle recovery.
Adding extra sections that highlight unique things about you and help detach you from the crowd as the prominent medical resident.
Plan the space on your CV with some of these sections in mind:
Read more: What to Avoid on a CV: Information Not to Include
7. Complete the Application by Including a Medical Resident Cover Letter
You'd be surprised how many candidates don't write a cover letter. It's crazy—they're missing out on the chance to directly convince the recruiter to give them a call!
There's no good reason not to write a cover letter, so let's get yours ready:
Stick to the correct cover letter format that's easy on the eyes.
Get your reader hooked by writing a promising and clever cover letter introduction. Mentioning a key achievement or two will usually do the trick.
Demonstrate how the hospital would benefit from hiring you, and state examples of what you bring to the table.
Finish off not by confidently stating how you know you're the best there is.
Read more: 30+ Cover Letter Tips to Help You Land an Interview
Plus, a great cover letter that matches your CV will give you an advantage over other candidates. You can write it in our cover letter builder here. Here's what it may look like: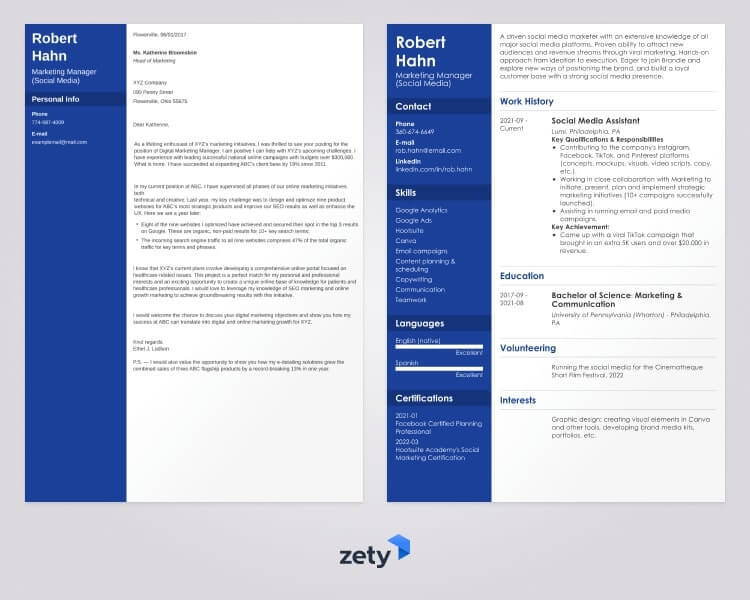 See more cover letter templates and start writing.
Got anything to add? Did we not forget any crucial medical resident CV tips? Leave your suggestions and personal experiences in the comments below, we'd love to hear them!