Novoresume Review [+Customer Opinions & Templates Overview]
The review takes a closer look at Novoresume's online builder and features. Check out Novoresume reviews from customers, and see the pros and cons for yourself.
Novorésumé is advertised as The online resume builder getting folks hired by BBC, Google, Apple, Tesla, and Airbnb. But is it worth the hype?
Read on for a Novoresume review that breaks down the product's main functionality and gives you an idea of their templates. Did we mention we also looked at Novoresume reviews online?
This guide will show you:
Customer reviews of Novoresume.
Pros and cons of using Novoresume builder, including their templates.
A review of selected Novoresume resume templates.
Want to save time and have your resume ready in 5 minutes? Try our resume builder. It's fast and easy to use. Plus, you'll get ready-made content to add with one click. See 20+ resume templates and create your resume here.
Sample resume made with our builder—See more resume examples here.
You can find more useful articles here:
Let's dive right in—with the customer reviews of Novoresume from reputable online sources:
Why Trust Us
We put your needs first. That's why we always try out the products we review for you so that our first-hand experience can help you make the right choice. Our Certified Professional Resume Writers test all resume builders available on the market to make sure you know the pros and cons of each tool. This approach allows us to create reviews that are not only objective but also answer all your questions so that you can create a job-winning resume quickly and easily.
Novoresume Reviewed by Customers
Novoresume promises to get you started on the process right away, with no credit card being required to start exploring their eight free templates. All you need to do is register, and you can access their builder instantly. You can also go Premium for more features.
Let's have a look at what people have to say about it.

Novoresume is rated "excellent" on Trustpilot based on 886 reviews, with 90% receiving 4/5-star ratings. Users like the templates, UI, and ability to focus on content vs. resume structure and design. However, some say the distinction between free and premium features is unclear.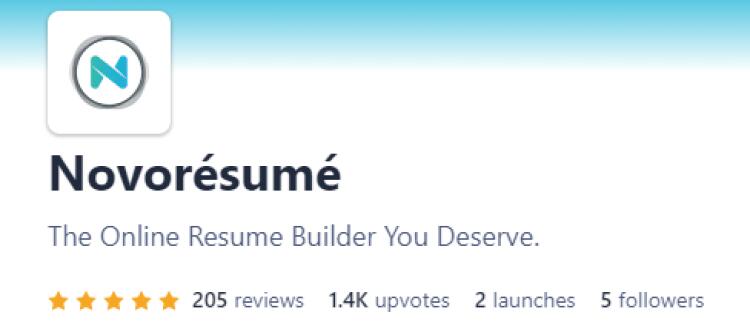 Out of 205 reviews on Producthunt, most are fairly positive and also emphasize the product's ease of use. Customers say they were able to whip up a resume fast, with resume sections being prompted by the tool, and that the finished product is a resume that stands out.
Does Novoresume Have What It Takes?
Is it really worth paying for a resume builder? Is the process as easy as it's advertised? We tried making our own resume with Novoresume's builder.
After you select your experience level, you go straight to the template. There's a convenient way to put in the necessary contact info for your resume, including a variety of popular socials.
Clicking on each section allows you to customize it effortlessly and get suggestions for what to write. There are also useful resume tips and an Optimizer highlighting areas of improvement. You can switch templates as you go, change resume layouts, themes, and fonts suitable for a professional resume.
This is a resume made with their Professional template: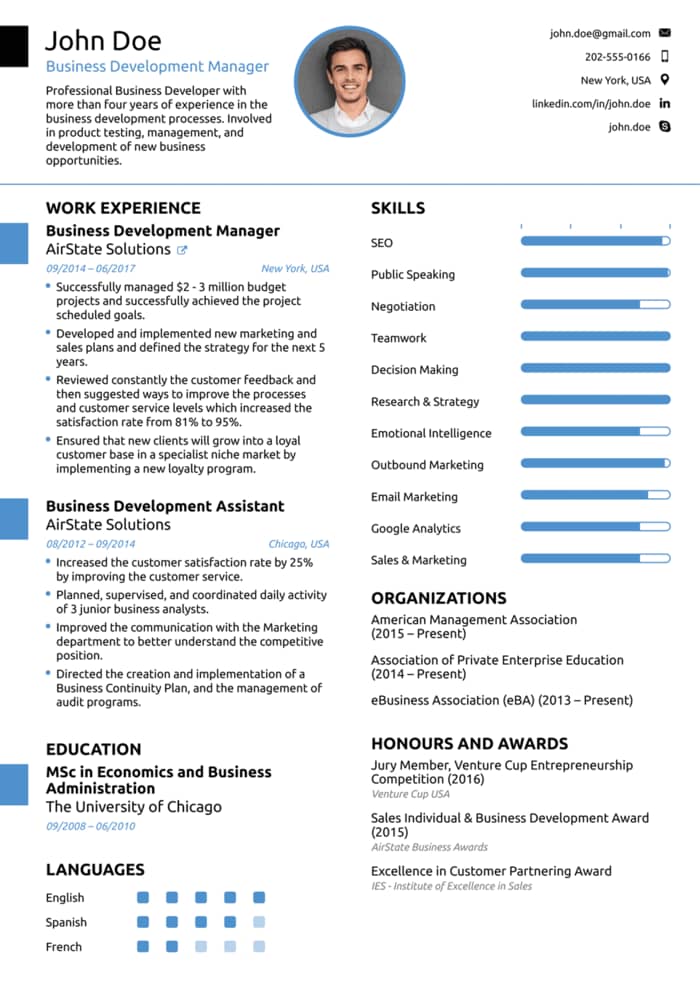 Once you're done, you can download the file as a PDF—for free only if your resume doesn't exceed one page.
The review wouldn't be complete without pros and cons:
Novoresume Review—Pros
1. Good UI/UX
You won't need extreme computer skills to get started. Creating a resume is intuitive, and there are no unnecessary features that will get a user confused. Plus, the preview will tell you exactly what your resume will look like when you print it out.
2. High Amount of Customization Available
You can personalize your resume, changing font size and color of resume icons (while ensuring the resume is ATS-friendly).
3. Live Feedback With Tips and Examples
Not everyone is born with an ingrained knowledge of how to make a resume; this is where Novoresume comes in useful. The builder will guide you through every step of the process and help you avoid writer's block.
Novoresume Review—Cons
1. Many Features Only Available With a Premium Version
While there are many things you can customize within the Novoresume builder, many will become available to you only with a subscription purchase. For example, this includes several fonts, backgrounds, and creating your own unique layout—and a matching cover letter.
2. Single Download Option Is PDF
Surprisingly, Novoresume only provides PDF as the downloading option. While a PDF resume is a sound choice in most cases, some employers might request a Word format, which is unavailable.
3. No Option to Tweak the Resume Once the Subscription Expires
Even if you have previously paid for a subscription to create a resume, you won't be able to edit that file when your subscription is over. This may be reasonable, but some customers have expressed dissatisfaction with such an arrangement.
When making a resume in our builder, drag & drop bullet points, skills, and auto-fill the boring stuff. Spell check? Check. Start building a professional resume template here for free.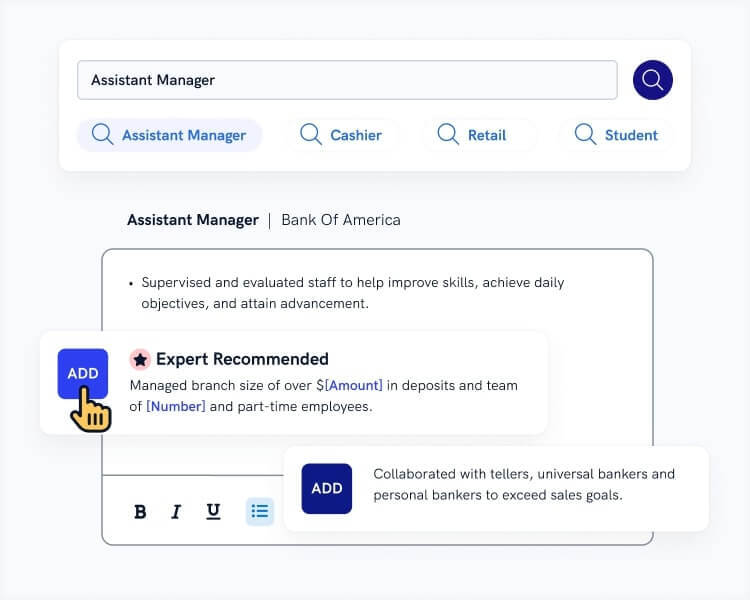 When you're done, our professional resume builder will score your resume and our resume checker will tell you exactly how to make it better.
Novoresume Templates Review
Novoresume promises eight free resume templates plus eight premium ones. Let's see what some of the free options deliver:
Basic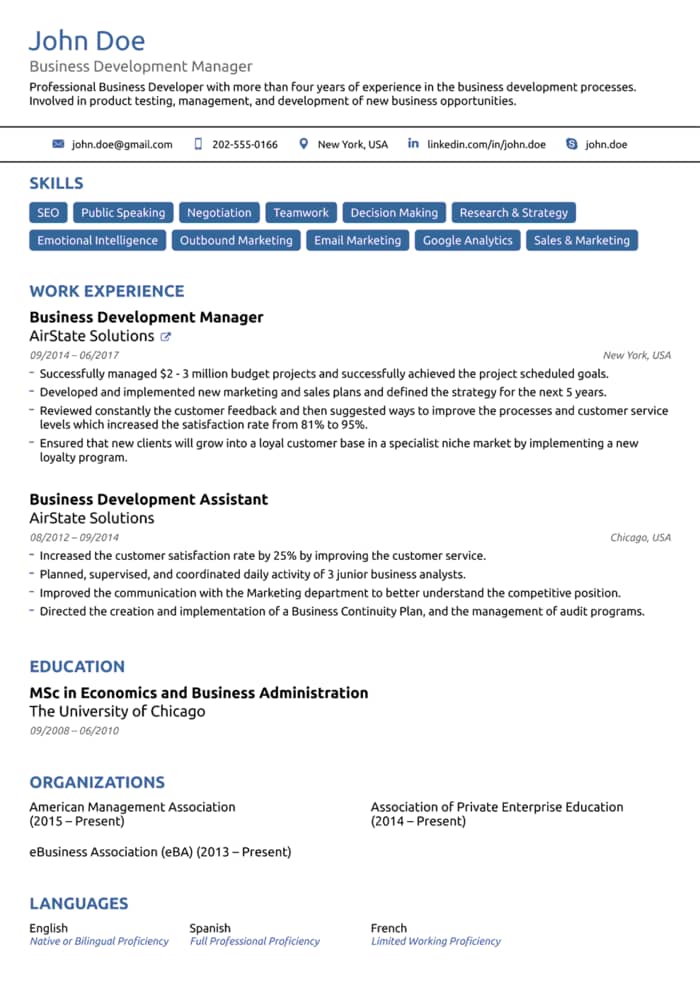 This resume template is exactly what the name suggests: it's as simple as it's straightforward. No bells and whistles, just a classic resume that will cover most job-hunting needs.
Access this template here.
Read more: Basic Resume Templates
Modern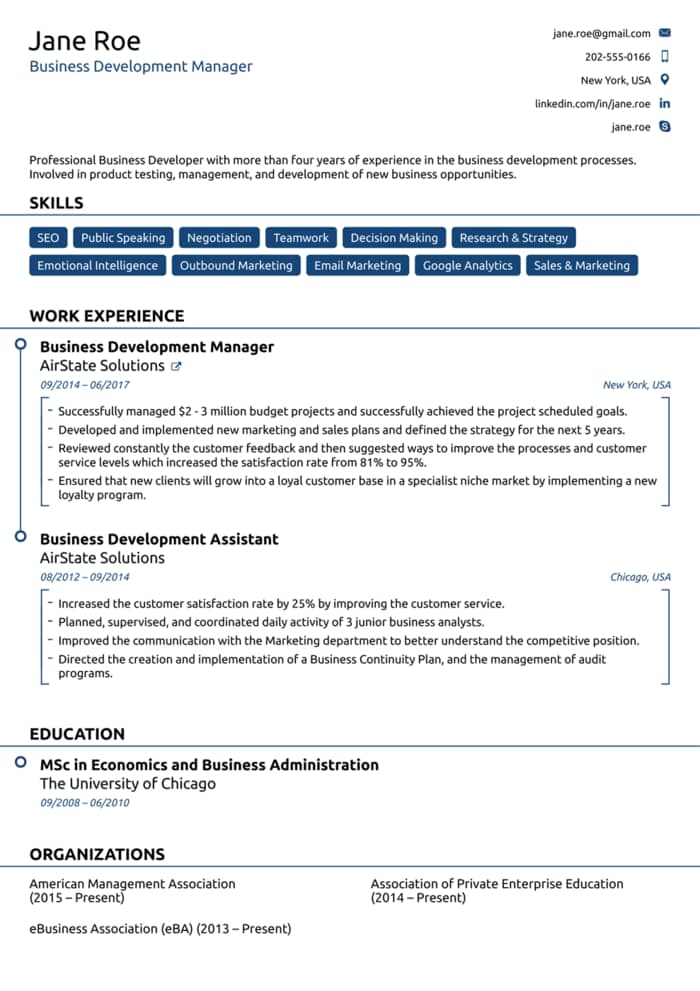 While it looks quite similar to the previous one, this template visually separates the resume parts and accentuates important bits of information. It's easy to follow and does a good job of ensuring readability.
Access this template here.
Read more: Modern Resume Templates
Creative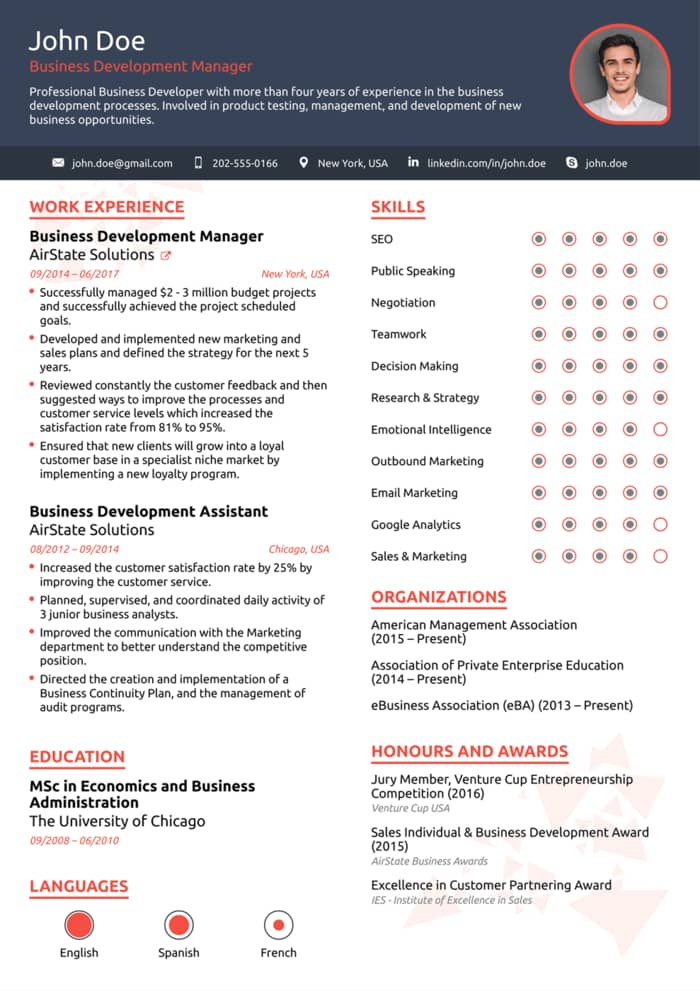 This two-column resume template allows you to fit more onto a page while still maintaining a clean and professional look. You can alter the color schemes, but changing the background only comes with a subscription.
Access this template here.
Read more: Creative Resume Templates
Functional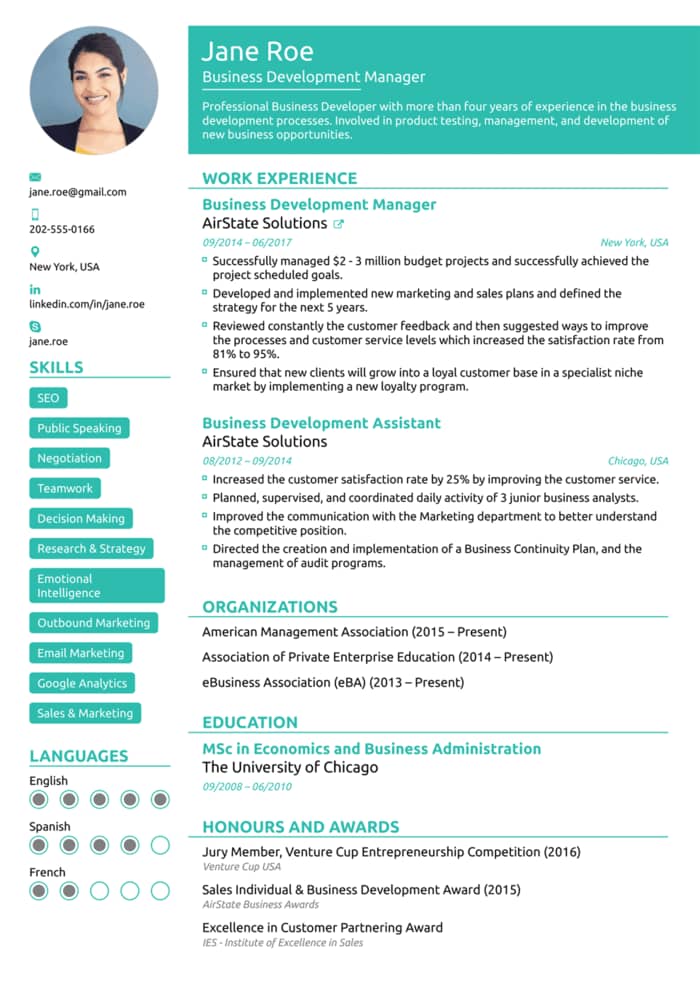 A functional resume will focus on your professional skills and work experience. It can bring attention to your transferable skills (great when switching fields, for example), language skills, or even hobbies and interests.
Access this template here.
Read more: Functional Resume Template
Executive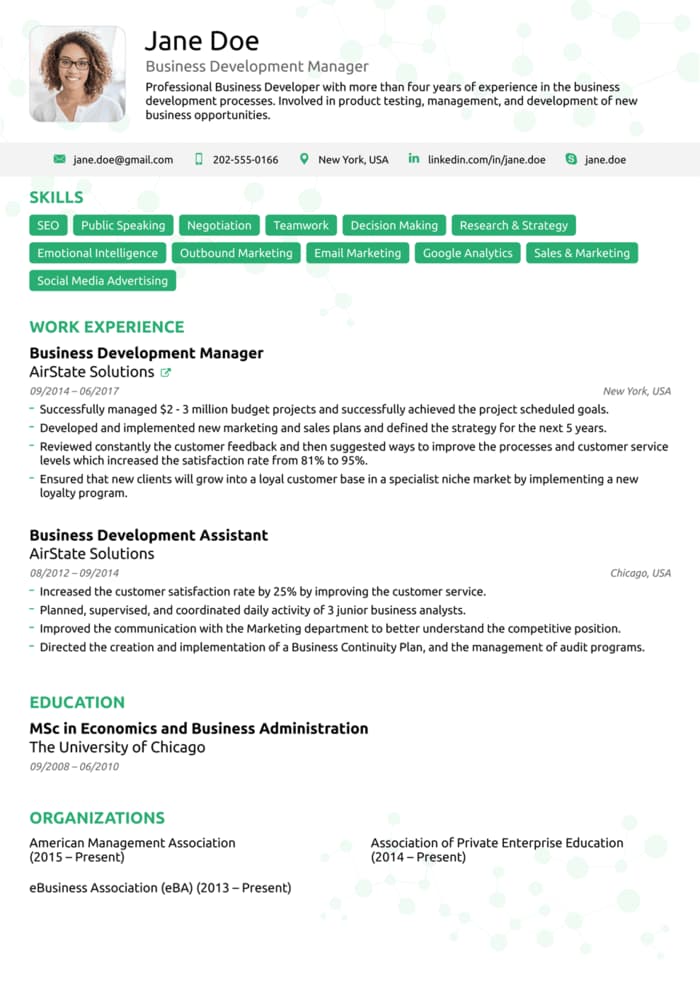 Last but not least, this template from Novoresume follows a traditional resume design, emphasizing personal projects and prominent achievements (these even come as default fields when you pick this option).
Access this template here.
Read more: Executive Resume Template
How do you feel about making such or even better resume yourself? Here's the ultimate guide: How to Write a Successful Resume
Plus, a great cover letter that matches your resume will give you an advantage over other candidates. You can write it in our cover letter builder here. Here's what it may look like: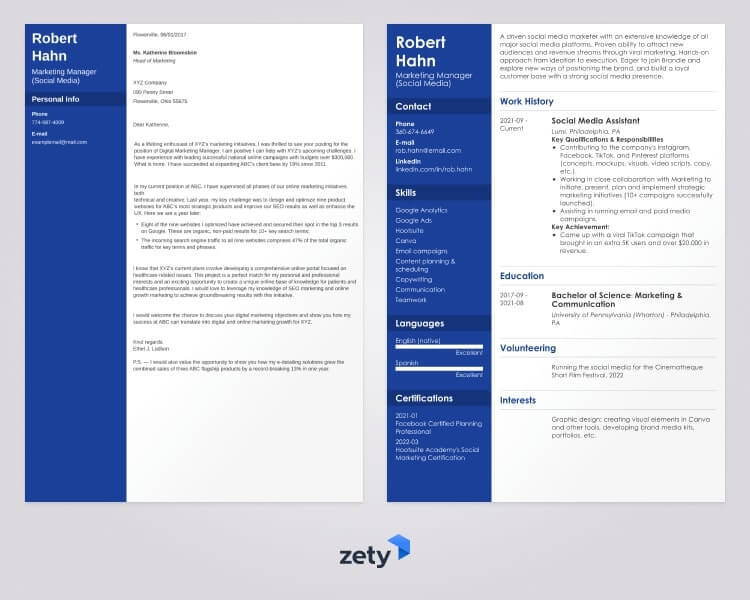 See more cover letter templates and start writing.
So at the end of the day, Is Novoresume worth it?
Very much yes if you:
Would like to get tips and suggestions as you go (+ spell-check)
Appreciate a chance to tailor your resume and personalize your documents
Want to switch between templates easily without losing progress
Plus, online Novoresume reviews attest to how useful the tool is, claiming it indeed helped people land job interviews—which is, of course, the ultimate goal of using a resume builder.
Thanks for reading this Novoresume review!
Do you have any questions about Novoresume? Do you have any experience using their resume builder? Let me know in the comment section!
About Zety's Editorial Process
This article has been reviewed by our editorial team to make sure it follows Zety's editorial guidelines. We're committed to sharing our expertise and giving you trustworthy career advice tailored to your needs. High-quality content is what brings over 40 million readers to our site every year. But we don't stop there. Our team conducts original research to understand the job market better, and we pride ourselves on being quoted by top universities and prime media outlets from around the world.