So your friends are saying that a minivan is exactly what you need because it works for them?
Well—
Even though it fits their needs, it might not be the best choice for you.
The same rule applies to picking a resume layout.
Surprisingly.
There are universal parts that build it, but in the end, you should decide which shows what a perfect candidate you are at the current career stage.
With our guide, you'll end up with a luxurious crossover you've wished for from the start.
This guide will show you:
Crucial and straightforward formatting rules to follow each time you create a resume.
Resume layout ideas that make both recruiters and the applicant tracking software happy.
Three forever good resume layout formats for you to pick and adjust to your level of experience.
Examples of resume layout templates showing you as the perfect candidate.
Want to save time and have your resume ready in 5 minutes? Try our resume builder. It's fast and easy to use. Plus, you'll get ready-made content to add with one click. See 20+ resume templates and create your resume here.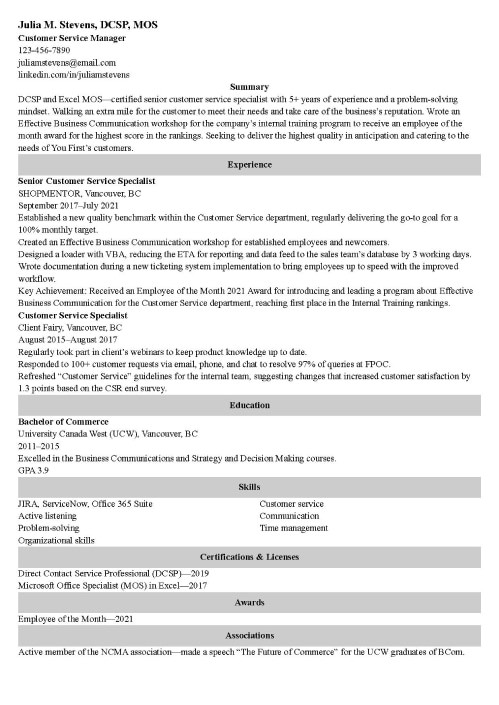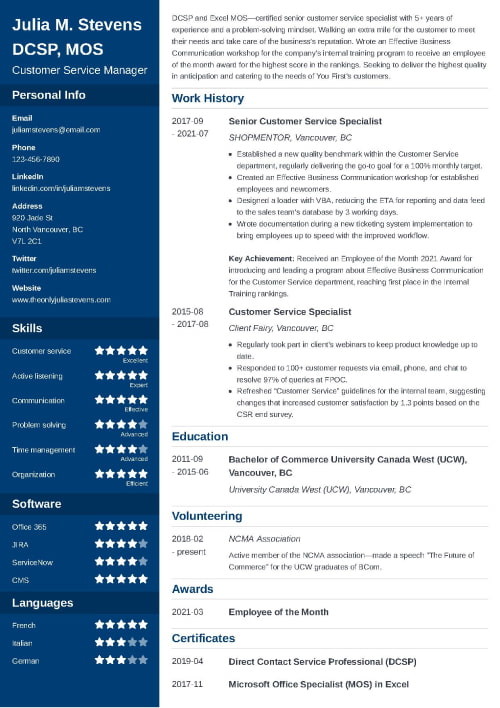 Sample resume made with our builder—See more resume examples here.
Julia M. Stevens, DCSP, MOS
Customer Service Manager
123-456-7890
juliamstevens@email.com
linkedin.com/in/juliamstevens
Summary
DCSP and Excel MOS—certified senior customer service specialist with 5+ years of experience and a problem-solving mindset. Walking an extra mile for the customer to meet their needs and take care of the business's reputation. Wrote an Effective Business Communication workshop for the company's internal training program to receive an employee of the month award for the highest score in the rankings. Seeking to deliver the highest quality in anticipation and catering to the needs of You First's customers.
Experience
Senior Customer Service Specialist
SHOPMENTOR, Vancouver, BC
September 2017–July 2021
Established a new quality benchmark within the Customer Service department, regularly delivering the go-to goal for a 100% monthly target.
Created an Effective Business Communication workshop for established employees and newcomers.
Designed a loader with VBA, reducing the ETA for reporting and data feed to the sales team's database by 3 working days.
Wrote documentation during a new ticketing system implementation to bring employees up to speed with the improved workflow.
Key Achievement: Received an Employee of the Month 2021 Award for introducing and leading a program about Effective Business Communication for the Customer Service department, reaching first place in the Internal Training rankings.
Customer Service Specialist
Client Fairy, Vancouver, BC
August 2015–August 2017
Regularly took part in client's webinars to keep product knowledge up to date.
Responded to 100+ customer requests via email, phone, and chat to resolve 97% of queries at FPOC.
Refreshed "Customer Service" guidelines for the internal team, suggesting changes that increased customer satisfaction by 1.3 points based on the CSR end survey.
Education
Bachelor of Commerce
University Canada West (UCW), Vancouver, BC
2011–2015
Excelled in the Business Communications and Strategy and Decision Making courses.
GPA 3.9
Skills
JIRA, ServiceNow, Office 365 Suite
Customer service
Active listening
Communication
Problem-solving
Time management
Organizational skills
Certifications & Licenses
Direct Contact Service Professional (DCSP)—2019
Microsoft Office Specialist (MOS) in Excel—2017
Awards
Employee of the Month—2021
Associations
Active member of the NCMA association—made a speech "The Future of Commerce" for the UCW graduates of BCom.
Get quick access to particular guide sections:
1. Lay It Out First
What do you think about when going on a trip?
Clothes, hygiene products, and chargers. Essentials, sure, but do you have a suitcase big enough to pack them all? What about the snacks for the road? Do they go in the same bag? You need to have some spare room for miscellaneous items.
In resumes, you make such space to fit everything on one to two pages. Three is excessive, and recruiters can't be bothered to read everything, especially with hundreds of other applications lying on their desks.
So to create the much-needed space, lay the content out. This is how:
Resume Layout Design
Pick a font that's easy to read and scan by the applicant tracking software, like Calibri, Arial, or Verdana. Resume font size between 10–12 points adds to your resume legibility.
Set up 1-inch resume margins and 1–1.15 line spacing. Thanks to the right amount of whitespace, recruiters can follow your resume easily and pick up the most important details much quicker. Align your contents to the left.
Separate your personal information from the rest by creating a resume header. You can go 2–3 points up in font size to make your name stand out. Refrain from including your date of birth, photo, marital status, and religion.
Divide your resume into parts and give your work history or educational background enough space for listing your achievements. Add other necessary sections, such as your personal statement and skills, and boost your chances with some additional ones, like awards, certificates, or hobbies.
Stay consistent with the reverse-chronological format. Write about the most recent events at the top, moving to the least right under. And never let your recruiter use the calendar calculator to decipher your career history. Stick to the month and year format all the way.
Use bullet points to list the details below the section headings.
2. Organize the Sections
Cool.
So now you know what to bring with you. But I bet you had to sit, jump, and force some powerful karate moves to close your luggage.
You packed stuff just in case.
A puffer jacket in case of a temperature drop? You're going south!
If you really want to impress the recruiters, show them relevancy. Don't stuff your resume with unnecessary information, like responsibilities or marketing training for a mechanical engineer job. That way, you're risking recruiters paying attention to a worn-out tee because the unique silk shirt you took with you drowned under the comfortable and dull.
See how to stay relevant at all times and which resume sections are crucial in a standard resume layout:
Typical Resume Layout
Header with your personal information, such as your full name, email address, and phone number.
Personal statement describing your work experience or skill set and playing to your advantage in a new job.
Work history highlighting your quantifiable achievements in a bulleted list, relevant to the role you're applying for.
Education showing your highest degree and any academic accomplishments that prove your fit and motivation for growth.
Skills list with your abilities, software knowledge, and personality traits that correspond to those in the job description.
Other sections of your resume, including certificates, awards, volunteer work, or activities outside of school or work that demonstrate your strengths.
Pro Tip: Students, interns, and graduates listen up! The school years and achievements you've had throughout are probably your biggest wins so far. Use them. Move your educational background under the personal statement to give it more attention than your employment history.
When making a resume in our builder, drag & drop bullet points, skills, and auto-fill the boring stuff. Spell check? Check. Start building a professional resume template here for free.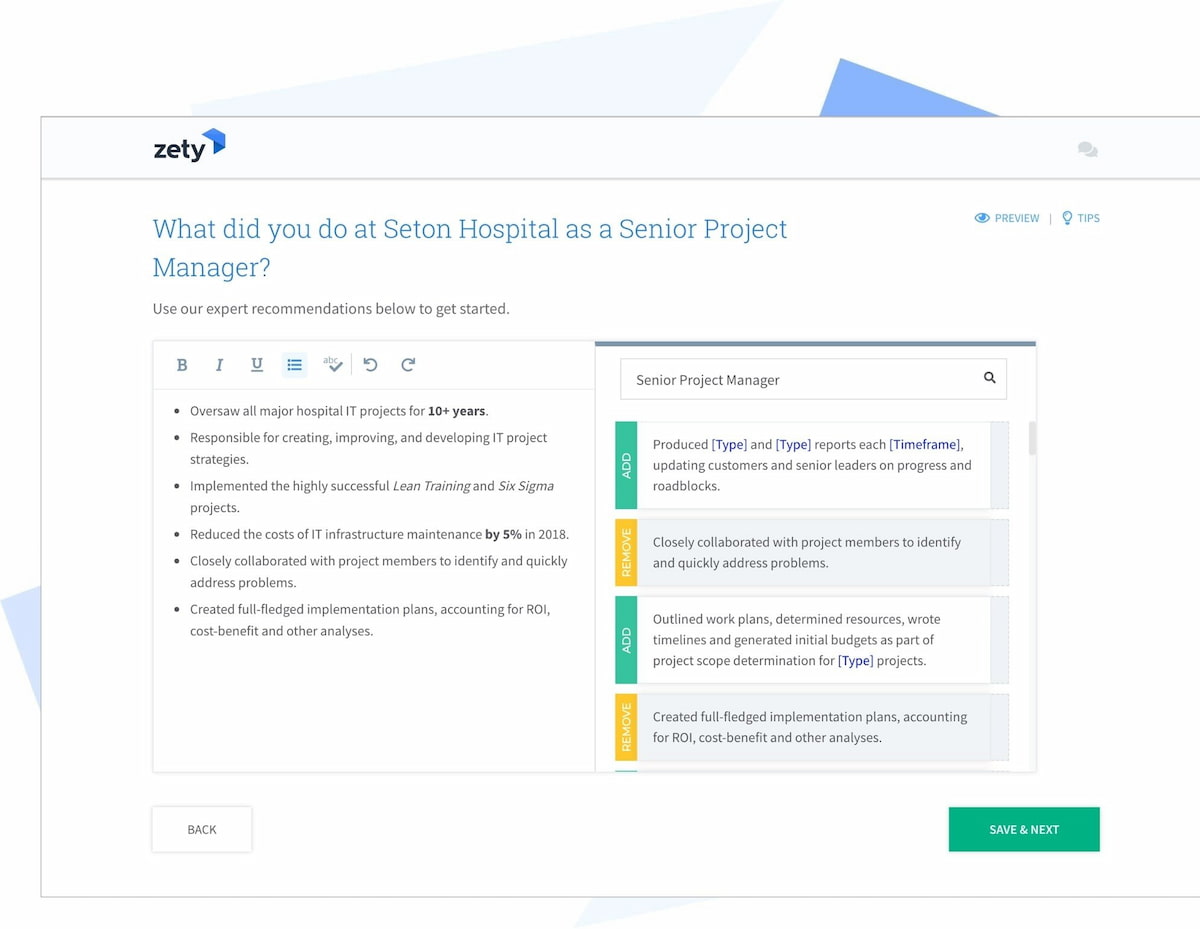 When you're done, Zety's resume builder will score your resume and tell you exactly how to make it better.
3. Pick the Right Format
You wouldn't drive a convertible across countries or take a full-size SUV to a claustrophobic city with narrow alleys.
There are different resume formats you can choose to coordinate your resume structure, depending on the career destination you're headed. And they are:
Chronological.
Functional or skills-based.
Combination, also known as a hybrid.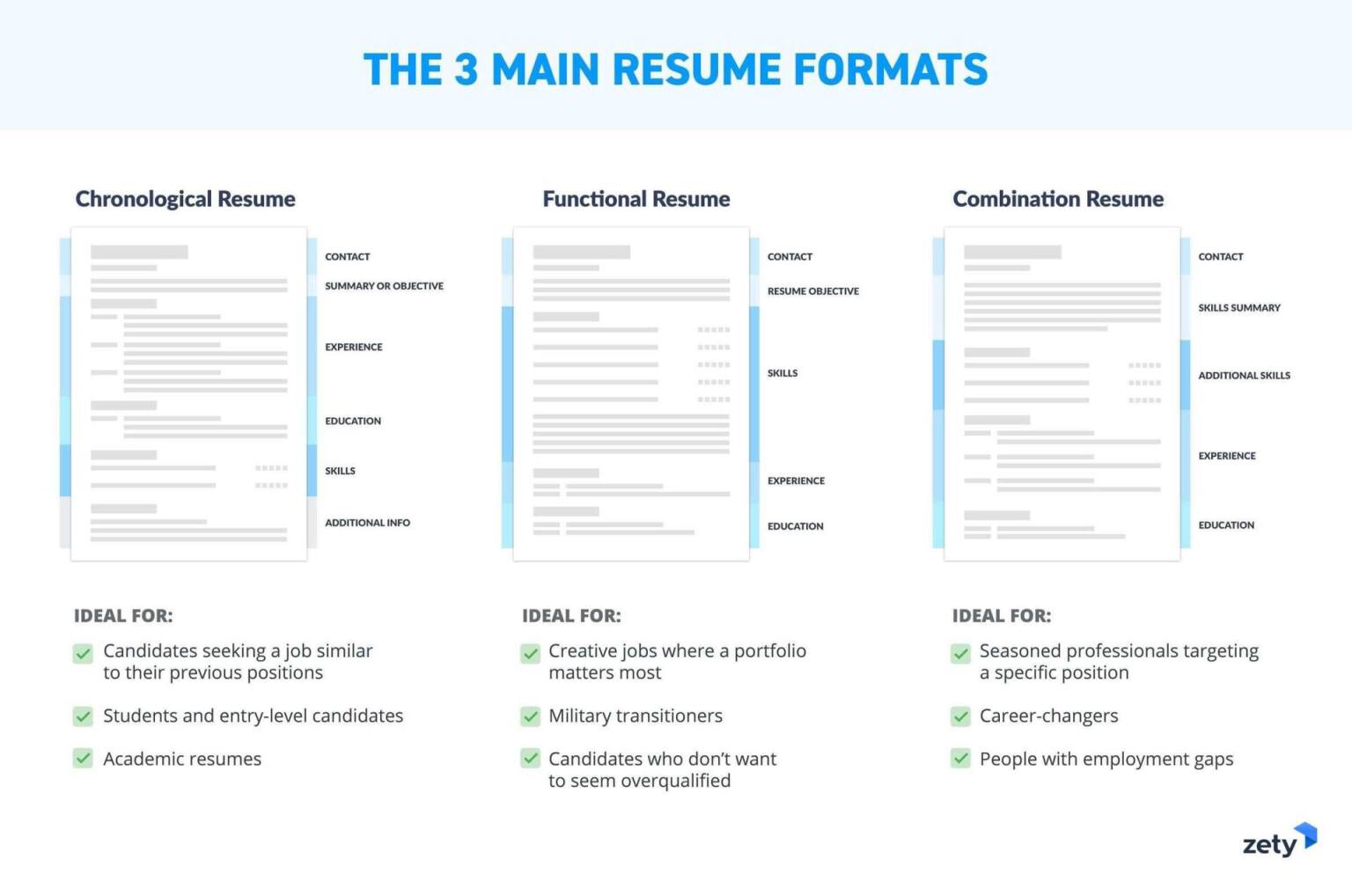 A chronological resume focuses on your work history that can go as far back as 10–15 years. That means it's s a typical wagon, right? You can reach back to where you store your experience cargo and show how you've built the skill set with your career progression in a reverse-chronological order.
It's a universal type of resume layout because recruiters are familiar with it. They've known it for years, so no matter at what career stage you are, hold back no more, go for it. But remember, you write your resume also for the ATS. And the chronological format is the easiest one for the software to scan.
Here's a chronological resume layout example: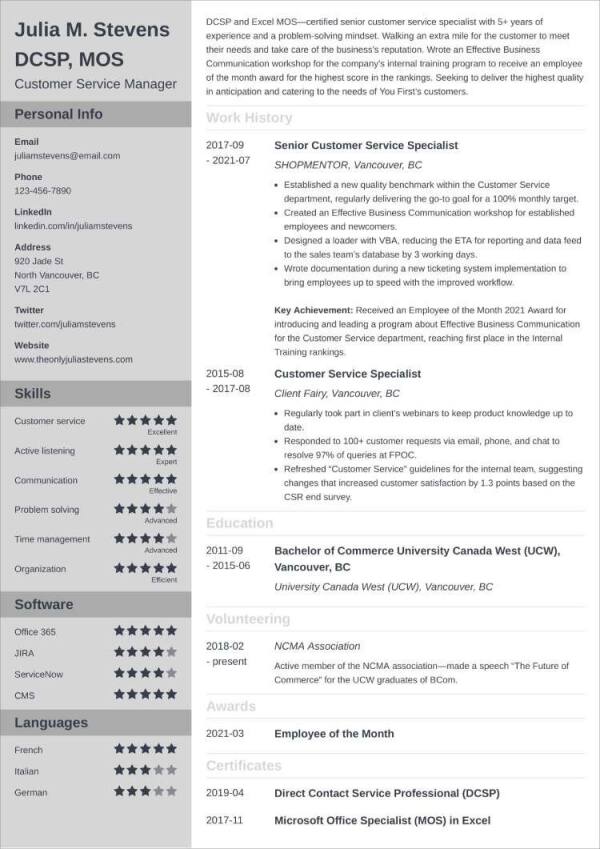 A functional resume, on the other hand, is a sedan. You can hide all broken parts of your employment history right in the trunk, and none of the resume passengers will have access to it.
This resume format is also skill-centred. Pepper every section with your abilities and how you've applied them to the job. But leave the experience section be. You only need dry facts to put there, like your job title, company name, and the dates you worked.
Here's a functional resume layout example: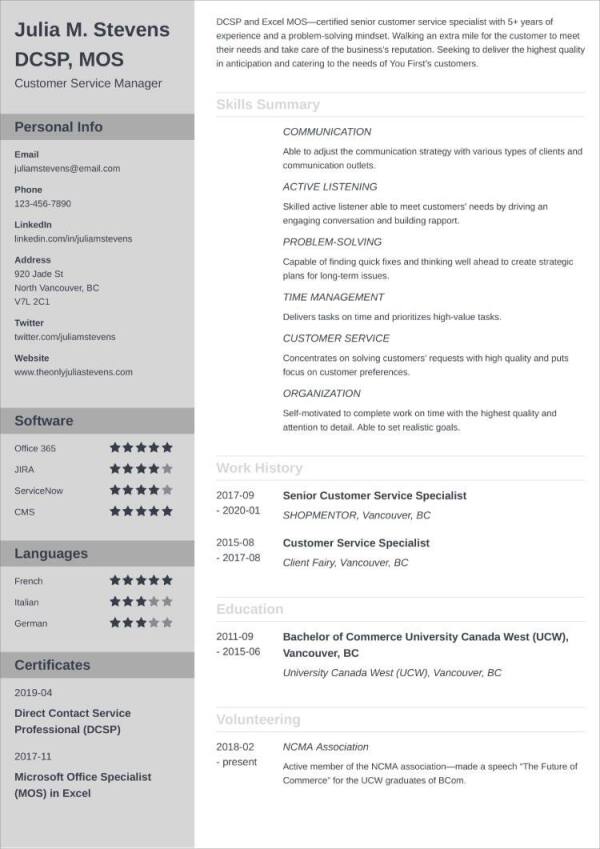 Now you know why recruiters aren't fond of this format. You give away a creative product description instead of inviting them for an actual test drive.
A combination resume is super rare, like a hatchback. Still, it does a great job bringing forth the critical parts of the chronological and functional resume formats—your work history and skills. These two are complementary, creating the best version of you to a potential employer.
It's ideal if you have tons of experience, are about to branch out, or have one or two gaps in your work history. The skill section moves the recruiter away from any potential misconceptions, making these gaps irrelevant in the grand scheme of things. However, it's the most challenging resume layout to make it work.
Here's a combination resume layout example: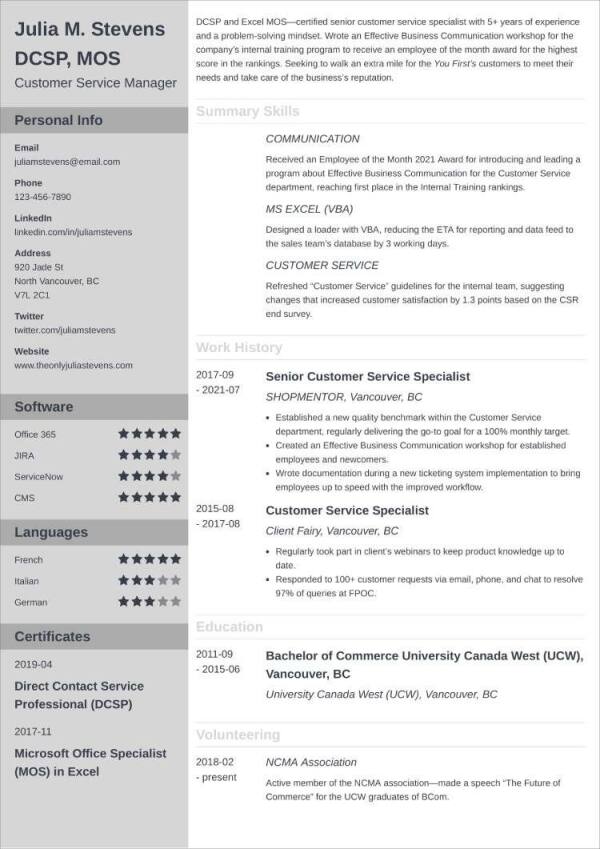 4. Design Your Resume Layout Template
If you were to choose between a yellow Nissan Cube and a grey Volkswagen Golf, would you go for the bee-ish box?
I don't think so.
You say it's not always about the looks, but even you know it's not entirely true.
Recruiters scan resumes in 6 to 7 seconds tops, and that's how much they need to make an impression about you. The design of your resume helps recruiters create that impression and figure out whether you're organized, pay attention to detail, or have a creativity bug. Depending on what job you're applying for, make the resume design work for you, not against you.
See how you can use resume layout to your advantage:
Simple Resume Layout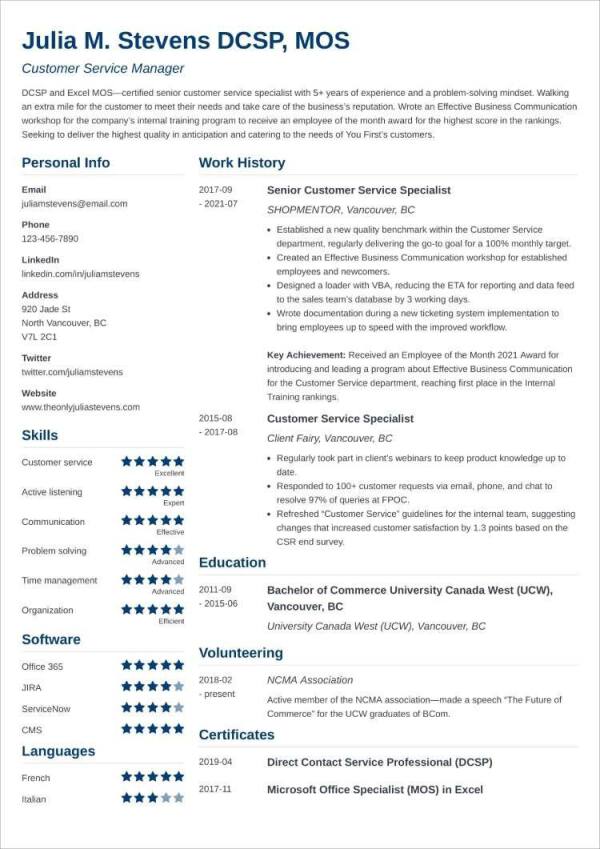 The Simple resume layout has been made for minimalistic souls. Thanks to the template's superior readability and straightforward design, recruiters don't need much time to call you a perfect fit.
Professional Resume Layout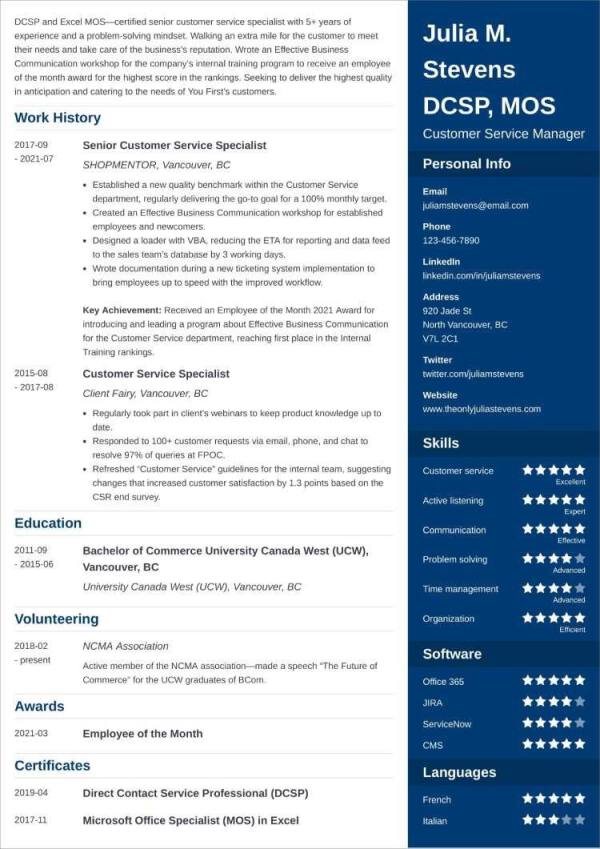 The Enfold template singles out the skills section with a coloured sidebar. Nonetheless, the professional resume layout pulls focus to your experience with the statement, work history, and education in the centre. With such a clear presentation of your achievements, recruiters will know they're dealing with a pro.
Creative Resume Layout
Our creative resume layout, Primo, captures your work history in a timeline, creating a perfect blend of creativity and professionalism. The icons and skill-level visuals are perfect for the creative look and feel. Not to mention, your initials that highlight your name, making it easier for recruiters to remember.
Pro Tip: Appropriate colour can do your resume a world of good. If you're applying to finance, stick to greys or blues to appear professional. But if you're writing an esthetician job application, show how you understand the current industry aesthetics by choosing pastel tones.
A great cover letter that matches your resume will give you an advantage over other candidates. You can write it in our cover letter builder here. Here's what it may look like: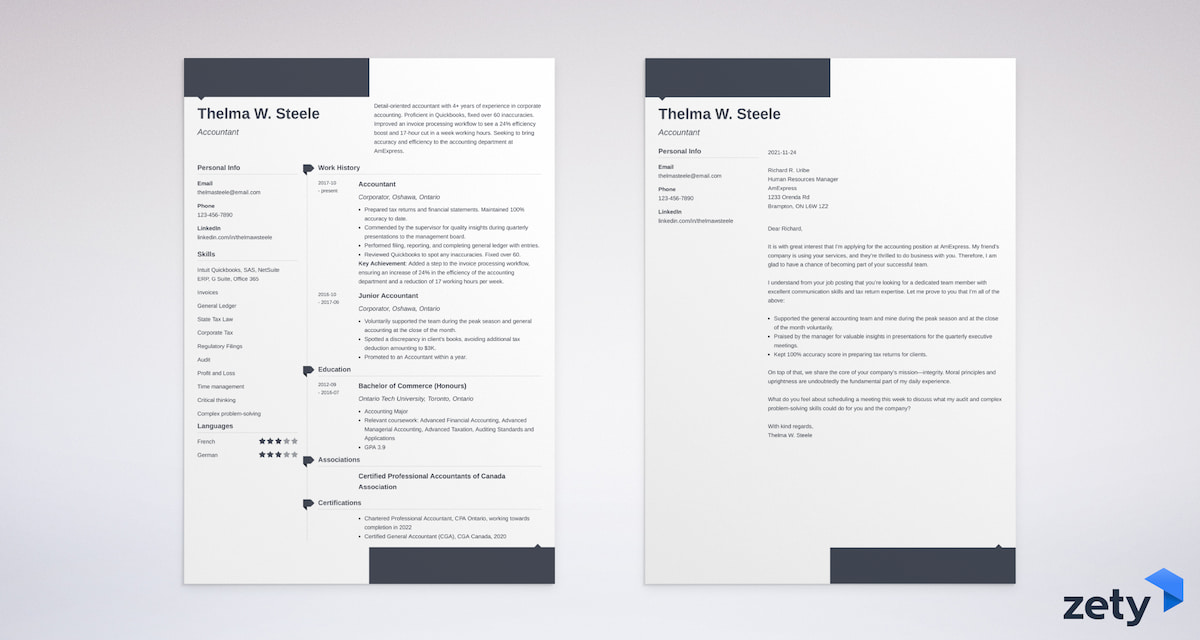 See more cover letter templates and start writing.
Key Takeaway
Take these home:
Each time you're writing a resume, make sure to create a resume layout that's easy to follow, legible, and has enough whitespace.
Include the necessary sections but don't forget to think about the additional ones because they can become key decision points.
The format you should go for depends on where you are with your career, where you want to be, and the objective balance between your work experience and skills. Choose wisely!
Your resume layout design helps recruiters create their first impression of you. Don't mess it up with a faulty Microsoft Word doc.
Add that's it!
Keeping my fingers crossed for you on your job-seeking journey.
Please tell us—
Do you have questions about the layout for a resume? Which one do you like best? What do you think makes a proper resume layout?
Give us a shout in the comments! Let's get the conversation rolling.