"Wanna hear an architect joke? Oh, sorry, I'm still working on it."
People in your industry are notoriously busy. Pulling all-nighters is almost a job requirement.
Have enough on your hands as is? Then let us lighten your load, by telling you how to write an architecture CV that will have more than just a beautiful façade.
This guide will show you:
An architecture CV example better than 9 out of 10 other CVs.
How to write an architecture CV that will land you more interviews.
Tips and examples of how to put skills and achievements on an architecture CV.
How to describe your experience on a CV for architects to get any job you want.
Want to save time and have your CV ready in 5 minutes? Try our CV maker. It's fast and easy to use. Plus, you'll get ready-made content to add with one click. See 20+ CV templates and create your CV here.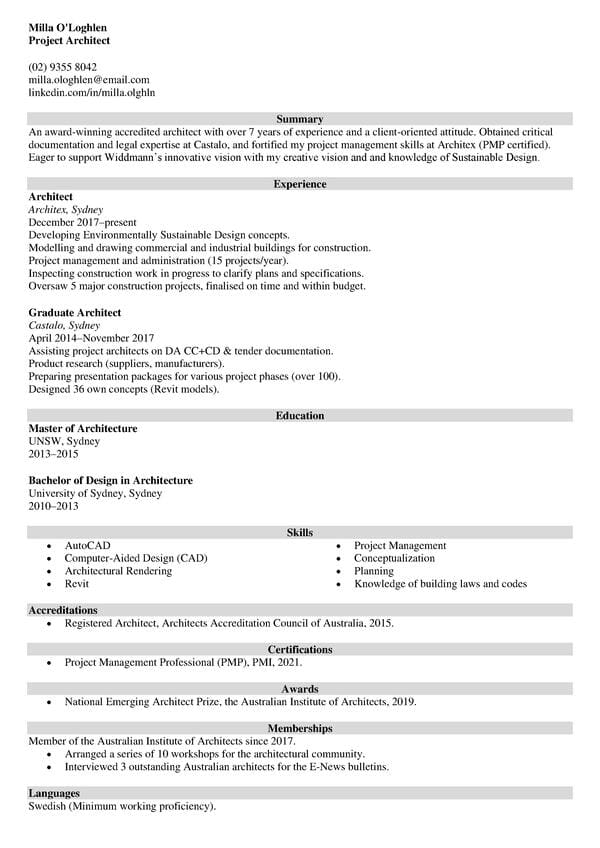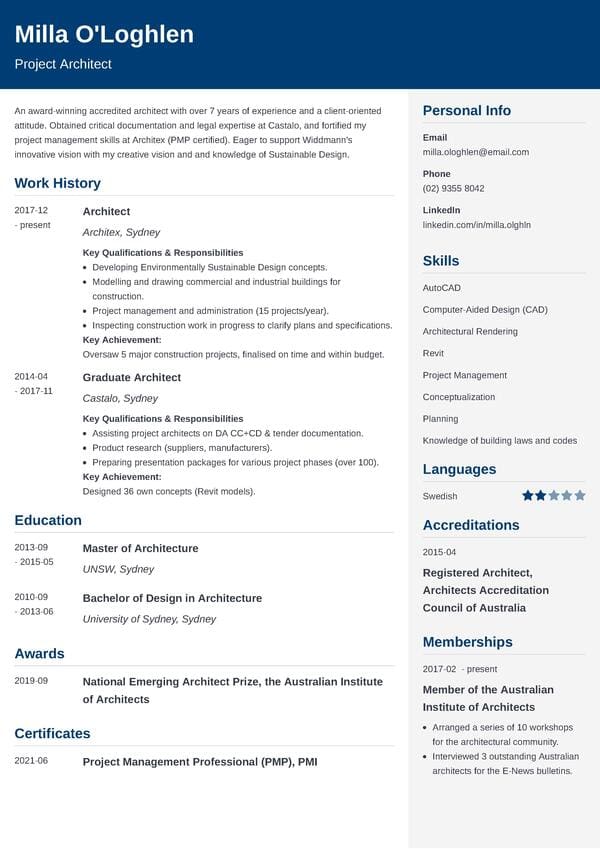 Sample CV made with our builder—See more templates and create your CV here.
Sample Architecture CV Template
Milla O'Loghlen
Project Architect
(02) 9355 8042
milla.ologhlen@email.com
linkedin.com/in/milla.olghln
Summary
An award-winning accredited architect with over 7 years of experience and a client-oriented attitude. Obtained critical documentation and legal expertise at Castalo, and fortified my project management skills at Architex (PMP certified). Eager to support Widdmann's innovative vision with my creative vision and knowledge of Sustainable Design.
Experience
Architect
Architex, Sydney
December 2017–present
Key Qualifications & Responsibilities
Developing Environmentally Sustainable Design concepts.
Modelling and drawing commercial and industrial buildings for construction.
Project management and administration (15 projects/year).
Inspecting construction work in progress to clarify plans and specifications.
Key Achievement:
Oversaw 5 major construction projects, finalised on time and within budget.
Graduate Architect
Castalo, Sydney
April 2014–November 2017
Key Qualifications & Responsibilities
Assisting project architects on DA CC+CD & tender documentation.
Product research (suppliers, manufacturers).
Preparing presentation packages for various project phases (over 100).
Key Achievement:
Designed 36 own concepts (Revit models).
Education
Master of Architecture
UNSW, Sydney
2013–2015
Bachelor of Design in Architecture
University of Sydney, Sydney
2010–2013
Skills
AutoCAD
Computer-Aided Design (CAD)
Architectural Rendering
Revit
Project Management
Conceptualization
Planning
Knowledge of building laws and codes
Accreditations
Registered Architect, Architects Accreditation Council of Australia, 2015.
Certifications
Project Management Professional (PMP), PMI, 2021.
Awards
National Emerging Architect Prize, the Australian Institute of Architects, 2019.
Memberships
Member of the Australian Institute of Architects since 2017.
Arranged a series of 10 workshops for the architectural community.
Interviewed 3 outstanding Australian architects for the E-News bulletins.
Languages
Language—Swedish (Minimum working proficiency).
And now, let's move on to the architecture CV writing tips:
1. Format Your Architecture CV Well
Architects design buildings, carefully planning the functional and aesthetic aspects of the future structure. The purpose of an architecture CV is to highlight the skills and expertise of an architect, proving that they are fit to create safe and reliable constructions.
Before you start writing yours, you have to map it out.
Think of CV formatting as the blueprint that will ensure all the important details are added. A well-outlined architecture CV will also pass the applicant tracking systems that most recruiters use these days.
Some things to consider:
Don't forget to provide your contact info in the CV header.
Choose a good font. Go for industry-favourite sans serif typefaces, like Helvetica or Verdana. There are even studies proving that Arial and Verdana are preferred over the good old Times New Roman as more readable, so use that to your advantage.
Highlight important sections by using bold type strategically.
Keep enough white space in your document, don't go over 4 pages.
Send it as a PDF (no need to explain why).
Pro Tip: Reverse-chronological order is the standard way of listing your jobs/education, but other CV/resume formats might make sense for your architecture CV, too.
2. Write a CV Objective or CV Summary
If the formatting was the blueprint, this section is the foundation.
Make it solid, and your architecture CV will stand the test of … the hiring manager's expectations.
A CV summary makes sense if you're an experienced architect:
Brainstorm your most important career accomplishments and note those down.
Look at the description of the desired position carefully. Match the two, and you have your CV summary.
Use a CV/resume objective if you're new to architecture (fresh grad or switching careers):
Provide some measurable achievements from the past, and say why this new job is a desired next step (i.e. what your vision is and why).
Again, look at the job listing. Think of how your previous work or studies could be relevant, and describe that.
Surprised to see the word "resume"? Confused about whether it's different from a "CV"? Dot the i's once and for all: Meaning of CV in Australia
3. Craft Perfect Architecture CV Job Descriptions
You don't put walls at random when you design a building (or, say, remove load-bearing beams).
Same here—when you're describing your previous work experience, it can't be random either.
What's the right approach? You have to have a close look at the position requirements (i.e. what the employer is looking for), and then:
Tailor your background to those requirements, i.e. only add what's relevant.
Add 3–4 bullet points for each job (start with the most recent one and go back).
Show measurable results and always provide numbers/metrics/KPIs.
Use power verbs, like "established", "overhauled", "assembled".
Single out a key achievement for each position.
Pro Tip: If you're writing an architecture graduate CV, mention internships, apprenticeships, volunteer work you did, or any other experience that allowed you to obtain practical skills.
4. Make Your Architecture CV Education Section Shine
This section is like the ceiling—even if some people don't usually notice it, it just has to be there.
Just kidding. The recruiter will look.
You're absolutely required to have a degree (or several) as an architect, so your architecture CV should mention:
Name of degree, uni name, location, years in school.
Graduate degrees first, if you have them (reverse-chronological order works here, too).
In an architecture student CV, this part is the most important. If you don't have a lot of experience yet, you can focus on your academic achievements and transferrable skills to make an impression.
Pro Tip: For an architecture graduate CV, feel free to put your education section first, followed by work experience.
When making a CV in our builder, drag & drop bullet points, skills, and auto-fill the boring stuff. Spell check? Check. Start building a professional CV template here for free.
When you're done, Zety's CV builder will score your CV and tell you exactly how to make it better.
5. Highlight Your Architect Skills
Time to remove the scaffolding, because now your architect CV will stand strong with the support of your outstanding skills.
That's if you list them this way:


Build an inventory of hard & soft skills.
Pick out the ones that support your work experience best.
If you're responding to a job ad, include keywords and skills from the job description.
Just make sure not to list generic skills that don't really say anything, and she'll be apples.
Architecture CV Template: Skills
AutoCAD
ArchiCAD
Architectural rendering
Photoshop
Revit
Microstation
Vectorworks
Conceptualization
Planning
Knowledge of building laws and codes
Industrial design
Sustainable design
Converting scale from blueprints
Client relations
When I look at a CV, I make a decision within the first 3 seconds. I don't really read into it, I skim, and try to comprehend what kind of person stands behind that CV—and fast. This is why it's extremely important for me to see the strong sides and necessary skills of the candidate instantly. Also, formatting is crucial. The fonts, the composition, the layout—these things tell me more about the person than the words written on that CV ever could.
6. Add Other Sections to Your Architecture CV
Scandinavian minimalism is great for interior design, but your architecture CV may use a little something extra.
Additional sections are a great tool that allows you to put your important achievements on a pedestal. Things you can highlight are:
Your language skills.
Outstanding projects that give you credit as a professional.
Certifications.
Licences.
Accolades, or anything else relevant to the job.
Pro Tip: It's common knowledge that according to regulations, being called an Architect in Australia requires registration—if you do have it, that's another good thing to single out in this segment of your architecture CV.
7. Attach a Cover Letter to Your Architecture CV
Before you start planning the ribbon-cutting party, there's one more thing to do.
Strewth, mate, there's something else?
A tiny little thing: you have to attach an architecture cover letter to your CV. This is how you approach it:
Just like with your architecture CV, you have to choose a cover letter format.
Open your cover letter with your most stunning accomplishment.
Talk about how your expertise will transform into the studio's success.
Close with an offer they can't refuse, and a call to action.
Read more: How to Write a Cover Letter for a Job
Plus, a great cover letter that matches your CV will give you an advantage over other candidates. You can write it in our cover letter builder here. Here's what it may look like: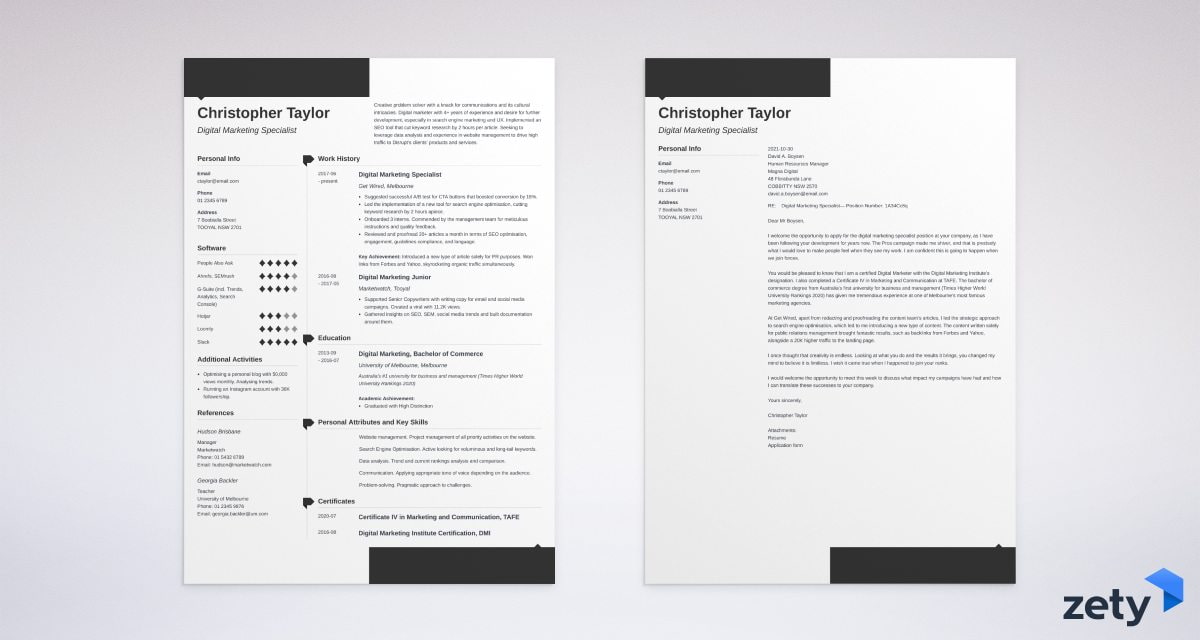 See more cover letter templates and start writing.
And that's all we got so far!
Now you're ready to make your architecture CV a masterpiece.
Do you think there's something else that could go on an architecture CV? We're ready to hear you out in the comments!