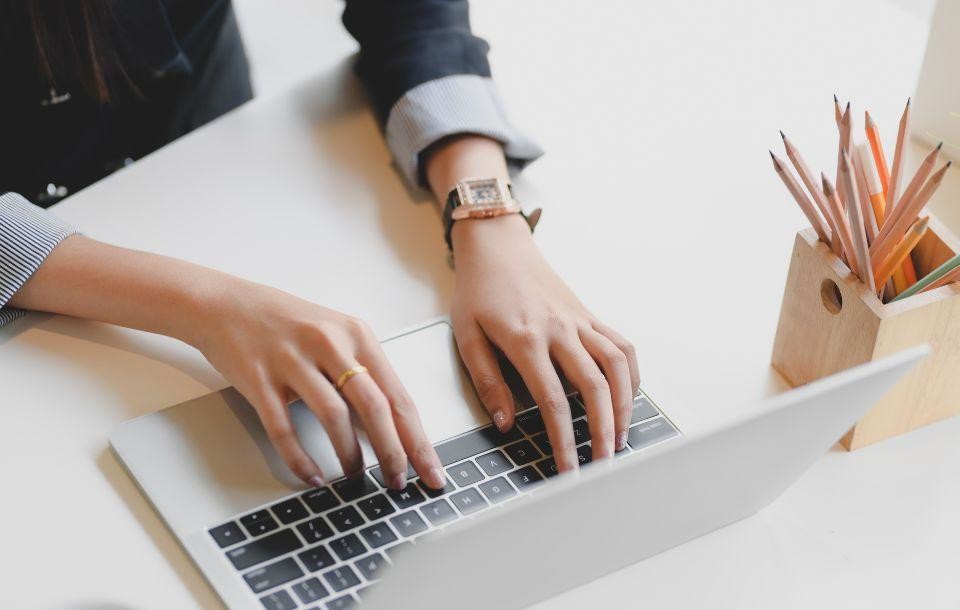 Clerk Resume: Sample & Guide [For General, Office Job]
You're a pro when it comes to documentation and paperwork. But what about that file that could land you a dream job? Good news: your perfect clerk resume is just minutes away.
You have everything under control. Filing, sorting, categorising, keeping track of info—your ability to create systems and make sure things run smoothly is unmatched.
But do you know how to organise your clerk resume with the same efficiency? Do you know what it should feature to make the right impression? Read on and find out how to turn a blank page into a clerk resume.
This guide will show you:
A clerk resume example better than 9 out of 10 other resumes.
How to write a clerk resume that will land you more interviews.
Tips and examples of how to put skills and achievements on a clerk resume.
How to describe your experience on a resume for a clerk to get any job you want.
Want to save time and have your resume ready in 5 minutes? Try our resume builder. It's fast and easy to use. Plus, you'll get ready-made content to add with one click. See 20+ resume templates and create your resume here.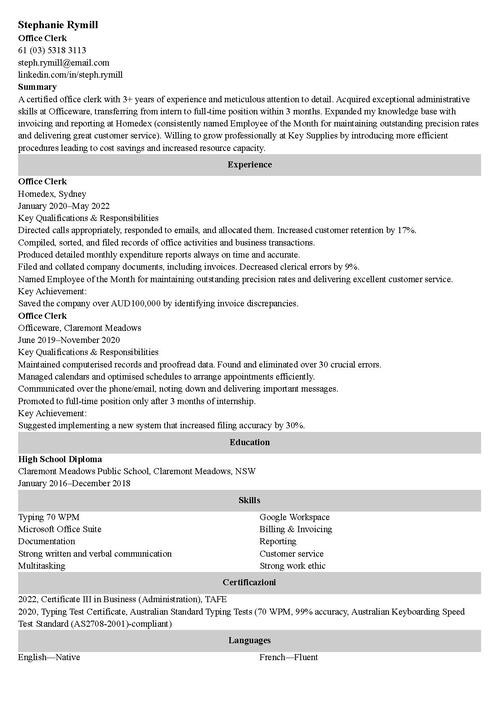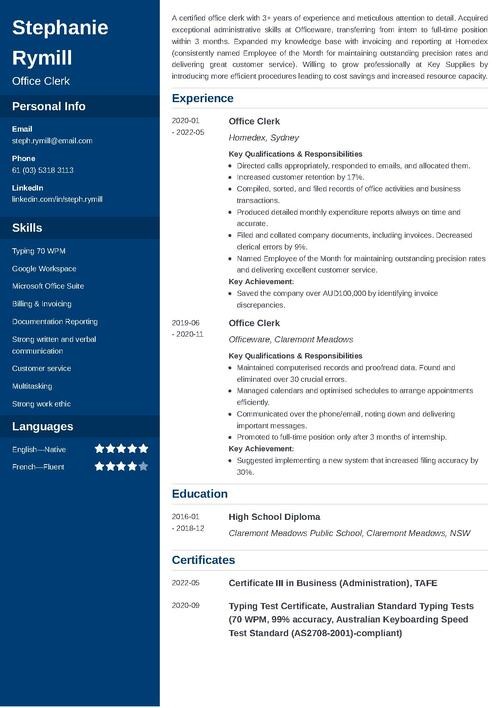 Sample resume made with our builder—See more templates and create your resume here.
Looking for something else? Check out these guides:
Sample clerk resume
Stephanie Rymill
Office Clerk
61 (03) 5318 3113
steph.rymill@email.com
linkedin.com/in/steph.rymill
Summary
A certified office clerk with 3+ years of experience and meticulous attention to detail. Acquired exceptional administrative skills at Officeware, transferring from intern to full-time position within 3 months. Expanded my knowledge base with invoicing and reporting at Homedex (consistently named Employee of the Month for maintaining outstanding precision rates and delivering great customer service). Willing to grow professionally at Key Supplies by introducing more efficient procedures leading to cost savings and increased resource capacity.
Experience
Office Clerk
Homedex, Sydney
January 2020–May 2022
Key Qualifications & Responsibilities
Directed calls appropriately, responded to emails, and allocated them. Increased customer retention by 17%.
Compiled, sorted, and filed records of office activities and business transactions.
Produced detailed monthly expenditure reports always on time and accurate.
Filed and collated company documents, including invoices. Decreased clerical errors by 9%.
Named Employee of the Month for maintaining outstanding precision rates and delivering excellent customer service.
Key Achievement:
Saved the company over AUD100,000 by identifying invoice discrepancies.

Office Clerk
Officeware, Claremont Meadows
June 2019–November 2020
Key Qualifications & Responsibilities
Maintained computerised records and proofread data. Found and eliminated over 30 crucial errors.
Managed calendars and optimised schedules to arrange appointments efficiently.
Communicated over the phone/email, noting down and delivering important messages.
Promoted to full-time position only after 3 months of internship.
Key Achievement:
Suggested implementing a new system that increased filing accuracy by 30%.
Education
High School Diploma
Claremont Meadows Public School, Claremont Meadows, NSW
January 2016–December 2018
Skills
Typing 70 WPM
Google Workspace
Microsoft Office Suite
Billing & Invoicing
Documentation
Reporting
Strong written and verbal communication
Customer service
Multitasking
Strong work ethic
Certifications
2022, Certificate III in Business (Administration), TAFE
2020, Typing Test Certificate, Australian Standard Typing Tests (70 WPM, 99% accuracy, Australian Keyboarding Speed Test Standard (AS2708-2001)-compliant)
Languages
English—Native
French—Fluent
This is how you write a clerk resume that delivers, step-by-step:
1. Organize your clerk resume in the right format
A clerk is a person working in an office environment employed to keep records and perform other clerical duties, such as mail sorting, document preparation and filing, invoicing, scheduling, etc. The purpose of a clerk resume is to reflect that the candidate has the right administrative, organisational, and customer service skills to perform the job efficiently.
What's the best way of showing the hiring manager you can keep things in order? Start with your resume being perfectly neat and well-structured.
The secret to a good clerk resume format is this:
Choose a font that looks professional, like Arial or Helvetica. It doesn't necessarily have to be Times New Roman.
Set a standard font size (11–12 pt), good line spacing (1–1.5), and even margins on all sides.
Use headers to separate sections. Do that with bold type or ALL CAPS.
Save and send the file in PDF. You probably do this anyway, but it's worth a reminder.
Pro Tip: If you know you'll be altering your resume for various positions (which you absolutely should!), you might want to use an easy resume template that will adjust to those changes effortlessly.
2. Compile a clerk resume summary or resume objective
Next comes the most important part, content-wise.
You deal with enough documents to know it's impossible to read into each and every one of those—and recruiters feel the same. That is why sending the right message in the first paragraph is crucial.
To make sure you feature the most significant info right away, write a resume summaryor a resume objective.
For a clerk resume with experience to recap, write a resume summary:
Make an inventory of your prominent professional achievements.
Consult with the position description. Look for keywords and matching requirements.
Pick out the most relevant accomplishments from your list and write 3–4 sentences distilling those.
For a clerk resume with no experience, write a resume objective:
Analyse your background, and think of transferable skills and knowledge that apply to the desired job.
Use the job ad to guide you.
Express why you'd like to work for the company and explain why you'd be a good fit (with proof).
Pro Tip: According to a report from Harvard Business School, over 60% of employers today use software systems (RMS and ATS) to scan and eliminate resumes. That means maintaining the correct order on yours will also ensure you're landing on the recruiter's table in the first place.
3. Arrange a structured job description for your clerk resume
According to studies, only 25% of candidates pass the Applicant Tracking Systems. The remaining 75% are filtered out because they don't use the proper format, include too many bullet points, or fail to have the right keywords.
To make sure this doesn't happen to your clerk resume, follow the steps below:
Go reverse-chronological. This is the classic resume format, where you start with your most recent job and go backward.
Indicate what your job title was (or currently is), the name of the company you worked for, and the employment period.
Add 3–6 bullet points for each entry, starting with an action verb.
Reflect your most prominent results vs. just duties. Add numbers, and make those achievements measurable.
Refer back to the job description, single out important keywords, and mention them in your clerk resume. Keep your accomplishments relevant.
Opinions may differ, but there's something experts agree on unanimously: a resume has to be tailored to the job ad. This is a golden rule of "how to write a good resume".
Read more: Which Resume Format Should I Choose?
4. Catalogue education on your clerk resume
Listing your education will probably be the least time-consuming part of assembling your clerk resume. It's fairly straightforward, with slight changes depending on your background.
A clerk resume for an experienced candidate should include:
Degree
Name of college/uni
Location
Dates
For a clerk resume with no experience, add relevant academic achievements:
GPA (if high)
Important coursework, publications
Practical experience
This is a great opportunity to showcase your talents if you're a recent graduate.
When making a resume in our builder, drag & drop bullet points, skills, and auto-fill the boring stuff. Spell check? Check. Start building a professional resume template here for free.
When you're done, Zety's resume builder will score your resume and tell you exactly how to make it better.
5. Assemble the right clerk resume skills
The list of skills for a resume should include a balanced blend of hard and soft skills. But how do you know what to add?
There's a great way to proceed with it:
Brainstorm a master list of all your skills. Think of what you're really good at.
Pick out the skills that you deem relevant based on the position description.
Here's an example of what this section could look like on a clerk resume:
Clerk resume skills
Typing 70 WPM
Data entry
Billing & Invoicing
Documentation
Microsoft Suite
Google Workspace
Customer service
Impeccable oral and written skills
Organisation
Time management
Communication skills
Ability to adapt to change
Problem-solving
Multitasking
Strong work ethic
6. Consolidate your clerk resume with additional sections
Additional sections always draw attention, as they stand separately. Don't miss out on a chance to give your outstanding accomplishments some spotlight!
Here are some ideas for your clerk resume:
Certifications
Training
Additional education
Memberships
Language skills
Relevant projects
Pro Tip: It's possible to include hobbies and interests, but only if they prove your above-mentioned skills. In this case, they can strengthen your application and make up for what you lack in formal experience.
7. Attach a cover letter to your clerk resume
To send or not to send? Yes, I'm talking about the cover letter to complement your clerk resume.
The answer? A definitive "yes". Don't miss out on an opportunity to provide more detail about yourself.
Here's how you write it:
Use proper formatting. You can also use the same style of template you used for your resume.
Go for 3–5 paragraphs. It doesn't have to be long. It just needs to be precise.
Start with a strong opening paragraph that catches the recruiter's attention.
Describe your top accomplishments in the middle paragraphs. Say why you've chosen this particular company and why you'll make a great employee.
Finish with a call to action and a value proposition, making it impossible not to call you back.
If you've been working for years, it's a great chance to tell a story or give an example of something you've dealt with that proves you're good. For an office clerk just beginning their career, it's a great way of displaying dedication and genuine interest.
Want extra tips on writing and formatting a cover letter? Read more: Cover Letter: How to Write + Template
Plus, a great cover letter that matches your resume will give you an advantage over other candidates. You can write it in our cover letter builder here. Here's what it may look like: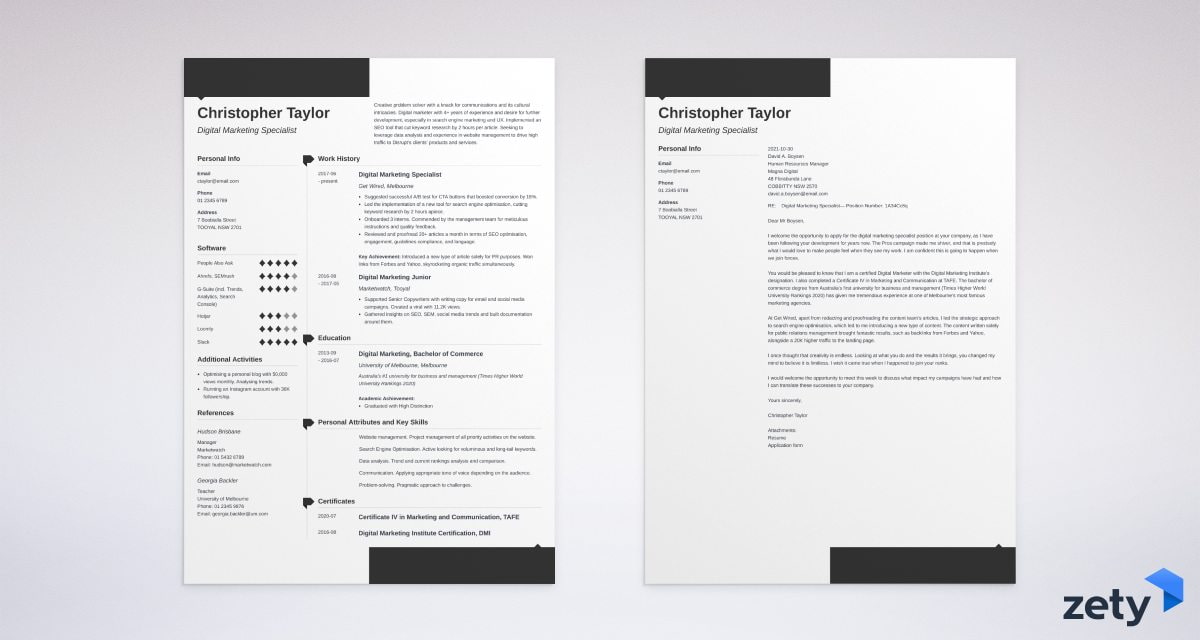 See more cover letter templates and start writing.
And that's about it! Now you have all the basics in your books to write a job-winning clerk resume.
Any thoughts? Will that clerk resume guide work for office clerk jobs, general clerk jobs—any clerk jobs, no matter the industry? Let us know in the comments section below!