How to Format a Cover Letter for a Job in Canada in 2023
Browsing the Google results page gave you a headache? You've just found what you've been looking for and a painkiller! One dose of this cover letter format guide will solve it all.
Your head must be spinning!
The header, what to write, how to make it readable not only by the recruiters but by the ATS too…
So many questions, yet no reliable answers.
Luckily, you've brought yourself here! Dive right in to learn the cover letter format you won't question.
This guide will show you:
Cover letter format examples better than 9 out of 10 others.
How to format a cover letter for a job application in Canada.
Sample cover letter formatting you can never go wrong with.
Best cover letter address format and much more.
Did you know our builder can take care of the formatting for you? No need to worry about margins and spacing: just add your text and watch the Zety cover letter builder arrange everything on the page just the way it should be. Here's what your cover letter can look like: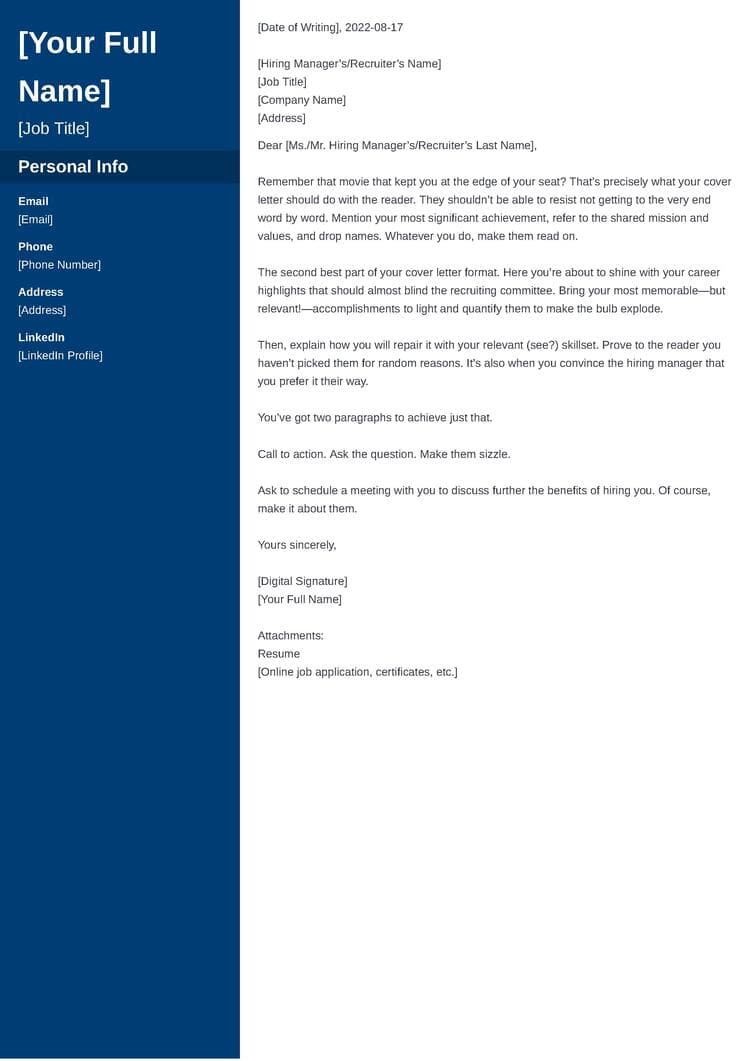 You can take your pick from 20+ professional cover letter templates to make your cover letter formatted well and look great!
Cover Letter Format Template
Cover Letter Header
[Your Full Name]
[Job Title]
[Address]
[Phone Number]
[Email]
[LinkedIn Profile]
Date and Reader's Address
[Date of Writing]
[Hiring Manager's/Recruiter's Name]
[Job Title]
[Company Name]
[Address]
Salutation
Dear [Ms./Mr. Hiring Manager's/Recruiter's Last Name],
The Opening
Remember that movie that kept you at the edge of your seat? That's precisely what your cover letter should do with the reader. They shouldn't be able to resist not getting to the very end word by word. Mention your most significant achievement, refer to the shared mission and values, and drop names. Whatever you do, make them read on.
The Body
The second best part of your cover letter format. Here you're about to shine with your career highlights that should almost blind the recruiting committee. Bring your most memorable—but relevant!—accomplishments to light and quantify them to make the bulb explode.
Then, explain how you will repair it with your relevant (see?) skillset. Prove to the reader you haven't picked them for random reasons. It's also when you convince the hiring manager that you prefer it their way.
You've got two paragraphs to achieve just that.
The Ending
Call to action. Ask the question. Make them sizzle.
Ask to schedule a meeting with you to discuss further the benefits of hiring you. Of course, make it about them.
Formal Sentiment
Yours sincerely,
[Digital Signature]
[Your Full Name]
Enclosure
Attachments:
Resume
[Online job application, certificates, etc.]
Let's now go one by one, eh?
Here's how to format a cover letter:
1. Create a Cover Letter Header
The header introduces you to the employer and gives them your contact details.
That's one thing.
The other is that you should stick to a formal cover letter format and address the recruiter or hiring manager directly, as they will likely decide about you landing the gig.
Here's a checklist for you to follow every time you address a cover letter:
Your name, mailing address, phone number, and email address
Date of writing
Your hiring manager's or recruiter's name, job title, company name, location, and contact information
The position name and number
It works every time. Have a look:
Cover Letter Address Format—Example
John Chillton
4829 Merivale Road
Ottawa, ON K2P 0K1
613-265-0323
johnchillton@email.com
linkedin.com/in/johnchillton
December 2, 2021
Russell K. Collins
Human Resources Manager
ABC Ltd.
912 11th Ave
Hespeler, ON N3C 1H3
2. Greet the Hiring Manager and Choose an Opening Strategy
I hope you feel somewhat comfortable meeting people because when you greet your hiring manager, all eyes are on you, and you can't bust it.
You will, though, when you use one of those salutations: "Dear Sir or Madam" or "To Whom It May Concern." They're considered impolite because you haven't even tried to find out just as much as the name of the person recruiting you.
To successfully format the greeting part of your cover letter, personalize and start like this:
Dear Mr. Kidman,
Dear Ms. Kidman,
Dear Catherine,
Dear John,
Pro Tip: Call the place if you don't know who to address. Be prepared for that person to answer your call, though. Remember—there's nothing wrong with asking the right questions.
Now it gets a little more complicated because you need to make the reader want to read your whole story. And that's where the opening line and introductory paragraph come in. (Write a generic introduction, and you'll ruin your chances of getting the job!)
Here are several opening strategies you can use to spellbind your reader:
Mention your most impressive and relevant achievement.
Drop names.
Say how you relate to the company's mission, vision, or values.
Share your enthusiasm about joining the firm.
Now see how you can open the cover letter with the right formatting:
Cover Letter Format in Canada—Opening Example
Dear Mr. Collins,
It's exciting to see ABC Ltd. being on the lookout for a project management specialist. I've been working on growing my knowledge and skills in the project management field for quite some time now, and I'm sure I've reached a level where I can safely say I'm the best candidate you'll hear from. Especially when I tell you that I've recently closed another deal with a Fortune 500-listed company.
3. Mention Your Achievements and Motivation
Woohoo! Now's the best part.
You're about to remind yourself of all the achievements you made that make you the best fit for the position (they'd better be relevant!) and work them into your cover letter. But don't rework and repeat yourself using the achievements from your resume. You should either expand on one or pick another you haven't mentioned. That's for the first part of the middle section of your cover letter.
For the second part, you must say why the company is the right place for you. Surprising, huh? Employers do want to know what motivates you to join their company, and it's just the perfect opportunity for training before an interview. You can be sure you'll hear the question: "Why do you want to work for us?"
And here's how to format the middle paragraphs of your cover letter:
Deconstruct the job description and mark the keywords relating to experience, skills, and qualifications.
Tell your recruiter what parts of your skill set and experience you can offer them and why you think it'll be in their best interest.
Add numbers and action words to emphasize your value as an employee.
Fit that into two paragraphs.
Look at how to put the formatting advice into action:
How to Format a Cover Letter—Middle Paragraph Examples
I'm a certified PMO with a pragmatic approach to solutions wherever possible. My customer service experience has helped me develop anticipating needs skilfully; therefore, troubleshooting is now one of my favourite parts of a process, let alone ideation and Root Cause Analysis. Here are my achievements to date:
Successfully managed a multi-million project with 100% on-time delivery.
Commended by the manager for noticing opportunities that brought a +$150K revenue each quarter.
Leading a virtual team of engaged individuals from Brazil, Spain, France, the USA, England, and Poland.
Your company does business in international markets, which gives me a thrill. It motivates me to take a leap out of my comfort zone and do better. It's never too late to learn and expand one's capabilities.
And that's how you rock it!
4. Ask for an Interview and Sign Off
You're not writing a cover letter to boast about your achievements and get nothing out of it. Go for the win and call your hiring manager to action—ask for an interview. You don't ask, you don't get.
This is how to format a CTA in your cover letter:
Proper Cover Letter Format—Call to Action Example
This week, let's schedule a meeting to discuss how my result-driven personality can benefit your company and get higher revenue at lower costs.
And now, for the last part—the formal sentiment to close the letter.
Use one of these, and you'll end up fine:
Sincerely,
Yours sincerely,
Yours faithfully,
With best regard,
With kind regards,
If you're adding any enclosures, list them right below the signature.
See an example of a perfectly formatted cover letter closing:
Job Application Cover Letter Format—Closing Example
Yours sincerely,
John Chillton
P.S.—I'll be happy to tell you more about how I happened to sign a contract for an international campaign while on holiday in Portugal.
Enclosure
Attachments:
Resume
Online job application
PMO Certification
ProTip: If you want to go big and secure yourself an interview, add a postscript. It's reserved for a spectacular accomplishment you might have up your sleeve. If you do, use it here!
5. Lay Out the Contents of Your Cover Letter
It's not always what's on the inside that matters but on the outside.
And that's especially important for the Applicant Tracking Software (ATS). If the ATS can't read your cover letter, your application will land in the "not a fit" pile.
Here's how to avoid that with a correctly formatted cover letter layout:
Cover Letter Formatting
Pick a legible sans-serif font, such as Calibri or Arial, and make it 10–12 pts.
Set proper spacing: 1-inch margins on each side, 1–1.15 line spacing, and double spaces between paragraphs.
Keep your cover letter one page long.
Left-align the content.
Title your cover letter in the following format: JobTitle_YourName_CoverLetter.pdf.
Save it as a PDF. Word files tend to crush, plus you'll be sure no one edited it.
Feeling tired just thinking about the effort all this will take? There's a better way: just take it easy and let the Zety cover letter builder take care of it.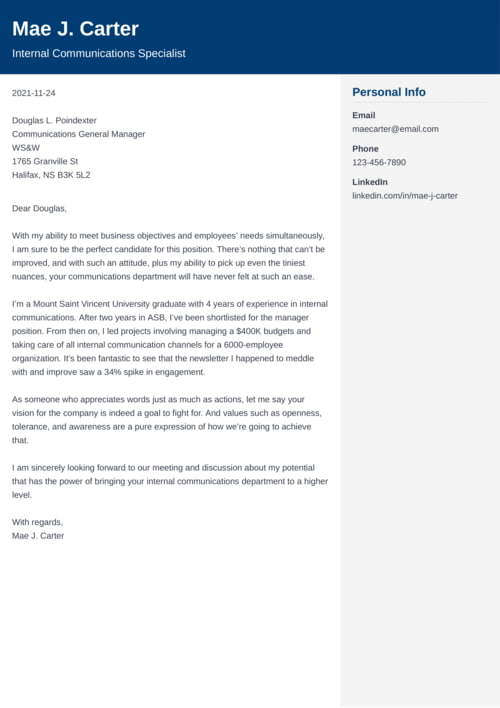 Take your pick from 20+ cover letter templates and watch the formatting happen by itself. And create a matching resume while you're at it!
Key Takeaway
Here's the revision of the article's main points:
Start by creating a formal cover letter address. Give your contact information and address the hiring manager the right way.
Create a smooth transition between the paragraphs. Let the reader hook onto the opening, jump right into the list of your most significant achievements, and close with a call to action.
Format your cover letter so that it's readable to the ATS.
And there it is!
Now you know everything you need to know about the cover letter format.
How does it feel?
Please tell us—
Do you have questions about the format of a cover letter? Is there anything about the business cover letter format still confusing you? Would you like to know more about how to format your cover letter for a resume?
Give us a shout in the comments! Let's get the conversation rolling.