Customer Service Resume: Examples, Skills, Summary
You know your LTV from your NPS and can handle a bunch of queries at a time, never losing your patience or spirit. Get ready to prove it with a perfect customer service resume!
Press 3 to speak to a representative.
On one side, a confused, frustrated customer, struggling to resolve a problem with a service or a product.
On the other, you:
The tireless, empathetic customer service pro about to save their day.
You're itching to put a headset on and get to work, but your job applications have a sky-high churn rate—
Sounds like there are some critical issues with your resume to resolve first, before you can tackle customer queries!
Don't worry—
You're about to write a customer service resume guaranteed to score an FCR with your dream employer.
This guide will show you:
A customer service resume example better than 9 out of 10 other resumes.
How to write a customer service resume that will land you more interviews.
Tips and examples of how to put customer service skills on a resume.
How to describe your experience on a resume for customer service positions to get any job you want.
Want to save time and have your resume ready in 5 minutes? Try our resume builder. It's fast and easy to use. Plus, you'll get ready-made content to add with one click. See 20+ resume templates and create your resume here.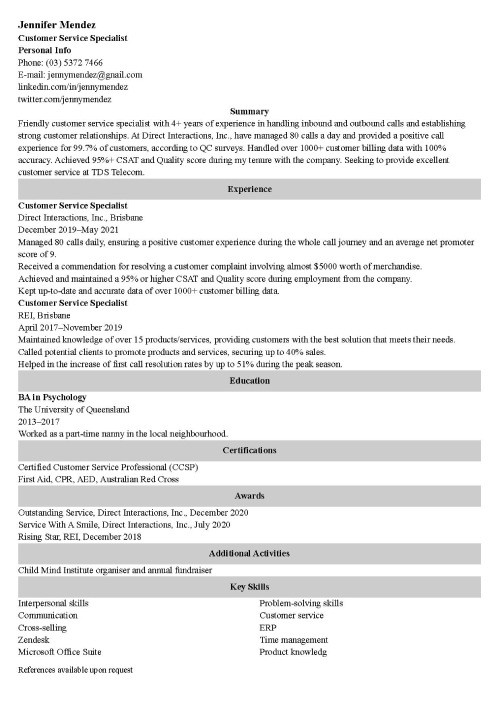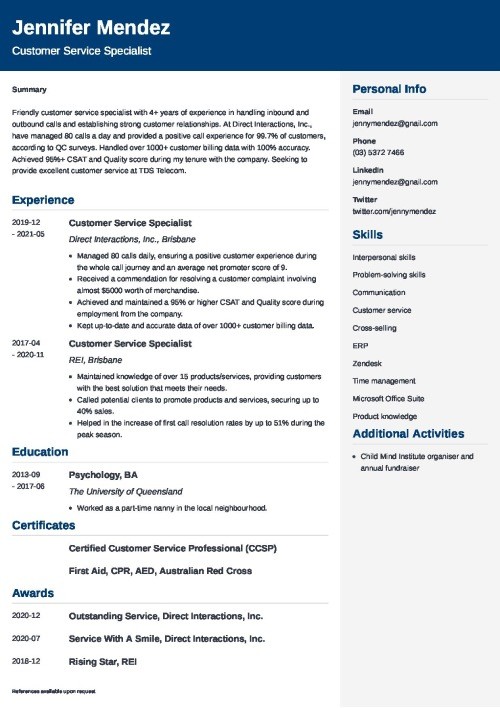 Sample resume made with our builder—See more resume examples here.
Customer Service Resume Example
Jennifer Mendez
Customer Service Specialist
Personal Info
Phone: (03) 5372 7466
E-mail: jennymendez@gnail.com
linkedin.com/in/jennymendez
twitter.com/jennymendez
Summary
Friendly customer service specialist with 4+ years of experience in handling inbound and outbound calls and establishing strong customer relationships. At Direct Interactions, Inc., have managed 80 calls a day and provided a positive call experience for 99.7% of customers, according to QC surveys. Handled over 1000+ customer billing data with 100% accuracy. Achieved 95%+ CSAT and Quality score during my tenure with the company. Seeking to provide excellent customer service at TDS Telecom.
Experience
Customer Service Specialist
Direct Interactions, Inc., Brisbane
December 2019–May 2021
Managed 80 calls daily, ensuring a positive customer experience during the whole call journey and an average net promoter score of 9.
Received a commendation for resolving a customer complaint involving almost $5000 worth of merchandise.
Achieved and maintained a 95% or higher CSAT and Quality score during employment from the company.
Kept up-to-date and accurate data of over 1000+ customer billing data.
Customer Service Specialist
REI, Brisbane
April 2017–November 2019
Maintained knowledge of over 15 products/services, providing customers with the best solution that meets their needs.
Called potential clients to promote products and services, securing up to 40% sales.
Helped in the increase of first call resolution rates by up to 51% during the peak season.
Education
BA in Psychology
The University of Queensland
2013–2017
Worked as a part-time nanny in the local neighbourhood.
Certifications
Certified Customer Service Professional (CCSP)
First Aid, CPR, AED, Australian Red Cross
Awards
Outstanding Service, Direct Interactions, Inc., December 2020
Service With A Smile, Direct Interactions, Inc., July 2020
Rising Star, REI, December 2018
Additional Activities
Child Mind Institute organiser and annual fundraiser
Key Skills
Interpersonal skills
Problem-solving skills
Communication
Customer service
Cross-selling
ERP
Zendesk
Time management
Microsoft Office Suite
Product knowledge
Impressive, right?
Your resume can be just as good. Let's open a support ticket and get to work—
Here's how to write a successful customer service resume:
1. Choose the Right Resume Format for Customer Service
Customer service professionals respond to customer queries and process requests and complaints, as well as resolving service issues. Your customer service resume needs to show your superior communication skills, alongside multitasking and problem-solving abilities.
But before you start filling the page with relevant skills and accomplishments, first you need to make sure your resume format meets every benchmark.
So, here's how to properly format your resume:
Use the chronological resume layout, listing your most recent job first. It'll help to put your best foot forward—plus, recruiters in Australia are most familiar with this format, so you'll start meeting their expectations straight away.
Set 1-inch margins for your resume document, 1 to 1.15 line spacing, and 10–12 font size for the body (13–14 for headings).
Pick a professional resume font: classics like Arial or Calibri work best. Like with customer service, a bit of flair is fine—but efficiency wins every time.
Create an eye-catching resume header with your contact information, including full name, job title, phone, and email. If you have a well-built LinkedIn profile, you can add a link to it in the header, too.
Use white space, line breaks, and headings to divide your resume into clear sections. Recruiters are unlikely to read it from top to bottom—make their job easier by providing a scannable structure.
Save your resume file as a PDF and give it a professional name, like YourName_CustomerService_Resume.pdf. Keep a Word Doc copy in case the company asks you to submit a .docx.
...and you're ready to start writing! If you're an experienced customer service pro with heaps of achievements to share, plan for 2–3 pages of content. Otherwise, a one-page resume should suffice.
2. Write a Customer Service Resume Summary or Objective
Did you know that your industry is growing?
The number of professionals working in Australia's contact centres is expected to increase by over 7% between 2020 and 2025. This means more job opportunities, sure—but also more competition.
Luckily, there are a few tricks you can use on your resume to get ahead of the majority of your competitors. The first one is a killer resume profile.
This is a short introductory paragraph below the header of your resume, providing an overview of your best selling points.
Now then:
Still learning the ropes of query resolution and handling complaints? Write a customer service resume objective: it highlights your transferable skills and achievements from other fields that you can translate into your work in customer service.
Been working the lines so long you feel weird without your headset on? Pick a resume summary and include the best bits from your resume.
Here's how to write a job-winning resume profile:
Open with a sentence detailing your job title and/or the position you're applying for, plus your years of experience (if you have any).
Add 1 or 2 sentences with a couple of your best, most relevant accomplishments. Throw in some numbers, action verbs, and key skills for good measure.
End strong with an offer to use your skills to the company's advantage. They won't know what's hit'em!
Connection lost?
No worries—
Writing a profile can be tough. Skip the profile for now and come back to it once you've filled out the other parts of your resume.
3. Create the Perfect Customer Service Job Description for Your Resume
The work history section is your resume's equivalent of a knowledge base about your qualifications:
So there's no way you can blow it.
Don't worry, though—there's a method for this, too!
Here's how to create the best work experience section the recruiter will see all week:
Start with the basics. List your relevant jobs, complete with the company names, locations, and the dates you worked there. Remember that we've gone for the chronological resume format—so start with your current or most recent job and work your way back.
Add 4–6 bullet points with your duties and accomplishments in each job, showing how you performed against KPIs. If you want, highlight a particularly big win as a separate Key Achievement.
Make your achievements measurable and impactful. Start each bullet point with an action word (like achieved, maintained, delivered) and include numbers as proof of how well you did. Notice that Maintained 99.8% customer satisfaction over 4 years sounds heaps better than Responsible for ensuring customer satisfaction.
Cross-sell your skills. Mention a few of your most relevant customer service skills when describing your performance.
Ace!
A work history section like this won't cause any complaints, you can be sure of that.
Now for something even easier:
4. Make Your Education Section Shine
Many customer service jobs in Australia don't require a degree—
But that's not a reason to skip your education altogether on your resume. Recruiters will notice it's gone walkabout.
There's no need to make life hard for yourself, though:
If you have 2+ years of experience as a customer service professional, just list your highest level of schooling, complete with the school name and dates of attendance.
No experience? No problem:
Enhance your education section with bullet points featuring:
Your grade or GPA, if you graduated top of your class
Relevant coursework or academic projects
Extracurriculars that show your communication, teamwork, or problem-solving skills
Awards or distinctions that prove you're a fast learner
By adding these extra bits of information, you can make sure you hit relevant customer service keywords on your resume.
When making a resume in our builder, drag & drop bullet points, skills, and auto-fill the boring stuff. Spell check? Check. Start building a professional resume template here for free.
When you're done, Zety's resume builder will score your resume and tell you exactly how to make it better.
5. List Customer Service Skills on Your Resume
Efficient, friendly customer service skills border on a superpower. Not only do you juggle heaps of tickets and queries and complaints at once, you keep your cool while you're at it—
Even though not all customers understand you're on their side, to put it mildly.
You can't do a demo to prove to your new employer that you're a customer service superhero:
But you can do the next best thing and add the right key skills to your resume to show you have what it takes. Here's how to choose the best ones:
Make a list of all of your skills. Soft skills, hard skills, technical skills—anything goes. Go mad.
Take a careful look at the job ad. It's guaranteed to list desired skills and abilities—write them out on a separate piece of paper.
Compare the two lists. Notice any overlap? Great: those are the skills to list on your resume.
Like this:
Customer Service Resume Skills
Interpersonal skills
Problem-solving skills
Communication
Customer service
Cross-selling
ERP
Zendesk
Time management
Microsoft Office Suite
Product knowledge
6. Add Other Sections to Your Customer Service Resume
That's all, right?
Not quite.
Before you call it a day, add some extra sections to your resume to make your job application stand out even more.
Here's what you can include:
Certifications and courses: especially if you have no experience in customer service, it's worth taking even a short course to give your resume a boost.
Awards
Volunteer work
These sections are not mandatory, but they might just tip the scales in your favour!
Last but not least, include the details of two professional references at the bottom of the final page of your resume. You can also simply use the phrase References available upon request (but be prepared to actually provide them when the recruiter gets in touch with you!).
7. Attach a Cover Letter to Your Customer Service Resume
Yes, yes—
No one likes writing cover letters. But the unfortunate truth is that unless the job ad states otherwise, you need one.
The good news? It's not that difficult, and you can use it as an opportunity to show off your communication skills.
Here's how to write a job-winning cover letter for customer service jobs:
Use the right cover letter format and, ideally, a template that matches the style of your resume.
Open on a big achievement or a show-stopping fact about your professional expertise. It'll spark the reader's interest and keep them hooked!
Prove you're the best candidate for the job. List your achievements, show your understanding of the role, and show how your values align with those of the company.
End on a call to action and an offer to help the company achieve its goals. Part of your job as a customer service professional is to help solve problems and to find solutions, after all!
Like customer service reps, recruiters are busy people. A one-page cover letter will completely suffice.
Plus, a great cover letter that matches your resume will give you an advantage over other candidates. You can write it in our cover letter builder here. Here's what it may look like: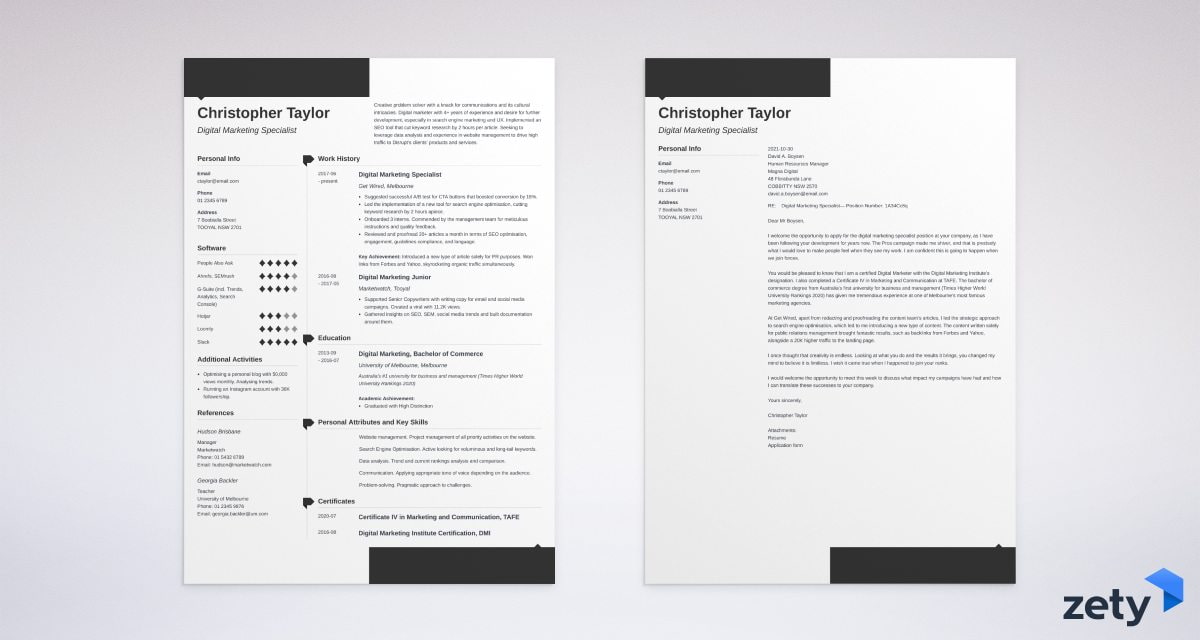 See more cover letter templates and start writing.
And there you have it—
One excellent customer service resume guaranteed to reach 100% CSAT.
Thanks for reading! Is it difficult writing an objective for a resume in customer service? Perhaps you can offer some tips of your own on what customer service resume skills to include? Drop us a line in the comments below!