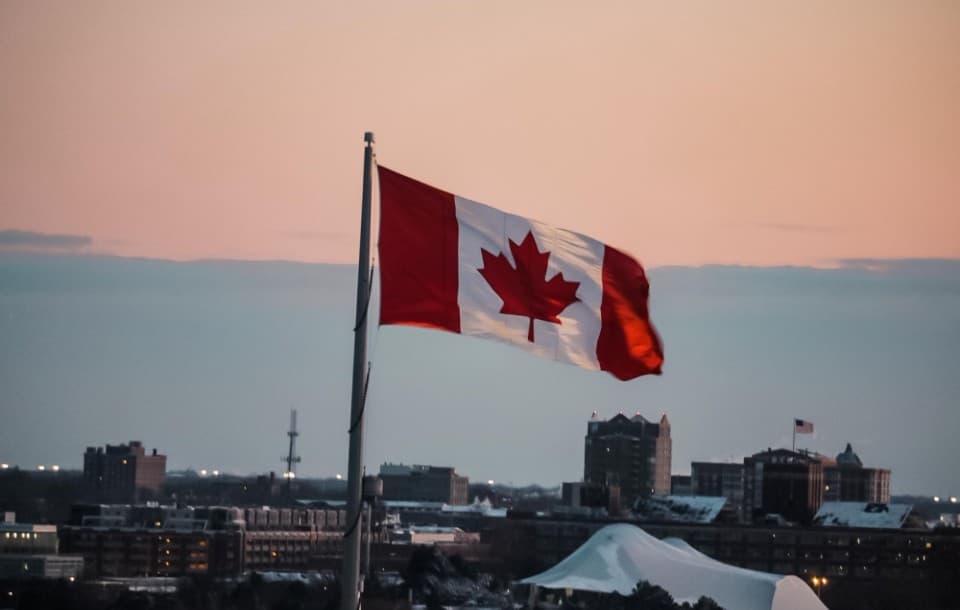 Canadian Resume Format: Write a Resume for Jobs in Canada
Looking to make a move north of the border? Check out our complete guide to writing a Canadian resume for job-hunting success that's sweeter than maple syrup.
Canada. The great white north. Lumberjack country. Call it what you will, our northern neighbor offers all kinds of career opportunities.
Geographic proximity, cultural similarities, and generous mandated leave and benefits can make Canada a very attractive place to work. But how to get started? How do you write a Canadian resume and is it different from an American one?
We've got the answers. This guide will help you learn everything you need to know about Canadian resume format. And by the time you're done, you'll have a resume that's more Canadian than moose, maple leaves and Medicare.
Want to save time and have your resume ready in 5 minutes? Try our resume builder. It's fast and easy to use. Plus, you'll get ready-made content to add with one click. See 20+ resume templates and create your resume here.
Sample resume made with our builder—See more resume samples here.
And when you're done "poutine" all your skills and experience into a Canadian style resume we've got lots of other career advice too.
Canadian Resume Sample
Jennifer Birch
Senior Sales Associate
416-555-0134
jennifer.birch@me.com
linkedin.com/in/jenniferbirch_zety
Summary
Energetic, friendly sales associate with 5+ years of retail experience. Extensive product knowledge and technically proficient with modern point-of-sale systems. Maintained 99% positive customer feedback score. Canadian Professional Sales Association (CPSA) certified. Seeking to leverage proven merchandising, upselling and customer service skills to become a senior sales associate at McWhirter's Home & Office Depot.
Experience
Retail Sales Associate
Maple Leaf Home Stores, Toronto, ON
September 2017–Present
Managed sales floor, proactively and reactively assisting customers with queries, complaints, and purchases.
Maintained highly detailed product knowledge and familiarity with forthcoming product releases.
Advised customers on purchases based on their personal needs, current promotions, and other sales-based considerations.
Led on general upkeep during trading hours and after closing, including maintaining cleanliness, organizing shelves, and restocking.
Key Achievement. Achieved a 99% customer feedback score in the first month of employment and maintained it constantly ever since.
Junior Sales Associate
Frozen North Outfitters, Toronto, ON
August 2015–September 2017
Assisted customers with purchasing winter sports clothing and equipment.
Performed cross-sells and upsells based on customer needs to maximize store revenue.
Promoted customer loyalty and awards program, achieving an average of 100 sign-ups per month.
Accurately rang-up sales, achieving 100% accuracy on cash reconciliation.
Education
Bachelor of Science in Retail Sales Management
York University, Toronto, ON
Graduated 2017
Skills
Customer service
Interpersonal communication skills
Cash handling & POS
Time management
Product & brand knowledge
Empathy & friendliness
Conflict management
Certifications & Licenses
CPSA Certified Sales Professional (CSP)
You've just seen a perfectly written Canadian resume template. Now learn how to make your own.
1. Is Canadian Resume Format Different from American Resume Format?
Canada and America have their similarities, but there are plenty of differences too. From the way they do politics, to selling milk in bags, the land that gave us Jim Carrey and Justin Bieber can seem like a pretty original place.
But do those differences extend to the Canadian resume? The answer is no. A resume in Canada is exactly the same as an American resume. No need to worry about all the differences as you would when applying for jobs outside North America.
Or to put it another way a resume that's as American as apple pie is as Canadian as maple syrup too! But let's not leave it at that, now we'll take a look at some Canada resume tips to make sure your Canadian job search gets off on the right foot.
Pro Tip: If you live in Europe, Asia or the Pacific, you probably refer to a resume as a CV. A North American resume is basically the same as what you call a CV, but to get a better understanding of the two terms take a look at our guide on the differences of a CV vs a resume.
2. Best Format for a Canadian Resume
The best resume format for Canadian jobs is the same tried and true classic as in the U.S. It's known as the chronological or reverse-chronological resume. It puts your work experience up front and it's the format recruiters are most familiar with on both sides of the border.
Here are the sections a typical chronological Canadian resume consists of:
Resume header with candidate's name, job title and contact information
Resume summary or objective
Work experience
Education
Skills
Additional sections
Standard Canada resume format also follows the same layout rules as you'd use in the U.S. A good layout ensures that you'll have a document that looks professional and is easy to read.
Here are some basic resume layout guidelines:
Set your resume margins to one inch on all sides and double space between sections to create plenty of reader-friendly white space.
Use line spacing set to 1.15.
Stick to 1–2 pages for your resume length.
Choose an easy-to-read resume font.
Use a larger font size to emphasize your resume section headers and make important information standout with bolding and italics.
When making a resume in our builder, drag & drop bullet points, skills, and auto-fill the boring stuff. Spell check? Check. Start building a professional resume template here for free.
When you're done, Zety's resume builder will score your resume and our resume checker will tell you exactly how to make it better.
3. How to Write a Canadian Resume
As we've discussed, you follow the same rules for resume writing in Canada as you do in the U.S. You'll find detailed advice in our comprehensive how to write a resume guide. But if you're looking to make a quick start, here's a brief section-by-section breakdown.
1. Add a Header with Contact Information
Include your full name, job title and contact details. These should consist of your phone number, email address and LinkedIn profile. There's no need to include your address on your resume, though. It's not needed and it wastes space.
2. Write a Resume Profile
Your resume profile acts as the introduction to the content that follows. The general rule is to use a resume objective if you're just starting your career and a resume summary if you're more experienced. A summary of qualifications is another good option if you've got plenty of experience and achievements to highlight.
3. List Your Work Experience
This is the most important part of your Canadian resume. 91% of employers prefer their candidates to have work experience, so you need to get your work experience section right to capitalize on that demand. Here's how to do it.
Use reverse chronological order, starting with your current or most recent position.
Start with the basics, your job title, the employer's name and location and dates of employment.
Add up to six bullet points describing the role and start them off with resume action words for added impact.
Use accomplishment statements to showcase your professional attainments. And don't just say what you did, prove how well you did it with quantified achievements.
Include resume keywords to help you pass the applicant tracking systems (ATS) that scan your job application.
4. Mention Your Education
Often overlooked, but still necessary. List your degree, your school and its location, and your graduation date (use an expected graduation date if you're still studying). Only include your GPA on your resume if you've just graduated and it's 3.5 or above.
And another thing you can include in your education section if you've just graduated is relevant coursework and extracurricular activities.
5. Include a List of Skills
The skills employers look for in a Canadian resume are the same as for the U.S. Be sure to include a mix of hard skills and soft skills, and target your resume to the job by keeping your skills section relevant and focused.
6. Make Use of Additional Sections
Extra sections are the icing on the cake, or seeing as this is a Canadian resume, the gravy on the poutine. Adding them gives you the chance to add extra skills and achievements and stand out from other applicants.
Here are some of the best options:
And there's no need to add references to your resume or even to write "references available upon request." If an employer needs your references they'll ask for them later on in the recruitment process. Including them now is just a waste of valuable page real estate.
7. What Not to Include in a Canadian Resume
You guessed it, the same rules apply as for an American resume. Here are the things you shouldn't include on your resume.
Private information such as marital status, age and race.
And that's it, you're all set to craft the perfect Canadian style resume.
Plus, a great cover letter that matches your resume will give you an advantage over other candidates. You can write it in our cover letter builder here. Here's what it may look like: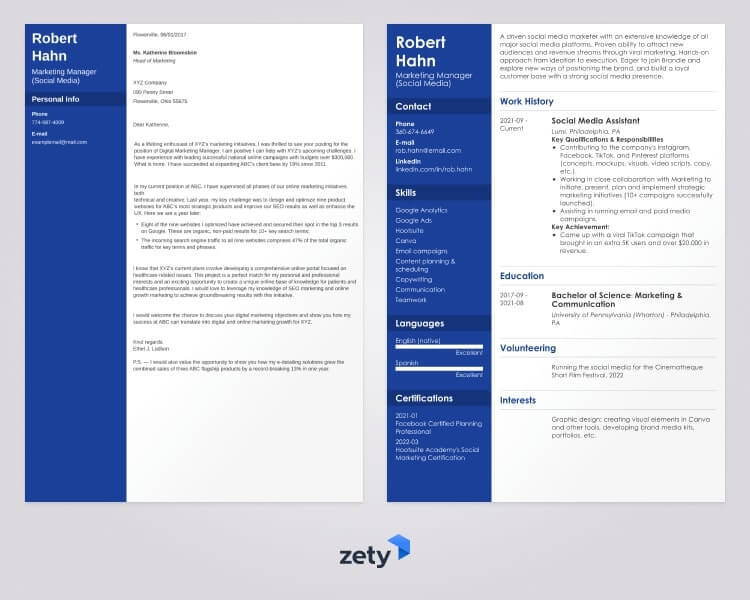 See more cover letter templates and start writing.
Key Takeaway
Canadian resume format is exactly the same as American resume format. Follow the same guidelines and focus on writing a resume that's tailored to the job you're applying for and best shows off your strengths as a candidate. It's that simple. All the best for your Canadian job search!
Thanks for reading. If you'd like to know more about Canada resume format then please ask in the comments section and we'll be happy to help.
About Zety's Editorial Process
This article has been reviewed by our editorial team to make sure it follows Zety's editorial guidelines. We're committed to sharing our expertise and giving you trustworthy career advice tailored to your needs. High-quality content is what brings over 40 million readers to our site every year. But we don't stop there. Our team conducts original research to understand the job market better, and we pride ourselves on being quoted by top universities and prime media outlets from around the world.
Sources