Hobbies & Interests Ideas to Put in Resume: List of Examples
If you think it's not easy to find interests suitable for a job application, I'll change your mind. You'll no longer believe hobbies and interests in your resume are a no-no.
What do you like to do in your free time? What interests you?
Oh, those are great questions! I love playing sports. In fact, I'm in a team…
Eek!
Said no one ever.
Those questions make you lose ground and forget your name for some reason. No wonder you skip this section in your resume.
How wrong!
Once you're done with my guide, you'll no longer hesitate to share your authentic story in a job application.
This guide will show you:
List of best examples of interests and hobbies for a resume.
Why it's imperative to include hobbies and interests in a resume in some situations.
How to put hobbies and interests on a resume to pique the reader's interest.
Want to save time and have your resume ready in 5 minutes? Try our resume builder. It's fast and easy to use. Plus, you'll get ready-made content to add with one click. See 20+ resume templates and create your resume here.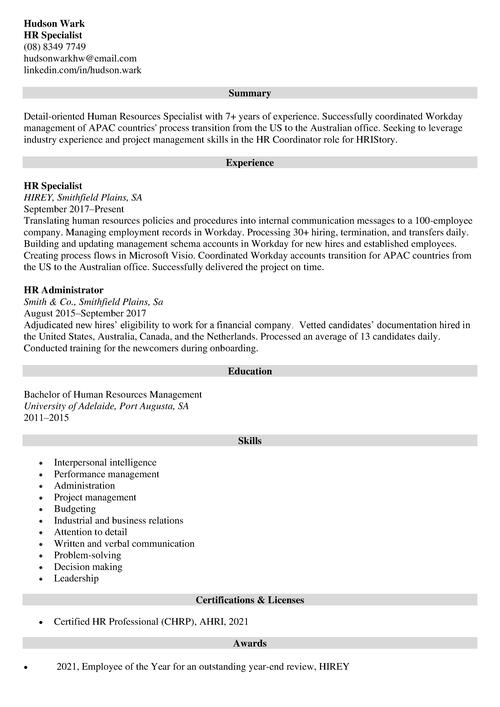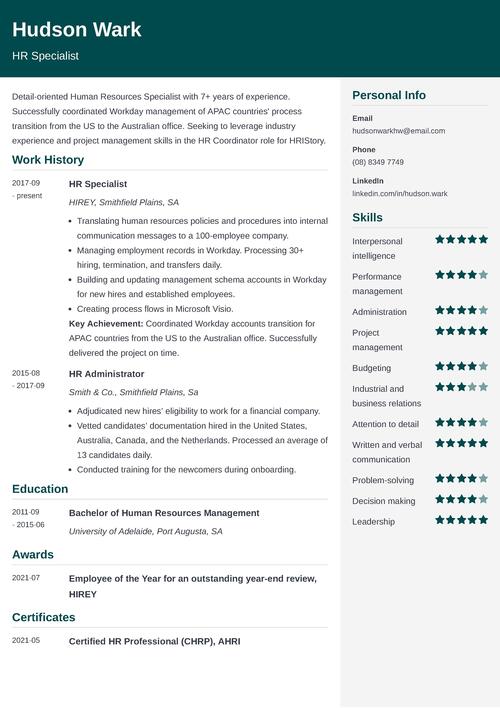 Sample resume made in our builder—See more templates and create your resume here.
Hudson Wark
HR Specialist
(08) 8349 7749
hudsonwarkhw@email.com
linkedin.com/in/hudson.wark
Summary
Detail-oriented Human Resources Specialist with 7+ years of experience. Successfully coordinated Workday management of APAC countries' process transition from the US to the Australian office. Seeking to leverage industry experience and project management skills in the HR Coordinator role for HRIStory.
Experience
HR Specialist
HIREY, Smithfield Plains, SA
September 2017–Present
Translating human resources policies and procedures into internal communication messages to a 100-employee company.
Managing employment records in Workday. Processing 30+ hiring, termination, and transfers daily.
Building and updating management schema accounts in Workday for new hires and established employees.
Creating process flows in Microsoft Visio.
Key Achievement: Coordinated Workday accounts transition for APAC countries from the US to the Australian office. Successfully delivered the project on time.
HR Administrator
Smith & Co., Smithfield Plains, Sa
August 2015–September 2017
Adjudicated new hires' eligibility to work for a financial company.
Vetted candidates' documentation hired in the United States, Australia, Canada, and the Netherlands. Processed an average of 13 candidates daily.
Conducted training for the newcomers during onboarding.
Education
Bachelor of Human Resources Management
University of Adelaide, Port Augusta, SA
2011–2015
Skills
Interpersonal intelligence
Performance management
Administration
Project management
Budgeting
Industrial and business relations
Attention to detail
Written and verbal communication
Problem-solving
Decision making
Leadership
Certifications & Licenses
Certified HR Professional (CHRP), AHRI, 2021
Awards
2021, Employee of the Year for an outstanding year-end review, HIREY
Top Personal Interests and Hobbies to Include on Your Resume
It shocked me to find out that there's a difference between hobbies and interests.
Did you know?
So, apparently, hobbies are engaging activities that you take part in regularly, primarily for fun. In contrast, interests are passive ideas you pursue from time to time to discover further and learn more about.
Yeah, it makes sense.
Let's have a look at the below not-so-shocking list of hobbies and interests you can include on your resume:
Hobbies & Interests Ideas for a Resume
Writing
What job doesn't require communication skills? None. If you're writing for yourself or want to impress a bigger audience, do say. After all, it's a practice that makes perfect. You can match it with some pretty impressive achievements, like gaining 200+ new followers in two weeks. Whoa!
RIGHT
Writing a culinary blog with a 3K followership, including running an Instagram account and recording a podcast for Spotify and Apple Podcasts
Photography
You know what perspective means, so you have no problem answering the dreaded "where do you see yourself in 5 years?" interview question. But jokes aside, attention to detail, patience, and being able to capture the perfect moment to take a shot are priceless.
RIGHT
Creating memories through taking pictures at significant events (that plus editing in Adobe Photoshop and creating albums in Adobe InDesign)
Travelling
Travelling is like breathing to some—they can't live without it. Not only do you prove you're comfortable with travelling for work, but you have (very much all-time desired) cultural awareness. That's why you should mention it if you live by it, too.
RIGHT
Regularly visiting South American countries to experience their culture and pick up languages
Playing sports
Does your employer want a team player or leader? Sports say you have those skills without telling. But that's for group sports. Individual disciplines prove that, well, you're disciplined, you can work towards a goal, and you know how to set one in the first place. Plus, you're not afraid of hard work.
RIGHT
Training basketball 5 times a week with a professional coach
Puzzles
How do you get down to your sudoku game or sort jigsaw puzzles—side and middle or by colours? It's time you said a few words about logical thinking.
RIGHT
Creating sudoku puzzle templates
DIY
Are you a fan of spending time doing handicrafts, assembling models, or fixing things? That's fantastic because it, again, tells much about you that you pay attention to details, think creatively, and problem-solving is your middle name.
RIGHT
Creating complicated macrames to sell as decorations on Etsy.com (220 sold to date)
Arts
With arts, it's all about cultural vulnerability, sensitivity, and awareness, especially if you're to work in a creative environment. It's vital to know, understand, and create references to popular culture. So do tell if you're literate in the works of art.
RIGHT
Volunteering at a local museum as a guide for visitors
Board games
Playing games with friends to spend the best time or kill time? You grow your strategic thinking skills no matter which motivates you, even if you don't mean it. So if you're the star of the next Queen's Gambit, don't hide it.
RIGHT
Playing chess tournaments as a Chessters team's representative (1st place in the state championship in 2020)
Pro Tip: Do weave achievements into your hobbies on a resume. It boosts your skillset level.
When making a resume in our builder, drag & drop bullet points, skills, and auto-fill the boring stuff. Spell check? Check. Start building a professional resume template here for free.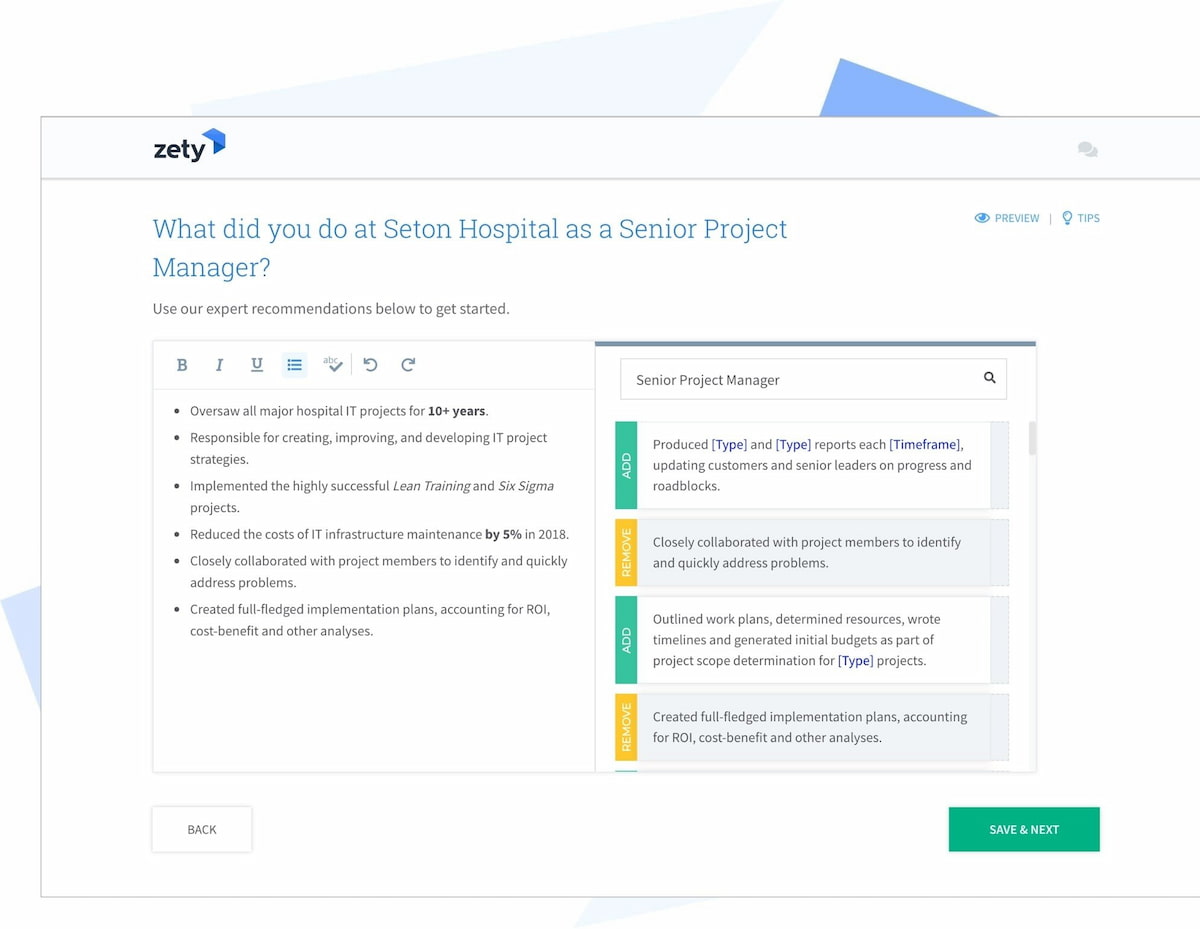 When you're done, Zety's resume builder will score your resume and tell you exactly how to make it better.
Hobbies and Interests on a Resume: The Reasons Why and Why Not
Suppose you're applying for a director position at a financial corp and the recruiter reads you're a blogger. Hmm…
Maybe it wasn't the best move to include that info.
Nah! Sure it wasn't!
On the other hand, someone at a lower level role might've written they collect waving lucky cats.
Not the best choice either.
Sometimes intuition tells you what's fine to go ahead with and what's not. But because you shouldn't entirely trust your gut (after all, you've found yourself here on this page, so clearly you're questioning your intuition), go ahead with my tips on when to include hobbies & interests on a resume:
If you're a student, interests and hobbies are your leverage, as employers will try to find candidates who have particular qualities instead of qualifications at that point in your career.
If you're looking for your first job, personal interests may happen to be your gateway. The more relevant, the better because they prove your motivation to grow in the field you're applying to.
If you're trying to become a specialist, additional activities outside your work life will give you an advantage over other candidates only if they speak volumes about your ongoing development in the subject matter.
If you're applying for a senior position, results matter more. The section with your hobbies and interests won't look serious on your resume.
How to Add Interests and Hobbies to Your Resume?
It's not always the grand scheme of things you should have in mind.
Here, it's all about the minute thingies that matter.
It's about whether your answers match the employer's expectations or if you say or write things that they'd say or write, too.
Even when it comes to your hobbies and interests on your resume.
Dive right in to find out how to write your personal interests and hobbies on your job application:
Get to know the company.
Do your research and find out as much information about the company's culture as possible. It should help you figure out what personal interests will fit into the company's employee profile. Nonetheless, don't try to create an image of a person that doesn't exist only to fit in.
Refer to the job ad.
The required skills and qualities ad section tells you what type of person is needed for a job. You can use your personal interest to make your case. Plus, some job descriptions include an additional desired candidate description, so read away and earn yourself a couple of bonus points.
Think of best hobbies and interests examples.
Match required skills and qualities with what currently drives you. Give even more reasons to hire you by showing you're working on yourself and your abilities outside the working environment.
And I love that you have your thing, but for the sake of getting the job, let's keep things relevant, OK?
Create a separate section (if there's room).
Quite an important bit—
Include a separate section for your hobbies and interests at the bottom of your resume ONLY if there's enough whitespace to stay on one page. It's an additional section, after all.
A great cover letter that matches your resume will give you an advantage over other candidates. You can write it in our cover letter builder here. Here's what it may look like: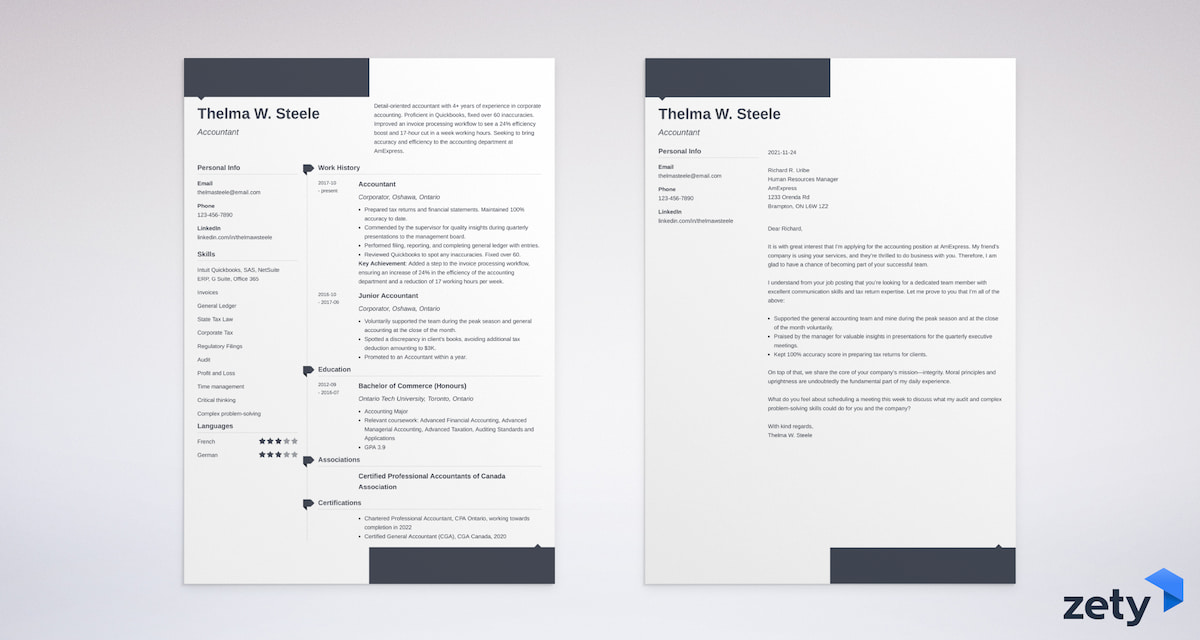 See more cover letter templates and start writing.
Key Takeaway
That's what you've learned from the article in a nutshell:
Think twice before writing your hobbies and interests on a resume. Not everything's suitable for every job application.
If you're pursuing a senior-level career, including hobbies or interests doesn't sound like a good idea.
But as a student or an entry-level applicant, you should boost your chances of getting the gig by saying you're developing a valuable skillset outside studying or working.
Always let your hobbies and interests complement your professional and academic achievements to build a consistent image of yourself.
Lastly, give yourself more chances to land a job and speak of accomplishments in that section, too!
Now you're ready to smash the list of hobbies and interests on your resume.
But wait!
Please tell us—
Do you have questions about hobbies and interests in a resume? Do you add them to your job application? How do you feel about resumes with interests and hobbies?
Give us a shout in the comments! Let's get the conversation rolling.