Our customers have been hired by:
If you've got access to the internet, and it's safe to assume so, you know how hot of a topic AI is. Creating images and fake trailers for Wes Anderson's movies are only some things artificial intelligence can do these days.
Did you know that AI can also write your resume?
How does AI resume writing work these days? Can you rely on it 100%? What are the disadvantages of using AI resume services, and what are the alternatives to consider? The future is now!! Let's see how it works.
This guide will teach you:
What is an AI resume.
How AI resume writer can help you create your document.
What are the pros and cons of making an AI resume.
Is creating a resume in an AI resume builder a good idea after all.
Want to save time and have your resume ready in 5 minutes? Try our resume builder. It's fast and easy to use. Plus, you'll get ready-made content to add with one click. See 20+ resume templates and create your resume here.
Sample resume made with our builder—See more resume examples here.
Decided to take matters into your own hands? Great! Read our guide that will help you make a superb resume:
What Is a Resume AI?
An AI resume (or artificial intelligence resume) is one you create when you want to apply for AI jobs. It can also mean an ATS-friendly resume as well as a is a resume created with AI assistance. In this article, we will discuss this last definition of an AI resume. What seemed like a sci-fi story a few years ago is now a hot topic for every person thinking about creating a resume quickly, effortlessly, and with ease.
There are many online resume builders out there, and they use algorithms to help users create their resumes. For instance, Zety resume builder generates content tailored to the user's profile, which can later be tailored any way you like. Plus, you also get AI-generated suggestions for each section of your document.
Writing a resume doesn't have to require AI assistance. Find out how to make a resume that stands out with our step-by-step guide: How to Make a Resume for 2023
How an AI Resume Writer Can Help You with Writing a Resume?
Let's talk more about using different chatbots to create your resume. If you think you will be able to simply ask ChatGPT or any other artificial intelligence, "Make me a resume!" or even "Make me a resume, please!" then you've got another thought coming. Because those chatbots don't know you, do they?
They don't know your educational background, work experience, skills, or any other things you might want to include in your resume to impress the hiring manager. So…
Can a chatbot write your resume from the top?
The simple answer is: no. And also: wouldn't that be a bit creepy? But the longer answer is: no, but they can definitely help you write a job-winning resume.
However, there are certain tasks you can distribute to AI resume builders that will make the entire process faster. But please, keep in mind that none of these tasks can go without you double-checking if everything was done 100% correctly. All of them also require some fixing on your side to make it more human-like. According to Harvard Business Review, it is necessary for us, humans, to remain in the loop and to override decisions made by AI, as it is not ready to make unsupervised decisions. And remember, we're talking about your career here, so you certainly don't want to handle it over to a chatbot, do you?
So, what's it good for?
Writing Sentences with AI Resume Builder
That's a big one for someone who is not trying to land a job with a resume for a creative writer. Sometimes you don't know how to turn your thoughts into sentences that are 100% correct, look great, are not generic, and have a lot of synonyms and action words for a resume. And that's how you impress the recruiter because your resume should not only contain great achievements but should also read well.
Using AI whenever you face writer's block can work magic in your writing process. Asking a chatbot to rephrase your resume summary or to write something for you from your notes will definitely make the entire process faster than googling for synonyms.
Improving Sections on Your Resume with AI
You know the answer to the "Can you lie on a resume?" question. When using AI to improve sections on your resume you might face a temptation to do so. If you simply ask the chatbot to create a resume education section based on what did you graduate from, it will deliver a list of achievements, extracurricular involvement, relevant coursework, and even your honors thesis.
Quite often, it looks so impressive that you might wonder whether you have definitely used your time at the university well enough to land the job of your dreams! The same goes for your work experience section, where chatbots list your achievements based only on a company name. Not to mention asking about some relevant skills for a resume you're working on!
But you know well that at least some of them are not quite true. And when you ask, i.e., ChatGPT a resume question, it will tell you to tailor the given example to your specific experiences. So it can work well as an inspiration for the improvement of your resume sections, but you should always adjust it to your real experience history.
Looking for some inspiration regarding your soft and hard skills? Visit our guide: Hard Skills vs Soft Skills
Double-Checking Your Resume with AI
You can read your resume many times and still miss some minor grammatical errors or some lost commas. Your recruiter might spend only seven seconds on your resume and still catch that mistake. And if you've put a detail-oriented skill on your resume, you might have just proved you're not right about that. So perhaps you're not right about some other skills. So perhaps it's best to move on with the resumes to the next candidate…
Sounds like a nightmare. But having a mistake in your document is a big resume don't. An AI can help you with that by spotting and correcting any mistake you've made on your resume. And, unlike a human friend you might ask for help, it won't make any mistakes checking your document! It's like a friend that's also a dictionary! Huzzah!
Now you know what a resume AI writing done well means. So let's have a look at the pros and cons of using AI resume builders.
Resume AI: Pros and Cons
Bard, ChatGPT, Wonsulting Resume AI are only some of the chatbots out there, but they all have their pros and cons to consider before picking them over other online resume builders. Time to find out about both sides of choosing a resume AI writing.
AI Resume Writing: Pros
There are some big advantages of using resume AI support.
Passing the ATS
Applicant Tracking Systems are supported by artificial intelligence. The chances of passing their screening grow when choosing AI resume writing.
Saving Time and Money
Hiring a professional resume writer to help you with your resume will cost you. And what's the benefit of an AI resume builder? Free of charge. And it's also done way faster that way!
Keeping Consistency
With some help from AI your resume will be written in a consistent, professional style that will easily impress the hiring manager.
AI Resume Writing: Cons
Those pros are impressive. But let's take a look at the other side of that coin.
Having a Generic Resume
When relying completely on an AI resume, there's no place for creativity. The effect of their work is yet another generic resume. And with no human touch, you cannot impress the recruiter. You'd need to add a lot to make it as unique as possible because that's how your resume gets remembered among other candidates' files.
Delivering Outdated Information
Chatbots take their knowledge from the internet. What they will pull out of there might be incorrect or outdated and may require double-checking on your side. So you might reduce the number of grammatical errors but still can face some major misinformation.
Increasing Chances of Disqualification
If a recruiter finds out you've used a chatbot to write a resume, will they still trust you as a reliable, independent, and hard-working candidate? With AI on the rise, employers may soon start using already available algorithmic checkers to determine which candidate decided to work on a resume and which one chose to use a chatbot instead.
No Resume Templates
Even if you have your resume written by a chatbot, re-written by you to add some creativity and stand out, and proofread again to check if everything's 100% correct… You'd still need a good resume template to get remembered and to impress the recruiter.
And since most resume builders deliver tips from professional resume writers (and not from a robot!), resume proofreading tools, pre-written sentences, ATS checkers, and modern resume templates, is it really a good idea to rely 100% on artificial intelligence?
AI Resume Writing: Verdict
Creating a resume with an AI resume builder can be helpful. There are great things that come with AI for resume writing that are helping you overcome writer's block or check if you haven't made any mistakes in writing a resume. However, you'd still need to work on that document to deliver a job-winning resume to your recruiter's inbox.
Once you have your AI generated resume ready to copy it from the chat window, what's next? You're not gonna just paste it to the message you'll send. To really secure the job you're applying for, you need to do more than that.
You need a modern resume template that will boost readability, and help your resume stand out among other competitors. With tips from pro resume writers and a cover letter builder, your chances will be way higher than relying completely on AI resume writers. That's why choosing a professional online resume builder (that's also supported by AI algorithms!) such as Zety is always a better idea than choosing an AI resume builder.
Pro tip: Boost your chances of getting the job you're after by creating a cover letter in a consistent, eye-catching template.
Plus, a great cover letter that matches your resume will give you an advantage over other candidates. You can write it in our cover letter builder here. Here's what it may look like: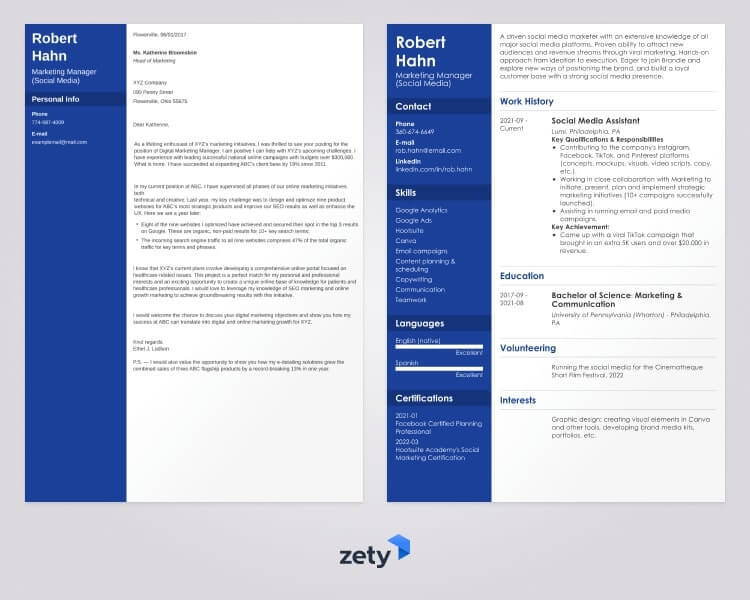 See more cover letter templates and start writing.
Key Points
There are some things you must remember when deciding on taking a helpful robotic hand and choosing AI resume writing:
Never rely 100% on AI to get the job you're after. Use it to help you write parts of your resume and overcome writer's block.
Always double-check what AI wrote. It might stretch the truth, and there's no AI support when you get asked about it during an interview.
Having a resume written by AI is not enough to land a job. It's true. Though you can get an AI resume free of charge and money-saving, you still need to apply some changes to your document. Even the best AI for a resume won't give you that human touch you need to impress a recruiter with how unique of a candidate you are. What you need is a great resume template that will help you stand out from the crowd. What you might find useful are tips from professional resume writers. Online resume builders, such as Zety provide all that and other advantages you might find when writing a resume with AI.
Thanks for reading! If you have any questions about how AI can assist you with your resume and why should you always look carefully at what they offer, reach out in the comment section below!
About Zety's Editorial Process
This article has been reviewed by our editorial team to make sure it follows Zety's editorial guidelines. We're committed to sharing our expertise and giving you trustworthy career advice tailored to your needs. High-quality content is what brings over 40 million readers to our site every year. But we don't stop there. Our team conducts original research to understand the job market better, and we pride ourselves on being quoted by top universities and prime media outlets from around the world.
Sources