I wish you set a localization for your search about the "CV format" because the results must be making you dizzy.
Are all CVs the same? What is a CV format in the UK? Is a CV format the same as a resume?
Wow.
It's even making me shaky.
No more of that.
Let's shake it off together with this CV format guide.
You'll get:
The final answer to what a CV format in Canada is.
A set of rules to follow while choosing the best CV format for a job.
Four examples of a simple CV format that guarantee a successful job application each time.
A Canadian CV format for academia that's governed by its own rules.
Want to save time and have your CV ready in 5 minutes? Try our CV maker. It's fast and easy to use. Plus, you'll get ready-made content to add with one click. See 20+ CV templates and create your resume here.
Sample CV made in our builder—See more templates and create your CV here.
Skip to the CV format examples or go straight to the formatting tips:
Common Canada CV Format
You hope writing a CV is simple and not so time-consuming.
And you're right.
Partially.
You need to know the basic rules about CV formats to ensure the details you're about to put forward have their rightful place in the document. So before writing the CV becomes effortless, you need to put in some work to make it work.
Shall we, then?
There are three standard CV formats in Canada:
Chronological, which is also called reverse-chronological
Functional, known also as skills-based
Combination, aka hybrid.
Let's go one by one—
A chronological CV format is fire, the lion in the kingdom, the alpha in the pack. In particular when it comes to recruiters and employers' familiarity with it. You make their jobs a lot easier if you write your CV that way. But, first and foremost, you make them read it.
Why?
The answer is, you win against the Applicant Tracking Software using that format, and that's how your CV reaches their desks. Everyone has equal chances with that format: students, experienced or inexperienced candidates, and pros.
But it's not so easy to fight it, though. See the below example of the curriculum vitae format and move on to learn the power moves:
CV Format Example: Chronological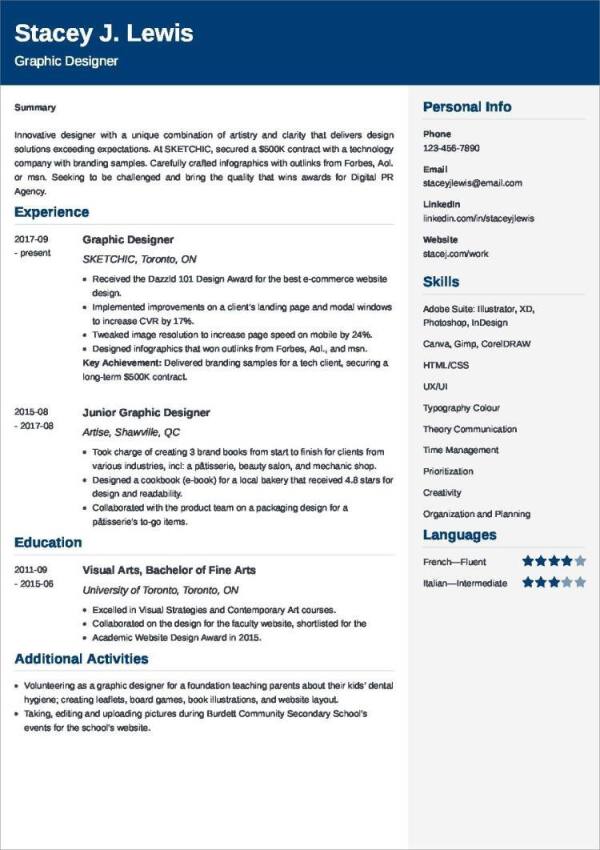 It couldn't get any better.
That's a reverse-chronological CV everyone would love to keep. And you can, too! Just pick one of the CV templates our pros prepared for you and fill it out with content suggested by the resume wizard. Sounds like magic, doesn't it?
Here's a move set to build a painfully good curriculum vitae:
CV Format
Header
Include your contact information, such as full name, phone number and email address. Refrain from putting your date of birth, photo, religious beliefs, marital status, or any other such details.
Personal statement
Write a summary if you're an experienced candidate and have a solid career history to back up your skills and knowledge. An objective statement works best if you're inexperienced and your biggest assets are education and transferable skills.
Experience
This one requires possessing the art of absolute control over the controller. Forget about the responsibilities and go for the knock-out-punch achievements. Use the bulleted list and start each achievement statement with an action verb. Remember about relevancy and list everything in reverse-chronological order, writing the most recent events at the top.
Education
Depending on your experience level, you can exhibit only the highest degree or spice it up with academic successes.
Suppose you're lacking in the work history department. The best thing you can do is mention your GPA if it's higher than 3.5, relevant coursework or which relevant courses you excelled in, and any other achievements. Plus, move this section right below the statement. That way, you'll bring more attention to it instead of showing how poor your work experience is.
Skills
Read the job description carefully, describe the skills you have, and match them with those your employer needs you to have. Mix the soft and hard skills.
Additional sections
Use the space left to add other sections, such as:
Certifications and licenses
Hobbies and interests
Conferences attended
Volunteering
Additional/Extracurricular activities
Foreign languages.
And that's about it for that format of a CV. Now let's move on to the second one.
A functional CV can be your friend when you lack experience or wish to change careers. You give your recruiter a clear sign that you can use the skills you possessed in your current career, and that they're transferable to various jobs and industries.
You do that by putting the skills section below the objective. This is, however, no longer a list but an extended description of your abilities and attributes.
Congrats!
You spotted I mentioned an objective. The functional CV has only one option for a personal statement, and it's the objective indeed. I mean—you can't speak about your experience if you don't have one, or it's not relevant to the position you're applying for, no?
The objective statement tells the reader what you want to achieve and how. In other words, what the employer gets from hiring you and how you're going to deliver that.
Now, let's have a look and acknowledge the differences:
When making a CV in our builder, drag & drop bullet points, skills, and auto-fill the boring stuff. Spell check? Check. Start building a professional CV template here for free.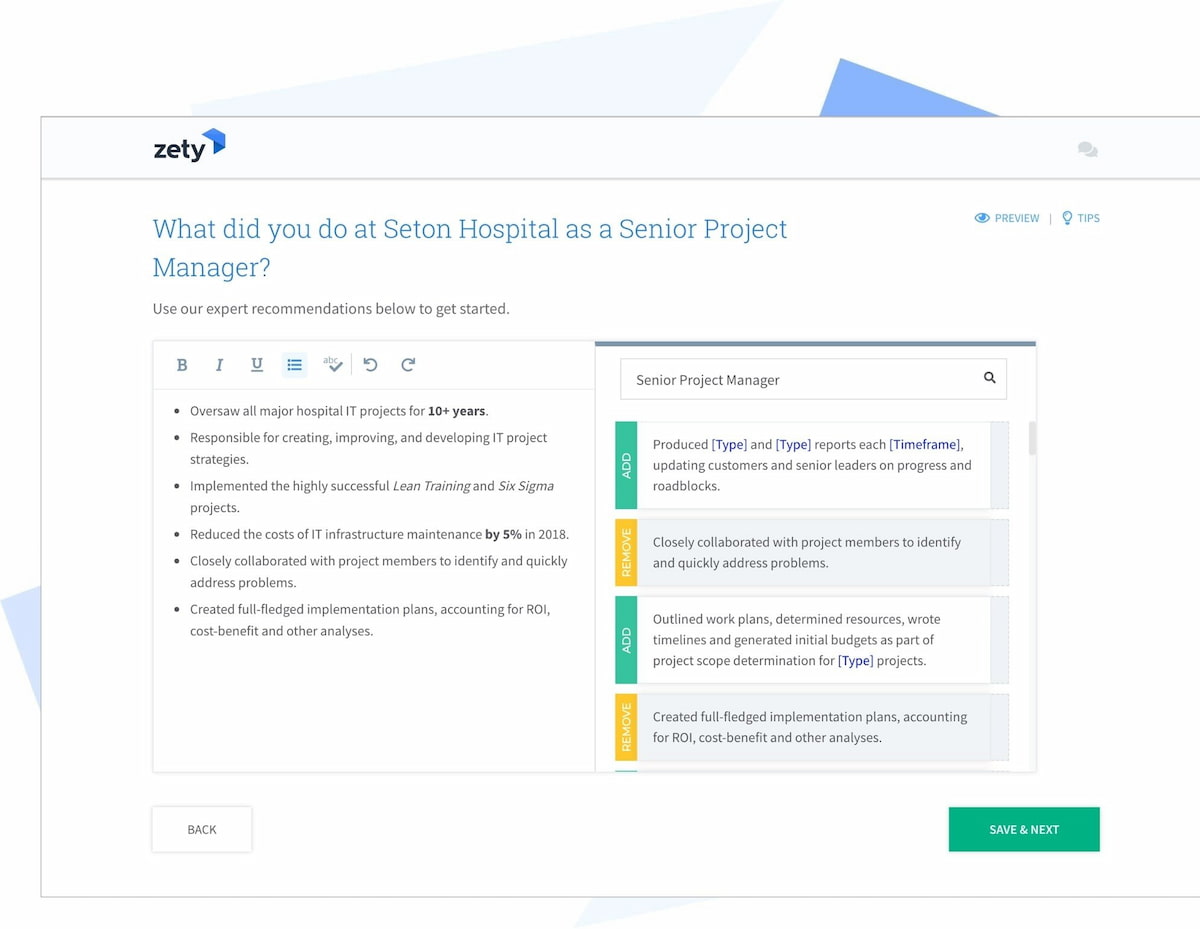 When you're done, Zety's CV maker will score your CV and tell you exactly how to make it better.
Canada CV Format—Example Functional CV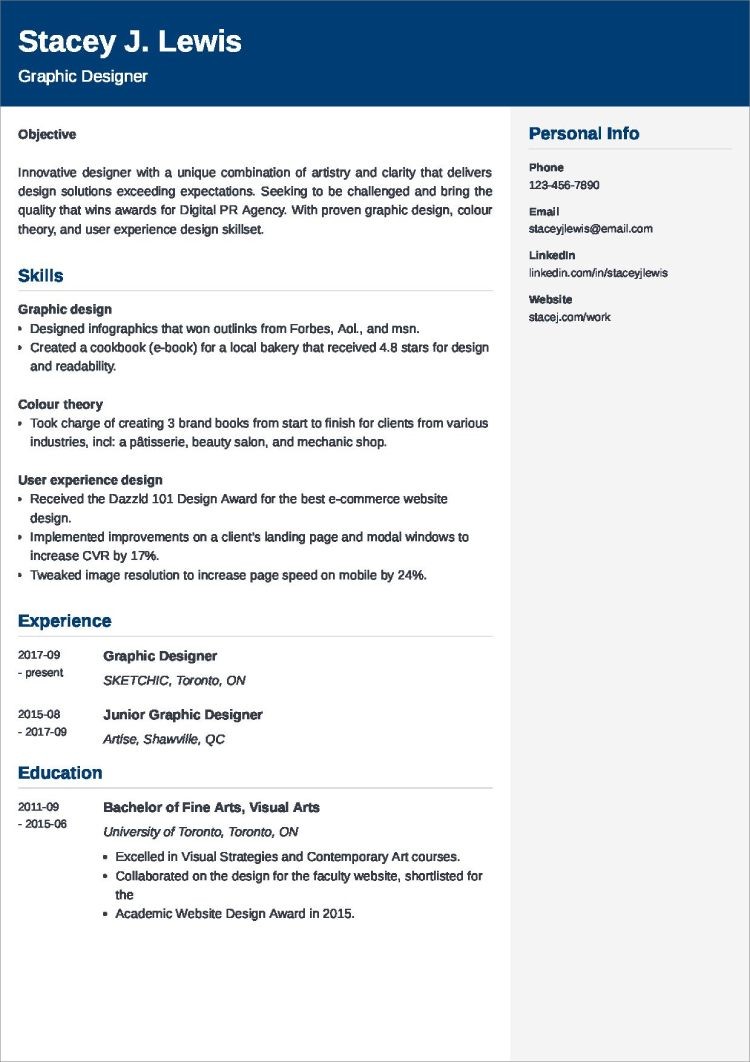 Wow. Am I right?

We made this sample with our CV builder. If you want to test your skill in writing a skills-based CV, go for it. Pick a CV template, add the content, and customize. That's all it takes to have a functional CV ready for a job.
Have you noticed that the experience section has no bullet points? Yes, it consists only of dry facts, such as a job title, company, and dates, which adds to the point about relevancy.
Even though it looks easier to write (you haven't been tracking your achievements, have you?), recruiters aren't particularly fond of that CV format. They suspect you're hiding something, plus, it's your professional achievements they want to see first. So, without them, you kinda load the dice.
OK.
It's time for the last simple CV format—
A combination CV, or hybrid if you prefer, is, well, a combination of the two formats above. It takes the skills' description from the functional CV and the experience section from the chronological one—the best of both worlds.
Can you fly up above the sky, run lightning-fast, or shoot a spiderweb? Are you a highly trained and qualified professional, that is? Then, it's for you. Here, the experience section shape-shifts back to its original form with accomplishment statements.
But, it's also for you if you happen to have gaps in your employment history. Don't worry, though. The levelled-up skills section is here to cover it all up.
Check it out then, here's what a combination CV looks like:
Curriculum Vitae Format—Sample Combination CV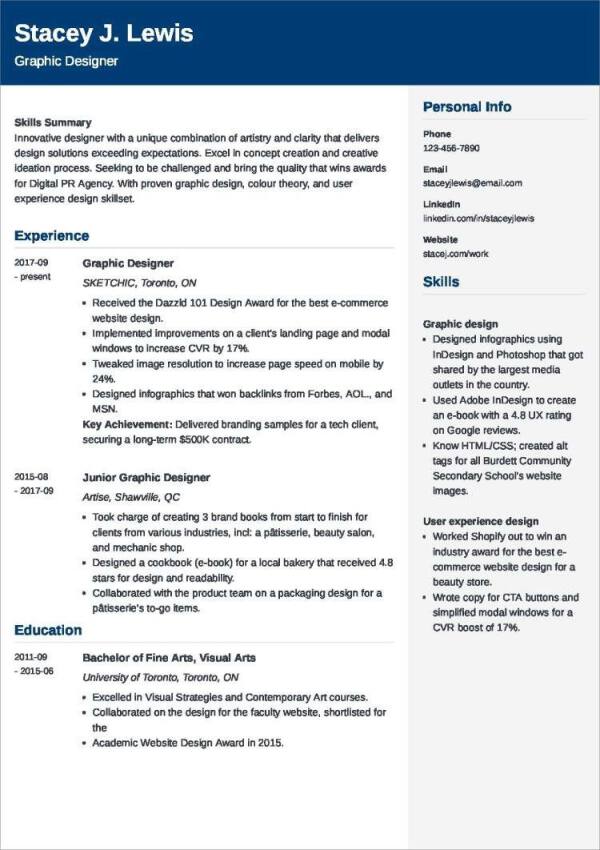 Now you've seen it all.
And you can have it, too. Use our CV creator to have a CV looking precisely like the one above—all smart and modern. Choose one of the 20+ CV templates and enjoy the quick and intuitive editor. We have already written the entire content for you! You only need to pick which one describes you best.
You've studied every standard format that you can apply to your CV. But, not to your surprise, there's one more you get confused far too much about.
And it's an academic CV format.
In Canada, a CV is exactly the same as a resume. Employers use the terms interchangeably, leaning heavier towards resume; hence your confusion when the word "CV" suddenly pops up.
So, what's the difference between this and the three other formats?
Well, you apply with the academic CV to jobs at academic institutions, research associations, or fellowships. You use the CV, aka resume, to apply for any other job: network engineer, executive assistant, or software developer positions.
An employer outside of academia may ask you to submit a life-long career history, although it's a genie-bottle type of rare situation.
See how an academic CV format looks like:
Academic CV Format—Example
Intimidated?
Don't be! It'll take you only a few minutes to build a CV like that with our CV maker. Imagine we've got everything you need. You just need to make a few clicks to create a CV of one's dream. So pick a CV template and get ready to be blown away by how simple it all is.
Now have a look at how to compose such a colossus:
Academic CV Format
Header
Here's the place for your personal information, as in a standard CV format. You can, however, add where you're doing research placement at the moment of applying.
Academic history
Describe every post-secondary degree you've earned, including the name of the degree, university or college, dates when you studied, and the title of your thesis or dissertation. Plus, do tell if you graduated with honours or the name of your advisor.
Professional experience
If you have such, treat this section as a regular work experience practice. Put your job title, research institution, and employment dates. Right under, add 4 to 6 bullet points with accomplishment statements describing your impact on the research team's work.
Teaching experience
Teaching is part of your post-graduate studies, and you should treat it as your professional experience. The only difference is that you single it out to say what subjects you taught, at what school, and for how many terms.
Publications
You've got experience already in citing works for your dissertation, so please make use of that knowledge to now submit any publications you've written or been part of. It includes pieces that haven't been published yet, but you're working on.
Conferences
Same here—if you appeared at a conference as a speaker, call it out. Say the title of the presentation, what conference it was, location, and add a date. You can also write a few words about the subject of the forum.
Awards and honours
This is where you shine the brightest light. Show off your awards or dean's placement. Give the name of the awards, the organization body that gave them to you, and the year received. Mention any relevant details about the award that can add to your standing.
Grants
If you received a scholarship or grant to do research work, this is where you write about it. Include the name, name of the sponsor, and the date awarded.
Additional sections
As in a simple Canadian CV format, you also have an opportunity to add miscellaneous sections, such as:
Work experience
Skills
Languages
Memberships, Associations, Fellowships
Non-academic activities (e.g., volunteering).
I bet that's scared the living daylight out of you.
Unnecessarily. Trust me.
Most of the time, you won't need to know how to comprehend all the rules for an academic CV format. And the other thing is, it gets easier with practice.
About that—
Before you start writing anything, practice the CV formatting.
How to Format a CV?
CV sections are one thing. Making room for them is another. Without enough space, your contents will be too cramped and become illegible. Follow these CV formatting rules to prevent that:
Choose the best font, such as Calibri or Verdana. They're scannable by the ATS and easy on the eyes. Make it 10 to 12 points in font size.
Set 1-inch margins and 1–1.15 line spacing. Align the text to the left.
Design a heading that stands out from the rest of your CV.
Stick to one or two pages max. for the common CV format. The academic CV has no page limit.
Save your CV to a PDF file format, unless the job ad says to use the .docx extension.
A great cover letter that matches your CV will give you an advantage over other candidates. You can write it in our cover letter builder here. Here's what it may look like: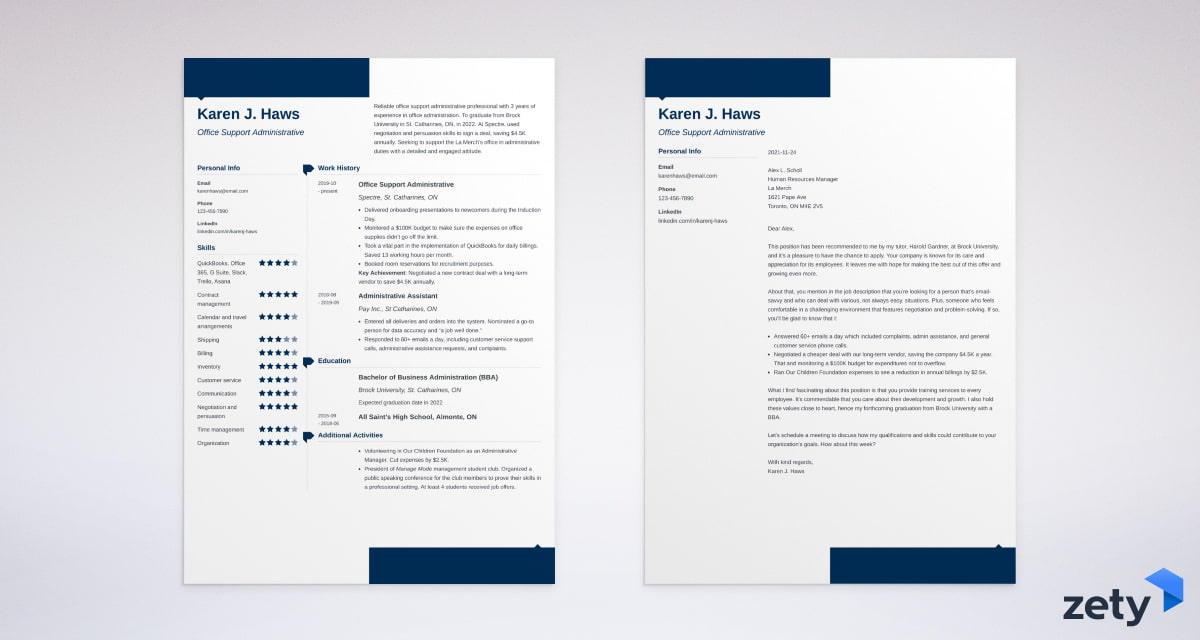 See more cover letter templates and start writing.
Key Takeaway
Canadian CV formats in a nutshell:
There are three standard formats to choose from: chronological, functional, and hybrid.
Chronological format is recommended to everyone applying for a job. It's universal and smashes the ATS test when tailored well.
Functional aka skills-based is common among inexperienced candidates and career changers. It put your qualities and abilities, your transferable skills forward.
Combination CV (also known as hybrid) is the most challenging one. It's dedicated to highly qualified professionals and applicants with employment gaps.
Use the academic CV format when applying for a job at academic institutions, research placements, or joining fellowships. This format requires a detailed description of your professional and educational history.
Phew.
That was something.
But you're good to go and nail it now! Good luck with picking the best CV format for your application. Fingers crossed!
Please tell us—
Do you have questions about the CV format in Canada? Still unsure of the best CV format for you? Or maybe you've already tried writing your CV in a particular CV format? How was your experience?
Give us a shout in the comments! Let's get the conversation rolling.