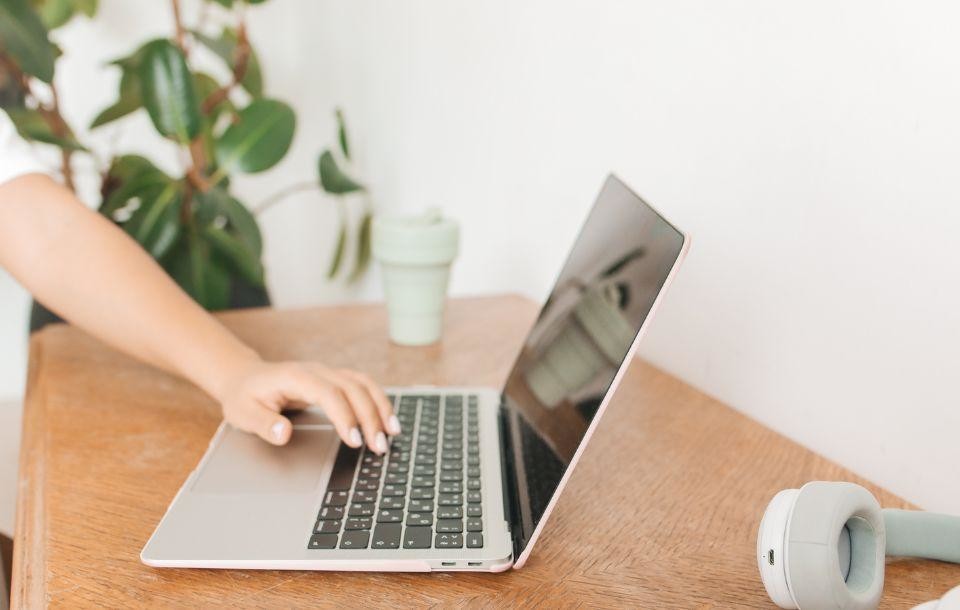 Resume for High School Students: Template for Australia
Feel like it's time to prove to your parents you're not a baby any more? Manifest your independence with a resume for high school students that will help you land jobs!
Remember when your parents would pay you for cleaning up, washing dishes, or taking out the rubbish? Yeah, good times.
Want a more reliable job, but think your options are just babysitting for the neighbours and newspaper rounds? Yeah, nah, think again. A good resume can open up more opportunities for you.
Interested? We'll give you tips so great that your resume for high school students will shine bright like a diamond, and also land you an actual job.
This guide will show you:
A resume for high school students example better than 9 out of 10 other resumes.
How to write a resume for high school students that will land you more interviews.
Tips and examples of how to put skills and achievements on a resume for high school students.
How to describe your experience on a resume for high school students to get any job you want.
Want to save time and have your resume ready in 5 minutes? Try our resume builder. It's fast and easy to use. Plus, you'll get ready-made content to add with one click. See 20+ resume templates and create your resume here.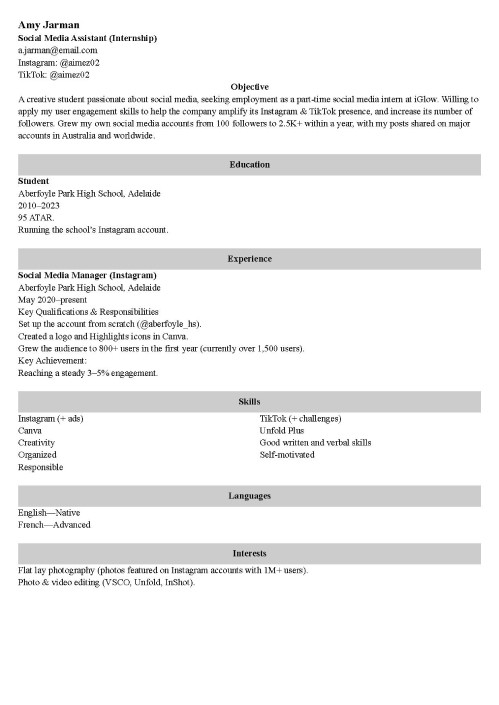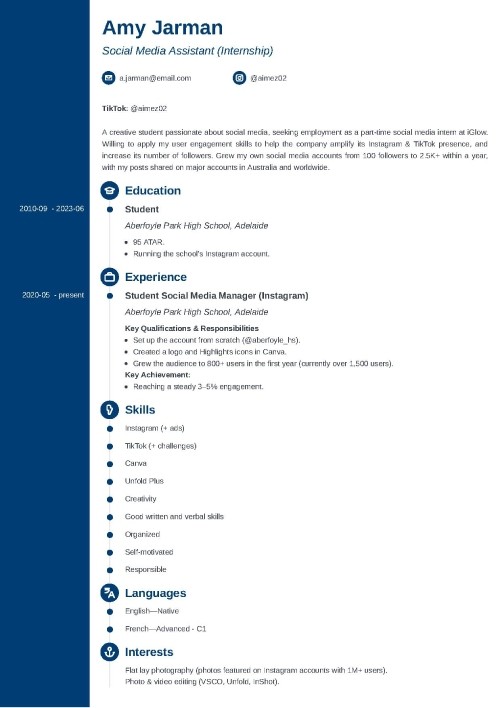 Sample resume made with our builder—See more templates and create your resume here.
Want more? Explore these:
Resume template for high school students in Australia
Amy Jarman
Social Media Assistant (Internship)
a.jarman@email.com
Instagram: @aimez02
TikTok: @aimez02
Objective
A creative student passionate about social media, seeking employment as a part-time social media intern at iGlow. Willing to apply my user engagement skills to help the company amplify its Instagram & TikTok presence, and increase its number of followers. Grew my own social media accounts from 100 followers to 2.5K+ within a year, with my posts shared on major accounts in Australia and worldwide.
Education
Student
Aberfoyle Park High School, Adelaide
2010–2023
95 ATAR.
Running the school's Instagram account.
Experience
Social Media Manager (Instagram)
Aberfoyle Park High School, Adelaide
May 2020–present
Key Qualifications & Responsibilities
Set up the account from scratch (@aberfoyle_hs).
Created a logo and Highlights icons in Canva.
Grew the audience to 800+ users in the first year (currently over 1,500 users).
Key Achievement:
Reaching a steady 3–5% engagement.
Skills
Instagram (+ ads)
TikTok (+ challenges)
Canva
Unfold Plus
Creativity
Good written and verbal skills
Organized
Self-motivated
Responsible
Languages
English—Native
French—Advanced
Interests
Flat lay photography (photos featured on Instagram accounts with 1M+ users).
Photo & video editing (VSCO, Unfold, InShot).
Now, this is how you write a ripper resume for high school students:
1. Format your resume for high school students properly
Okay, so hear me out: a report says that in 2016, around 32% of full-time school students were employed. That's one-third of all 15–19-year-olds.
And that's without all the online jobs that are around now! You can totally do this.
To land any decent job that doesn't involve walking your neighbour's dog, you have to come up with a professional resume. It has to look great, read great and make a good impression. Begin with good formatting:
Choose a nice font (like Arial), and set the size to 12 points.
Make sure to set the spaces between lines to "single" or 1.15.
Go for two pages tops: nobody expects a resume for high school students to be super long.
Don't forget to add your name and contact info, plus mention the position you're applying for.
Save it in PDF! Otherwise, your perfect resume may turn into a mess when opened on a different computer.
You can also choose from some simple resume templates just to be sure, but this is definitely not a requirement. Just keep it neat and simple, and don't settle upon anything too creative. Recruiters use special software to filter out candidates, and a resume that's too imaginative just shall not pass.
Pro Tip: There are different rules and employment restrictions in Australia regarding how long you can work in a day as a teen, but in most territories, there's no minimum age you need to be to start doing casual or light part-time work! And when you're around 15, those restrictions are lifted in most places.
2. Begin your resume for high school students with a resume objective
Alright, we know all about the expected resume format for high school students, now what do we actually write?
Think of this for a sec: there's a busy hiring manager who has a hundred resumes to look through, do you think they'll read it? Nah, if you're lucky, they'll give it about 7 seconds of their time (and that's because we made our resume look great). That means that whatever words they see first have to be to.the.point, otherwise it's bye, Felicia.
Start with this:
Look through the description of the job you're applying for. Very carefully. So carefully, you almost know it by heart.
Match your skills, knowledge, and experiences to that specific description. Do they need someone who's responsible? Tell them you're on your school's cricket team that's won the regional championships (=you show up!). They're looking for communication skills? Mention you're the chairman of the debate club.
Talk about how passionate you are about this job, and why you really want to have it.
If you're not sure, use this formula:
"A [Adjective] high school student seeking employment as [Position Name] at [Company Name] to apply my [Your Relevant Skills] to help [What Do You Want To Help The Company Achieve]"
Combined into 3–4 sentences, this makes your resume objective. This first paragraph tells the recruiter:
That you know what the job is all about and, what's expected from you.
Why you're a great fit for it (with proof).
And that's the tea.
Need extra tips? Read more:15+ Great Resume Objective Samples
3. Craft a cool job description for your resume for high school students
Usually, a resume objective would be followed by a description of your professional background. But you're a student, so it's okay if you don't have any. You'll just have to justify how great you are in other ways.
You can go in one of the two directions:
Mention any experience you have (tutoring, summer job, help with your parents' business, volunteering, something you did at school, etc.), or
Focus on your successes in studies (more on that in the Education section), or your interests, extracurricular activities and side projects (see section 6).
Both are totally fine. If you do have some work experience to describe, here are some tips:
State the name of the place, your position and how long you have worked there.
Write about what you did there. Remember, achievements are more important than duties. Try to add something measurable ("helped x people daily").
Want your high school student resume to be taken more seriously? Use action verbs, like "acquired" instead of "got", or "created" instead of "did".
For the second approach, carry on reading.
Read more: How To Describe Your Most Awesome Achievements On a Resume
4. Describe education on your high school student resume
So you don't have any relevant experience yet. And really, don't all employers expect you to have 3 years of experience for an entry-level job or something?
That would be low-key depressing. Thank Rihanna it's not true.
If you've never worked before, there are ways to make up for it and still keep your resume for high school students in the game. #1 is to focus on your academic achievements:
State the name of your school, and years of studies, plus add 2–3 bullet points for your accomplishments.
Mention how good your grades are (if they are).
Describe classes or courses you've taken that make sense for the job you're applying for.
Talk about your participation in competitions or contests, how you're on a club or committee, etc.
How do you decide what exactly to put in those bullet points? Again, look at the job description and use your best judgement.
Moving on.
Pro Tip: Feel free to place this section right after your resume objective if you have no work experience at all or if your work history section is very short.
When making a resume in our builder, drag & drop bullet points, skills, and auto-fill the boring stuff. Spell check? Check. Start building a professional resume template here for free.
When you're done, Zety's resume builder will score your resume and tell you exactly how to make it better.
5. Mention skills on your resume for high school students
You might think that because you didn't work much, you don't have the skills to describe.
But if you spend some time analysing your life, you'd be surprised by how many things you can actually do!
For example, remember about all your informal work experience (lawn mowing, gardening, pet sitting/walking, babysitting your sister, social media, I can keep going). Or any situations in your life that made you develop your character, personality, or a good work ethic. You'll find plenty!
Resume Template for High School Students: Skills
Social media management
Technical proficiencies
Computer skills
Maths
Analytical skills
Creativity
Strong written and verbal communication
Time management
Teamwork
Result-driven
Self-motivated
The skill section of your resume for high school students can be composed this way:
Take your time and make a list of all the skills you've developed. Team captain = leadership, never late = time management, you get the idea.
Remember that job description? Yeah, have another look. And then compare your list with it. See any matches? That goes on your resume.
And that's not even all of it! We've saved the best for last.
Read more: Examples of Skills to Put On Our Resume
6. Add other sections to your resume for high school students
Parents complain you're always on your phone? Tell them you're working on your portfolio!
There's one more way to impress the recruiters as you're creating a resume for high school students, and it's describing what you do outside school.
Your resume can have a variety of additional sections that can work as extra proof that you have the skills to get that job. Here are some examples:
Hobbies. Say, if the job you want is somehow connected to social media or marketing, you can actually provide some measurable data by sharing your Instagram statistics like follower engagement, number of YouTube subscriptions, TikTok views, etc. Seriously, you never know—people would literally pay you to Facetune their photos. And that's just one thing. Maybe you have a blog, are great at photography, can cook—all of this can add points to your resume if it's relevant.
Awards. This could work as a great display of your personality, meaning you're ambitious and motivated.
Athletic achievements. Not only does it mean you're disciplined and goal-oriented, but it also makes you physically fit (which may be crucial for jobs like customer assistant).
Foreign languages. That never hurt any resume!
It's not about what you don't have, it's about how you can spin what you do have. Be creative, and your resume will be hot fire.
7. Attach a cover letter to your resume for high school students
Whoa, mate, seriously, that's not it? No worries, almost done.
Even though not all jobs require a cover letter, you might want to write it anyway, and there's a good reason for that. It may be hard to paint a clear picture of who you are with your high school student resume alone, and a cover letter may be just the right space to do that.
Here's how:
Again, format it properly, add your contact info, and address the hiring manager.
Start with a strong statement about why you want to work, and why you chose that company (do your research, that's never a bad thing).
Tell a story. In the cover letter, you have those 2–3 paragraphs to actually describe how certain life experiences helped you get skills that would be useful for your future job.
End with a promise of how you expect the employer to benefit from hiring you (not the other way around!), and say that you'd be happy to answer any questions during the interview.
A well-written resume for high school students and a cover letter tailored for the position make a combo no recruiter can refuse.
Made up your mind and ready to draft that cover letter? Read more: How to Write a Cover Letter (With Examples)
Plus, a great cover letter that matches your resume will give you an advantage over other candidates. You can write it in our cover letter builder here. Here's what it may look like: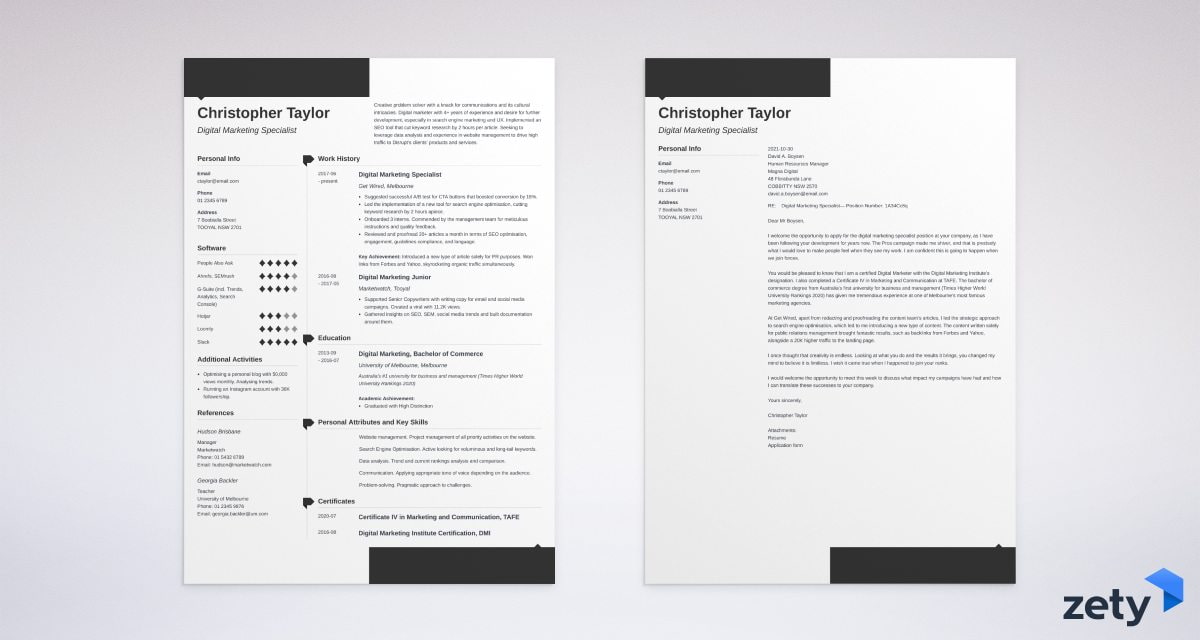 See more cover letter templates and start writing.
And just like that, you're the CEO of resume writing.
You know everything there is to know about creating a resume for high school students.
Any thoughts? Tips, maybe? Share your ideas on our resume guide for high school students in Australia below!