What is a Resume for a Job? Resume Meaning & Purpose
Got lost in the woods job hunting? I've brought you a map! Discover the resume meaning and find a way home.
We all start somewhere.
Don't worry if you don't know much about resume writing yet.
That's actually great you want to build up your confidence and understand how it all works.
So grab this guide, and once you're done, go have a laugh with kookaburras at how easy it all is.
You'll get:
The job resume meaning in a short and simple definition.
Insights into the meaning of a resume and its purpose in a job application.
What a work resume should look like in order to grab a recruiter's attention.
And the basic know-how behind resume writing that lands jobs.
Want to save time and have your resume ready in 5 minutes? Try our resume builder. It's fast and easy to use. Plus, you'll get ready-made content to add with one click. See 20+ resume templates and create your resume here.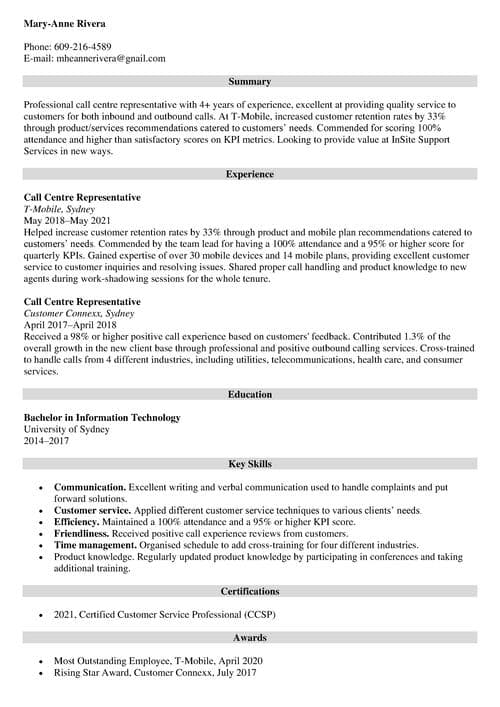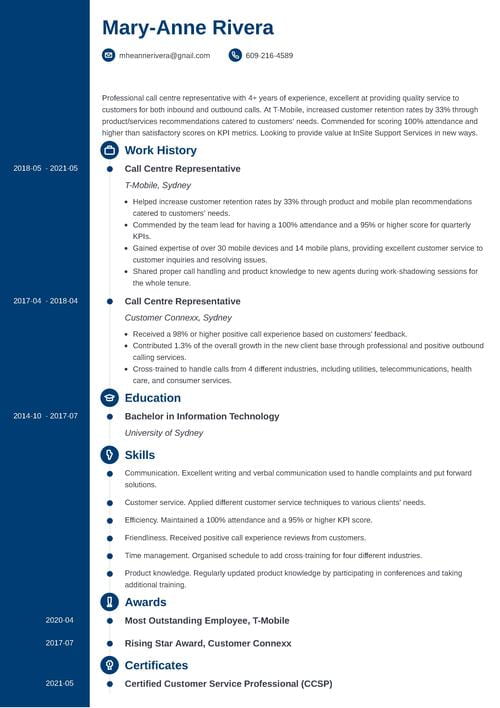 Sample resume made with our builder—See more resume examples here.
Here's a list of contents for you to jump to a particular chapter:
What Is a Job Resume: Sample
Mary-Anne Rivera
Phone: 609-216-4589
E-mail: mheannerivera@gnail.com
Summary
Professional call centre representative with 4+ years of experience, excellent at providing quality service to customers for both inbound and outbound calls. At T-Mobile, increased customer retention rates by 33% through product/services recommendations catered to customers' needs. Commended for scoring 100% attendance and higher than satisfactory scores on KPI metrics. Looking to provide value at InSite Support Services in new ways.
Experience
Call Centre Representative
T-Mobile, Sydney
May 2018–May 2021
Helped increase customer retention rates by 33% through product and mobile plan recommendations catered to customers' needs.
Commended by the team lead for having a 100% attendance and a 95% or higher score for quarterly KPIs.
Gained expertise of over 30 mobile devices and 14 mobile plans, providing excellent customer service to customer inquiries and resolving issues.
Shared proper call handling and product knowledge to new agents during work-shadowing sessions for the whole tenure.
Call Centre Representative
Customer Connexx, Sydney
April 2017–April 2018
Received a 98% or higher positive call experience based on customers' feedback.
Contributed 1.3% of the overall growth in the new client base through professional and positive outbound calling services.
Cross-trained to handle calls from 4 different industries, including utilities, telecommunications, health care, and consumer services.
Education
Bachelor in Information Technology
University of Sydney
2014–2017
Key Skills
Communication. Excellent writing and verbal communication used to handle complaints and put forward solutions.
Customer service. Applied different customer service techniques to various clients' needs.
Efficiency. Maintained a 100% attendance and a 95% or higher KPI score.
Friendliness. Received positive call experience reviews from customers.
Time management. Organised schedule to add cross-training for four different industries.
Product knowledge. Regularly updated product knowledge by participating in conferences and taking additional training.
Certifications
2021, Certified Customer Service Professional (CCSP)
Awards
Most Outstanding Employee, T-Mobile, April 2020
Rising Star Award, Customer Connexx, July 2017
Now let's give you what you came for:
What is a Resume?
A resume, or résumé, is a two to four-page document summarising a job applicant's work history and qualifications. Employers tend to use resumes to decide about inviting applicants for an interview or hiring them.
So—
What is the Purpose of a Resume?
The purpose of a resume is to Dennis-Lillee your employer with "G'day! How ya going?" but better.
You should write a resume to introduce yourself andgive your recruiter reasons so convincing that they invite you for an interview.
That doesn't mean listing every professional milestone you've reached—instead, highlight just the most relevant experience and skills for the job.
Don't even bother applying without a resume.
What Is a Resume Supposed to Look Like?
So now you're thinking, "I can be convincing. I'll get through to the recruiter!"
Well—
I don't mean to freak you out, but it's not even recruiters who put their hands first on your resume. It's the Applicant Tracking Software or resume parsers, they call it.
The ATS scans the resumes, and if your score is as green as Tasmania's Noah's Ark, only then your application ends up at your recruiter's desk.
So, technically, you need to win over a robot.
No worries.
Take a look at the below resume layout and formatting tips to crush it:
Resume font—a seemingly minor detail, but it can rob you of a job. When choosing between serif and sans-serif fonts, go for the latter. Both recruiter and ATS robots instantly recognise typefaces, like Calibri, Arial, or Verdana. Make it 10 to 12 pt in font size.
Spacing and resume margins create the whitespace necessary for maintaining balance (and keeping the recruiter's eyesight intact). If you set 1–1.15 line spacing and 1-inch margins on all sides, you'll do your recruiter a favour.
Left-align your contents, and she'll be apples.
The ideal resume length is between 2–4 pages. Resumes for entry-level positions or internships should be 1–2 pages long.
Order the resume sections based on how much relevant work experience you have.
Speaking of relevant experience—
You can choose between resume formats depending on the level of qualification you have. See what your options are:
Chronological / Reverse-chronological resume format is a standard, well-known format for both the ATS and recruiters. It puts your work history first, along with your most significant achievements. Hence, it's always a good choice.
Functional resumes focus on the skills and leave job experience in the back seat. It's recommended mainly for career changers and job seekers with no experience.
Combination resumes are a hybrid of the above, giving you the most creative, disco-UGG-slipper way of presenting yourself. But, it won't work for everyone. Employment gappers will benefit from it for sure.
Read more: How To Write A Resume In Australia: Examples & Guide
When making a resume in our builder, drag & drop bullet points, skills, and auto-fill the boring stuff. Spell check? Check. Start building a professional resume template here for free.
When you're done, Zety's resume builder will score your resume and tell you exactly how to make it better.
What is a Resume for a Job: Contents
Writing a resume for a job isn't a piece of cake. But—
It can be!
Once you're done sugar-gliding the resume layout, you can start filling it up meat-pie style.
Grab the below list of main ingredients and follow the best resume recipe out there:
Header with finely chopped personal information: your full name, phone number, and email address. (Your photo, DOB, age, religion, and marital status will make your resume go off in seconds. It's illegal for your employers to speak about them.)
Personal statement with a cup of achievements: a career summary or resume objective, depending on your relevant experience.
Experience mince: your key responsibilities and accomplishments in pepper-bullet points. Plus, your job titles, companies you worked for, and dates of employment for seasoning. Order them with the freshest first.
Education shortcrust pastry: the highest degree so far. To moisten the edges, you can add relevant coursework, extracurricular activities, or awards you earned for academic achievements.
Skills mixture: a list of soft and hard skills that make a delicious blend of the candidate's qualifications and qualities.
Other sections puff pastry: additional resume parts, such as volunteering, memberships, or interests to top it all off.
M hmm! That is golden.
Remember to serve your finished resume with a matching cover letter to guarantee yourself an interview!
Read more: How To Write A Cover Letter In Australia: Examples & Guide
Plus, a great cover letter that matches your resume will give you an advantage over other candidates. You can write it in our cover letter builder here. Here's what it may look like: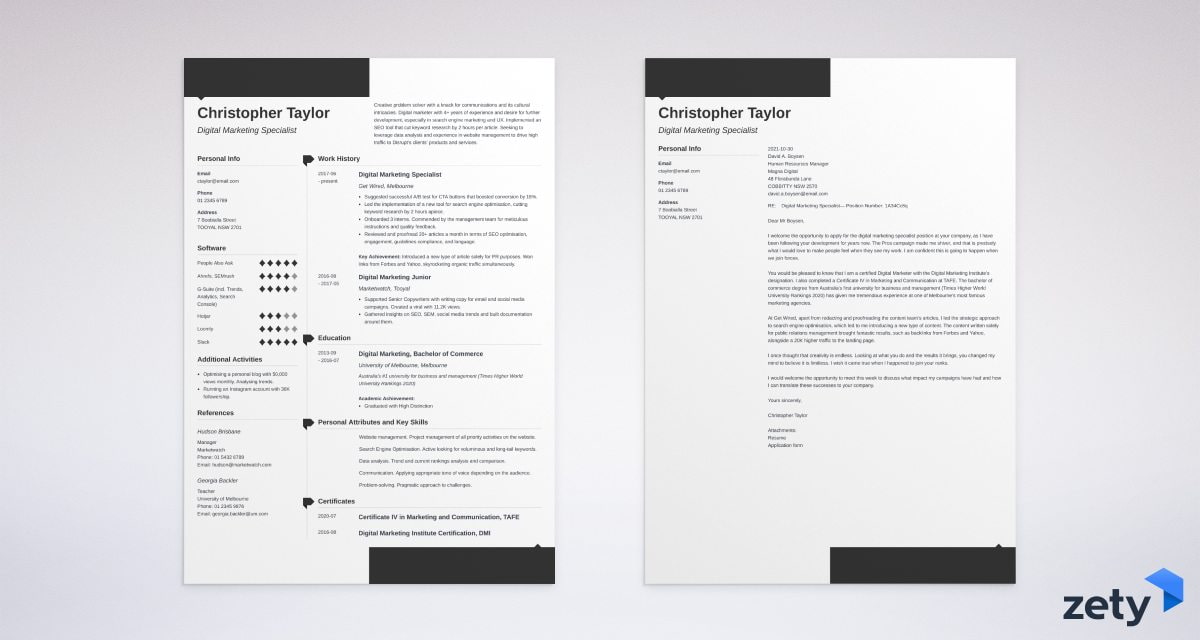 See more cover letter templates and start writing.
Key Takeaway
Let's recap the main points:
Laying out your resume correctly will help you pass the ATS screening and reach the recruiter.
Depending on how much experience you have, pick the resume format highlighting the most relevant bits for your employer.
The job description is a keyless treasure chest with every keyword you need to use.
Speak only the language of accomplishments. You'll get through to nobody with responsibilities.
KISS more: Keep It Short and Simple.
Poorfeet. Blimey! I mean proofread.
Please tell us—
Do you have questions about the meaning of a resume? Did we miss any advice? What do you think is the most challenging part of resume writing?
Give us a shout in the comments! Let's get the conversation rolling.