Data Entry Resume: Sample, Skills, Job Description and More
Use your fast typing skills along with our data entry resume advice and sample to create the most accurate resume for data entry clerks, analysts, and transcribers.
On the keyboard, you have the speed of Kaylee McKeown and accuracy of Patrick Cripps, but it's still not enough to create a successful resume?
Have a squiz at the below tips for creating a professional data entry resume that will help you land a well-paid job and make you shine like a diamond in the sea of candidates.
This guide will show you:
A data entry resume example that outperforms 90% of other resumes.
How to write a data entry resume that will get you more interviews.
Ideas of how to put skills and achievements on a software engineer resume.
How to describe your experience on a resume for a data entry to land your desired job.
Want to save time and have your resume ready in 5 minutes? Try our resume builder. It's fast and easy to use. Plus, you'll get ready-made content to add with one click. See 20+ resume templates and create your resume here.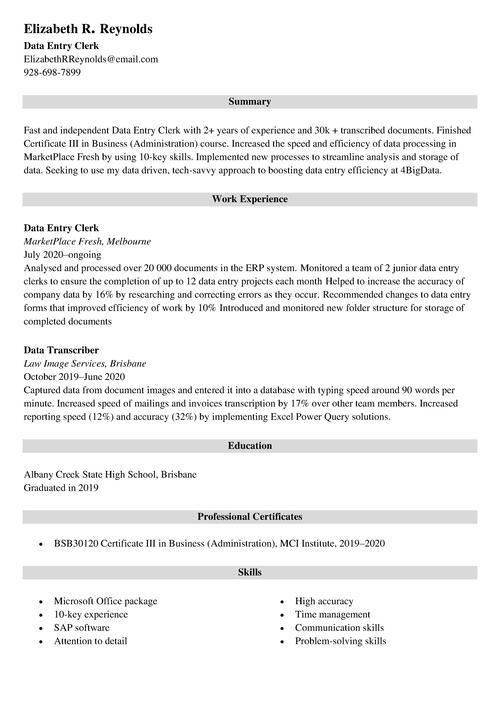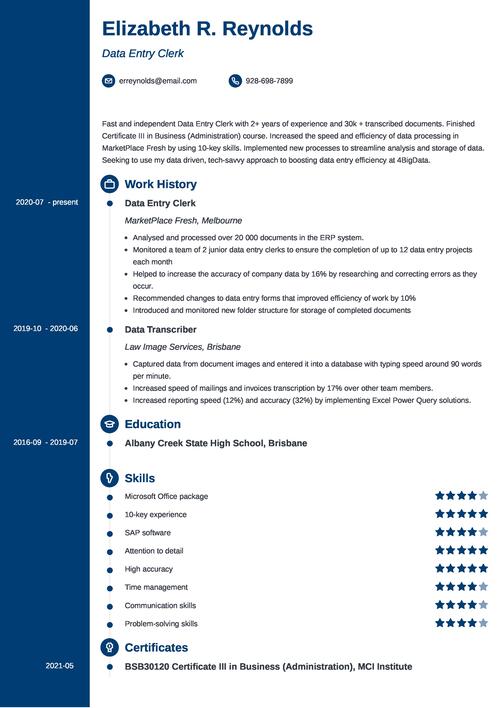 Sample resume made with our builder—See more resume examples here.
Data Entry Resume Example
Elizabeth R. Reynolds
Data Entry Clerk
ElizabethRReynolds@email.com
928-698-7899
Summary
Fast and independent Data Entry Clerk with 2+ years of experience and 30k + transcribed documents. Finished Certificate III in Business (Administration) course. Increased the speed and efficiency of data processing in MarketPlace Fresh by using 10-key skills. Implemented new processes to streamline analysis and storage of data. Seeking to use my data driven, tech-savvy approach to boosting data entry efficiency at 4BigData.
Work Experience
Data Entry Clerk
MarketPlace Fresh, Melbourne
July 2020–ongoing
Analysed and processed over 20 000 documents in the ERP system.
Monitored a team of 2 junior data entry clerks to ensure the completion of up to 12 data entry projects each month
Helped to increase the accuracy of company data by 16% by researching and correcting errors as they occur.
Recommended changes to data entry forms that improved efficiency of work by 10%
Introduced and monitored new folder structure for storage of completed documents
Data Transcriber
Law Image Services, Brisbane
October 2019–June 2020
Captured data from document images and entered it into a database with typing speed around 90 words per minute.
Increased speed of mailings and invoices transcription by 17% over other team members.
Increased reporting speed (12%) and accuracy (32%) by implementing Excel Power Query solutions.
Education
Albany Creek State High School, Brisbane
Graduated in 2019
Professional Certificates
BSB30120 Certificate III in Business (Administration), MCI Institute, 2019–2020
Skills
Microsoft Office package
10-key experience
SAP software
Attention to detail
High accuracy
Time management
Communication skills
Problem-solving skills
When you started your data entry job, you had to understand data collection processes and storage structure before you started entering anything in the system. Same goes with the data entry resume—you need to learn the structure first in order to work efficiently. Check the below step-by-step guide on how to write a data entry resume.
1. Select the Most Appropriate Format for Your Data Entry Resume
Data entry professionals transcribe information into digital format, either by manually inputting data or by scanning and sorting documents. Your data entry resume needs to prove you have the attention to detail and computer skills necessary to succeed in this industry.
Checking thousands of files on a daily basis is something that you and the recruiter have in common. I bet you are already an expert at cracking the weirdest formatting codes and finding relevant information in the messiest of documents. That's why you know that you can make HR representatives' lives much easier by following these simple resume formatting rules:
Include your contact information in the resume heading.
Consider using the chronological resume format. It emphasizes your best achievements and skills by displaying your recent experience at the top of the document.
Use popular, easily-readable resume fonts like Arial, Calibri, or Times New Roman. Keep the font size at around 11–12.
Keep your data entry resume length to 1–2 pages if you're just starting out; go over to the third page if you have lots of relevant experience.
Save and send your resume in PDF format, but keep the editable Word file as well—you can use it later to update your document if needed.
2. Write a Data Entry Resume Objective or Resume Summary
Recruiters will spend only six seconds looking at your resume before deciding whether to contact you or not. To make your data entry resume stand out from the crowd and capture HR attention, write a resume summary, also called a resume profile—
A resume profile is a one-paragraph introduction that appears at the beginning of your resume. Its goal is to demonstrate in 3–4 sentences why you're the best candidate for this position. There are two ways of presenting yourself via resume profile:
Write a resume summary if you've got 2+ years of relevant experience:
Use your title (e.g. Data Transcriber) and add years of experience (3+, 4, etc.).
Add quantifiable data and skills from past positions: list 1 or 2 of your best data entry achievements and say how you'll use your skills to benefit the new employer.
Write a resume objective if you're a recent graduate or if you are in the middle of switching to a new career:
Focus on the achievements and transferable skills you've already acquired
Explain how you can use them to help the company to achieve its goals
Pro Tip: Finish the other sections of your data entry resume first, and then provide a recap in your resume profile.
3. Create the Perfect Data Entry Resume Job Description
You may have a great experience, but remember that some recruiters won't know what "wpm speed" means. So, before sending your resume, make sure to transcribe it correctly so that even Blind Freddie could see why you should be hired:
Put most recent work first, using the reverse chronological order.
Add a job title, company name, dates you worked there, and bullet points describing your professional achievements.
Limit the number of job description bullet points to 4–6; include only the most relevant ones.
Start each bullet point with an action verb.
Focus on measurable accomplishments, not just general duties and tasks.
Match the job offer with a targeted work experience section.
Pro Tip: If you are a new fish on the data entry market, move the job description below the education section to show yourself in the best possible light.
4. Make Your Resume Education Section Count
Everyone says that the education section of your data entry resume doesn't matter. After all, a degree is not necessary to work as a data entry operator.
But—
Your schooling can help to get you hired, especially if your education is somehow related to the field of data entry. And in any case, failing to mention your education is a classic error of omission.
If you are an experienced data transcriber (5+ years), list only your school name and location, years of attendance (or graduation year), and the level of education you obtained.
Not quite there yet in terms of experience? Add some academic "wins" to this section. Make a list of all your accomplishments first, and then choose the 4–6 things that most closely match the job offer. Relevant coursework, extracurricular activities, projects, or awards are all fair game.
Quick and simple, right? And it makes for another opportunity to show what you're good at.
When making a resume in our builder, drag & drop bullet points, skills, and auto-fill the boring stuff. Spell check? Check. Start building a professional resume template here for free.
When you're done, Zety's resume builder will score your resume and tell you exactly how to make it better.
5. Highlight Your Data Entry Skills
Doing well so far! Now the time has come to select the right skills to add to your data entry resume:


Build your master list of all the skills that you've acquired during your job experience: soft skills and hard skills, technical skills, software proficiencies, etc.
Compare the list with the skills requested in the job ad and choose 6–10 that you can add to your resume.
Here's a sample list of data entry skills to get you started:
Data Entry Resume Skills
Microsoft Office package
10-key experience
ERP software: SAP, Microsoft Dynamics,
CRM Software: Salesforce, Zoho, HubSpot
Accounting software: Quickbooks, SAP
Attention to detail
High accuracy
Time management
Communication skills
Troubleshooting
Critical Thinking
Pro tip: The skills list is not the only place to talk about your abilities: remember to also mention your skills in the education and job description sections.
6. Add Additional Sections to Your Data Entry Resume
You little reaper!
You've finished writing the most important resume sections. But don't be so stoked just yet! Now it's the time to demonstrate your uniqueness by adding extra sections to your data entry resume:
Include language skills, projects, awards, certifications, hobbies, volunteer work, or whatever seems to fit.
The idea is to focus only on things that are directly relevant to the job, though, so avoid listing skills or interests that have nothing to do with data entry.
If the job ad calls for certain certificates which you have, list them in a separate section of your resume.
Read more: How to Write a Resume in Australia: Examples and Guide
7. Attach a Cover Letter to Your Software Engineer Resume
Already rooted? No worries, there is only a cover letter left to write.
Yes, you've seen it right. Cover letters are still preferred by the majority of the employers. 56% of recruiters may not even check your application if there's no cover letter attached.
So, how to write a cover letter? Use the following strategy:
Choose a clear cover letter format.
Engage the reader in the opening paragraph.
Show how your experience will translate into their success.
Close the deal with an offer and encourage the HR manager to contact you.
Remember to keep it brief. One page is more than enough to show the recruiter how gnarly you are!
Plus, a great cover letter that matches your resume will give you an advantage over other candidates. You can write it in our cover letter builder here. Here's what it may look like: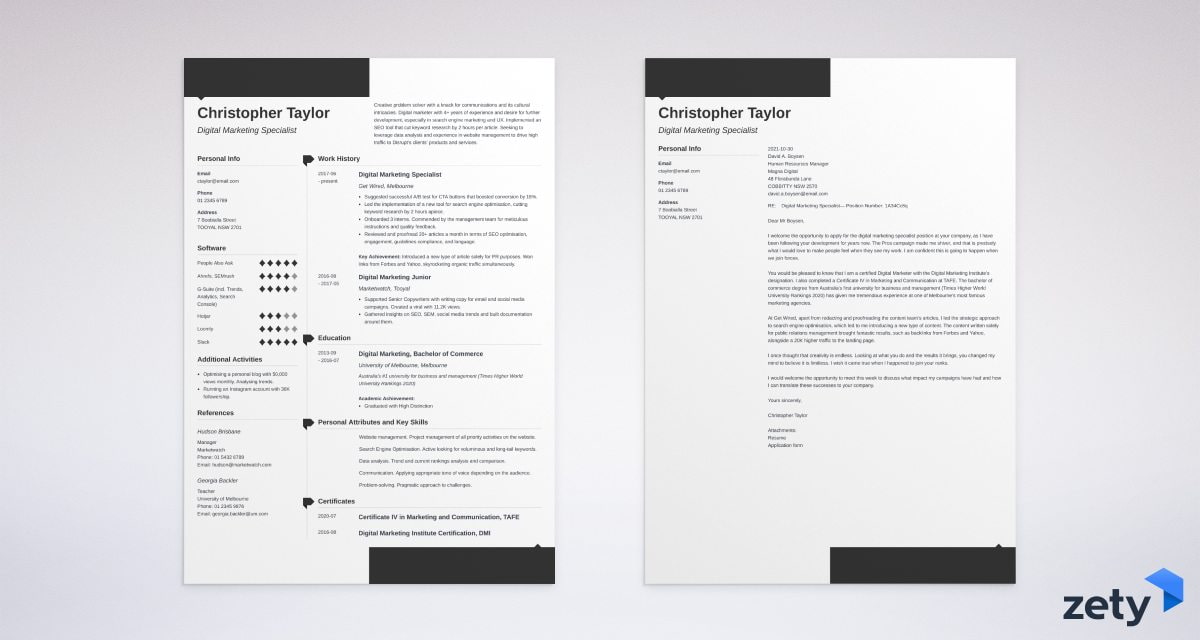 See more cover letter templates and start writing.
And there it is—
Your perfect resume for data entry analyst, data entry clerk and data entry transcriber positions.
Do you have tips or thoughts about making a successful data entry resume? Let us know in the comments section!