Bartender Resume / CV: Example, Skills, Job Description
Ahem. Hack. Oh, dusties! And I mean your resume, not the old liquors on the back shelf. Refresh your bartender resume and serve the cocktails to the masses.
"Oi! Two more to the table."
You're smiling through your teeth because you know it's just temporary. You needed to start somewhere.
So you serve the drink and go back to dancing behind the bar.
Write an exquisite bartender resume to have nobody snap their fingers at you ever again.
This guide will show you:
A bartender resume examples better than 9 out of 10 other resumes.
How to write a bartender CV that will land you more interviews.
Tips and examples of how to put bartender skills on a resume.
How to describe your job on a bartending resume to get where you want.
Want to save time and have your resume ready in 5 minutes? Try our resume builder. It's fast and easy to use. Plus, you'll get ready-made content to add with one click. See 20+ resume templates and create your resume here.
Sample resume made with our builder—See more templates and create your resume here.
Find a list of contents for this article:
Bartender Resume / CV Example
Eden Vaccari
Email: edenvaccari@email.com
Mobile: (01) 2345 6789
Personal statement
Organised multitasker working in bartending roles for 3+ years. As a bartender at La Mañana, gained 30+ new, loyal customers per month thanks to mixology and interpersonal skills. Confident in POS management for both cash and credit cards. Seeking career opportunities at Sebastian & San to deliver a tasteful experience for over 1000 customers weekly.
Employment History
Bartender
La Mañana, Adelaide
January 2019–Present
Responsibilities and Achievements:
Mixed and served drinks and soft beverages to bar and restaurant guests (50+ on weekdays and 100+ during weekends).
Prepared speciality drinks for bar events based on seasonality.
Managed stock and supplies inventory (over 35 types of liquors and soft drinks).
Ensured cleanliness and organisation of the bar area.
Handled cash and credit card transactions.
Key achievement:
Built a 20-people group of loyal customers thanks to creating tasteful custom cocktails.
Waiter
Joe's, Adelaide
October 2016–December 2018
Responsibilities and Achievements:
Greeted, seated, and waited for over 40 customers at a time.
Recommended the day's specials along with beverages.
Set and reset tables according to place settings.
Education
Glenunga International High School
2012–2016
Grade A for Event management classes from Year 10 to 12, including analysis of client needs and how to respond to their expectations, budget management, and trend research.
Volunteering
Cocktail Bartender
Cocktails from Eden
February 2018–October 2018
Responsibilities and Achievements:
Served alcoholic beverages and non-alcoholic drinks to verified and legal-aged guests.
Decorated bar according to the wedding venue's theme.
Key achievement:
Placed flair bartending in the offer, boosting revenue by 24%.
Personal Attributes and Key Skills
Interpersonal skills. Empathetic communicator focusing on customer's preferences.
Teamwork. Trustworthy team player ready to take over shifts in emergencies.
Organisation. Performing duties in the established order, closing and opening the bar as scheduled.
Multitasking. Handling a number of customers' orders at a time without failure.
Composure. Working well under pressure, staying calm in tense situations at a bar.
Precision. Mixing cocktails and preparing drinks according to long-standing recipes.
Physical fitness. Carrying, loading, and unloading heavy loads and equipment.
Great memory. Active listener, memorising and serving to client's requests.
Mixology. Advanced knowledge of bartending and mixology.
Point of Sale (POS) systems. Experienced in cash management and terminal transactions.
Professional Certifications
Advanced Bartending Course, by European Bartender School, August 2019.
Hospitality / World of Bartending Course, by TAFE SA, November 2017.
Responsible Service of Alcohol (RSA), by TAFE SA, November 2017.
Languages
References
References available upon request.
This is how to write a resume for a bartender in Australia:
1. Prepare a No Fuss Bartender Resume Format
A bartender mixes and serves alcoholic and non-alcoholic beverages together with snacks to customers at the bar. Plus, they take care of the bar stock. So to get the job, your bartender resume needs to prove customer service is a hobby, you thrive in a fast-paced environment, and mixology is your mother tongue.
Now imagine—
A customer wants to stand up, but their jacket gummed to the bar.
Eww.
What kind of bartender doesn't wipe their counter!
Before you get the shot to prove your cleaning skills, clean up your bartender resume formatting. If there's something slimy, your recruiter will get grossed out.
Make enough space for your accomplishments—1 to 1.15 between lines and 1" margins on all sides.
Choose a legible font. Arial or Calibri is great.
Go for 2–4 resume pages when you have experience, or 1–2 if you're writing an entry level bartender resume.
Decide between resume formats. Applicant Tracking Software and recruiters prefer the reverse-chronological one.
Create clear resume sections: header, personal statement, experience and education, skills.
Include your full name and basic contact information (phone number and email address) in the header. Make it stand out from the rest of your resume.
ProTip: Check what file format your recruiter wants. If they didn't mention it in the job posting, export your bartender resume to PDF.
2. Write a Bartender Career Statement
Juggling bottles and shakers is your flair trick. That's one way to prove you're the best bartender out there.
How about you do some of that bar magic to write a personal statement:
Draft a smashing career summary if you have enough experience and achievements. Drop a skill here and there, and there you go!
For a bartender resume with no experience, write a resume objective. That one focuses on your aspirations towards becoming a bartender. But—you, too, need to exhibit skills from the bartending repertoire, such as communication and your knowledge of mixology.
ProTip: Just like the section's name says—it's personal, so make it sound like you. That is the only section where you can use descriptive language. The rest of your bartender resume should stay fact-based.
3. Show off Your Experience in Your Bartender Job Description
The worst best part of a bartender job?
Standing behind the stick at a packed bar.
Use that to your advantage and make your bartender job description show that you can meet customer needs during happy hours. When adding experience to your bartender resume:
Include your job title, company name, and timeframe (month and year).
List your achievements, not your bartender responsibilities. Use the CAR formula for that.
Match each of your achievements with qualities and skills your employer's looking for. You'll find that information in the job description.
Start your bullet points with power verbs.
Add numbers to your accomplishment statements (50+, 99, 2-fold).
ProTip: Internships, volunteer placements, and side jobs are also your work experience. If you've gained relevant qualifications and qualities there, use them on your entry level bartender resume to prove you've got what it takes to kick off.
4. Build Your Education Section
Preparing a Black Russian can either be easy or extremely easy. It's no different with the resume education section.
If you have relevant experience as a bartender, add the highest degree you completed, plus when and where.
If you don't, do the same, but with a handful of your academic achievements, like receiving a Distinction or making the Dean's list. You can add relevant coursework, too, if you studied hospitality or took related courses.
When making a resume in our builder, drag & drop bullet points, skills, and auto-fill the boring stuff. Spell check? Check. Start building a professional resume template here for free.
When you're done, Zety's resume builder will score your resume and tell you exactly how to make it better.
5. Show Off Your Abilities in Your Bartender Resume Skills Section
So, you already know and offer your regulars' favourite drinks, yet they trust you enough always to prepare something new?
That's sick!
You slay in both soft and hard skills.
Present exactly that in your bartender CV skills section.
Go through the job ad again and mark the skills desired from you.
Use those keywords in creating your skills list. If the job ad says "mixology," don't say "mixing alcohol with precision". Use the word they used.
Never lie. It's highly unlikely the manager won't put your skills to the test.
Bartender Skills Resume
Interpersonal skills
Communication skills
Customer service skills
Social perceptiveness
Teamwork
Adaptability
Organisational skills
Multitasking skills
Composure
Problem solver
Precision
Physical fitness
Great memory
Mixology
Point of Sale (POS) systems
Technical skills
6. Blend In Additional Sections
"Jesus wept! What was that?!"
And now you're scratching your head whether to give up your secret ingredient.
For your resume's sake, don't be secretive. Show all your success cards by working in additional sections.
Certifications and licenses say more than a thousand words. Holding TAFE, EOT, or EBS certificates? Make room for them!
Bartending means working with locals and tourists. Prove you can build relationships with everyone and add your language skills.
Volunteering is an excellent way to show off your engagement outside school and work.
Bartender of the year? That's an award everyone wants to hear about.
Conferences or events can do you a world of good. They're examples of your genuine interest in the industry.
ProTip: These sections can work for or against you. Either you go for the win or lose precious whitespace. Make a splash by adding items that are relevant to the job you're applying for. Don't dwell on projects that have nothing to do with hospitality, event management, and bartending.
7. Create a Menu of References
As a bartender, your name is your brand.
Evan Stroeve. Kayla Saito.
Bang on. That's what I meant.
Before you make it, include references in your resume for a bartender.
Add two people who'll vouch for you and your qualifications. They can't be your relatives.
Choose your former employers and ask them if they agree to be your references.
If they're fine with sharing their contact details, mention their names, job titles, company names, phones, and email addresses. If they are not, write "References available upon request." The recruiter will contact you later.
8. Top Your Bartender Resume With a Cover Letter
The need for bar attendants is growing. And will continue to grow, at least for the upcoming five years, together with your competition. So—
Don't lose your chance at holding staff meetings a couple of times a day. Follow the specs for how to write a cover letter:
Use the same formatting as in your resume. Just add double-spacing between paragraphs.
Copy the header with your contact information.
Address the hiring manager by Dear + Mr or Ms and their last name.
Use a hook in the opening to lure the reader in. Move on swiftly to your experience and skills. Sum it up with a bold call to action, and sign off.
Don't copy your resume content, but rather elaborate on one of your achievements. Say how you got there.
Keep it one page long.
Plus, a great cover letter that matches your resume will give you an advantage over other candidates. You can write it in our cover letter builder here. Here's what it may look like: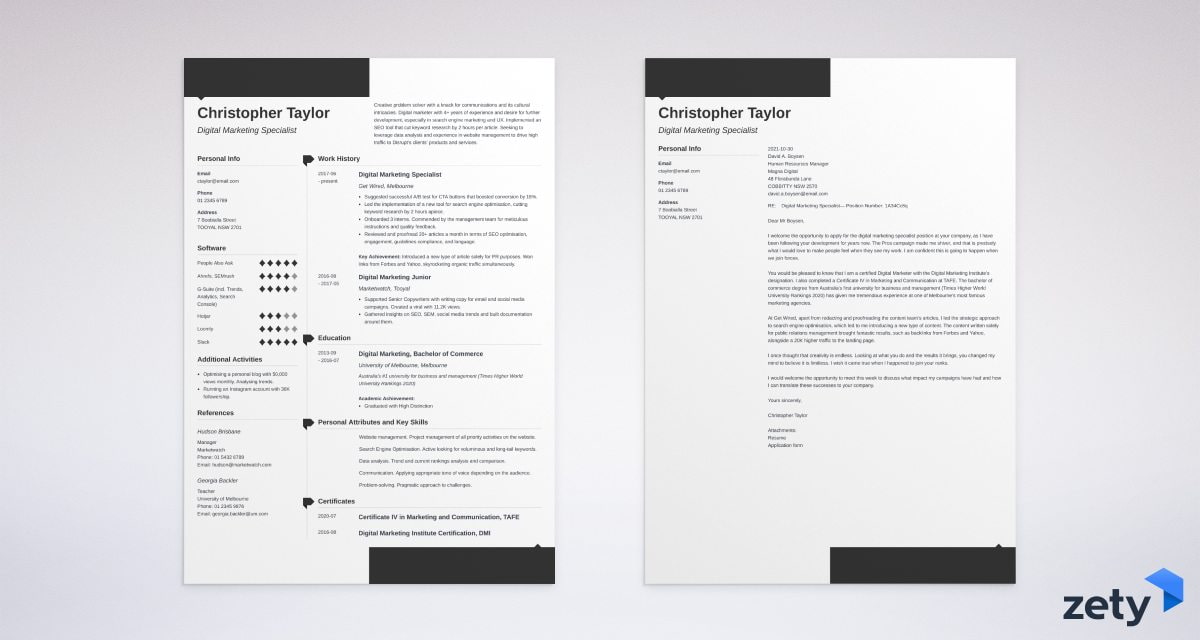 See more cover letter templates and start writing.
Whacko!
That's it.
Please tell us—
Do you think the above examples and tips for how to write a bartender resume are helpful? Is there anything missing? Maybe we should focus more on bartender resume examples with no experience? Give us a shout in the comments section!