Best Administrative Assistant Resume Guide & Sample
Write an administrative assistant resume? As if you haven't got enough paperwork, right? Relax, our guide will turn writing your resume from 'no chance' into 'no worries.'
Other office jobs might get the glory, but administrative assistants are the unsung heroes of the workplace. The quietly competent ones completing all the nuts and bolts tasks that hold an organisation together.
The only problem? Getting that down on paper. How can you make sure that you'll have your pick of the best admin jobs?
It's simple—

With an administrative assistant resume that'd make Miss Moneypenny proud.

Create a database of your skills, schedule in your clerical experience, and your next job hunt will be faster than a 200 WPM typing speed.
You're about to see:
An administrative assistant resume example that puts 9 out of 10 other resumes in the shade.
How to write an administrative assistant resume that'll score you more interviews.
Expert tips and examples, so you can see how to best show off your skills and achievements on your administrative assistant resume.
How to describe your experience on your resume for administrative assistant jobs to land the best admin jobs out there.
Want to save time and have your resume ready in 5 minutes? Try our resume builder. It's fast and easy to use. Plus, you'll get ready-made content to add with one click. See 20+ resume templates and create your resume here.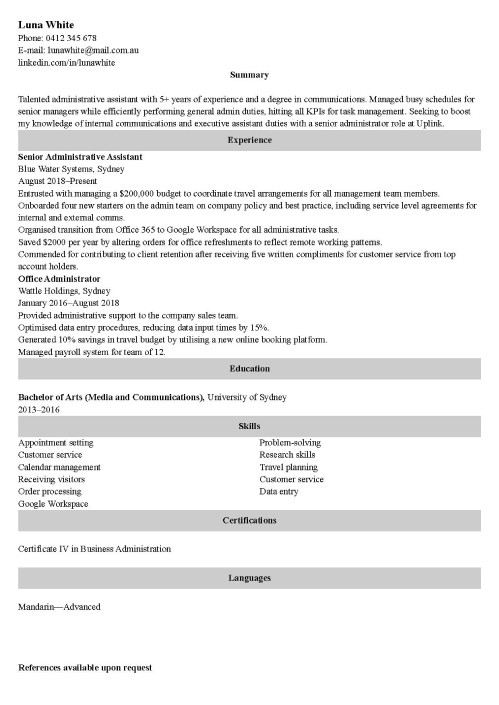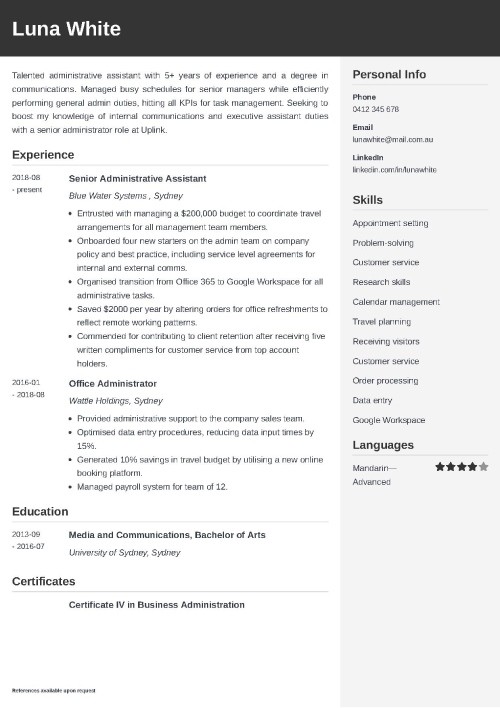 Sample resume made with our builder—See more resume examples here.
Administrative Assistant Resume Sample
Luna White
Phone: 0412 345 678
E-mail: lunawhite@mail.com.au
linkedin.com/in/lunawhite
Summary
Talented administrative assistant with 5+ years of experience and a degree in communications. Managed busy schedules for senior managers while efficiently performing general admin duties, hitting all KPIs for task management. Seeking to boost my knowledge of internal communications and executive assistant duties with a senior administrator role at Uplink.
Experience
Senior Administrative Assistant
Blue Water Systems, Sydney
August 2018–Present
Entrusted with managing a $200,000 budget to coordinate travel arrangements for all management team members.
Onboarded four new starters on the admin team on company policy and best practice, including service level agreements for internal and external comms.
Organised transition from Office 365 to Google Workspace for all administrative tasks.
Saved $2000 per year by altering orders for office refreshments to reflect remote working patterns.
Commended for contributing to client retention after receiving five written compliments for customer service from top account holders.
Office Administrator
Wattle Holdings, Sydney
January 2016–August 2018
Provided administrative support to the company sales team.
Optimised data entry procedures, reducing data input times by 15%.
Generated 10% savings in travel budget by utilising a new online booking platform.
Managed payroll system for team of 12.
Education
Bachelor of Arts (Media and Communications), University of Sydney
2013–2016
Skills
Appointment setting
Problem-solving
Customer service
Research skills
Calendar management
Travel planning
Receiving visitors
Customer service
Order processing
Data entry
Google Workspace
Certifications
Certificate IV in Business Administration, 2018
Languages
References available upon request
Now, here's how to write a flawless administrative assistant resume:
1. Use the Best Format for Your Administrative Assistant Resume
An administrative assistant carries out clerical tasks that support the running of a workplace. They're among the most important employees in any organisation, ensuring that processes run smoothly. So your administrative assistant resume has to show you can excel in this business-critical role.
Problem is, recruiters skim through your resume in seconds. So you need to grab their attention fast. Follow these resume formatting rules and you'll be set:
Start with your contact information, so they can get in touch.
Choose the best resume format. For most administrative assistant jobs, that's the chronological layout. It emphasises your experience and achievements, so the recruiter can see your strengths in an instant.
Use a professional and legible CV font, and include lots of white space for classic styling that boosts readability.
Save your administrative assistant resume in PDF format. It'll keep your layout intact, it's more secure, and it's readable across a wide range of apps and devices.
And how long should a resume be for administrative assistant jobs? If you've got enough experience and achievements for a two-page resume or longer, then go for it. Otherwise, stick to a one-page resume.
2. Write a Resume Objective or Resume Summary
A resume objective or resume summary is also called a resume profile. It's a short paragraph, 3–4 sentences long, right at the top of your resume. Its purpose is to explain why you're the best choice for the job. Here's how to write one.
Choose a resume summary if you have two or more years of relevant experience:
Put your filing skills to good use by creating a detailed, well-thought-out file of your professional selling points.
Then choose 3 or 4 of your strengths that match the job description and combine them with your job title and years of experience to write your resume summary.
Choose a resume objective if you've just left education, or you're a career changer:
Think of measurable wins and transferable skills from previous jobs or your education.
Then use that information to set out why you'd be a perfect fit for the role.
If you're struggling to write your resume profile, skip it for now and leave it until it last. You'll find it easier to summarise your achievements with your experience, education, and skills sections already set out.
3. Create the Perfect Administrative Assistant Resume Job Description
Your administrative assistant resume experience section needs to make your admin and organisational experience shine. Here's how to write it:
Start with your most recent job and work back over your employment history in reverse chronological order.
In each entry, include your job title, your employer's name and location, the dates you worked there, and up to six descriptive bullet points.
For older jobs, cut back on the number of bullet points and only include your most relevant professional accomplishments.
Start each bullet point with a snappy resume action word, not with a repetitive list of 'responsible fors.'
Include plenty of measurable, quantified achievements, not just a list of tasks.
Write a targeted resume work experience section to match the job on offer.
Pro Tip: If you don't have any experience then give volunteering a try. There are plenty of volunteer admin jobs available, many of them for charities, so you'll be doing a good deed as well as polishing your resume.
4. Get Your Administrative Assistant Education Section Right
It's easy to overlook the education section on your administrative assistant resume. After all, nobody reads it, right? Wrong. You do need an education section, recruiters do read it, and it can be particularly useful if you're writing an entry-level administrative assistant resume.
Here's how to use it to your advantage:
If you have 5 or more years of experience then all you need are the basics: the name of your school or university, its location, the years you attended, and the certificate or degree you obtained.
Haven't quite got there yet? Spruce up your education section with some wins from school or uni. Make a list of all your educational accomplishments to start with, choose a few that match the job description, and include them as bullet points below your basic info.
And if you've only just graduated and have very little professional experience, it's perfectly fine to put your education section before your work experience section. That way, you'll show your strongest points first.
When making a resume in our builder, drag & drop bullet points, skills, and auto-fill the boring stuff. Spell check? Check. Start building a professional resume template here for free.
When you're done, Zety's resume builder will score your resume and tell you exactly how to make it better.
5. Highlight Your Administrative Assistant Skills
Admin assistants do a lot. You need to be skilled in using software to create reports and spreadsheets, managing schedules, updating databases, paying vendors, using phone systems and that's just the start.
Here's how to include that broad skill set on your resume:
Create a master list of all your professional skills. Include soft skills, hard skills and technical skills to show the full depth of your knowledge.
Then pick skills that are relevant to the job and include them on your resume. 5–10 is a good number for your skills section, but don't stop there. Add proof by weaving skills throughout your resume, showing how you used them to achieve success.
Administrative Assistant Resume Skills
Appointment setting
Problem-solving
Customer service
Research skills
Calendar management
Travel planning
Receiving visitors
Customer service
Order processing
Data entry
Google Workspace
And it's easy to improve your skills. The federal government portal, myskills, is a great place to start to find all sorts of training opportunities.
6. Add Extra Sections to Your Administrative Assistant Resume
You could stop with your skills section and have a resume that's good enough. But just good enough doesn't cut it in a competitive market. The number of admin roles available has fallen over the past five years, so you've really got to prove yourself to get the job.
Add extra sections to your resume, and you'll be ahead of the game:
Effective choices include language skills, awards, hobbies, certifications, and volunteer work. If it's relevant and shows additional skills and experience, include it.
Aim to add a little wow factor to really make the recruiter sit up and pay attention.
Finally, remember to include professional references at the end of your resume document. Alternatively, use the phrase References available upon request.
7. Attach a Cover Letter to Your Administrative Assistant Resume
Cover letters haven't carked it. Around half of hiring managers will refuse to read your resume if there isn't a cover letter attached.
Here's how you make it count:
Use a proper cover letter format.
Start your cover letter powerfully by using a 'hook.'
Prove that your experience can contribute to their success.
End your cover letter with a bang with an offer and call to action.
And choose the right cover letter length. Never more than one page.
Plus, a great cover letter that matches your resume will give you an advantage over other candidates. You can write it in our cover letter builder here. Here's what it may look like: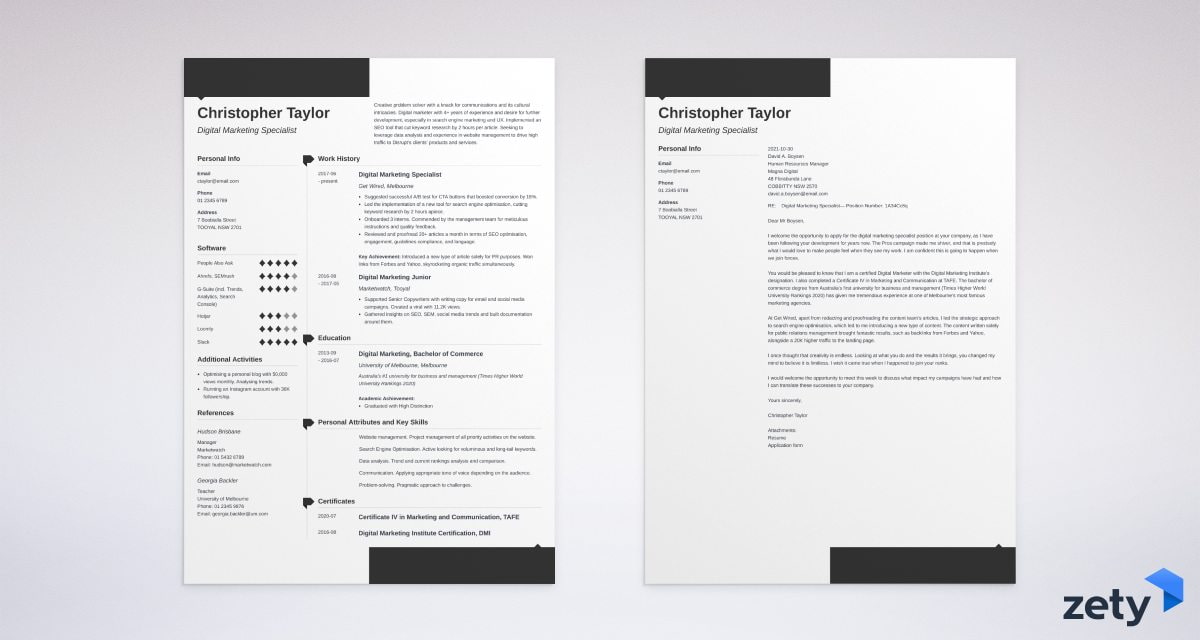 See more cover letter templates and start writing.
So that's how you write the perfect resume for administrative assistant jobs.
Got any feedback for us or any questions about writing an administrative assistant resume? Hit us up in the comments section and we'll be happy to help.