Cook Resume: Sample, Job Description & Skills
If only writing a cook resume was as easy and straightforward as meal prep… Oh wait, maybe it is! Read on for directions and ingredients.
You can come up with the most exquisite taste combos, know a million ways to make eggs, and are fluent in spices. But a recipe for a perfect cook resume? That's not something they teach you at culinary school.
There's nothing that can't be saved with a bit of the right sauce, isn't that what they say? Well, we do have the secret sauce for a cook resume that's a chef's kiss.
This guide will show you:
A cook resume example better than 9 out of 10 other resumes.
How to write a cook resume that will land you more interviews.
Tips and examples of how to put skills and achievements on a cook resume.
How to describe your experience on a resume for a cook to get any job you want.
Want to save time and have your resume ready in 5 minutes? Try our resume builder. It's fast and easy to use. Plus, you'll get ready-made content to add with one click. See 20+ resume templates and create your resume here.
Sample resume made with our builder—See more templates and create your resume here.
Looking for something similar? Have a look at these guides:
Sample cook resume for Australia
Alexis Lind
Cook
(02) 4092 9954
alexislind@email.com
linkedin.com/in/alexis.lind04
Summary
A passionate, detail-oriented cook with over 2 years of experience in various kitchen roles. Striving in fast-paced environments, working well under pressure, and focused on consistency and quality. Brought in great reviews and new customers for Carlo's and Nobu through an unconventional approach to customer service and presentation. Eager to deliver ultimate satisfaction and a top culinary experience to every client of Ralph's Kitchen.
Experience
Line Cook
Nobu, Brisbane
May 2021–Present
Key Qualifications & Responsibilities
Ensuring supplies are in place, properly stored, and the stock is at 100% capacity.
Preparing all the ingredients and food items required for speedy assembly of dishes.
Making food in a timely manner, according to the chef's instructions, industry best practices, and safety standards.
Operating in the spirit of teamwork, mutual respect and cooperation, securing the #1 position on TripAdvisor as "Friendliest Spot for Locals".
Key Achievement:
Introduced a new way of presenting the special that became an Instagram sensation, bringing in 5x more clients within the first week and resulting in over $20,000 in added revenue.
Kitchen Hand
Carlo's, Brisbane
April 2020–March 2021
Key Qualifications & Responsibilities
Maintained cleanliness of kitchen/equipment, ensuring 5-star compliance during inspections.
Processed and assembled up to 70 deliveries per day.
Set up cook workstations, preparing the necessary ingredients and tools.
Key Achievement:
Restaurant was named "Top Delivery Location" due to high customer satisfaction related to precise order preparation and "personal touch" (added cards with positive messages to every order).
Education
Certificate III in Commercial Cookery
Front Cooking School, Brisbane
October 2020–June 2021
Skills
Menu planning
Bulk food prep
Kitchen maintenance
Knowledge of safety regulations
Food presentation
Responsibility
Teamwork
Attention to detail
Languages
English—Native
French—Intermediate
Interests
Running a food blog with 6K+ subscribers, focusing on meal presentation and aesthetics.
Maintaining a loyal TikTok following (most popular video with over 1M views) with videos on similar topics (prep, behind the scenes, presentation).
Here's how you write a cook resume that's utterly al dente:

1. Arrange your cook resume in the right format
Cooks are responsible for all stages of preparing meals—from receiving orders to selecting ingredients, producing dishes that comply with food safety regulations, and maintaining the kitchen. A cook resume aims to showcase your training and skills to prove that you're fit for the job.
With that goal in mind, you have to start your resume of a cook with the following:
Select a resume format that focuses on your right strong suits (reverse-chronological is the classic resume format).
Select a simple resume template to ensure you get all the sections correctly and don't miss anything.
Play around with resume fonts; use italics and bold type to highlight important information.
Start with creating a resume header containing your name, desired position, and contact details.
Download as a PDF once you're done; this will keep the layout intact on all devices.
Want to dig deeper into how to get each resume section right? This guide is for you: How to Write a Resume for a Job
2. Whip up a resume summary or objective
Once you're done with the easy part (i.e., resume header), you can move on to the true challenge of any resume: the summary.
The summary of a cook resume is basically a carefully curated "about me" paragraph. This is how you come up with it:
Think of your career highlights, outstanding skills, industry awards and other prominent achievements, and list them in a separate file.
Look back at the job description and do some research about the place you're willing to work for.
Choose matches from your file.
If you're new to this community and don't have a lot of experience, you should write a resume objective for your cook resume. It may include:
Details about your training and transferable skills.
Your career aspirations.
Statements expressing your willingness to learn and join that specific team and work environment.
Pro Tip: If you're struggling to get this part right, leave writing it till when the resume is finished. It'll be much easier to summarise what you've written and avoid repetition.
3. Fire up the job description
Food service jobs are projected to grow by over 13% in the next five years, which means the competition will grow, too. To stand out in the competition, you'll need a resume tailored to each position you apply for—a generic one just won't cut it.
Naturally, your previous gigs are the strongest proof that you've got the chops. For that reason, there's no need to be shy and hide your impressive professional accomplishments! Show them off, but be strategic about it—emphasise how your new employer could potentially benefit from your experience:
Begin with the most recent job, and go backwards.
Include the job title, name of the place you worked at, the time frame, and 3–6 bullet points for each job.
In each bullet, describe your responsibilities and, most importantly, measurable results.
Start with action verbs, and make it clear that you've developed the skills the new job requires.
If you don't have a lot of experience, find a way to show that you have transferable skills that will allow you to get a grip on the job ASAP.
4. Garnish your cook resume with an education section
While your educational background may vary, it's still important to mention what kind of training you have:
If you hold a degree or went to a culinary/vocational school or community college, list the name of the establishment and your degree, location, plus the duration of your studies.
If you don't have much experience, you may add a bullet point or two describing the qualifications you've acquired during your studies.
If you don't have a degree, list your high school education.
When making a resume in our builder, drag & drop bullet points, skills, and auto-fill the boring stuff. Spell check? Check. Start building a professional resume template here for free.
When you're done, Zety's resume builder will score your resume and tell you exactly how to make it better.
5. Infuse your cook resume with skills
It's always a good idea to present the hiring side with a clearly visible, easily scannable, concise list of your relevant professional skills. Here's how you do it:
Assemble a "master list" of all your professional skills. That should include not just hard skills but also the soft skills you've developed over the years.
Refer to the job ad, and select the skills for your resume that make the most sense for the position. Be sure that it correlates with your training and what you've written in the work experience section.
In the end, the section should look something like this:
Cook resume skills
Culinary expertise
Presentation
Menu development
Batch cooking
Kitchen management
Compliance with food safety regulations
Creativity
Multitasking
Time management & prep
Teamwork
6. Dress your cook resume with additional sections
Thinking of adding a cherry on top of your cook resume? Do it with extra resume sections. These work great for:
Professional certifications, accolades, or training statements.
Hobbies and interests that are somehow related to the job and could prove useful.
Volunteer work.
Language skills.
It's a known fact that you need way more than just chopping skills to succeed in this career, so adding some relevant interests to your resume could make all the difference. Have you studied nutrition? Mention it. Obsessed with food presentation and have a full-blown blog about it? You know what to do.
You can come up with your sections—just make sure they really help you add some extra zing.
7. Pair your cook resume with a cover letter
Time to slip some extra shrimp on the barbie. Yes, your application isn't complete without a cover letter—but that's a great thing! This is where you can go ahead and truly add a personal touch.
Here are some basic tips on how to write a cover letter for a cook:
Apply proper cover letter formatting, just like with your cook resume.
Don't waste time on clichés—get them hooked right away. Describe your vision, your outstanding skills, and your amazing work ethic.
Don't go over 2–3 paragraphs—that's more than enough.
Add a call to action at the end: say that you'd be happy to discuss your qualifications further during a call or in-person interview.
Plus, a great cover letter that matches your resume will give you an advantage over other candidates. You can write it in our cover letter builder here. Here's what it may look like: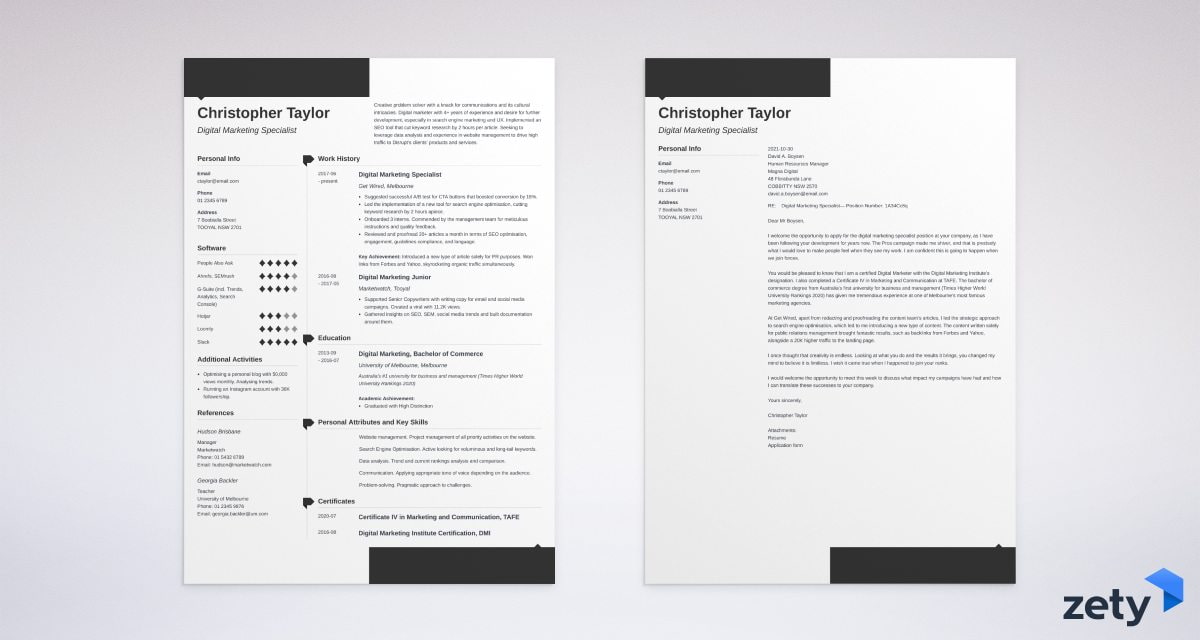 See more cover letter templates and start writing.
And that's about it! You have all the ingredients you need for an excellent cook resume.
Any extra tips you have in mind to spice up a resume of a cook? Comment below and let us know what you think!