Business Analyst Resume: Guide for Australia + Sample & Tips
You can bridge the gap between business and technology. Now, learn how to write a business analyst resume that will be the bridge to your next dream job.
Business analysts study massive bodies of data to reveal the big picture. Odd data bits become clear solutions. Beautiful, isn't it?
And also not that far from what recruiters do.
See, recruiters are problem-solvers, too: they go through hundreds of resumes trying to find a match.
Want your business analyst resume to be that shoo-in? You'll have to give them what they're looking for.
This guide will show you:
A business analyst resume example better than 9 out of 10 other resumes.
How to write a business analyst resume that will land you more interviews.
Tips and examples of how to put skills and achievements on a business analyst resume.
How to describe your experience on a resume for a business analyst to get any job you want.
Want to save time and have your resume ready in 5 minutes? Try our resume builder. It's fast and easy to use. Plus, you'll get ready-made content to add with one click. See 20+ resume templates and create your resume here.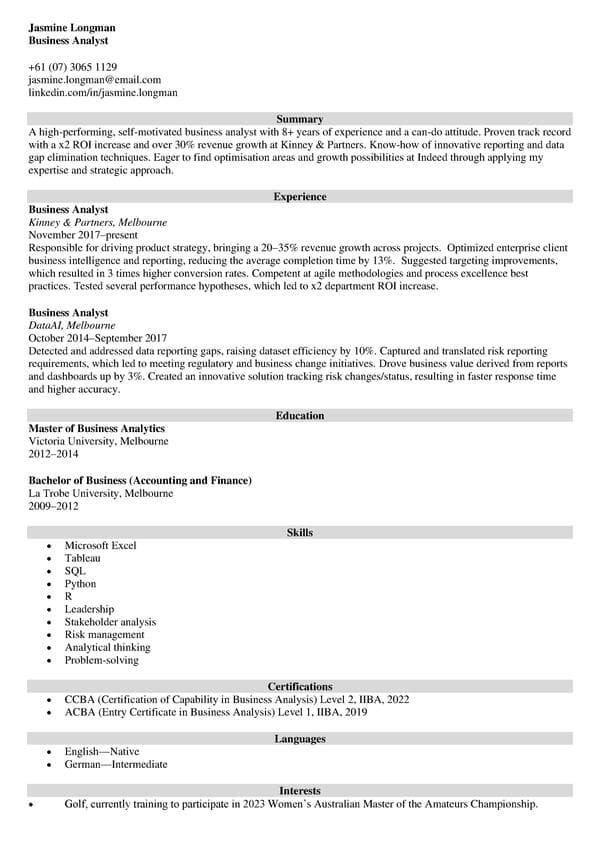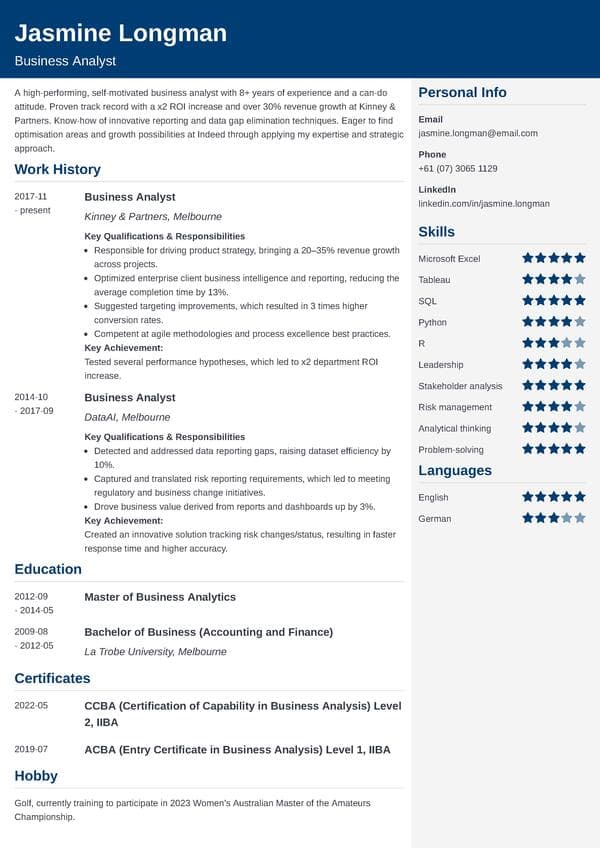 Sample resume made with our builder—See more templates and create your resume here.
Business analyst resume template
Jasmine Longman
Business Analyst
+61 (07) 3065 1129
jasmine.longman@email.com
linkedin.com/in/jasmine.longman
Summary
A high-performing, self-motivated business analyst with 8+ years of experience and a can-do attitude. Proven track record with a x2 ROI increase and over 30% revenue growth at Kinney & Partners. Know-how of innovative reporting and data gap elimination techniques. Eager to find optimisation areas and growth possibilities at Indeed through applying my expertise and strategic approach.
Experience
Business Analyst
Kinney & Partners, Melbourne
November 2017–present
Key Qualifications & Responsibilities
Responsible for driving product strategy, bringing a 20–35% revenue growth across projects.
Optimized enterprise client business intelligence and reporting, reducing the average completion time by 13%.
Suggested targeting improvements, which resulted in 3 times higher conversion rates.
Competent at agile methodologies and process excellence best practices.
Key Achievement:
Tested several performance hypotheses, which led to x2 department ROI increase.
Business Analyst
DataAI, Melbourne
October 2014–September 2017
Key Qualifications & Responsibilities
Detected and addressed data reporting gaps, raising dataset efficiency by 10%.
Captured and translated risk reporting requirements, which led to meeting regulatory and business change initiatives.
Drove business value derived from reports and dashboards up by 3%.
Key Achievement:
Created an innovative solution tracking risk changes/status, resulting in faster response time and higher accuracy.
Education
Master of Business Analytics
Victoria University, Melbourne
2012–2014
Bachelor of Business (Accounting and Finance)
La Trobe University, Melbourne
2009–2012
Skills
Microsoft Excel
Tableau
SQL
Python
R
Leadership
Stakeholder analysis
Risk management
Analytical thinking
Problem-solving
Certifications
CCBA (Certification of Capability in Business Analysis) Level 2, IIBA, 2022
ACBA (Entry Certificate in Business Analysis) Level 1, IIBA, 2019
Languages
English—Native
German—Intermediate
Interests
Golf, currently training to participate in 2023 Women's Australian Master of the Amateurs Championship.
Now, let's see how you write a business analyst resume, section by section:
1. Follow the right business analyst resume format
Business analysts make sure data sets are interpreted properly, bringing positive change and revenue to the business. The purpose of your business analyst resume is to show the recruiters you possess the right skills to turn data into useful info and document your findings through detailed reports.
It's in your nature to plan and structure, and you can approach writing your business analyst resume with the same mindset.
Treat all your skills, achievements, successes as raw data, and the right formatting as a wireframe.
Some tips for a proper layout:
Aim at 2, maximum 4 pages (for a senior business analyst resume with 15+ years of experience).
Use a simple, easy-to-read font like Helvetica or Arial (standard font size is 12 points).
Set margins at 1" on all sides.
Go for 1–1.15 line spacing.
Make good use of headings and bold type to structure the info.
Choose reverse-chronological order to make sure the most relevant positions go first (unless you want to shift focus to something else, then you might go with a different resume format).
Pro Tip: if you struggle to fit everything onto your resume, you can try reducing the font size a bit—but make sure it's still readable. Remember that a page needs some white space not to look "overcrowded". Less is more.
2. Prepare a business analyst resume summary/objective
To get the recruiter to actually read your resume, you should optimise it to the "acceptance criteria"—the hiring manager's expectations.
You don't have much time to capture their attention, so you have to use your initial impact wisely.
The best way to do it is to craft a great business analyst resume summary or objective that delivers the most important message. It's the first body of text on the resume, so it has to be good.
For an experienced business analyst resume, write a resume summary.
For an entry-level business analyst resume, write a resume objective:
Describe what value you could potentially bring to the company.
Emphasise your academic accomplishments and significant coursework.
Focus on soft skills you already possess.
You should also write a resume objective for a career change, blending your current experience with what you're planning to achieve.
Pro Tip: Make sure you target both potential strategic (reduce operational costs, exceed the sales target of a competitor) and functional requirements (improve service quality, target new customer markets).
3. Maximize your business analyst resume job description
Now is the time to talk about what you did in your previous jobs, right?
Wrong.
To nail this section, you have to know a resume-writing benchmark: always tailor it to the job description, with a focus on how you can benefit the company.
As you brainstorm ways to showcase your skills, look for ideas in the list of requirements. Single out keywords or phrases, and make sure to include them in your work experience section.
Here's a checklist of things to keep in mind:
Mention the most recent position first.
Include your job title, company name, and years active.
Use 3–6 bullet points to present your achievements: most important ones always go first, 3 are enough for older positions.
Prove what you're claiming by producing numbers (ROI or efficiency increase in %, reduced number of hours needed for a task, etc.).
Single out one key achievement.
Pro Tip: It always looks extra impressive if you start your bullet points with verbs. Replace common, boring verbs with power verbs like "facilitated …", "overhauled …", or "assembled".
4. Style your business analyst resume education section
Including your education is vital, so list it right after your work experience.
The procedure here is very simple. Here's a little flow chart:
start with most recent → state degree/uni name → add year of enrolment/graduation
If you're a fresher just out of uni and are writing an entry-level business analyst resume, take a slightly different approach:
Switch this section with the previous one (especially if there's no previous work to describe).
Focus on your academic wins, projects you finished during your studies, or maybe a scholarship you won.
Keep anything you add here relevant—the goal is to make up for the experience you don't have yet. Don't add a GPA if it doesn't make you look good.
If there's any additional education you've had, do mention it too. However, if you'd like to highlight your certifications, they might stand out better in a separate section (more on that later).
When making a resume in our builder, drag & drop bullet points, skills, and auto-fill the boring stuff. Spell check? Check. Start building a professional resume template here for free.
When you're done, Zety's resume builder will score your resume and tell you exactly how to make it better.
5. List your business analyst skills on a resume
According to a study, more IT projects fail because of business analysts than they do because of project managers. Reason? Lack of competence.
Definitely a problem statement.
It's a staggering fact, but it also presents a solution: stun the recruiter with an impressive list of skills they can't help but admire (and will want to hire). Persuade them you're one of the superstars.
Add both hard and soft skills (with a focus on soft skills for a fresher business analyst resume):
Business Analyst Skills for a Resume
Microsoft Excel
Tableau
SQL
Python
R
Microsoft Visio
Leadership
Documentation
Stakeholder analysis
Time management
Risk management
Analytical thinking
Problem solving
Communication
6. Leverage other business analyst resume sections
Now that the markup's in place, it requires a little cherry on top.
Remember I promised a sweet spot to showcase your awards, certifications, and other important artefacts? Here it is.
Use this section as a hiring manager's attention magnet. It stands separately from the rest of your resume, which makes it hard not to notice (just what we need).
Things you could add:
Industry awards, publications
Certifications, conferences you attended
Memberships, licences
Volunteering experience
Freelance projects
Publications
Language skills
Pro Tip: The key here is relevance—don't just add skills as generic placeholders. You'll lose momentum, and may achieve a totally opposite result with the hiring manager.
7. Compose a business analyst cover letter
Write something on top of that resume? Aren't we done yet?
No worries, you won't need to chuck a U-ey for this. The cover letter should be in line with the resume you just wrote.
Why is that even necessary? For one thing, a study proved that recruiters look for a candidate with a personality matching the position (and the organization in general)—because it influences job performance directly.
You can't really show a lot of personality on a resume, so the cover letter will provide the right space to do it.
Here are things to keep in mind as you write a business analyst cover letter:
Choose a good cover letter format.
Use the same style as the resume (if you're using resume templates).
Aim for maximum impact with the 1st paragraph (just like the resume). Open with a big achievement, or describe something you're passionate about / can relate to in the company's work culture.
Include more of your (number-powered) achievements to show how you and the company are aligned.
Keep it short. While it is a chance to dwell on your professional life, 3–4 paragraphs will be enough to do the job.
Finish with a CTA (call to action), let the recruiter know you're determined to get that interview.
If you haven't received a reply, do follow up after a week or so. Recruiters are really busy, and this might be another good chance to stand out.
Need more tips on how to make your business analyst cover letter more personalised? Read more: How to Write a Cover Letter: Examples & Templates.
Plus, a great cover letter that matches your resume will give you an advantage over other candidates. You can write it in our cover letter builder here. Here's what it may look like: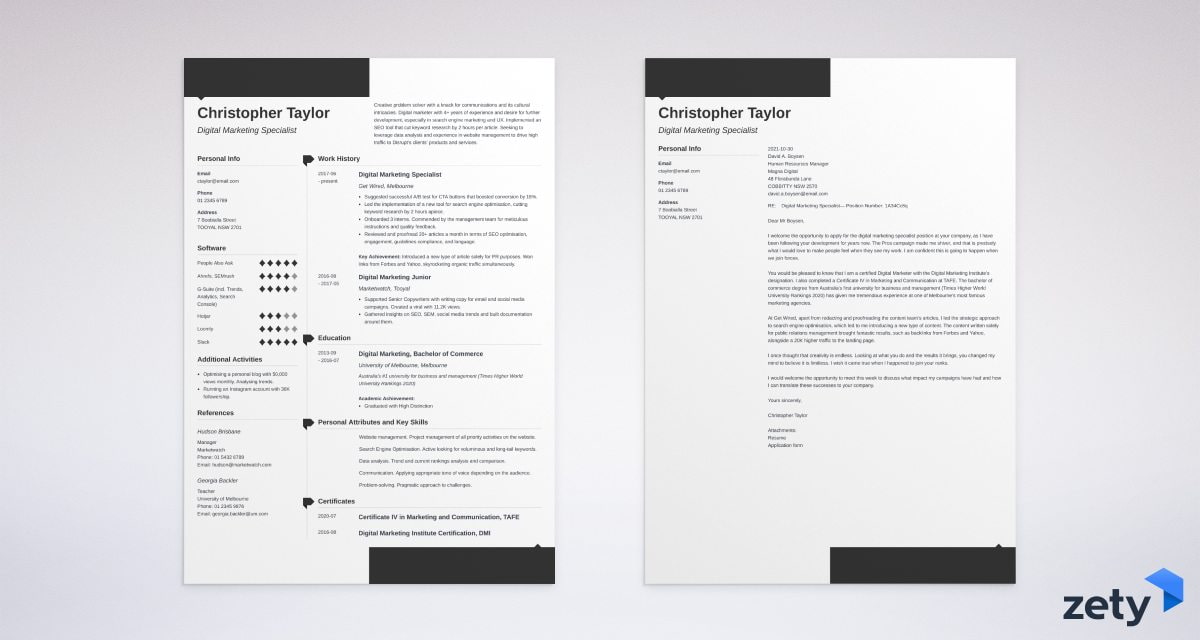 See more cover letter templates and start writing.
You're all set!
Now the only thing you need to do is… actually write that resume.
Thanks for reading! Still not sure about something to do with writing a business analyst resume in Australia? Feel free to start a discussion in the comments and ask us questions about writing efficient business analyst resumes.