So there you are, greeting patients in a shiny office as white as professionally cleaned teeth and helping a kind-hearted dentist bring a big smile back to their faces (maybe the smile won't come until the anaesthetic wears off… but that's a minor detail).
Beep, beep, beep.
Oops, that's the alarm. Your dream job was just a dream.
But guess what? Let's make it come true.
Sadly, good dental assistant jobs are as rare as hen's teeth. To get one, you really need to stand out from all the other candidates—and the best way to impress your future boss is by writing a top-notch dental assistant resume.
This guide will show you:
A dental assistant resume example better than 9 out of 10 other resumes.
How to write a dental assistant resume that will land you more interviews.
Tips and examples of how to put skills and achievements on a dental assistant resume.
How to describe your experience on a resume for a dental assistant to get any job you want.
Want to save time and have your resume ready in 5 minutes? Try our resume builder. It's fast and easy to use. Plus, you'll get ready-made content to add with one click. See 20+ resume templates and create your resume here.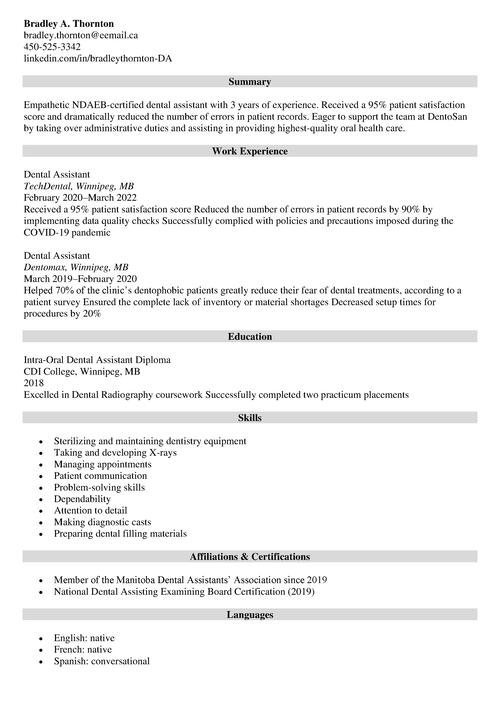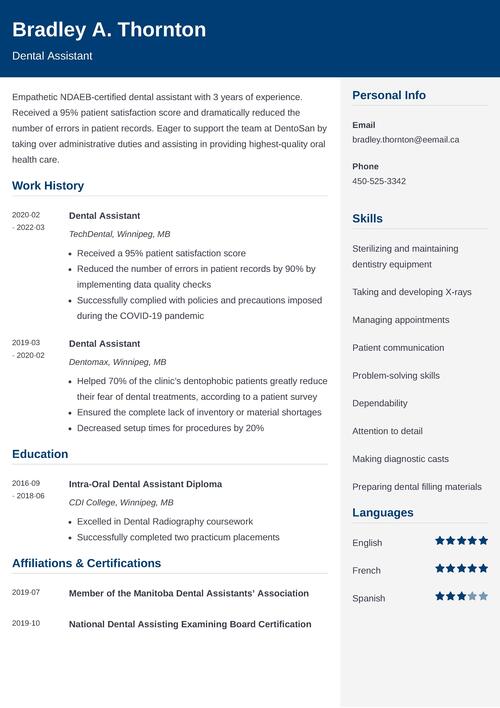 Sample resume made with our builder—See more resume examples here.
Dental Assistant Resume Sample
Bradley A. Thornton
bradley.thornton@eemail.ca
450-525-3342
linkedin.com/in/bradleythornton-DA
Summary
Empathetic NDAEB-certified dental assistant with 3 years of experience. Received a 95% patient satisfaction score and dramatically reduced the number of errors in patient records. Eager to support the team at DentoSan by taking over administrative duties and assisting in providing highest-quality oral health care.
Work Experience
Dental Assistant
TechDental, Winnipeg, MB
February 2020–March 2022
Received a 95% patient satisfaction score
Reduced the number of errors in patient records by 90% by implementing data quality checks
Successfully complied with policies and precautions imposed during the COVID-19 pandemic
Dental Assistant
Dentomax, Winnipeg, MB
March 2019–February 2020
Helped 70% of the clinic's dentophobic patients greatly reduce their fear of dental treatments, according to a patient survey
Ensured the complete lack of inventory or material shortages
Decreased setup times for procedures by 20%
Education
Intra-Oral Dental Assistant Diploma
CDI College, Winnipeg, MB
2018
Excelled in Dental Radiography coursework
Successfully completed two practicum placements
Skills
Sterilizing and maintaining dentistry equipment
Taking and developing X-rays
Managing appointments
Patient communication
Problem-solving skills
Dependability
Attention to detail
Making diagnostic casts
Preparing dental filling materials
Affiliations & Certifications
Member of the Manitoba Dental Assistants' Association since 2019
National Dental Assisting Examining Board Certification (2019)
Languages
English: native
French: native
Spanish: conversational
Looks good? Your resume can be just as impressive—or even better! Just follow these simple steps.
1. Straighten up Your Dental Assistant Resume Layout
Dental assistants collect patient information, schedule appointments, manage records, and assist dentists in their work. The purpose of your dental assistant resume is to show your wide range of skills and outstanding personal qualities that make you a valuable member of any dental healthcare team.
Your first step towards creating a job-winning dental assistant resume is to choose a layout and formatting. Remember that you want a resume that's clean and tidy like a set of brushed, flossed teeth.
Here's how to achieve this effect:
Create a resume header with your contact info
Use easy-to-read, professional-looking fonts
Make big headings and leave generous amounts of white space between the resume sections
Start with your latest work experience and go back in time—this is the best resume format for professionals like you
Save your dental assistant resume as a PDF file because Word (DOCX) files can look messy when opened on another device
Keep your resume to one page, unless you've got centuries of experience and even got to schedule Count Dracula's dental appointments. In that case, opt for two pages.
2. Write a Dental Assistant Resume Objective or Resume Summary
Medical professionals are exceptionally busy people.
So don't expect your future boss to go through every single resume they receive. They'll usually glance at the first paragraph and then decide whether they want to read on.
That's why that first paragraph—also known as a resume summary or resume objective—can make or break your entire resume.
Your resume will start with a resume summary if you've got 2+ years of experience as a dental healthcare professional. If you're a newbie (or changing careers), opt for a resume objective instead.
Here's the basic formula for resume summaries and resume objectives:
Adjective + Years of experience + Achievements + Skills + What you want to do for your new employer
What's the main difference between resume summaries and resume objectives? A resume summary focuses on your achievements, whereas a resume objective is more about your skills and eagerness to bring value to your new employer.
Resume summaries and resume objectives are usually 3–4 sentences long, so you don't have to write much.
3. Put Work Experience on Your Dental Assistant Resume
How do you make yourself and your work experience stand out among dozens of other dental assistants who apply to the same job opening?
Just follow these tips:
Present your work experience in the reverse-chronological order (most recent work goes first)
Make sure each entry is complete and includes: your job title, the employer's name, the start and end dates of your employment there, and up to 6 bullet points
When writing the bullet points, start each one with an action verb and focus on your achievements rather than duties and responsibilities
Try to include achievements that are measurable
Tailor your bullet points to the job ad you're responding to—make sure your bullet points highlight the skills and personal qualities that the employer wants to see
If you don't have work experience as a dental assistant yet, you can describe what you achieved during your practicum placements. You can also include other jobs that rely on the skills you'll need as a DA.
4. Let Your Educational Background Shine
Now's the time to tell your employer where you learned to manage patients, maintain medical records, and assist dentists in their day-to-day duties.
How much should you write in the education section of your dental assistant resume?
If you're a seasoned pro, go for the bare minimum: the name of your degree or certification, the name and location of your college, and the year when you graduated.
But if your work experience section doesn't speak for itself yet, it's a good idea to turn the spotlight (or, rather, the dental light) on your education. Make some bullet points and present your academic achievements or any other college wins.
When making a resume in our builder, drag & drop bullet points, skills, and auto-fill the boring stuff. Spell check? Check. Start building a professional resume template here for free.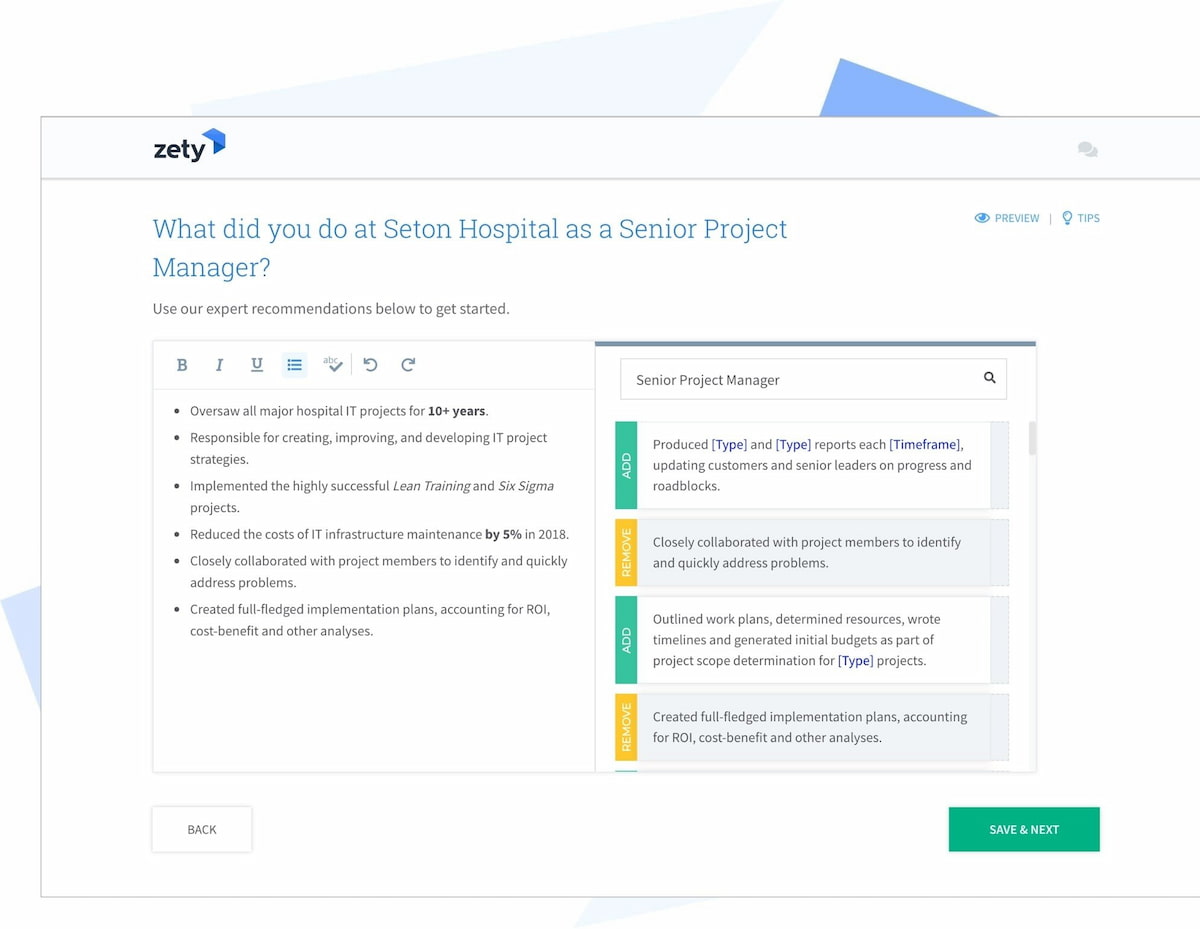 When you're done, Zety's resume builder will score your resume and tell you exactly how to make it better.
5. Pick the Most Relevant Skills for Your Dental Assistant Resume
What should you write in the skills section of your dental assistant resume? Fortunately, you can answer this question in just 2 simple steps.
Make a big list of all the skills you have. Don't limit yourself to dentistry-related skills!
Re-read the job ad and point out all the skills-related keywords
Which of your skills match the ones listed in the job ad? These are the ones that go on your resume!
Ideally, you should have between 8 and 10 skills on your resume.
When you're done with the skills section, go back to the work experience and education sections and try to squeeze the skills-related keywords into your bullet points. It makes your entire resume look more credible.
Dental Assistant Resume Skills (Bucket List)
Here's a list of skills that you could put on your dental assistant resume. Of course, it's not a complete list—feel free to add other skills to your resume if they're relevant to the job ad!
Electronic Medical Records (EMR)
CPR
Customer service skills
Regulation compliance
Sterilizing and maintaining dentistry equipment
Taking and developing X-rays
Managing appointments
Patient communication
Problem-solving skills
Dependability
Attention to detail
Making diagnostic casts
Preparing dental filling materials
Critical thinking
Inventory management
You can use this list as a source of inspiration, but always read the job ad carefully and tailor your skills list to it.
6. Add Other Sections to Your Dental Assistant Resume
Your resume is looking good, but where do you put your certifications, affiliations, language skills, and other valuable information that didn't fit in the work experience or education sections?
Well, just make more sections.
You can even add a section with your hobbies and passions. Unlike dentists' tools, your resume doesn't have to be sterile, so adding a personal touch can make a good impression on the reader.
7. Crown Your Resume With a Dental Assistant Cover Letter
Yay! Just one step left!
Now, all you have to do is write your cover letter. This sounds scary, but in fact, cover letter writing is quick and painless if you follow a few proven strategies:
Stick to a professional cover letter format
Attract the reader's attention with your first paragraph
Explain how your skills and expertise will bring value to their business
End with a confident call to action
For an in-depth look at writing and formatting cover letters, check out our guide that shows you how to write a cover letter step by step.
Read more: How Long Should a Cover Letter Be? Example & Guide
A great cover letter that matches your resume will give you an advantage over other candidates. You can write it in our cover letter builder here. Here's what it may look like: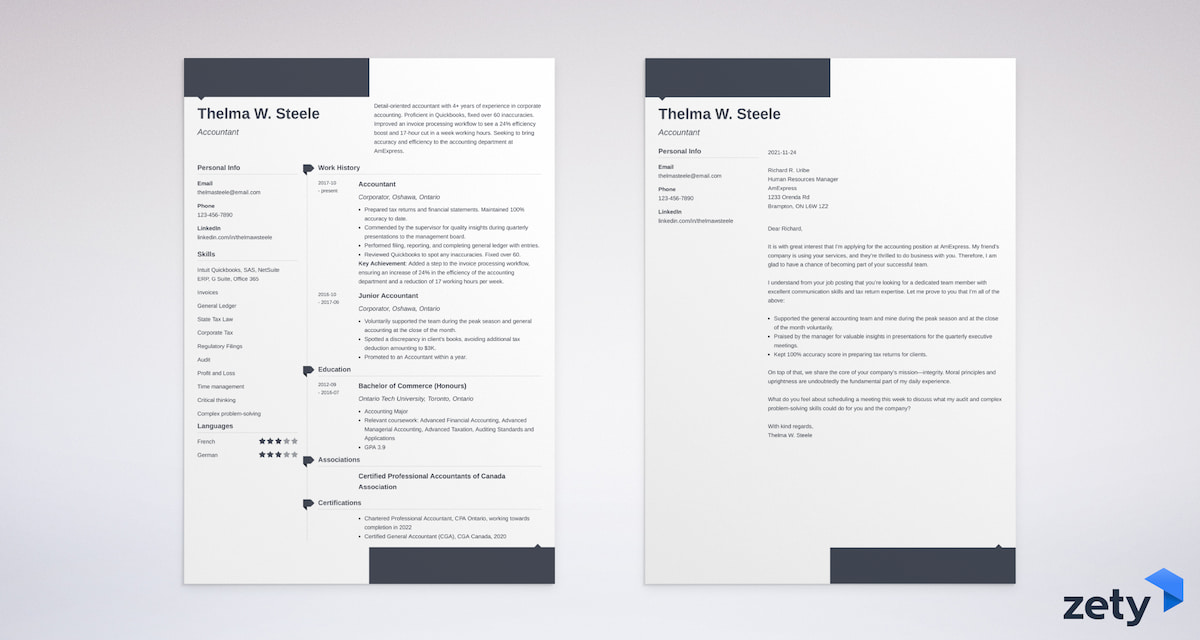 See more cover letter templates and start writing.
And you're done!
Now you can submit your job application and do something nice, like practising one of the hobbies you've mentioned in your resume.
Do you have tips or thoughts about making a great dental assistant resume? Let us know in the comments section!