Simple Resume Templates: Create a Resume for Free & Download
Get ready to have your mind blown away with Zety's simple resume template selection. Or you can stay with what you have and lose another job opportunity. The choice is yours.
Based a resume template on a series of random Google images and biting your nails now?
Good.
You should be.
Choosing the design for your resume is not the time to play around. One misstep could cost you a job interview.
But no more! No more nailing jelly to a tree.
See more than a dozen of simple resume templates that impress every recruiter, every time.
Want to save time and have your resume ready in 5 minutes? Try our resume builder. It's fast and easy to use. Plus, you'll get ready-made content to add with one click. See 20+ resume templates and create your resume here.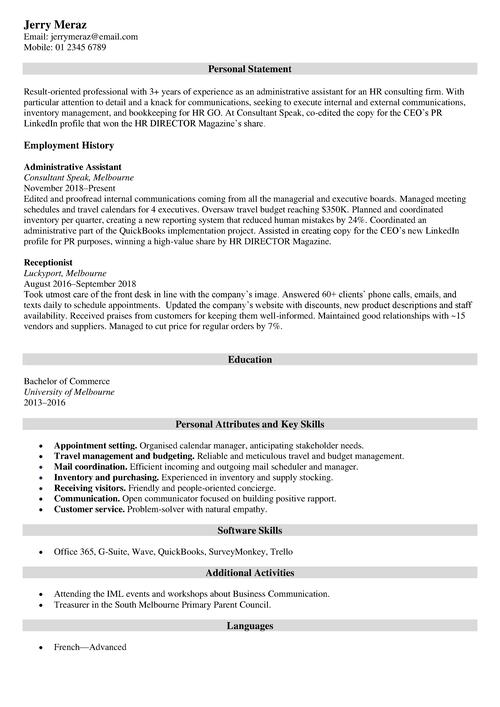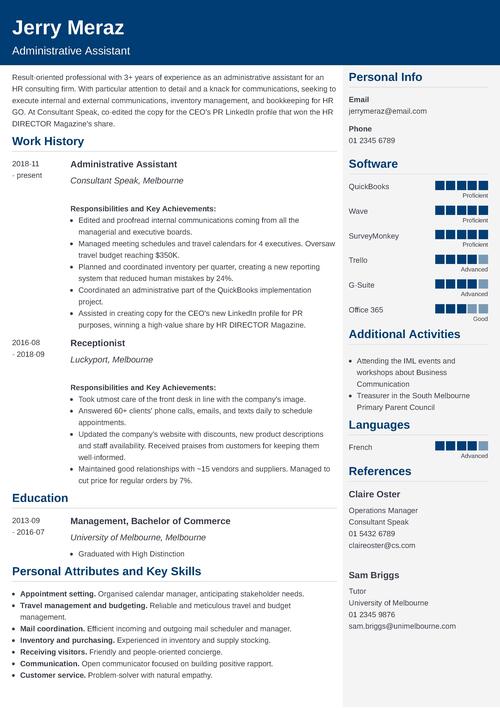 Sample resume made with our builder—See more resume examples here.
A synonym for simple?
Easy, plain, ordinary. Fair enough, although not what you need right now.
Clear, understandable, uncomplicated. Three times yes!
A simple resume template can be light and original at the same time, making it a child's play for recruiters to connect the dots and make an informed decision about you.
These simple one-page resume template examples will help you achieve just that:
Cascade
Cascade is a white tee and Levi's 501—your forever go-to, a staple. The coloured sidebar separates the short sections from a brighter centre for more text content. That well-thought-out layout makes the skills and experience complement each other and attract the same level of attention.
Concept
Not a fan of your sweetheart learning how much you've grown through the family pictures? This time, a timeline can actually be your ally. Create it with the Concept template. It's a modern solution that shows progression with a creative touch in the icons next to each section.
Crisp
Speaking of creativity, Crisp is your guy. Use icons to break your resume into sections, and add only a splash of colour to create the right amount of whitespace. Oh! And don't forget to choose a star, circle, or bar graph as your skill rating indicator.
Cubic
The Cubic template will get you to like geometry at last. It brings the focus to your name and moves smoothly from the list of your skills to the experience section using shading. The distance between parts and their positioning creates the perfect balance between whitespace and content.
Diamond
Diamond is a perfect simple resume template for students. You don't have to worry about blank spots on your resume due to little experience. With Diamond's single-column design, you'll fill the space as quickly as third-grade homework. Plus, the icons used for each section give it a youthful vibe.
Enfold
Enfold is a mirrored Cascade template. Have in mind, this particular layout is unusual as we read from left to right. It doesn't mean, though, that it's a disadvantage. After all, it's your work experience that's looking for recognition.
Iconic
The iconic template is another simple resume template for high school students and seasoned professionals alike. The icons help recruiters navigate through the sections, and if they happen to have a visual memory, you win the lottery.
Influx
Influx is a CEO among simple resume templates. With such an elegant layout, recruiters won't mind if it's longer than one page, particularly when applying for an executive position. With the single-column format and clear section division, you could use it as your business card.
Initials
Creative and artistic souls gather around! Use the Initials template to paint your self-portrait and get recruiters to invite you to the best candidates exhibition. This simple resume template adds a personal touch to your initials, while the splash of colour draws attention to your personal details, committing your image to recruiters' memory.
When making a resume in our builder, drag & drop bullet points, skills, and auto-fill the boring stuff. Spell check? Check. Start building a professional resume template here for free.
When you're done, Zety's resume builder will score your resume and tell you exactly how to make it better.
Minimo
Minimalistic, neat, uncluttered—the definition of a simple resume template. One after another, recruiters discover your strengths in perfect order, starting with your reasons why to smashing your application with evidence. Go for it if you want your achievements to cry, "they're the one," without making a sound.
Modern
Ooh, that one's far out. The design of the Modern template catches the eye. It looks like a bullet journal entry, but without the messiness you need to embrace. It's Ryder Carroll's way of organised.
Muse
Muse has the same design as the Modern resume template but without the coloured header and footer. So, if you didn't like those features, but the markers spoke to you, well—looks like you've found your ideal template in Muse.
Nanica
Nanica is a traditional template with a single-column layout—the bag of fruit in dark colours. That's a great choice if you're writing a CV for academia because you can fill the pages in a flash, so you're safe to meet the minimum page limit.
Newcast
Icons aren't for young cobbers only, right? Of course not. The standard design of the Newcast template makes it approachable at all stages of your career. It has a minimalistic touch, so regardless of the design trends at the moment, it's always in.
Primo
Primo adds a twist to the Initials template. The personal details lack the icons, whereas the main ones stay next to the sections. Also, if you prefer a timeline instead of blocks, this is your go-to.
Simple
The simplest of the simple resume templates, but don't be fooled by the drop bear among Zety resume templates. Simple gives more space between the lines, increasing the readability of your entries. There are no more important items on the page. Everything draws attention at an equal level.
Valera
A fan of fancy typography? A calligraphy freak? Or perhaps a hand lettering lover? Valera is the not-so-simple resume template you've been looking for. The unusual font accentuates your name and every section.
Vibes
What else could the Vibes resume template scream but the flamin' vibes? Though pretty advanced and full of features, visually it still remains a simple resume template. It's sleek, iconic, and puts your experience in the spotlight. Plus, there's plenty of room for your soft and hard skills.
Plus, a great cover letter that matches your resume will give you an advantage over other candidates. You can write it in our cover letter builder here. Here's what it may look like: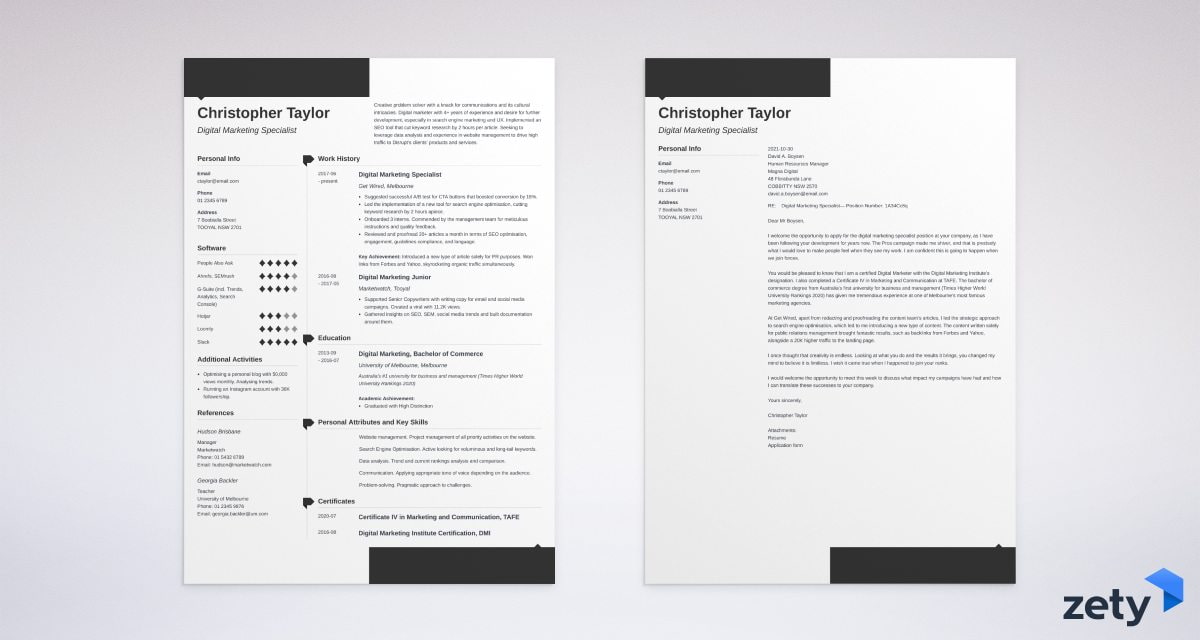 See more cover letter templates and start writing.
Key Takeaway
The most important things to remember when picking a simple resume template:
Pay attention to the number of columns in the template. A single-column layout is best for CV writers and inexperienced applicants. Two-column, though, is better for candidates who have plenty of career and education achievements.
Make sure to match the template's design with the industry you wish to work in.
Don't forget about the colours. They have the power to set the tone for your application.
Icons can level up your resume—the more visuals, the much bigger whitespace.
Go for the template you know works for you, and chookas for completing it!
Please tell us—
Do you have questions about simple resume templates? Are there resume templates that suit high school students than experienced candidates better? Would you like to see simple resume templates for Word or Google Docs?
Give us a shout in the comments! Let's get the conversation rolling.