25+ Free Resume Templates to Download in 2022 [All Formats]
Absolutely 100% free resume templates for 2021. Downloadable, printable, and exportable in different formats.
You're about to see a selection of free resume templates curated by career experts and professional resume writers.
And by free we mean completely free and downloadable without paying. We'll literally talk about templates that aren't even ours. If you find out any of the promoted creators are now charging money, let us know in the comments and we'll remove them.
Enjoy!
Want to save time and have your resume ready in 5 minutes? Try our resume builder. It's fast and easy to use. Plus, you'll get ready-made content to add with one click. See 20+ resume templates and create your resume here.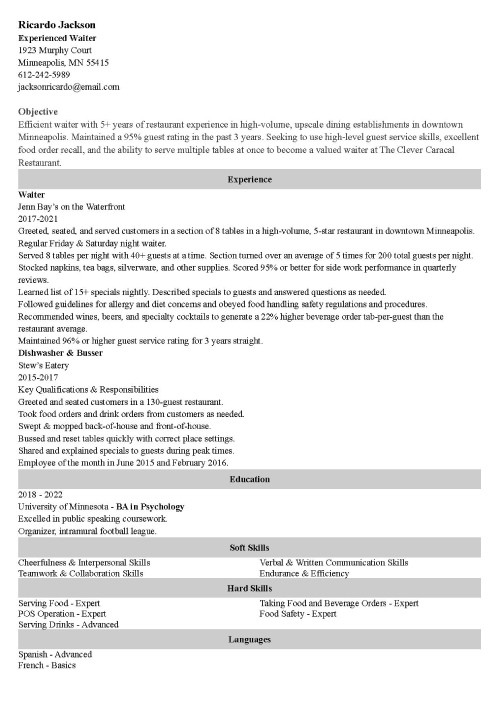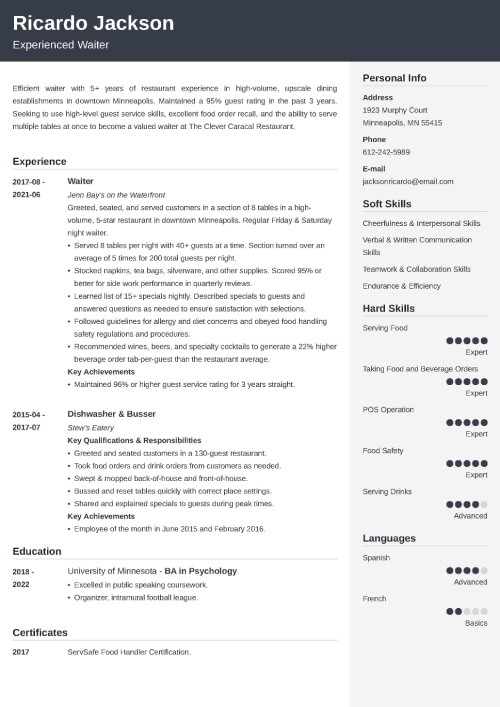 Sample resume made with our builder—See more templates and create your resume here.
If you looking for guidance on writing a resume for specific careers, see:
Want a free resume template no matter what?
These are the best options for a free resume in 2021:
In-built MS Word templates
Google Drive
LaTex
Canva
Behance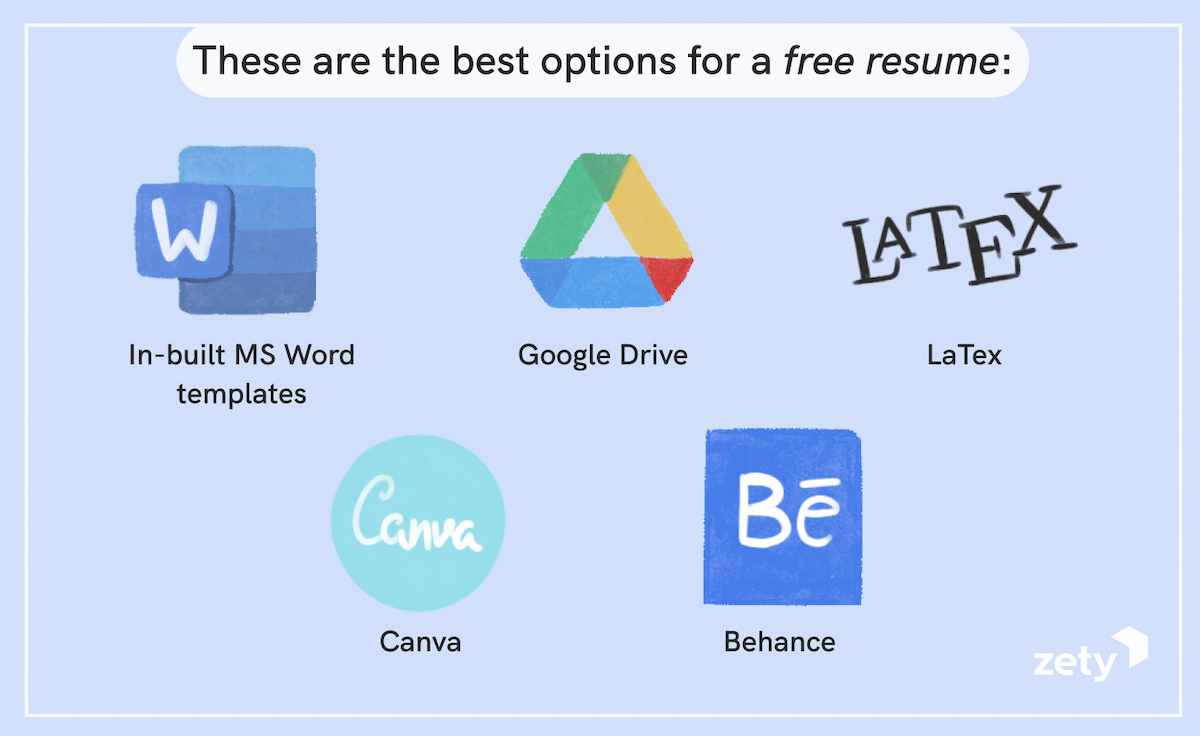 Below, we'll show you our top picks from the sources above and give you some tips for choosing the perfect free resume template for your industry and career level.
1
Free Resume Templates for Microsoft Word
Free resume templates for Word are in high demand among job seekers. Where to find them?
Microsoft's own template repository has a large number of nice-looking free resume templates for Word. You can go here and conveniently explore them in your browser.
Here are several of our picks—
1. Headshot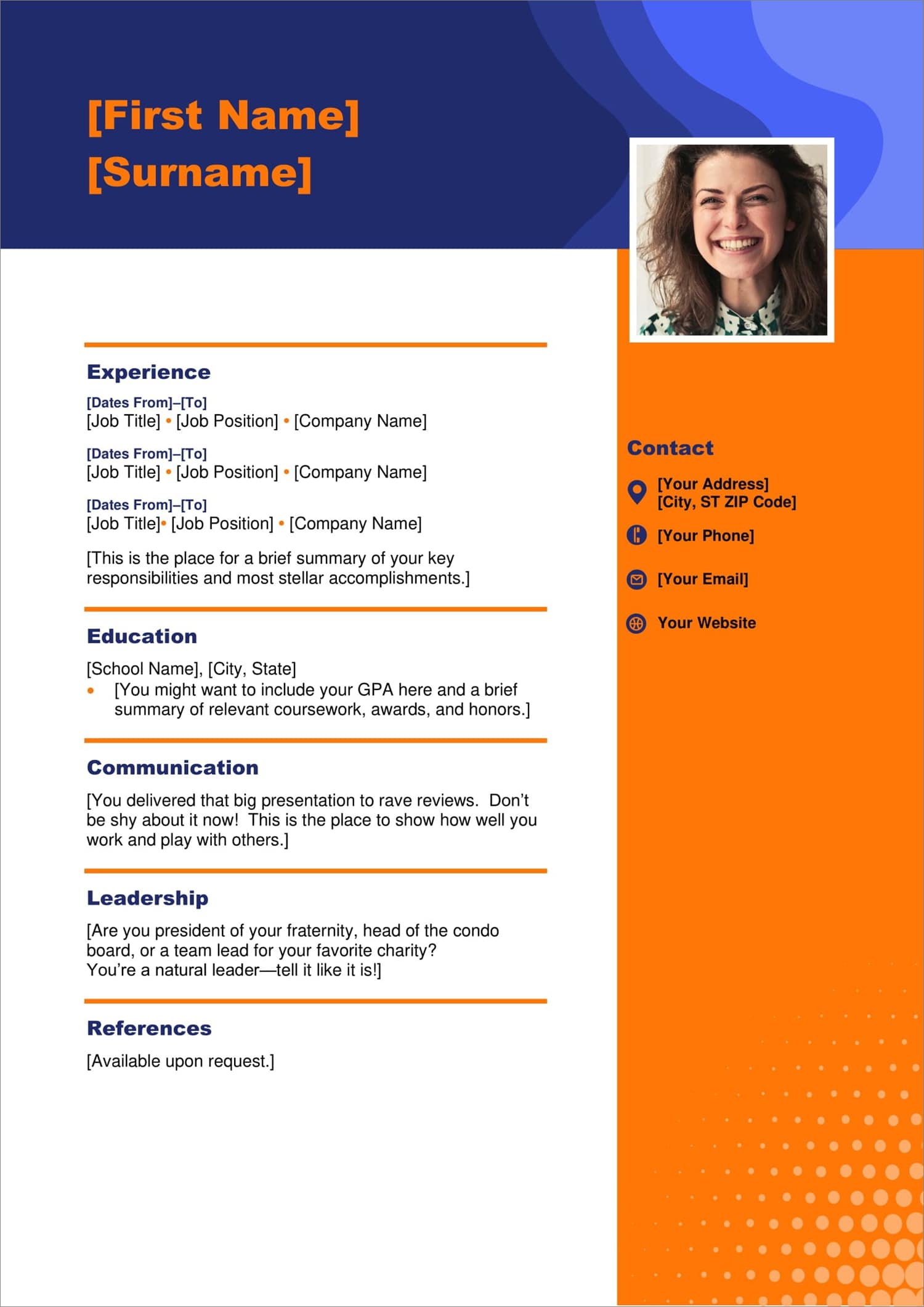 A creative resume template with tons of bold color and non-standard shading. A good pick for candidates seeking a job at a non-corporate environment (think advertising, new media or graphic design). Get it here.
2. Blue Spheres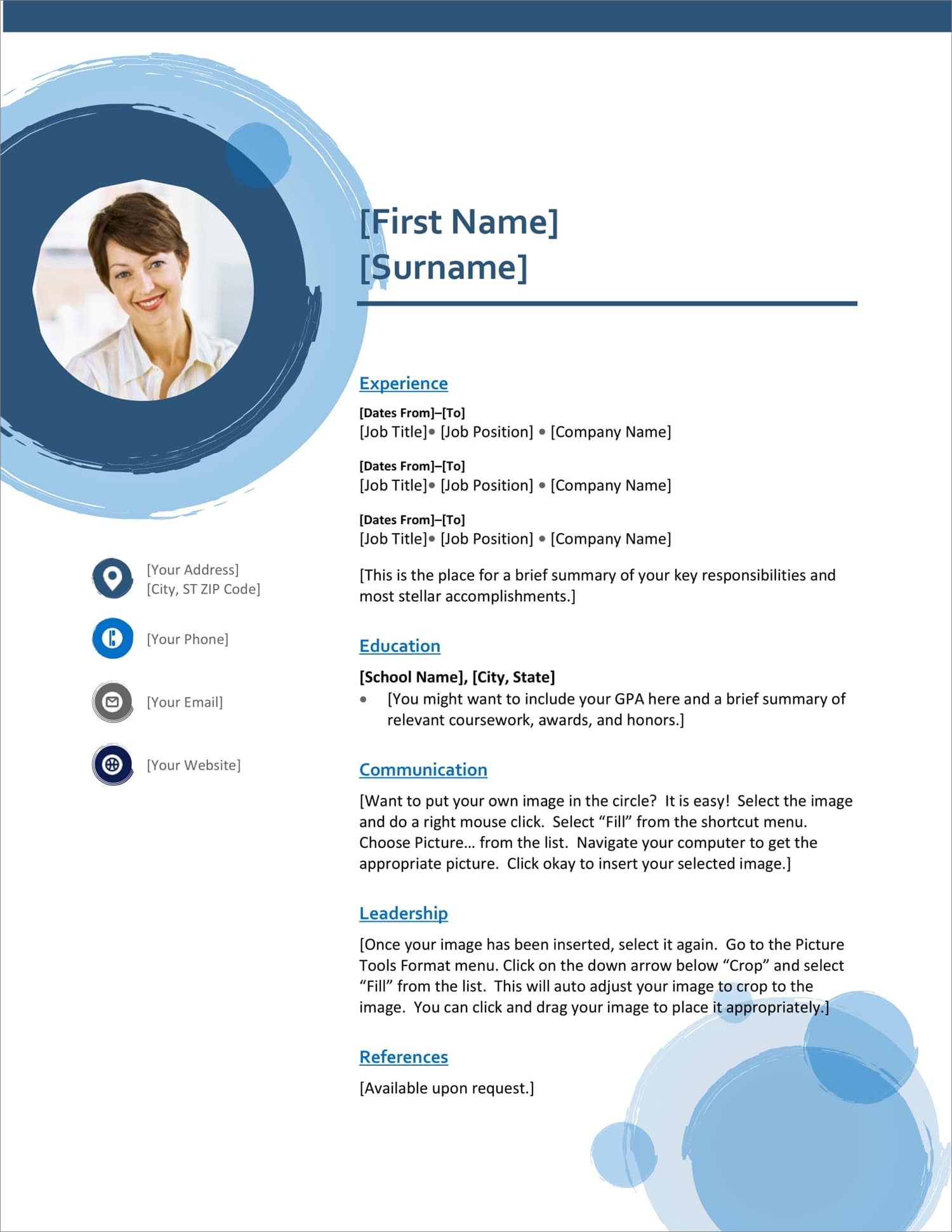 Another fresh-looking resume template to make your job application stand out from the black-and-white crowd (also, it's available in multiple color schemes). Again, be careful with this one if you're eying a job in a conservative field. Go for this kind of resume style only if you know your target company is rather relaxed. Get it here.
3. Contemporary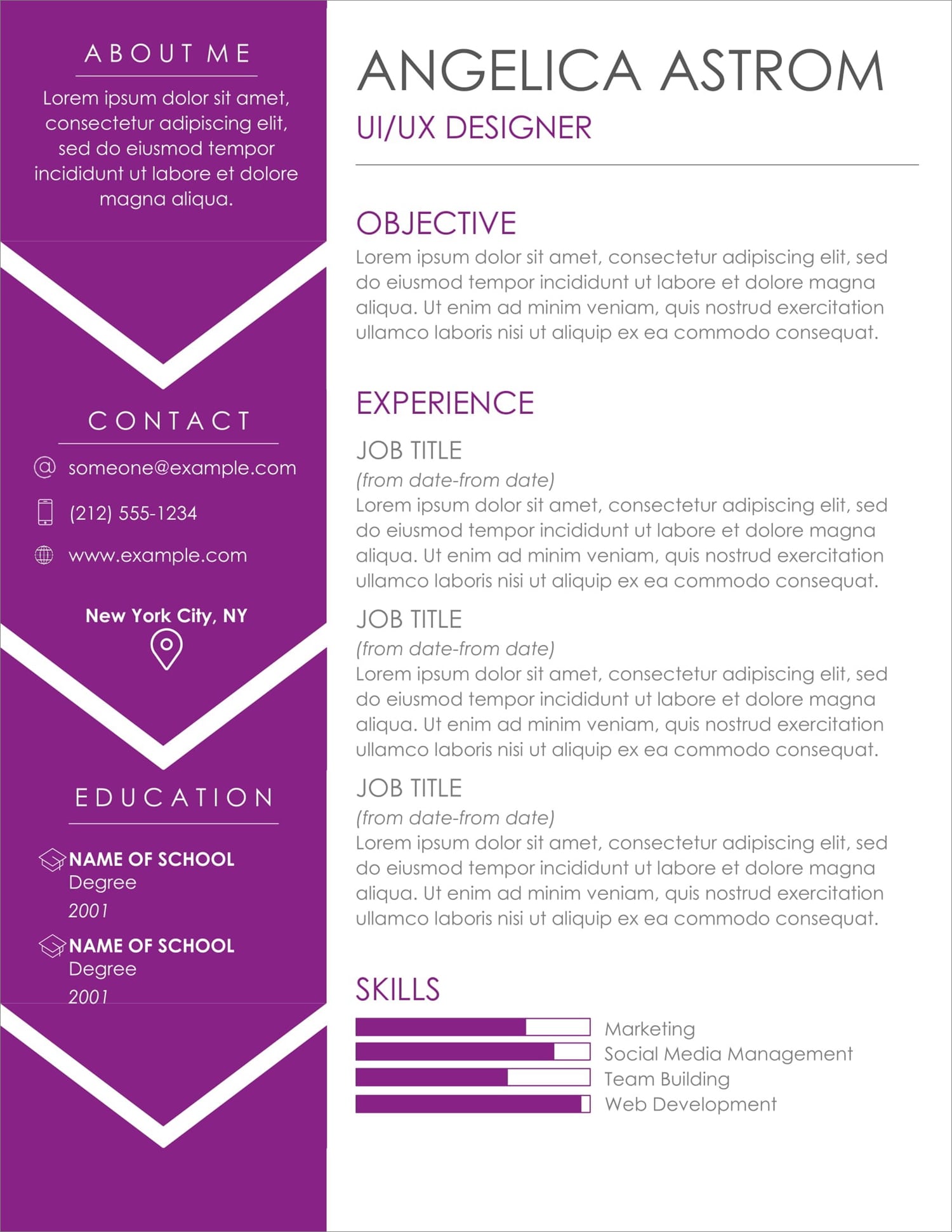 This free MS Word template is still on the "modern" side of the design spectrum, but the graphic elements are simple and geometric. It has a two-column layout and a bar chart that illustrates your proficiency in the skills you include in your resume. A good resume template for candidates in the IT or tech fields. Recommended for entry-level job-seekers. Get it here.
4. Minimalist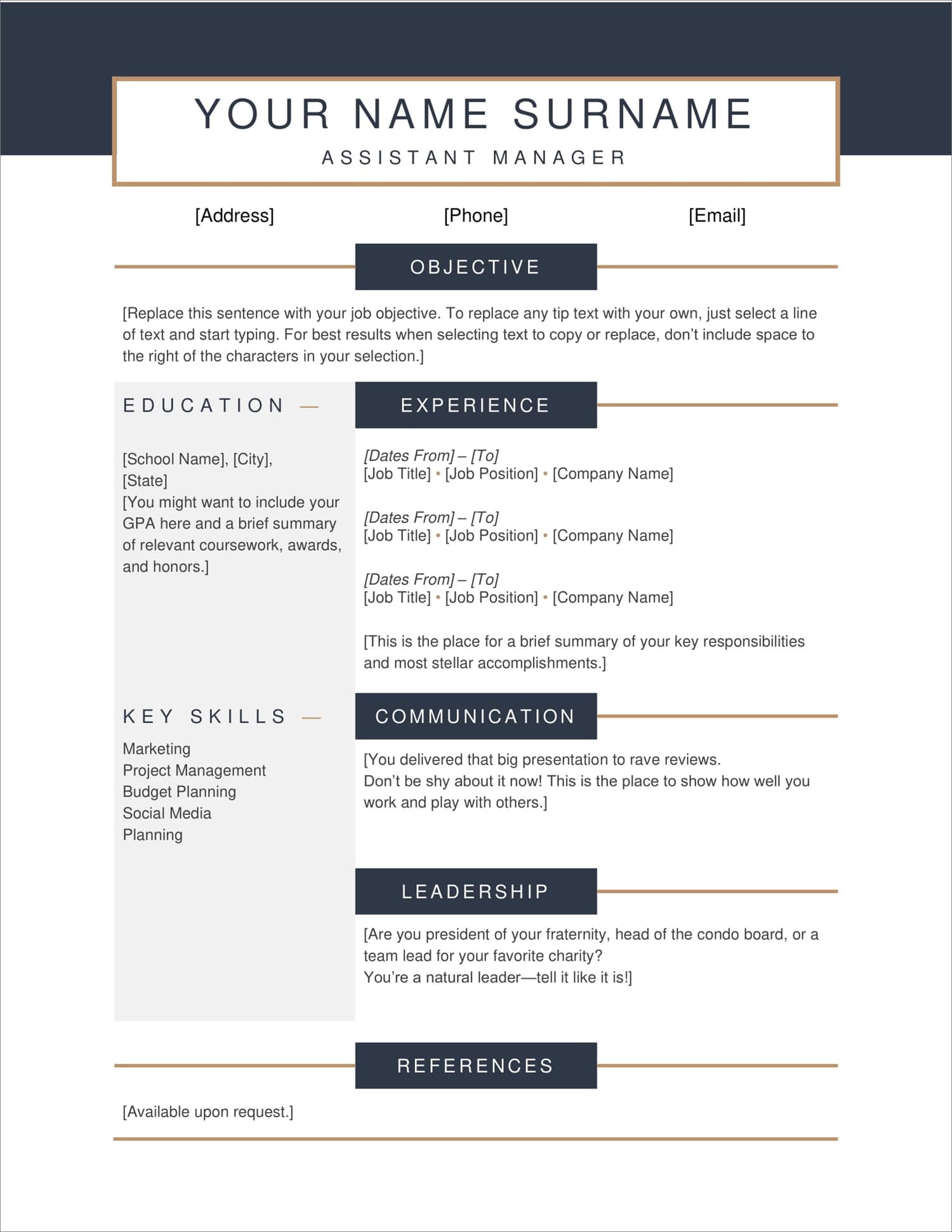 The best part of this resume template? The prominent section headings to make it easy for recruiters to spot the most important parts. Minimalist (as the name implies) and modern at the same time, will work great for candidates in sales, customer service, or real estate. Get it here.
5. Basic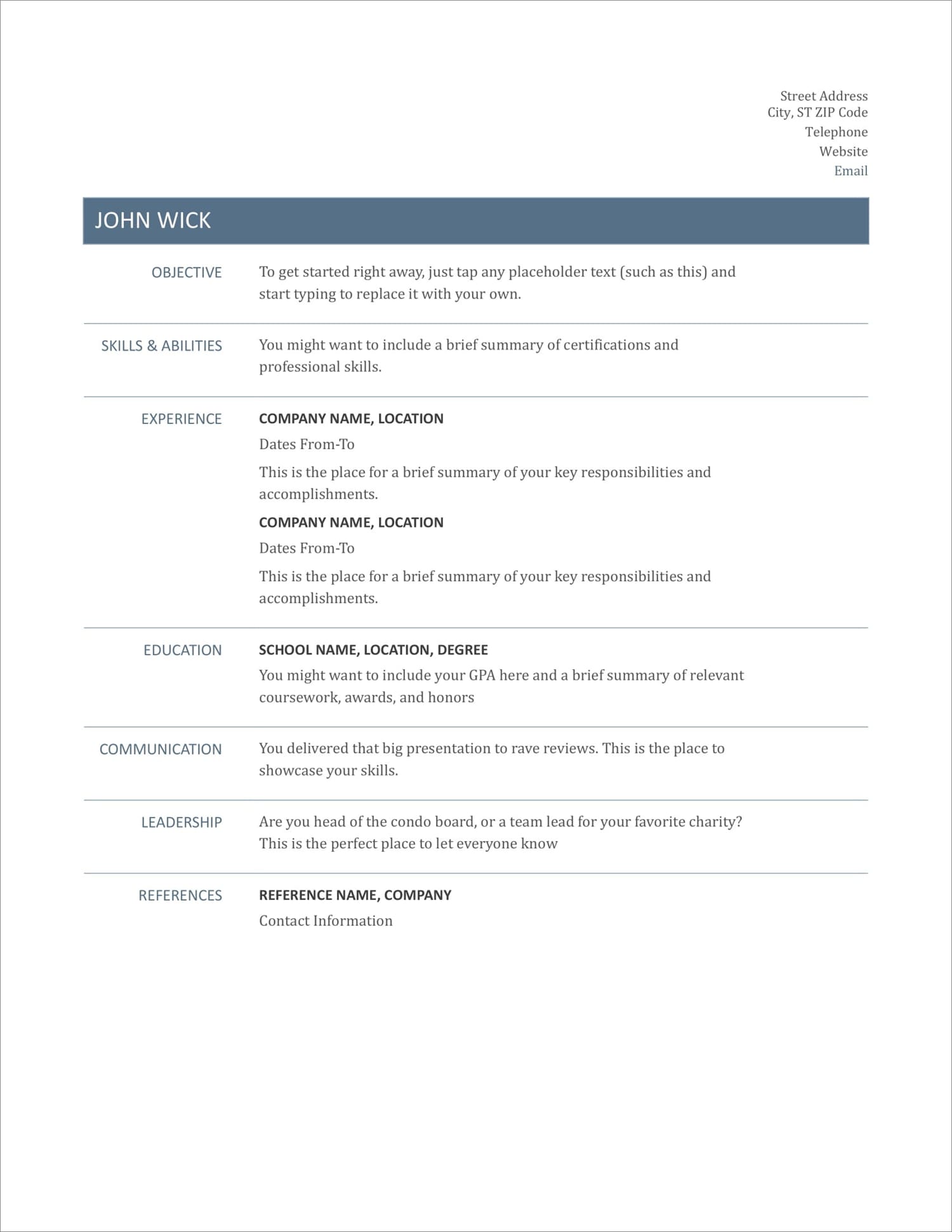 This free modern resume template has a timeless design. Also, thanks to minimizing graphical embellishments and a single column layout, it's suitable for candidates across all industries and levels of experience. The first template on our list that can be used by senior candidates. Get it here.
So—
What are the advantages of using free resume templates for Word?
Most of them are entirely free resume templates, and there are a lot to choose from.
The disadvantages?
Once you start adding your own content you'll realize that it's not that easy to get the resume formatting right—especially when the content that you're adding differs substantially from what you can see in the original template. Hence, you might want to check out Zety's resume builder.
Looking for more resume templates for MS Word? Check this out: 15+ Resume Templates for Microsoft Word [Including Free Downloads] and Best Resume Layouts: 20+ Examples (from Idea to Design)
2
Free Resume Templates for Google Docs
According to stats, one in four Internet users has a Gmail account, and thereby to Google's office suite as well.
In other words:
The demand for Google Docs resume templates for free is pretty high too.
Where to look for the best free Google Docs resume templates?
You can find some in the Google Docs app itself. They're all accessible here, and below you'll find our picks:
1. Spearmint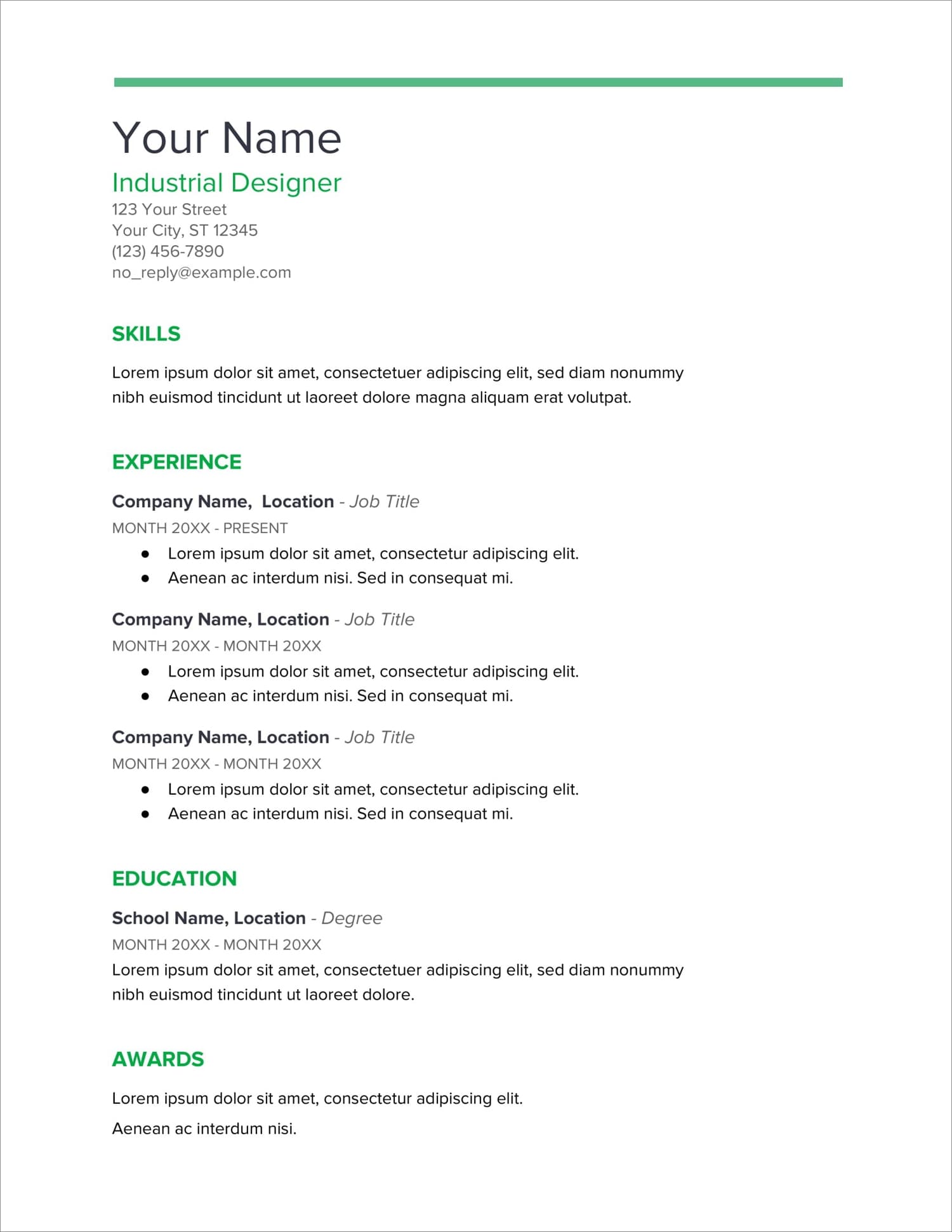 This free resume template for Google Docs looks stylish and classic but a little bit of color makes the design lively and, well, spearmint-fresh. The uniform design means the contents can easily extend into page two (or three, if need be). If you know your resume is longer than a single page, this template is for you!
2. Coral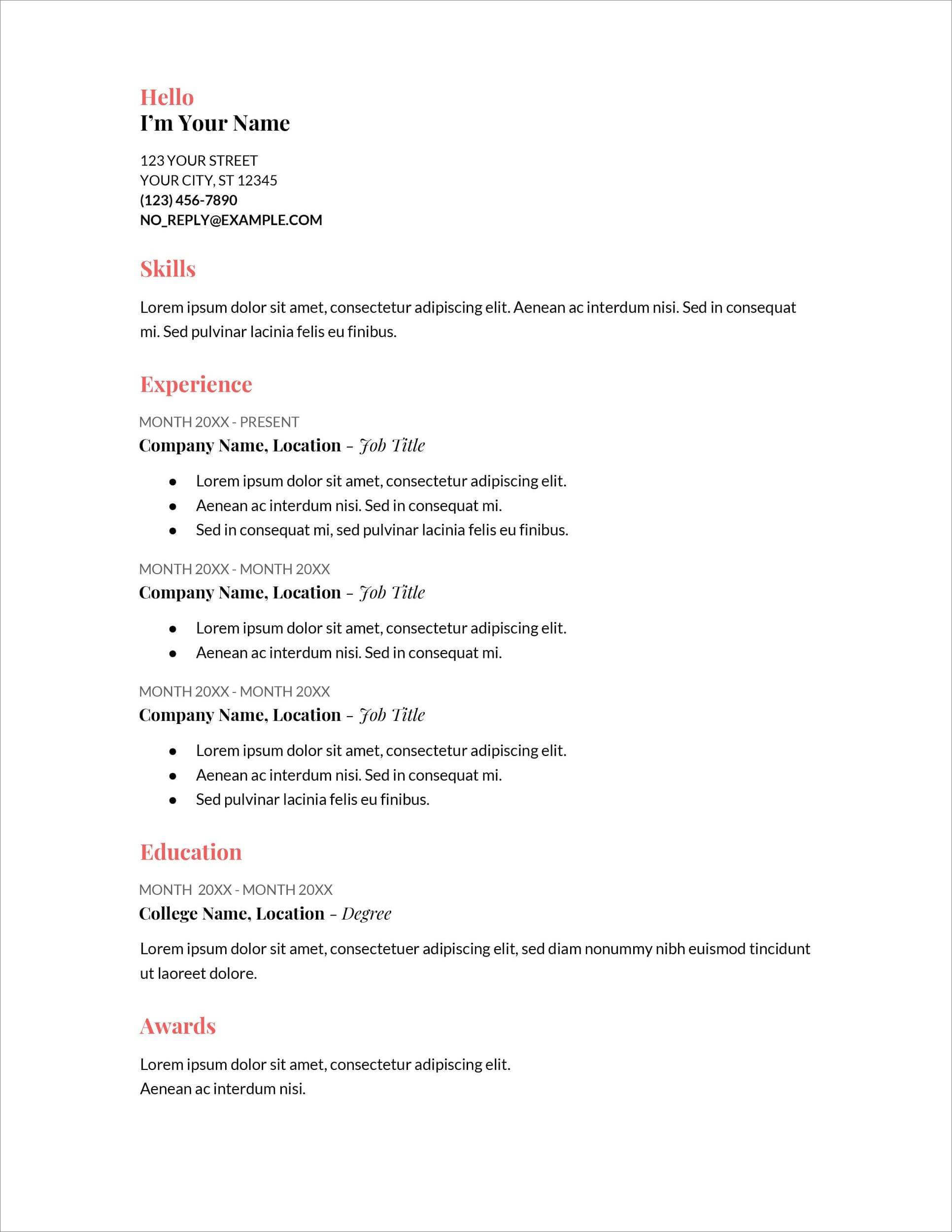 Another free resume template from Google's own gallery. It's simple, minimalistic, and can be easily adjusted to any candidate's needs.
But—
Google's own gallery isn't the only place where you can find presentable free resume templates.
Take a look at some more examples from all over the web:
3. Classic Elegance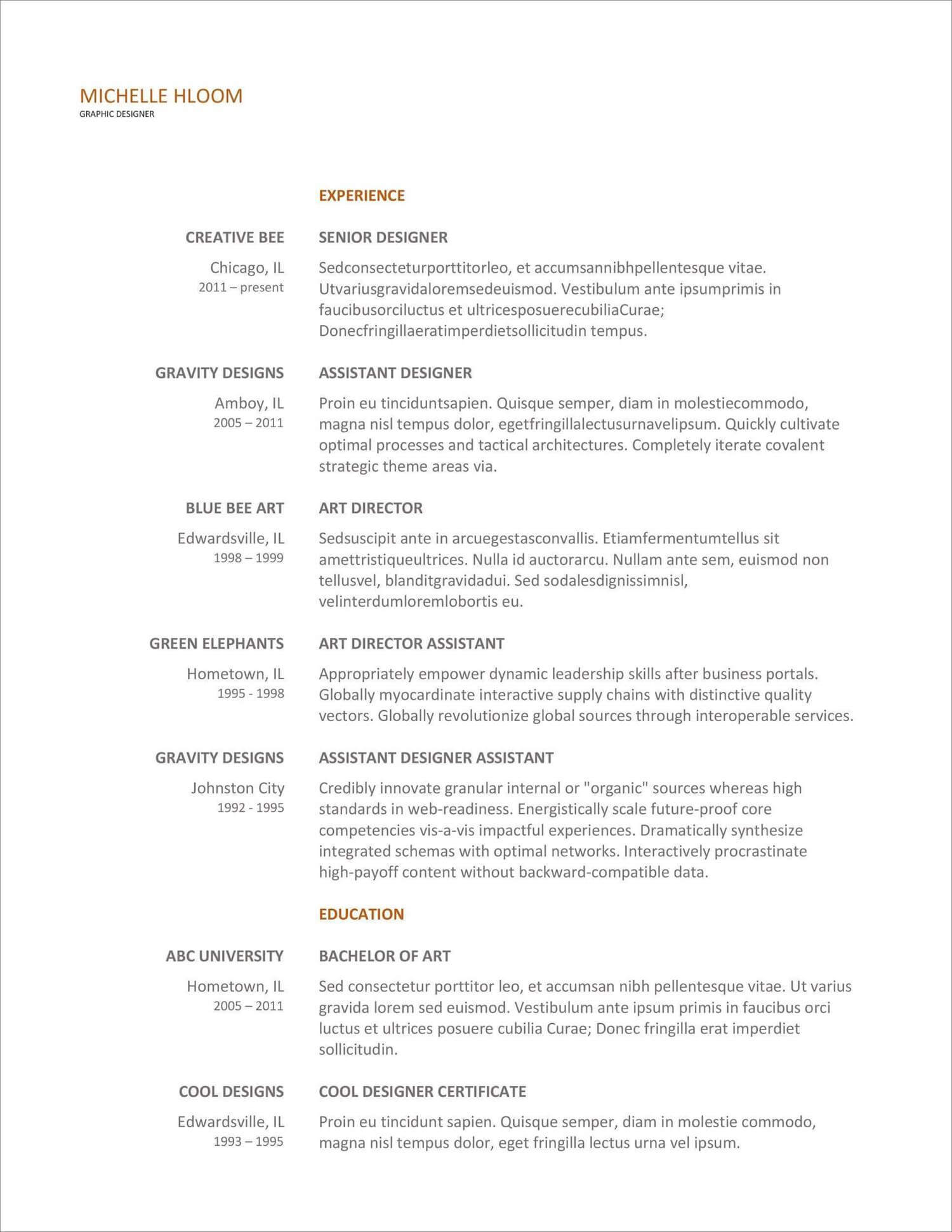 This free resume template for Google docs comes from Hloom. The design is very clean and simple and the layout—easy to follow. Exactly what you need for your resume to look good. We recommend this template for candidates in traditional sectors such as healthcare, education, or business & finance. Get it here.
4. Two-Columns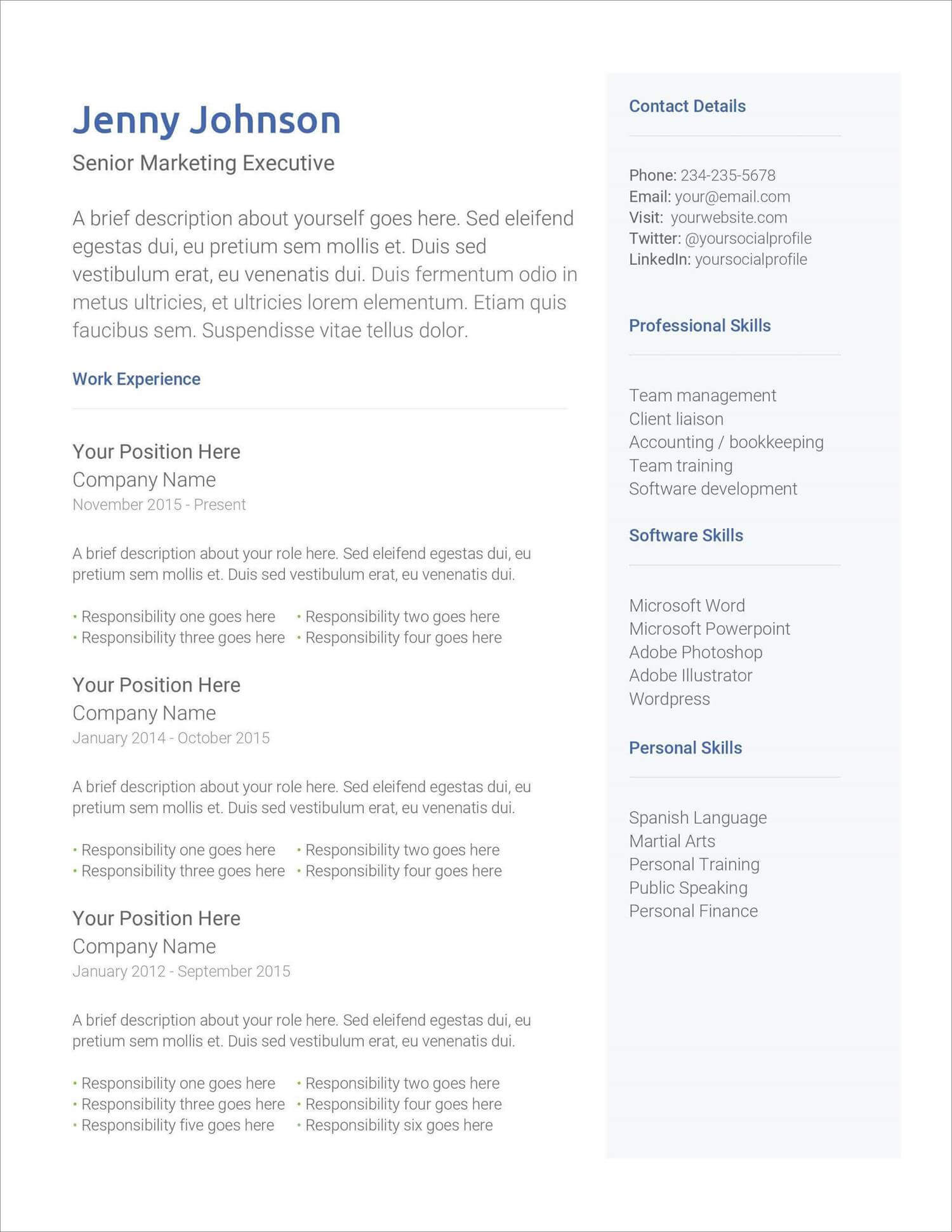 Here's another one of free Google Docs resume templates you can find online. This one has a two-column layout that allows you to put quite a lot of information without giving the document a cluttered look. Go for this design if you really want a one-page resume template but are struggling to squeeze all the contents you want onto a single page. Get it here.
5. Creative Resume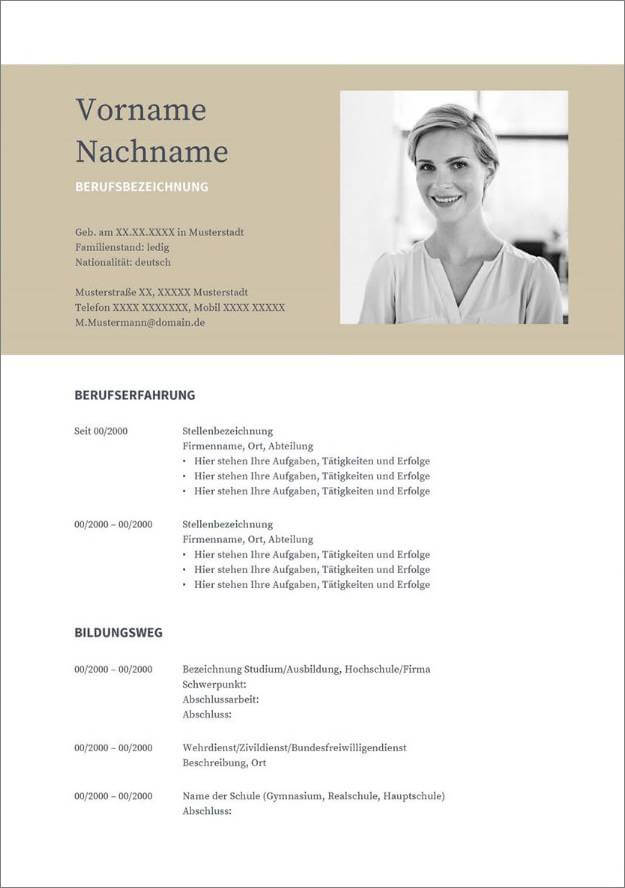 This one comes from Behance, where you can find many other creative resume templates for free download. The shaded header sections stands out from the rest of the document, bringing the attention to your contact details and the resume summary. A good design for online applications, yet it might not look perfect when printed out. Get it here.
What are the pros of using free resume templates for Google Docs?
First off, they cost you nothing. Second of all, they're very easy to edit.
What are the cons?
Great-looking free Google Docs resume templates are notoriously hard to find as well as few and far between.
Want to see more Google Docs resume templates? Go straight to our gallery: 10+ Free Google Docs Resume Templates
When making a resume in our builder, drag & drop bullet points, skills, and auto-fill the boring stuff. Spell check? Check. Start building a professional resume template here for free.
When you're done, Zety's resume builder will score your resume and tell you exactly how to make it better.
3
More Free Resume Templates
Here's the thing—
Even though MS Word and Google Docs are the most popular word processors for writing resumes, there are some other options you can consider using to get your resume done. Power users might enjoy creating LaTeX resumes, then there are OpenOffice resume templates, or even plain text resumes you can look into.
Then there's the Canva resume builder. It's a good destination for everyone interested in finding attractive resume templates available for free download.
Here come a couple of our picks from Canva—
1. Black and Blue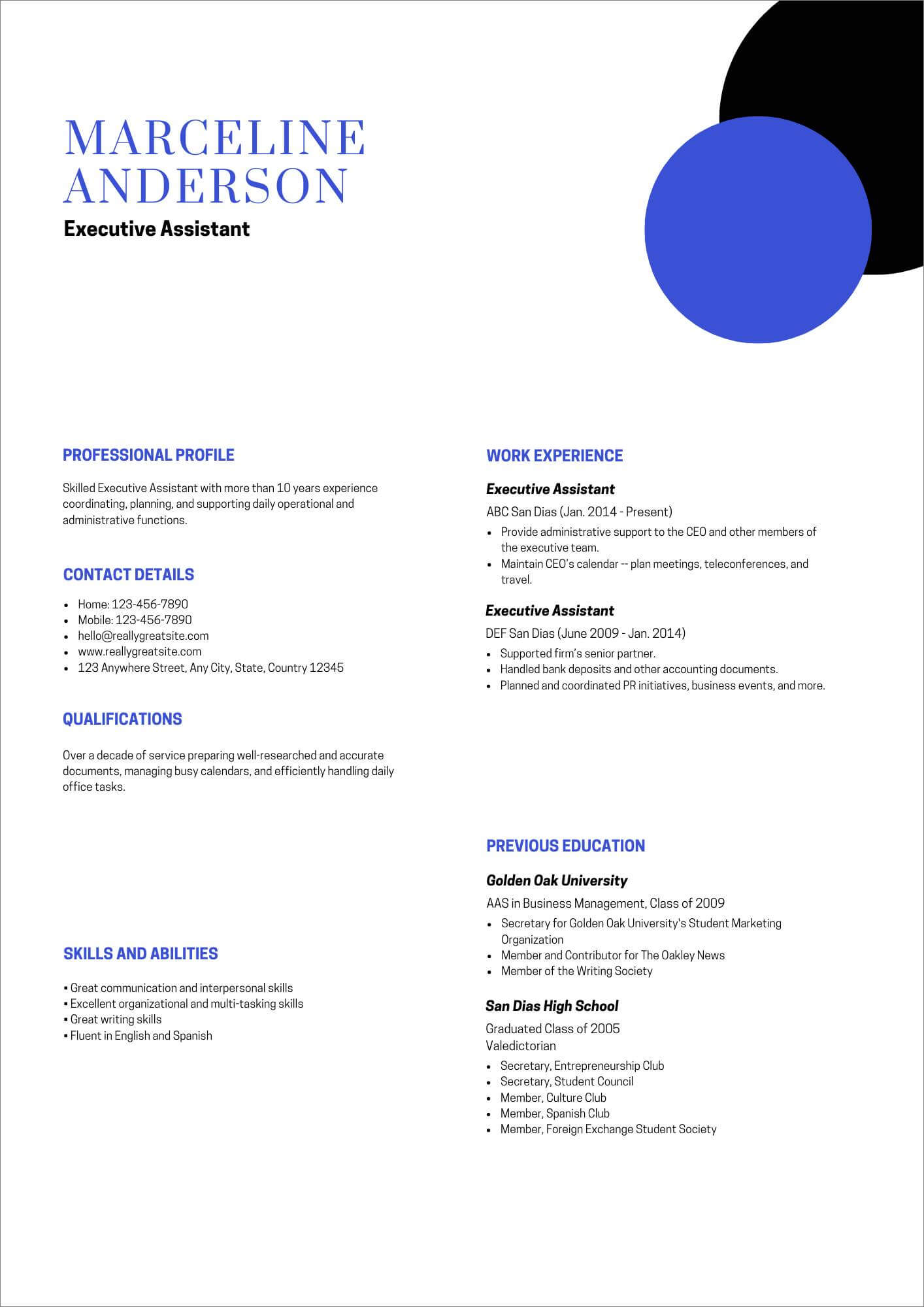 This free creative resume template is suitable for candidates applying to companies with a relaxed and casual culture. It will work best if you are writing a resume with not too much experience to show. Get it here.
2. Purple Infographic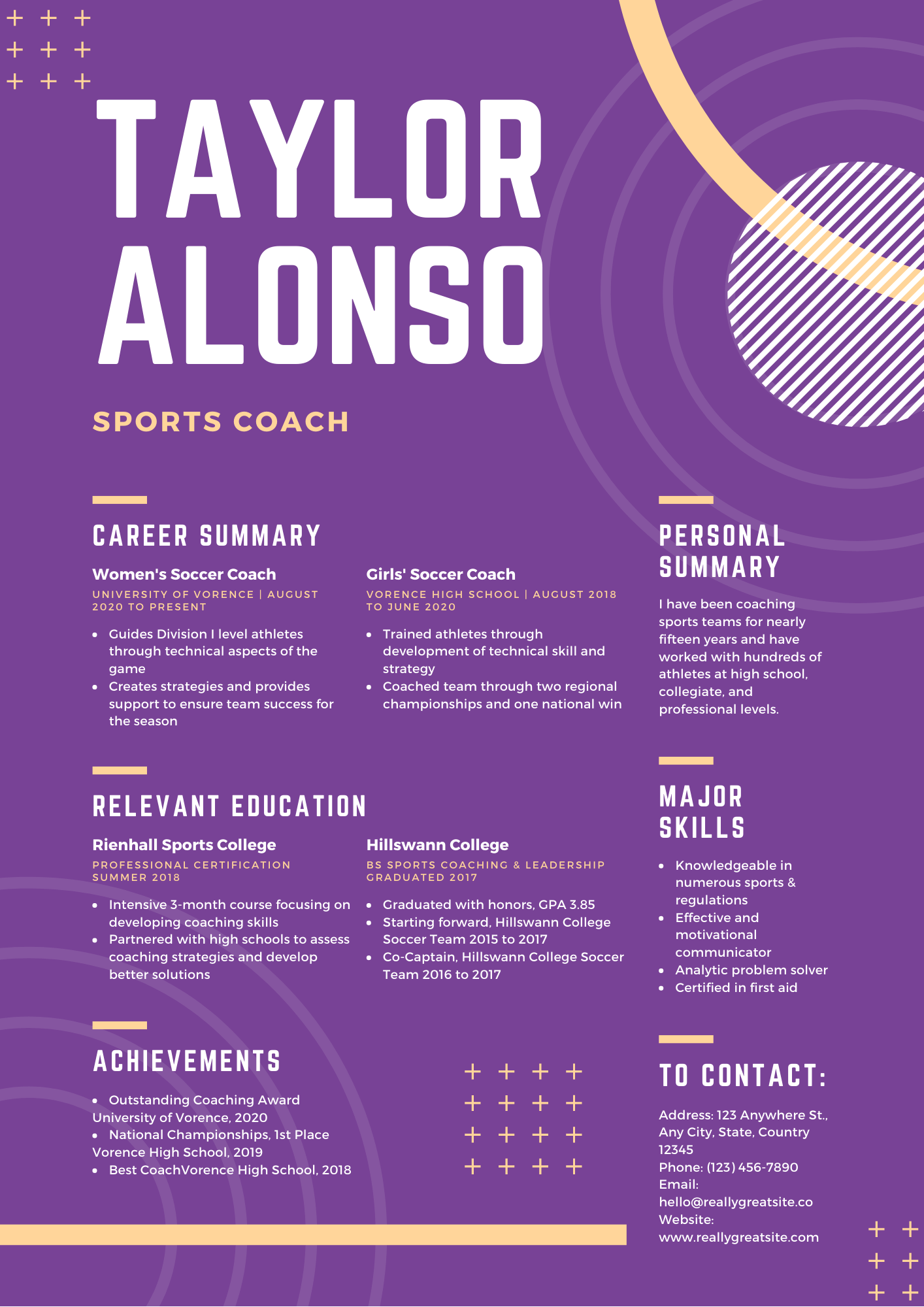 This one is styled after a modern-looking infographic resume. But beware—it's NOT an ATS- friendly resume template for free. If you decide to use it, send it directly to the recruiter's inbox as ATSs may not be able to parse it. Get it here.
Don't know what ATS (Applicant Tracking Software) is? Read our article: ATS Resume: Template & Compliant, ATS Friendly Tips
3. Colorful ZigZag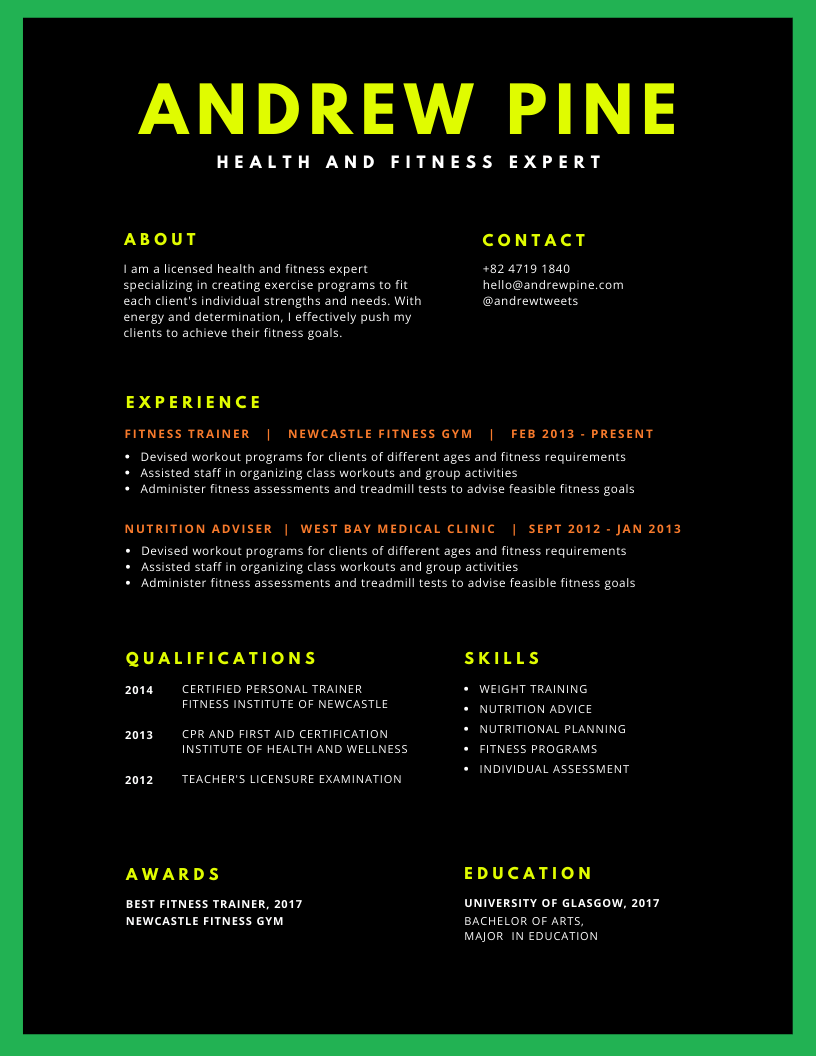 This creative resume template for free is a good choice for designers or other creatives. Just be warned: it's said your resume should stand out, but in this case it might be too unique a resume. It's not meant to be printed, though, unless you do it yourself using a high-quality color printer. Get it here.
The pros of using Canva?
You can edit any of the free resume templates using the Canva app—which is very convenient—and you can choose to download your resume as a PDF or an image file.
The cons?
Not all the templates you find there are ATS-parsable. Always double-check if you can copy the content and paste it ungarbled into a text document. If you can't, chances are no ATS software will parse it either. Hence, be careful about not going overboard with eye-catching resumes.
Now—
There's a website called GoodResume that offers a number of absolutely free resume templates.
Take a look at some of them:
4. Dark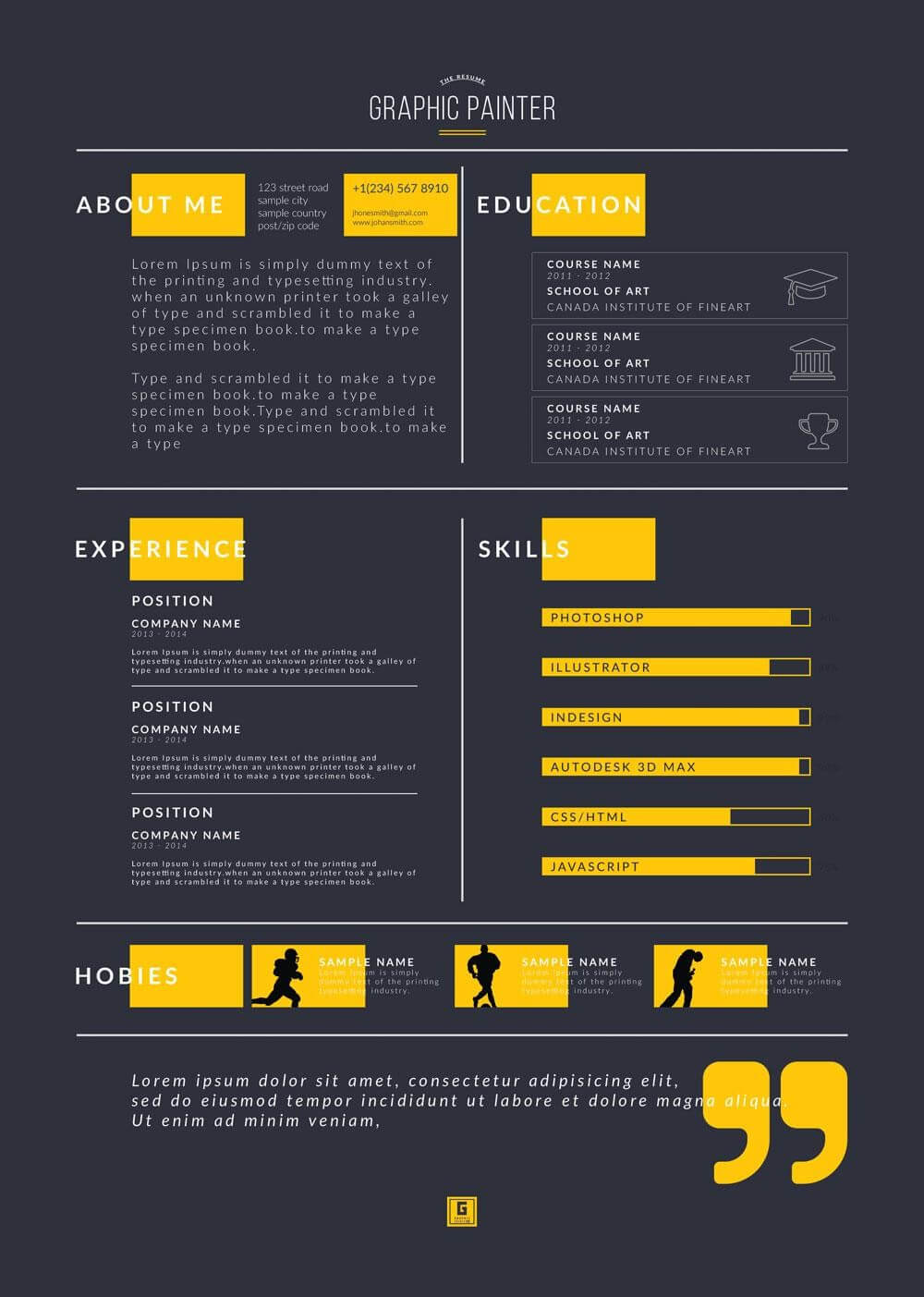 This free resume template is suitable for candidates seeking creative positions. It's available in several popular file formats, including versions of this resume template in PSD and DOC. Get it here.
5. Old Style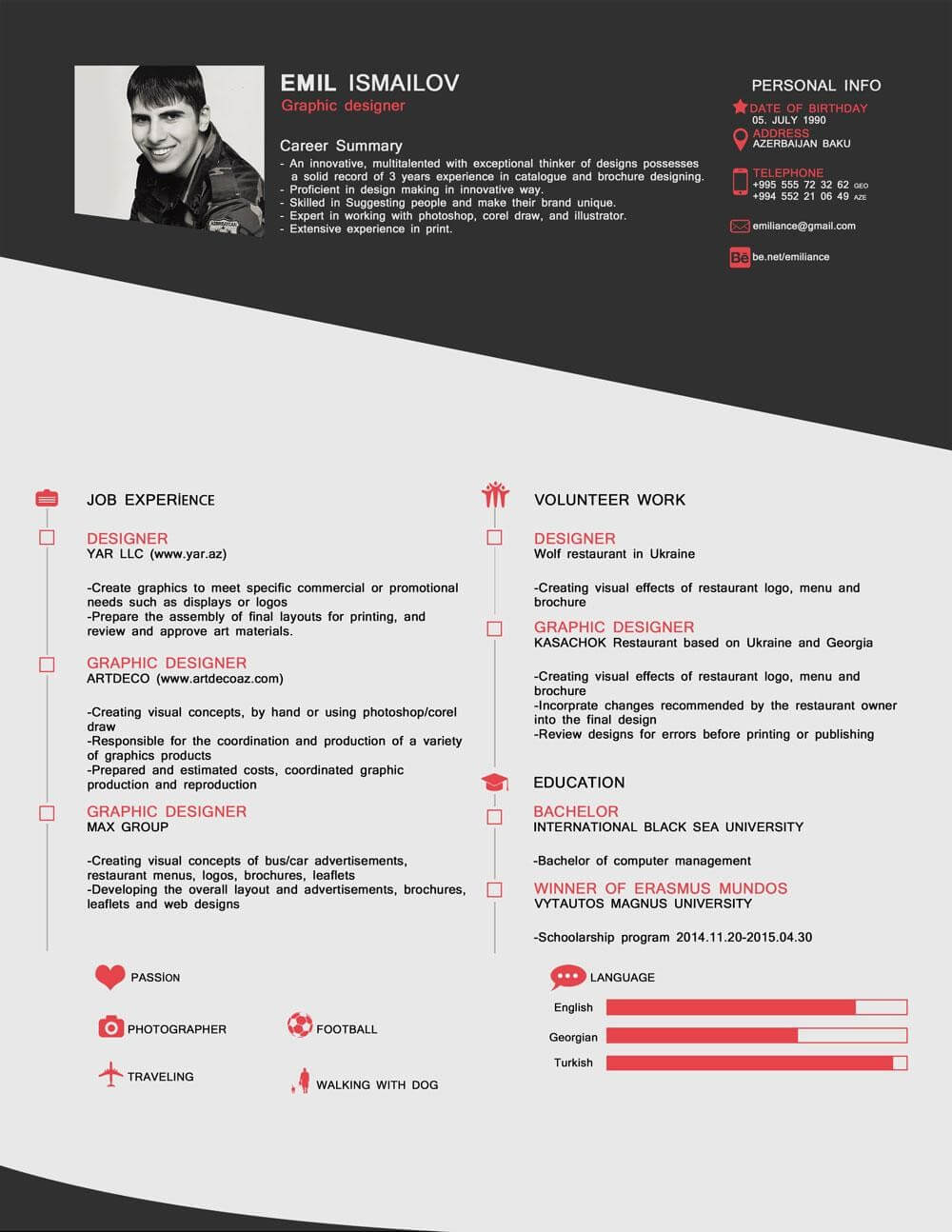 Even though this free unique resume template is called Old Style, in fact, it combines modern and vintage elements into an interesting whole. It's suitable for candidates writing their first resume ever. It's available in the PSD format. Get it here.
6. Maroon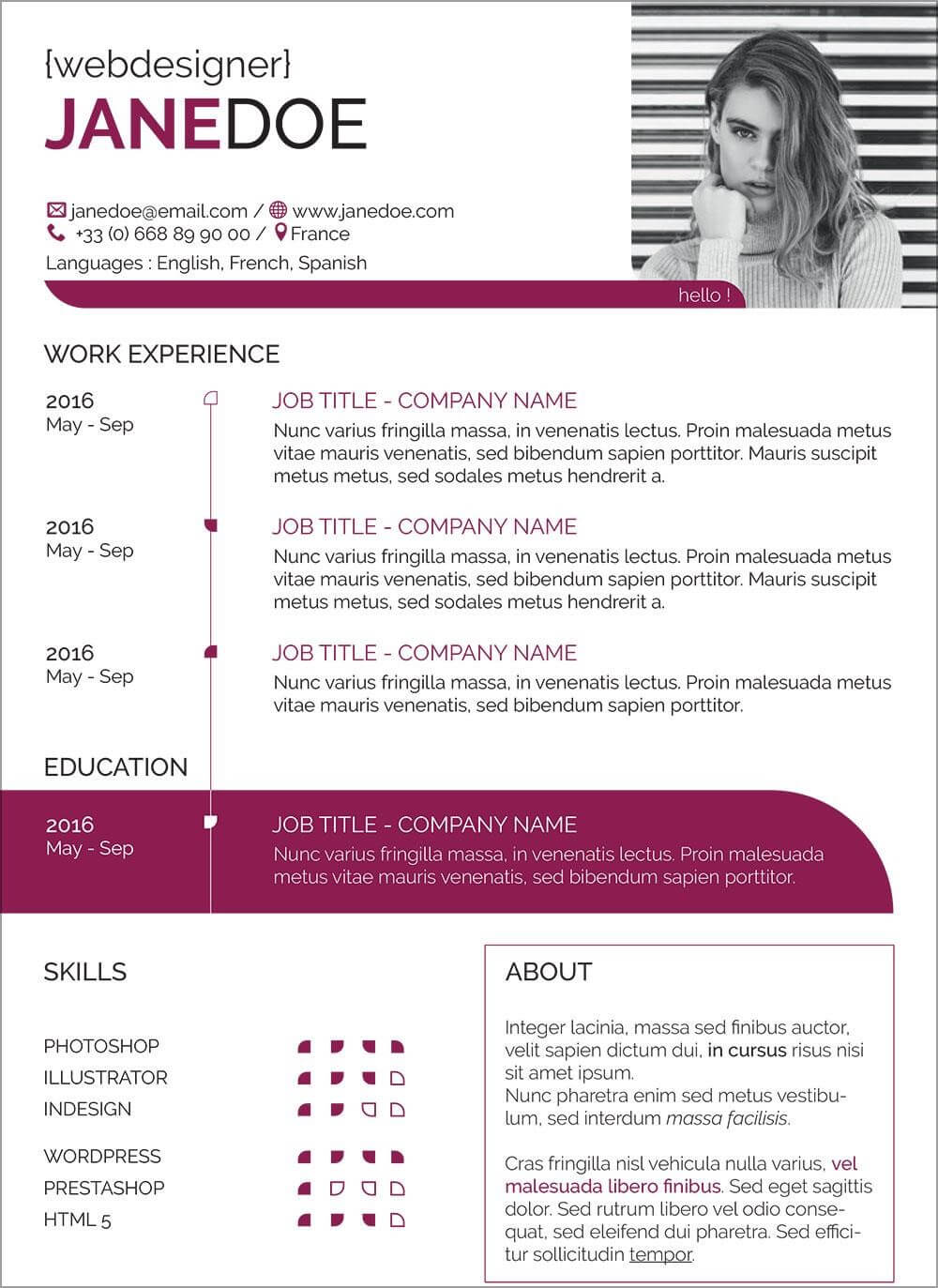 This free resume template incorporates creative graphical elements that give it a distinguishable look. You can download it as an Ai file format. Get it here.
7. Light and Crisp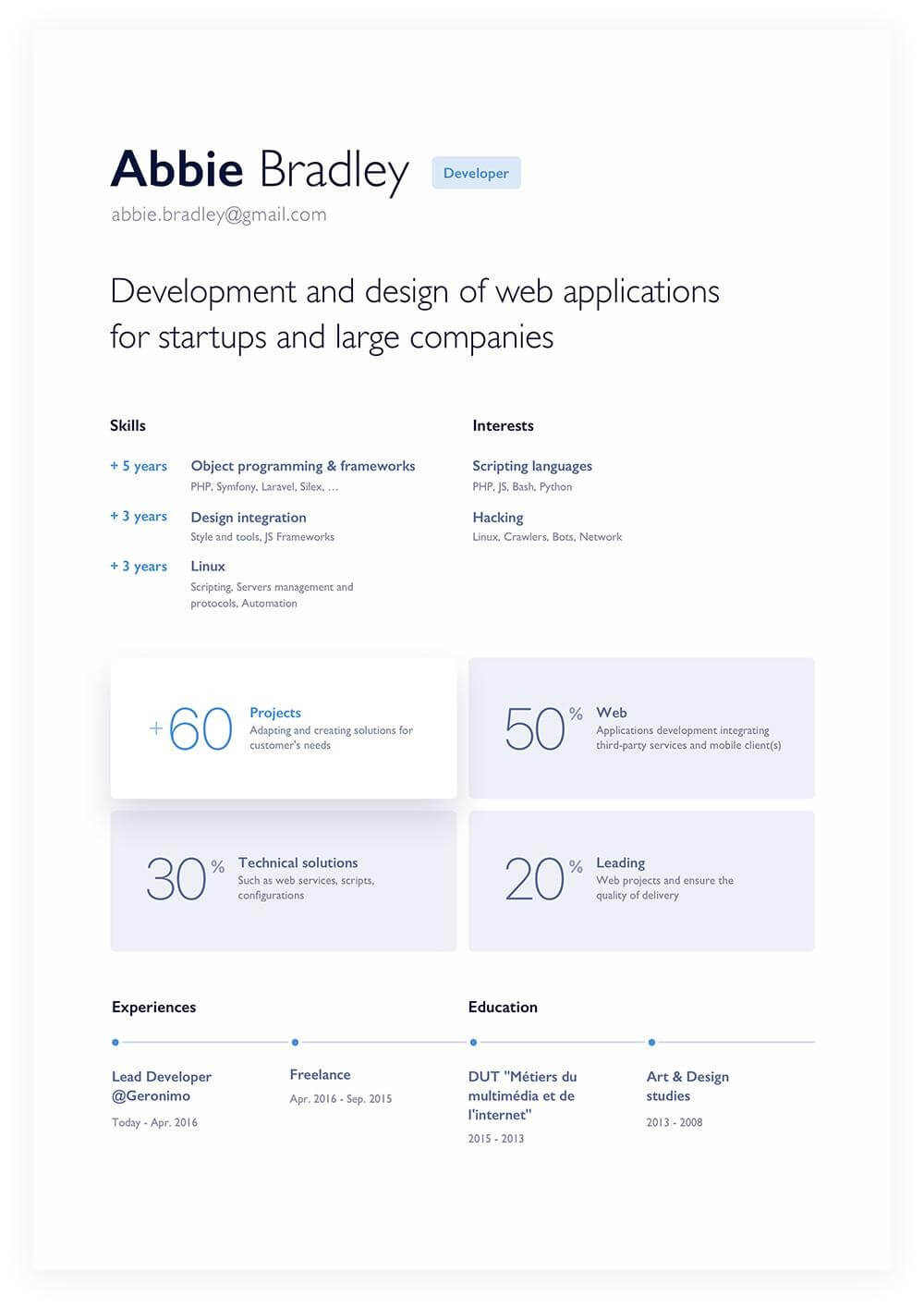 This free online resume template presents your relevant experience and skills in a visually compelling way. It's an interesting alternative to more traditional resume templates. It's suitable for candidates applying for less traditional roles. Get it here.
Moving on—
If you're a Mac user you may be interested in using Pages to create your resume. Apple put several free resume templates in the built-in template gallery.
To access them, just launch your copy of Pages, start making a new document, and scroll the templates down until you see resumes / curricula vitae.
Here's a look at a couple of them:
8. Elegant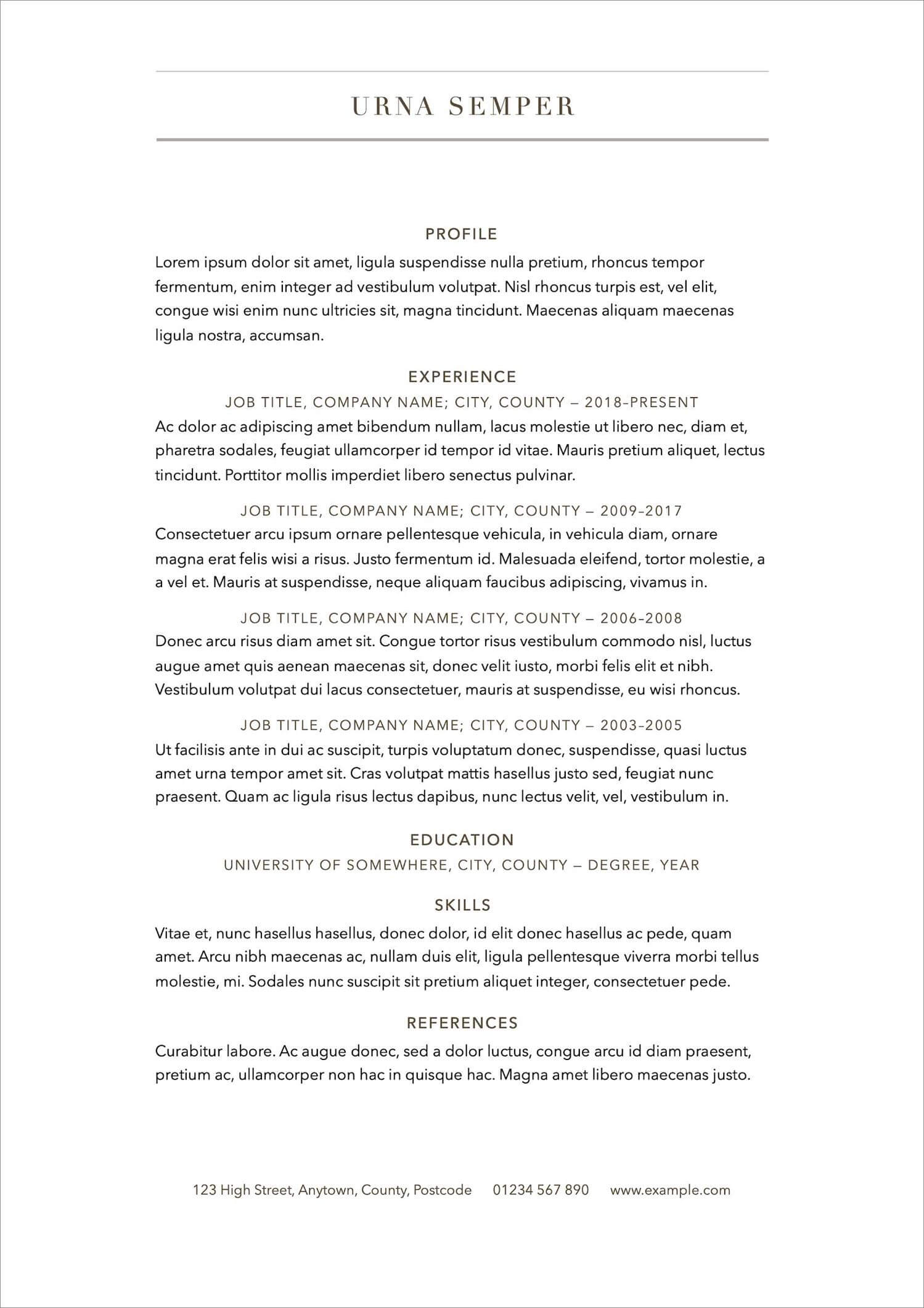 This elegant resume template is available for free inside the Pages app. The template is universal enough to appeal to job seekers with different levels of work experience looking for employment with more traditional companies.
9. Bold Type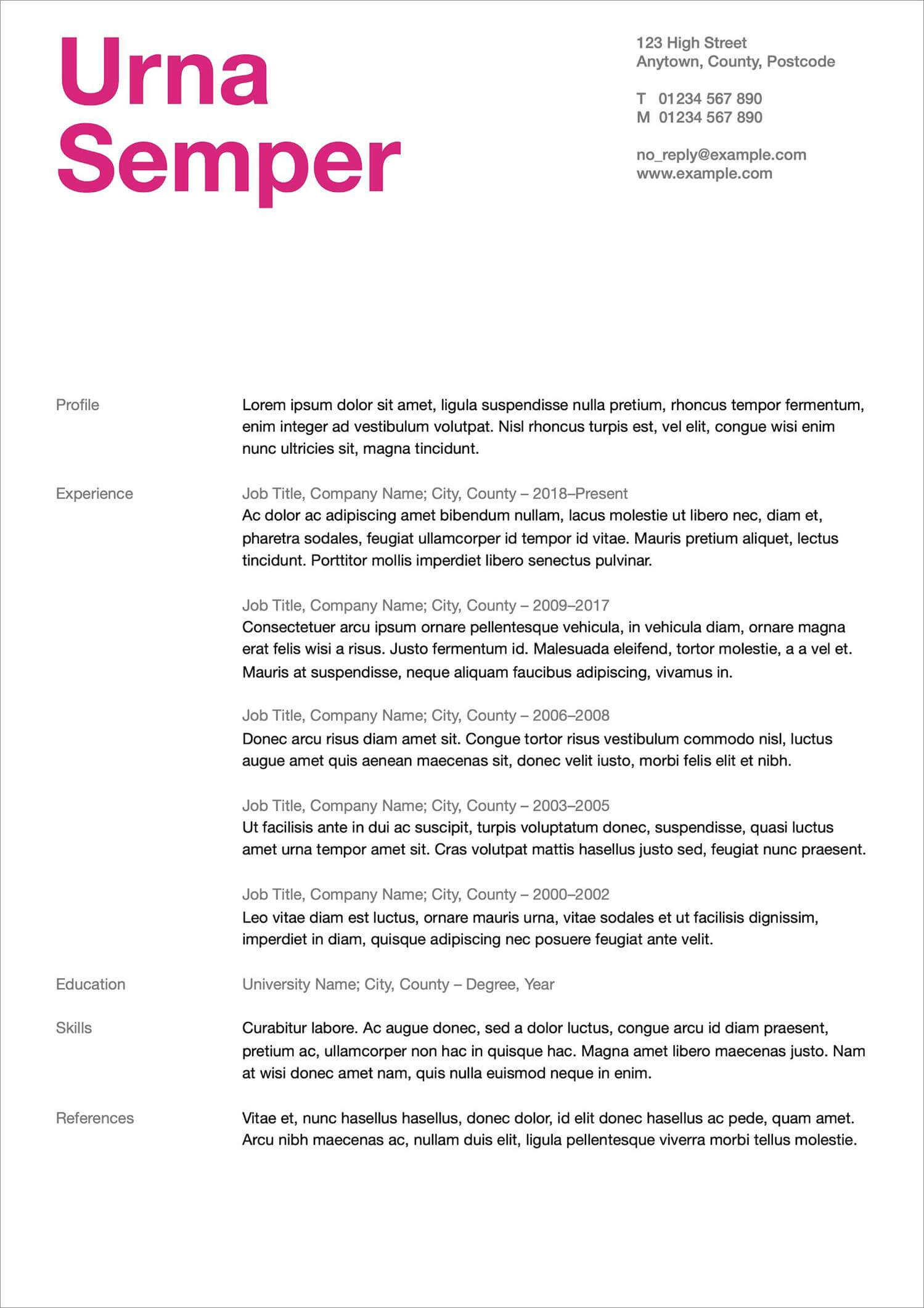 Here's another free resume template you can find in Pages. This one—in contrast to the example above—has a more modern vibe and could be a good choice for those wishing to join companies with a laid back culture.
Interested in exploring more templates for Apple Pages? Here's a gallery for you: Pages Resume Templates: 10+ FREE Resume Templates for Mac
Moving on—
Hloom is one of the biggest repositories of free resume templates online.
Although they may not be as creative and unique as some we've presented above, the vast majority of them are perfectly parsable by ATS software.
10. Clean and Crisp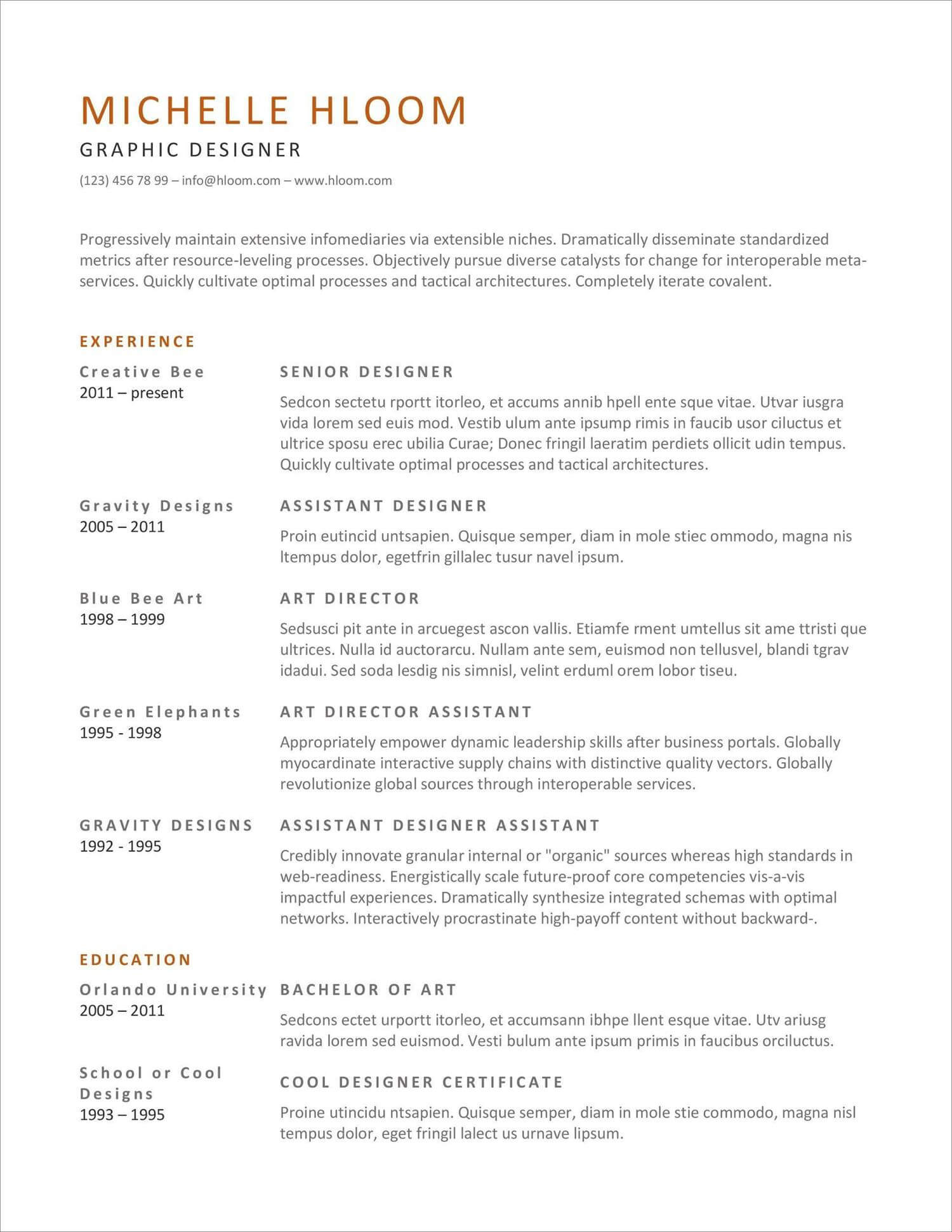 This free resume template from Hloom looks elegant and professional. You can print it out on a good quality paper and take it with you to the interview. Get it here.
11. Subtly Effective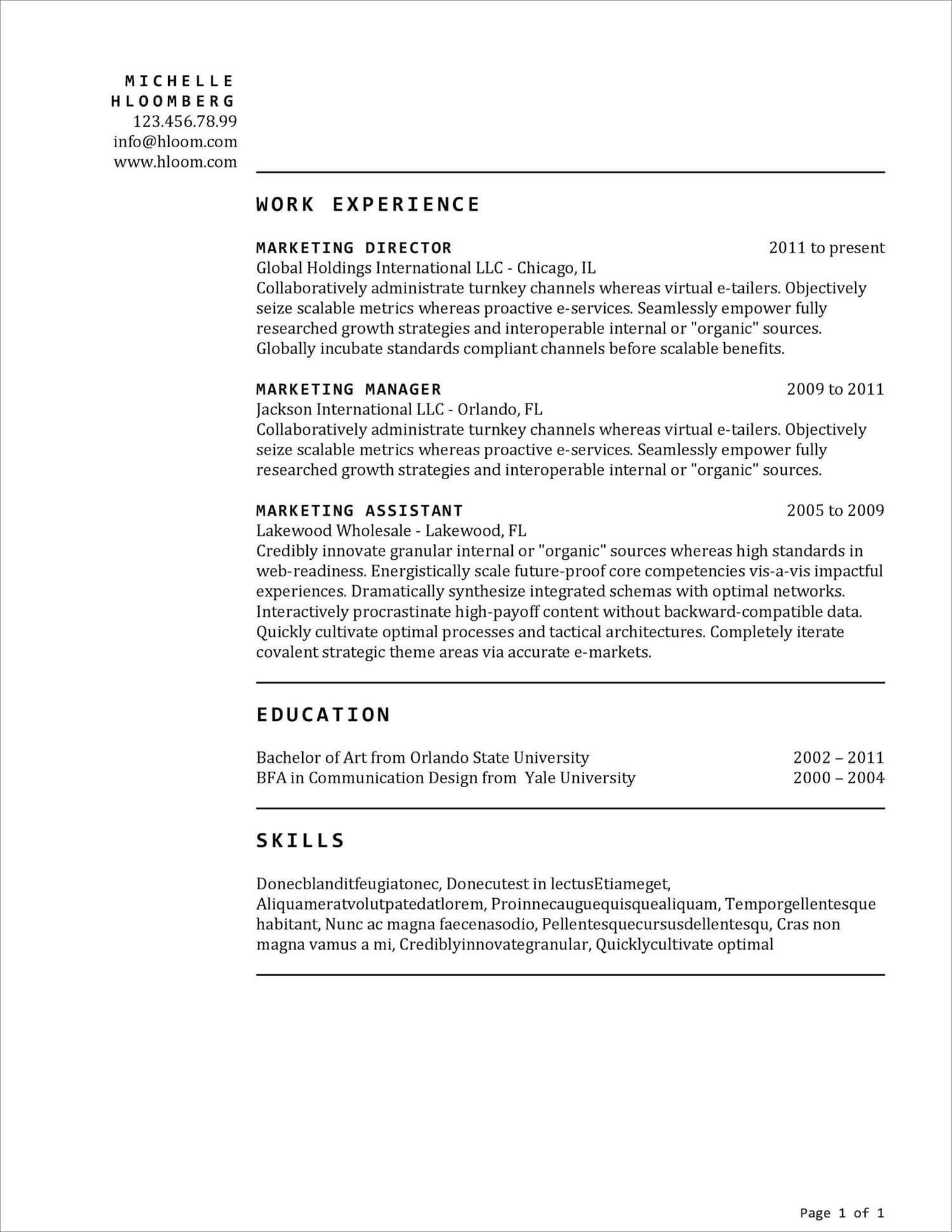 This example also comes from Hloom. Just like the example above, it's a free blank resume template that's perfectly printable. Get it here.
Finally—
Resumgo is a good destination if you're willing to give your resume an uncommon look.
Here's a small sample of what you can find there:
12. Clean Light Green
This vibrant free resume template is available in three file formats: Word, Pages, and Google Docs. Its colorful top section will surely draw any recruiter's attention. Get it here.
13. Iris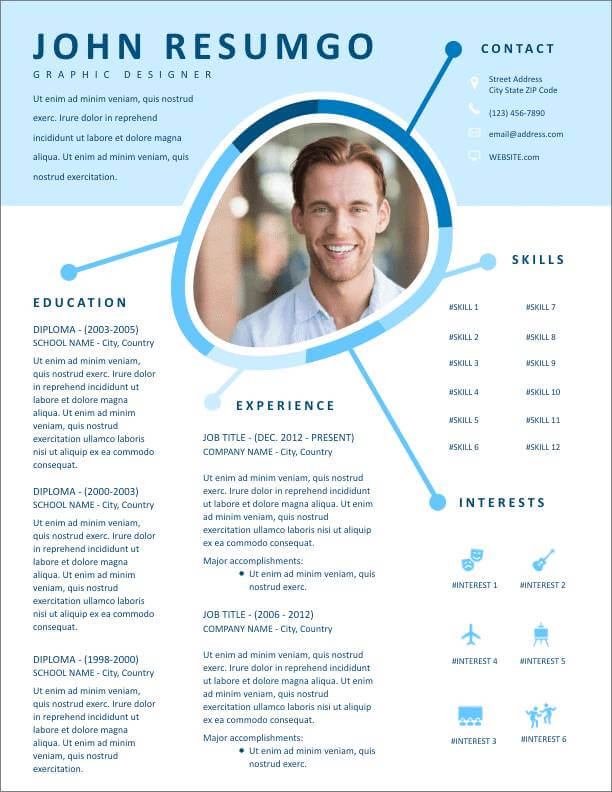 This free resume template has been inspired by modern infographics. As such, it could be an interesting choice for creatives of all ilks, like graphic or website designers. Get it here.
Want to see more infographic templates? See our guide: 13+ Free Infographic Resume Templates
14. Timo
In contrast to the previous two free resume templates, this one is more traditional. But it doesn't mean it's devoid of elements that give it a unique character. It will work well for candidates who want to write a classic resume in the US format. Get it here.
And one more thing—
If you're not sure a free resume template is what you've been looking for, how about taking a look at what resume builders have to offer? Here's an article you may want to read: 15+ Best Online Resume Builders—Reviews & Features
And don't forget about a cover letter. A great cover letter that matches your resume will give you an advantage over other candidates. You can write it in our cover letter builder here. Here's what it may look like: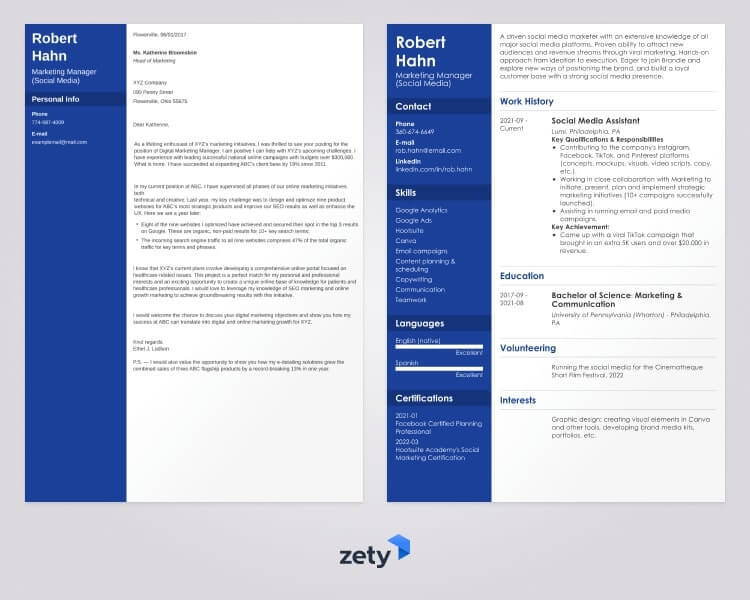 See more cover letter templates and start writing.
That's it! That's our selection of the best resume templates available for free. Did you like our gallery? Are there any other resources worth sharing? Give us a shout out in the comments below, we're always happy to hear from you!