We're about to show you the best free resume templates around, but first:
My barber used to have a sign that said something to the effect of,
"Cheap. Fast. Quality. You can choose any two you like, but never all three."
Well, today I've set out to prove my barber wrong by finding resume templates that match all three options. (No offense, Vinnie!)
These are quality resume templates that will get your resume done fast, and they're better than cheap - they're all absolutely free.
Coming from all corners of the web, here are seventeen of the best free resume templates we could find for you to use for your next job-hunting expedition.
This free resume templates guide will show you:
The 17 best out of more than a 100 free resume templates we found.
The most awesome templates downloadable for free out there.
Free printable resumes that will help you land a job faster than you can say snail mail.
Want to save time and have your resume ready in 5 minutes? Try our resume builder. It's fast and easy to use. Plus, you'll get tips and right vs. wrong examples while writing your resume. See 20+ resume templates and create your resume here.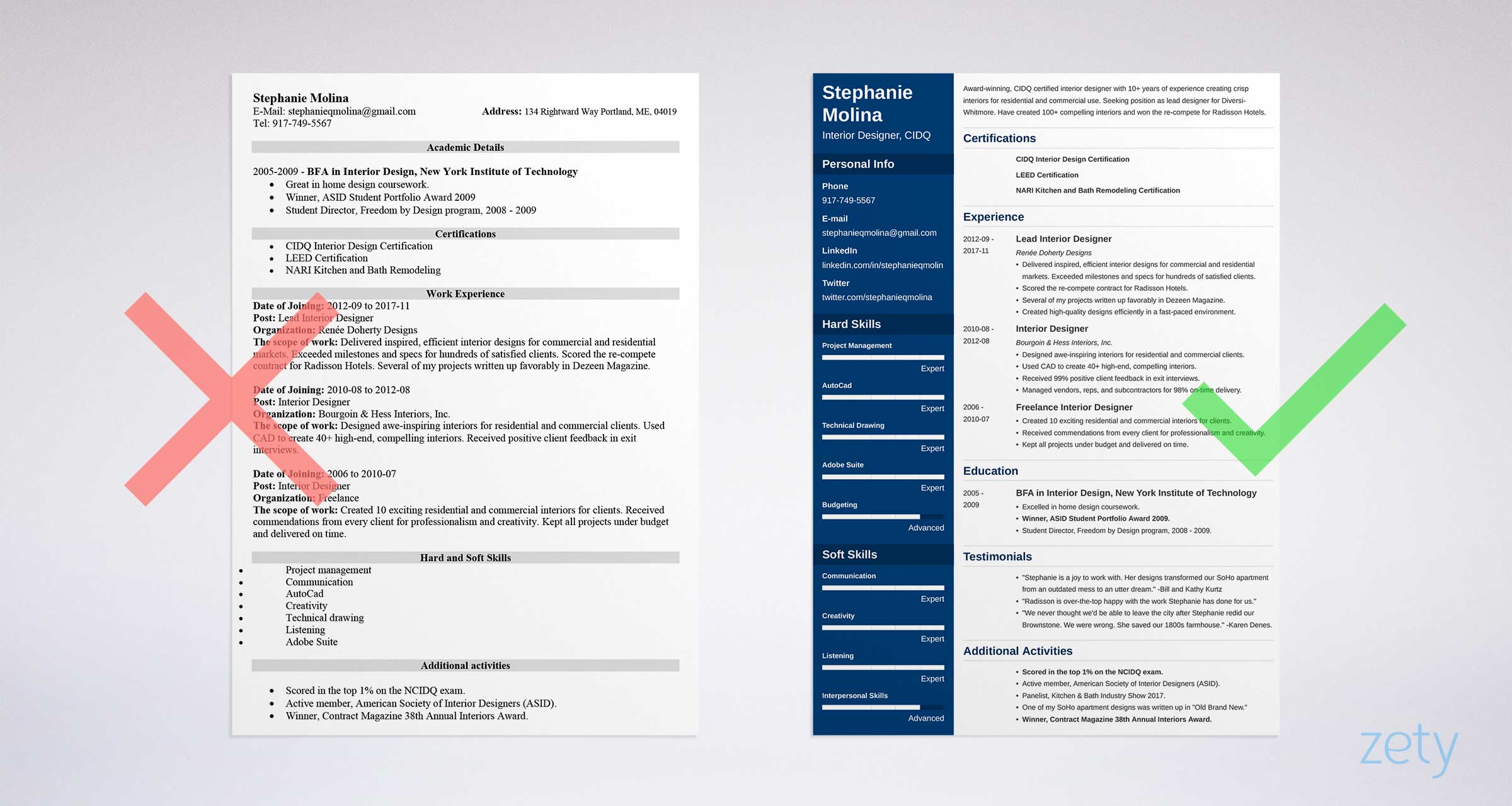 Example of a One Page Resume - See 20+ resume templates and create your resume here.
One of our users, Nikos, had this to say:
[I used] a nice template I found on Zety. My resume is now one page long, not three. With the same stuff.
Note: we have designed all our resume templates to be ATS-scannable.
1
Watershed by Zety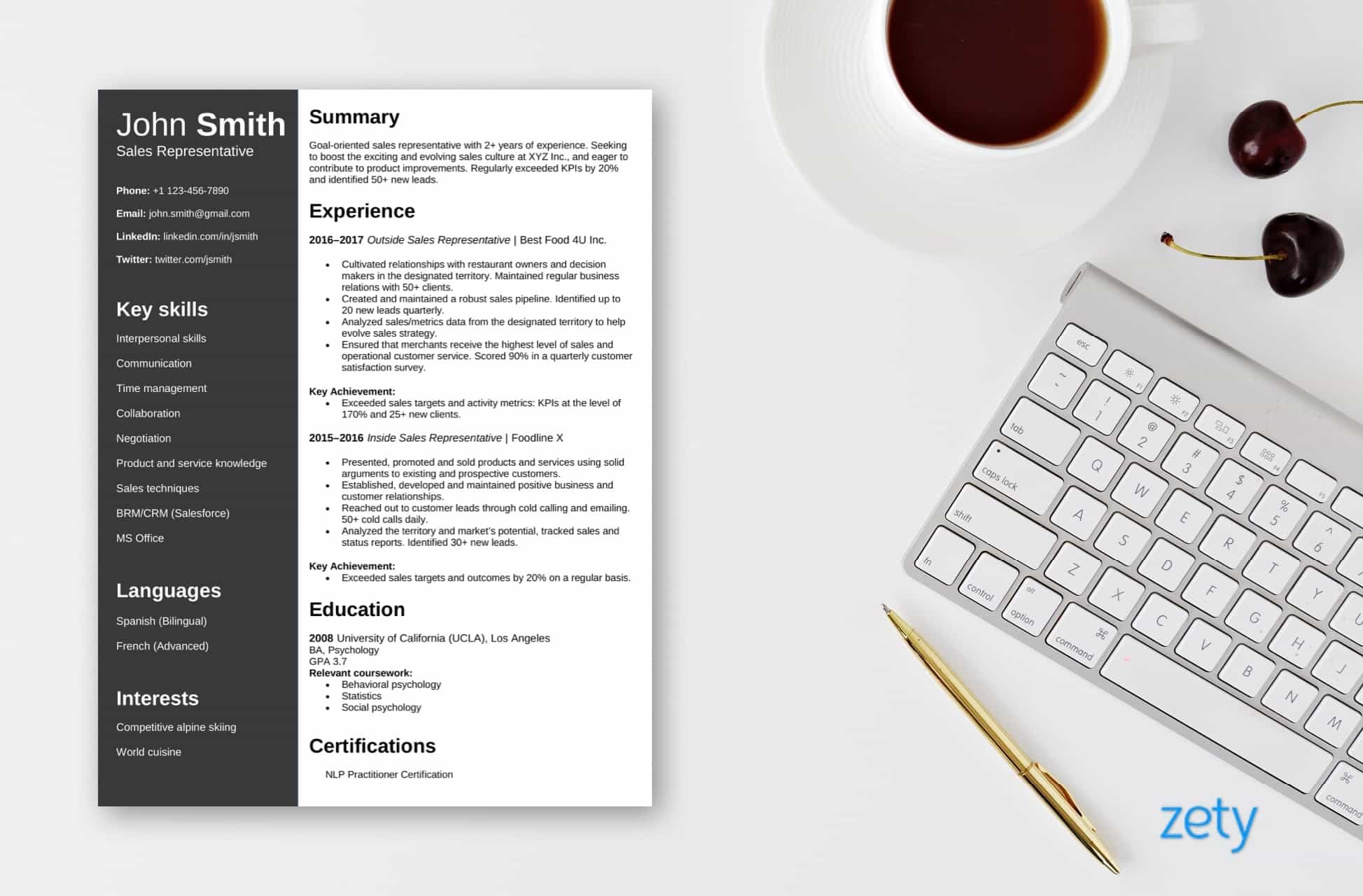 Watershed is our own Cascade's little brother. Its neat two-column layout, simple fonts, and clear headings make it easily navigable and elegant. Perfect for seasoned pros and newbies alike. Plus, you can change its colors, layout, and fonts to make it fully yours.
Free Download: Watershed Resume Template by Zety
2
Clear & Concise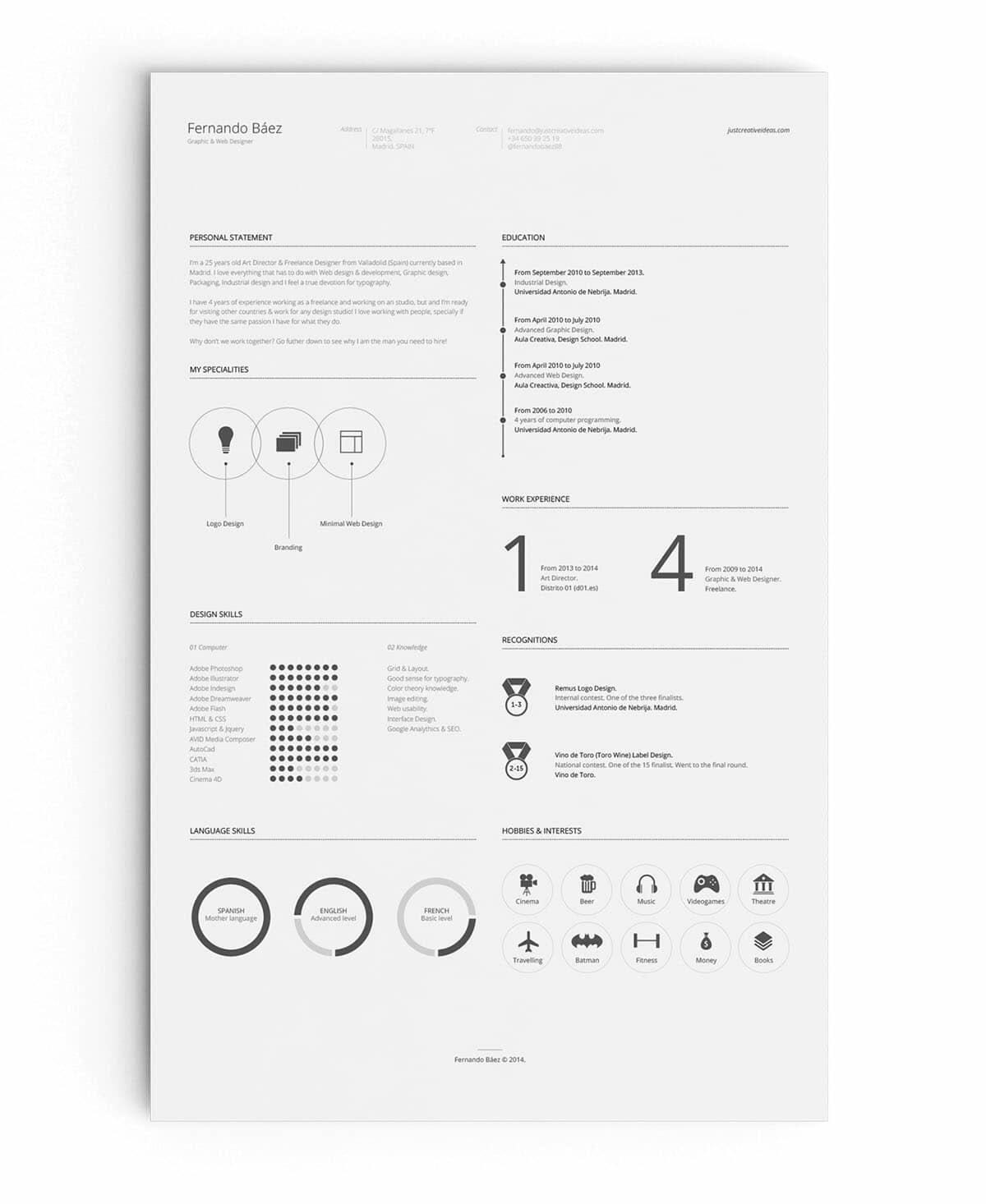 With over 105,000 (!!!) likes, "FREE Resume Template" by Fernando Báez is one of Behance's all-time greatest hits. Sure, it's a free package downloadable for Adobe Illustrator, yet it's so much more.
With its two even columns, beautiful icons, circle graphs, and a bar rating system for your skills to shine, this 4-year old resume template is sure to stay modern for years to come.
Here's the link to this template. For more of the best resume templates we've found around the web, see: Best Resume Templates: 15 Examples to Download & Use Right Away
Our resume builder (you can create your resume here) will give you tips and examples on how to write your resume. You can copy the examples to your resume, customize, and save a lot of time.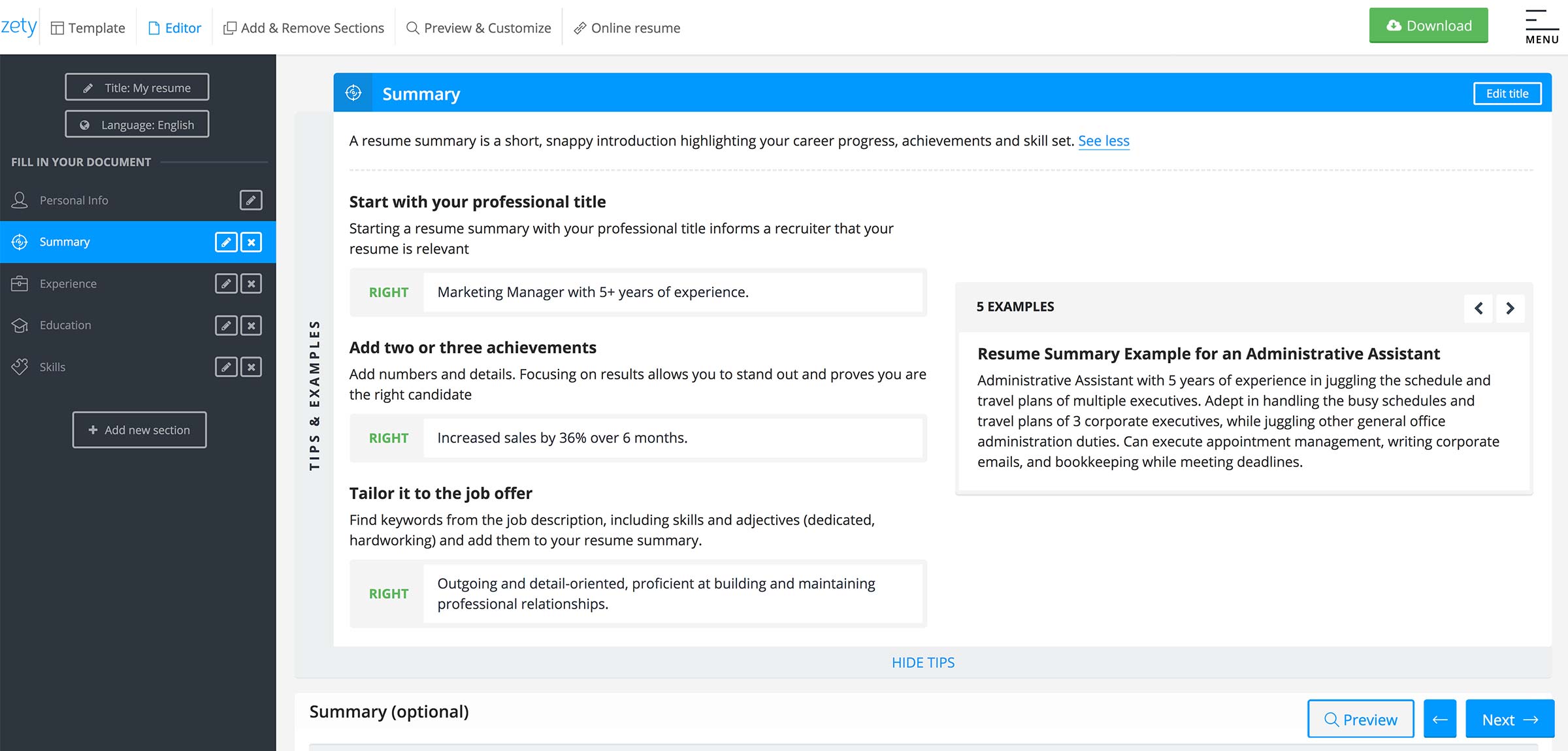 Inside our resume builder app, you will find expert tips and examples for your resume.
3
Dark & Daring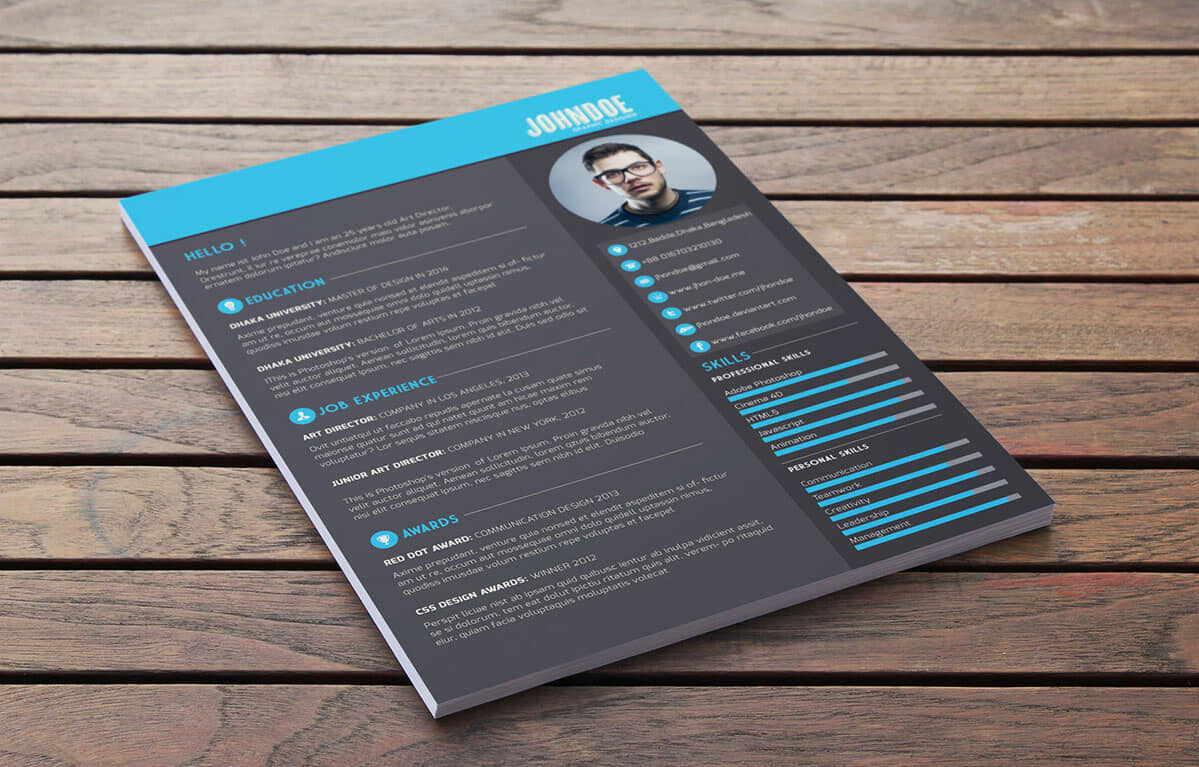 "Free Resume Template Download" by Abdullah Al Mamun is so gorgeous, it's hard to imagine how it can be free. Well, actually, the ink you'll use up printing this dark background would cost a small fortune, so don't print this one out.
But if you're just planning on emailing this resume out, you can't go wrong with the different coloring styles, prominent bar graphs for your skills, and social icons to set you apart from the crowd.
Here's the link to this template.
This template is free, but it's also quite modern. Check out other contemporary ones: Modern Resume Templates & 18 Examples [A Complete Guide].
4
Free, Minimalistic, and Clean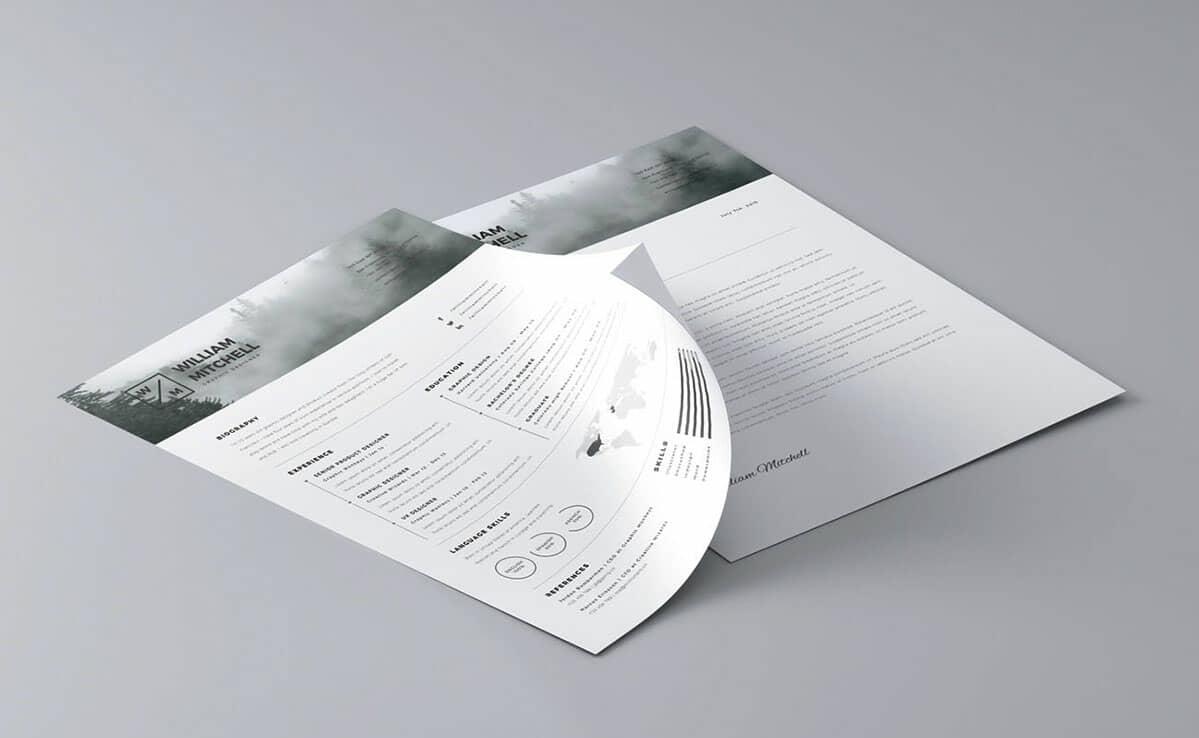 Mats-Peter Forss' "Free Minimalistic and Clean Resume Template for Photoshop and Illustrator" (say that 3 times fast!) doesn't seem as minimalistic as described, but don't let that stop you.
Options abound on this completely free resume template download, from a customizable header and world map to the bar and circle graphs. A free cover letter template (see our cover letter tips) that matches the professional resume makes this package a win-win opportunity.
Here's the link to this template.
5
Colorful & Creative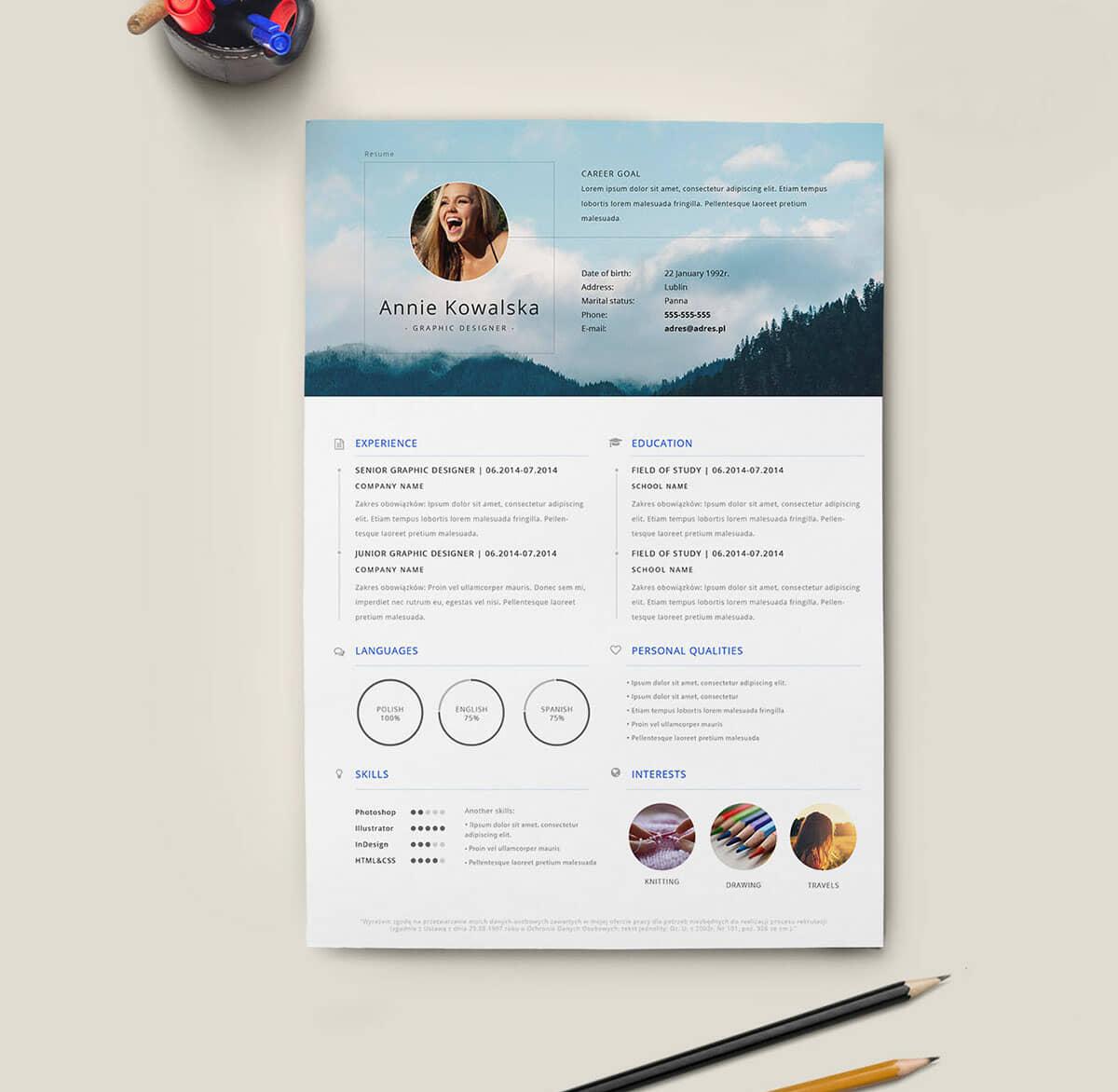 The "Free Minimalistic Resume/CV - Illustrator" by Patryk Korycki on Behance also isn't the most minimalistic template for resumes out there, but it is clean and modern. In case the hiring manager is unsure what your interests are, give them a picture reference to help 'em out.
This elegant template beautifully frames your photo on top in its large header area, where you will also give a brief bio and contact information. Two even columns for the remainder of the page give you plenty of room to woo the company with your experience, skills, and education.
Here's the link to this template.
6
Complimentary & Complementary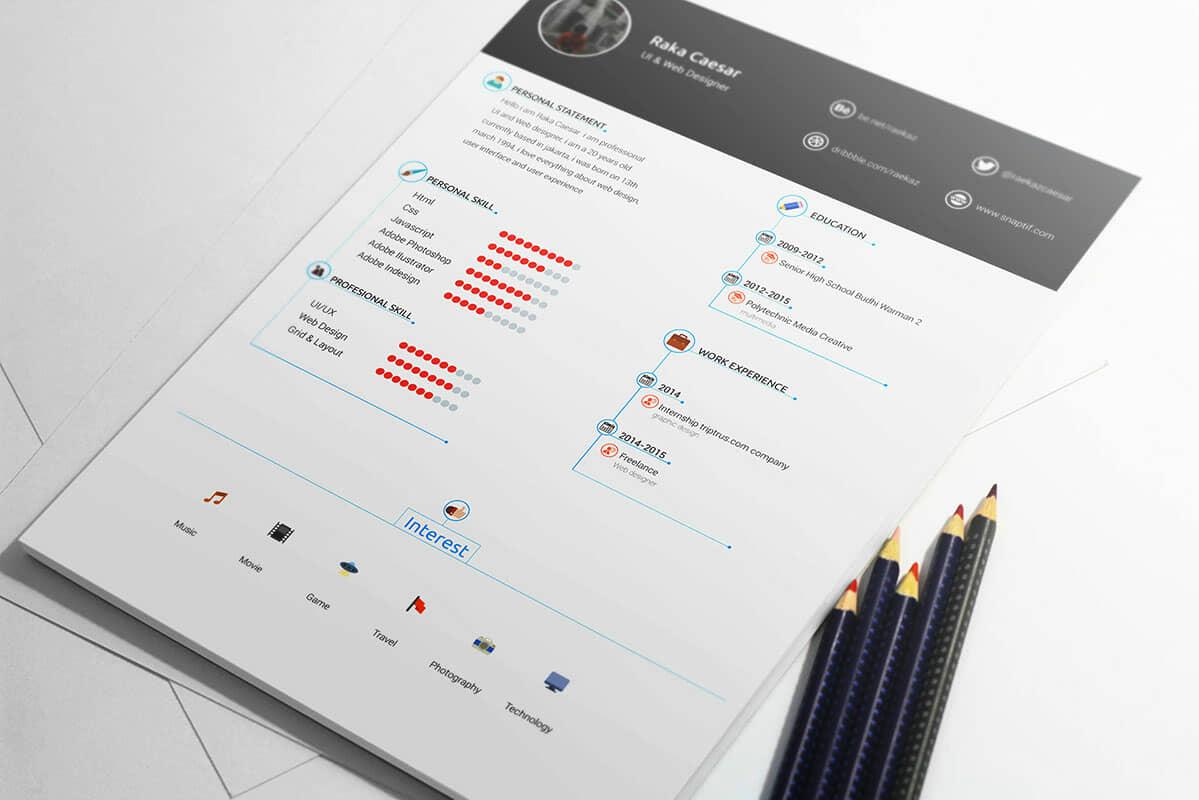 "Resume / cv template - free download" by Raka Caesar on Behance is an understated find. From afar, the gray header on the white background looks a bit dull, but when the hiring manager opens this up on their computer (or holds the printed copy), the subtle colors of the icons, skills, and line styling come into focus for a great-looking resume template example.
Here's the link to this template.
Being creative on a resume like this one is tough, but our guide and examples make it easy: Creative Resume Templates & 15+ Examples [A Complete Guide].
7
Blue Da Ba Dee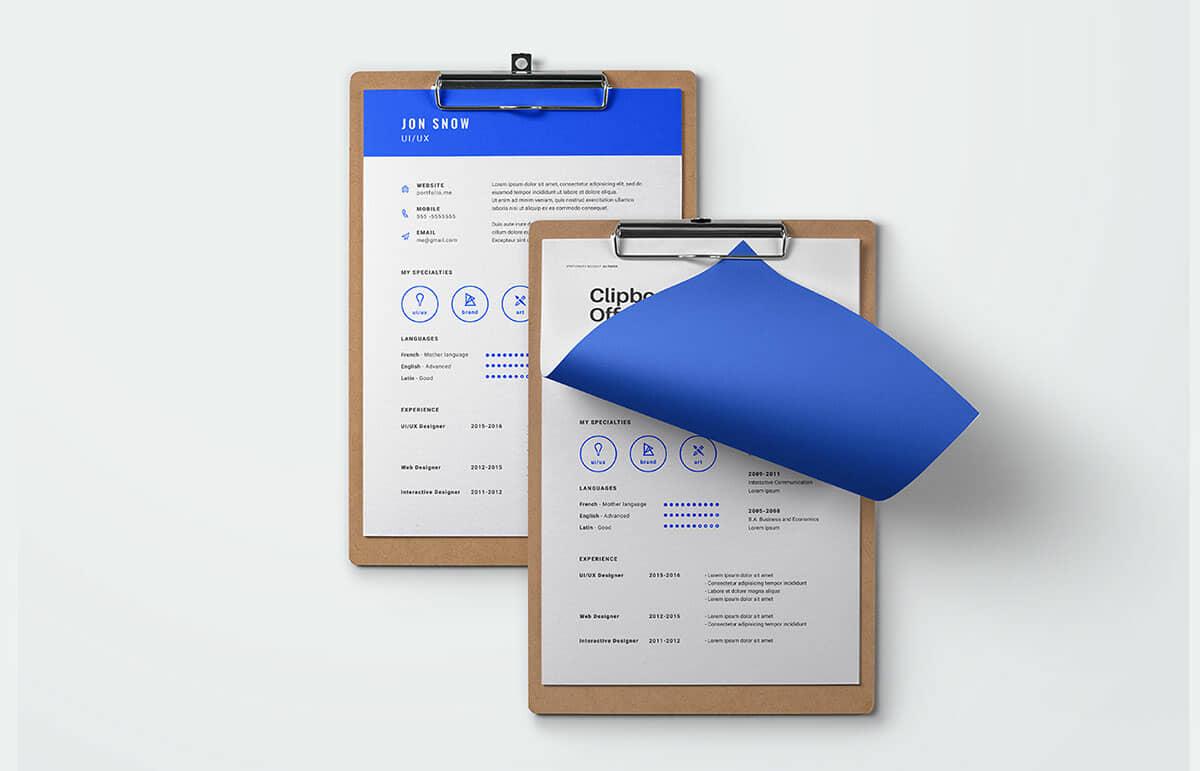 Steven Han chose a perfect name for his "Free Blue Resume Template PSD" - it's quite free and it's quite blue. I have no idea how you get the reverse side to look like that (reminds me of carbon copy paper), but it's probably irrelevant anyway if you choose to email your resume.
Graphic designers and other creative types will appreciate this modern template. It weaves the old with the new, with traditional-style text importance and it's blue coordinating colors and icons.
Here's the link to this template.
8
Broad Borders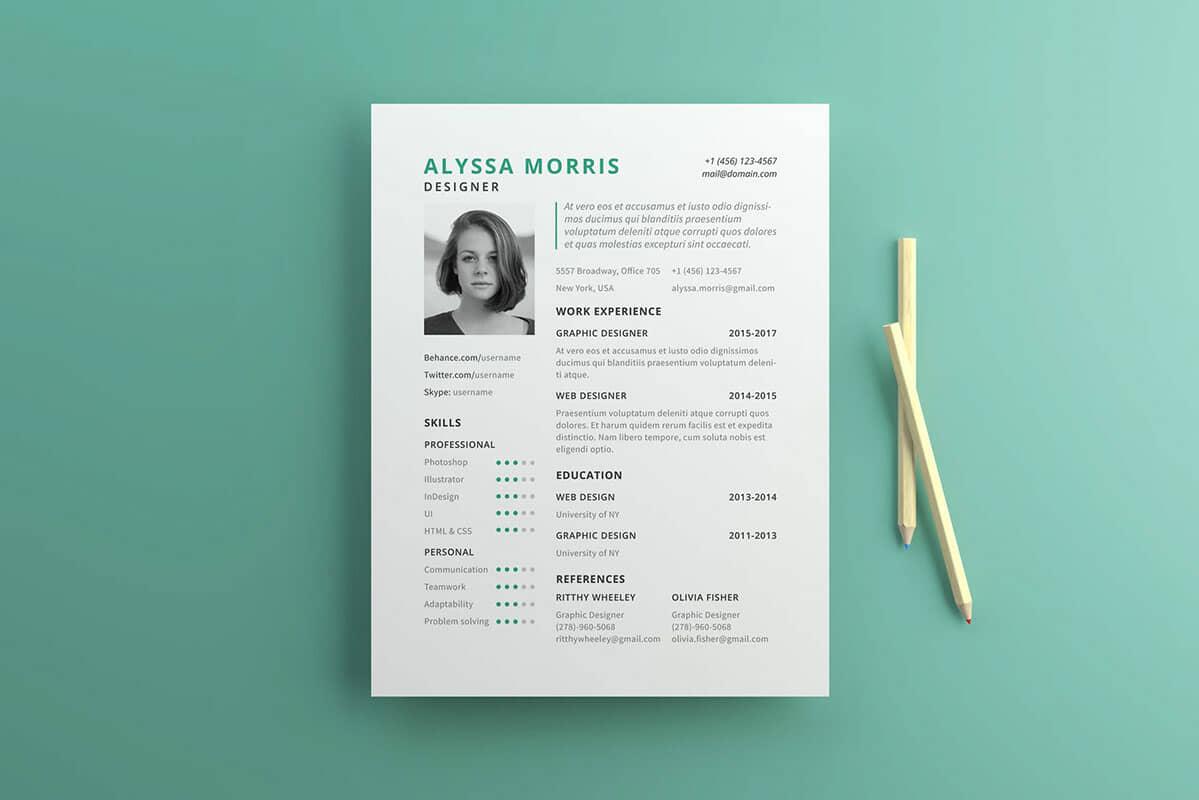 Antonio Padilla's "Clean Resume CV Template" is one of the newer on offer from Behance, and you can just see the modernity of it from the start. A subdued aquamarine green gives this resume template a splash of color, while the two columns leave plenty of space to include all your deets.
A matching cover letter template round out this free downloadable resume design.
Here's the link to this template.
9
Neat & Premium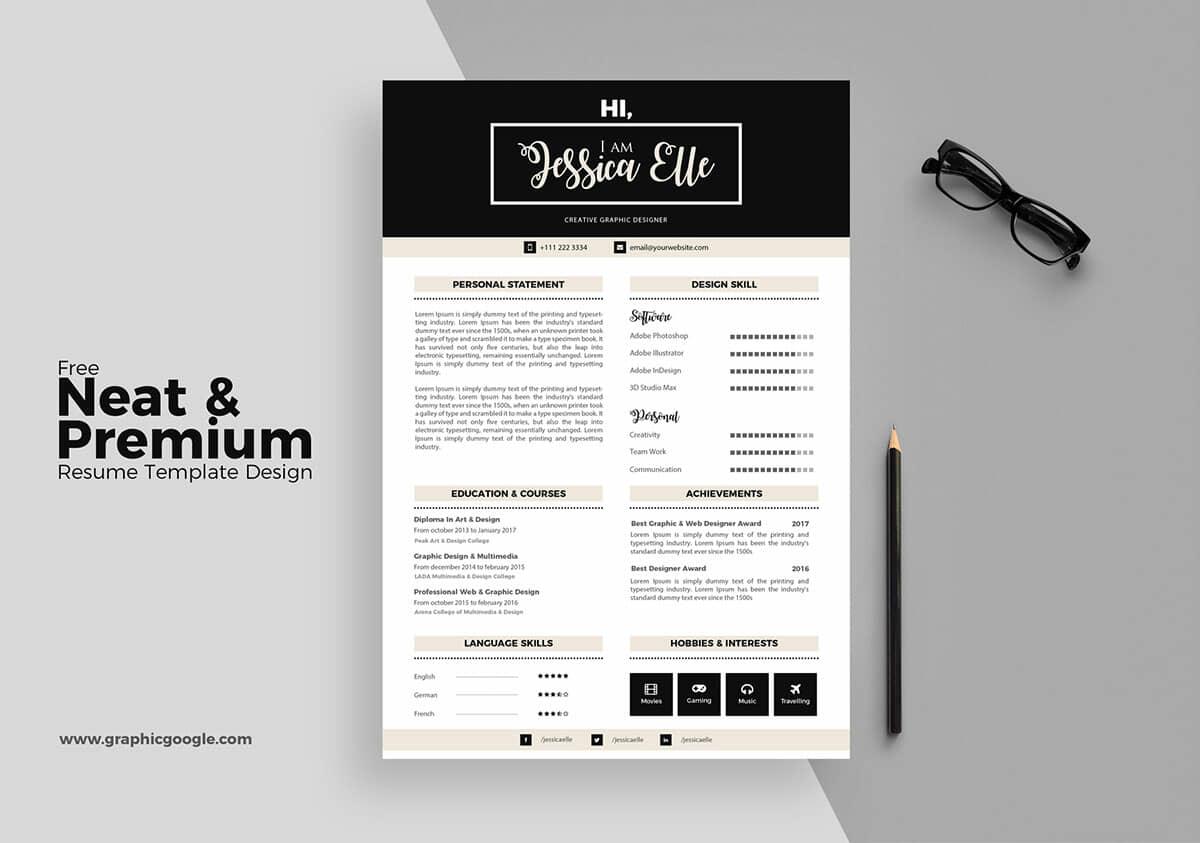 "Free Neat & Premium Resume Template Design" by the folks over at Graphic Google is a premium template for resumes at an excellent price. Available as a download for Adobe Illustrator, this absolutely free resume template design has bold styling and casts your name in the spotlight to help you stand out from the rest of the resume stack.
Here's the link to this template.
10
A Pastel Foundation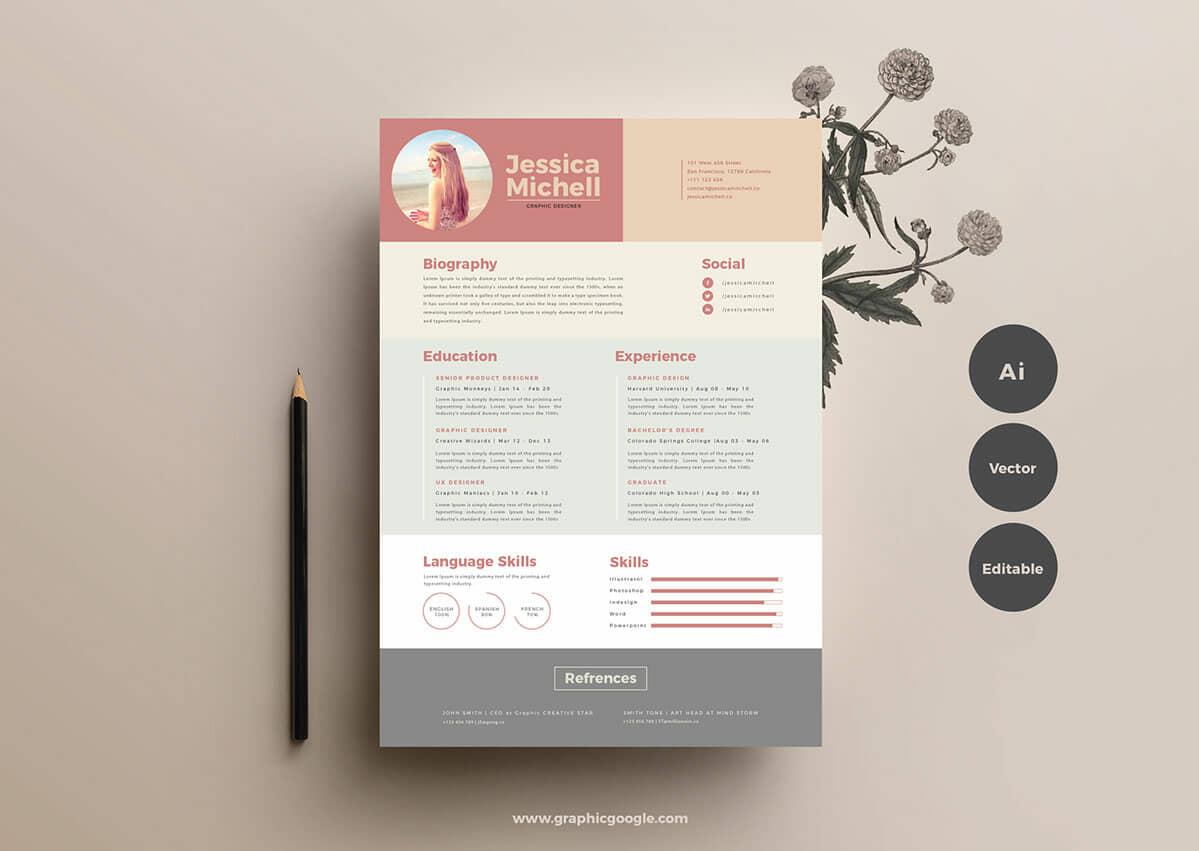 Another one from Graphic Google, the "Free Simple & Elegant Resume Template" is pleasing to the eye in an organic way, with its earthy, pastel colors and minimal black or white.
Those colors separate different sections, but they chose well - they don't create an eyesore as many other documents of multiple colors might.
Here's the link to this template.
Simple doesn't have to mean uninspired and boring. Check out our curated list of simple resume templates: Simple Resume Templates: 15 of the Easiest Resume Examples to Use.
11
Center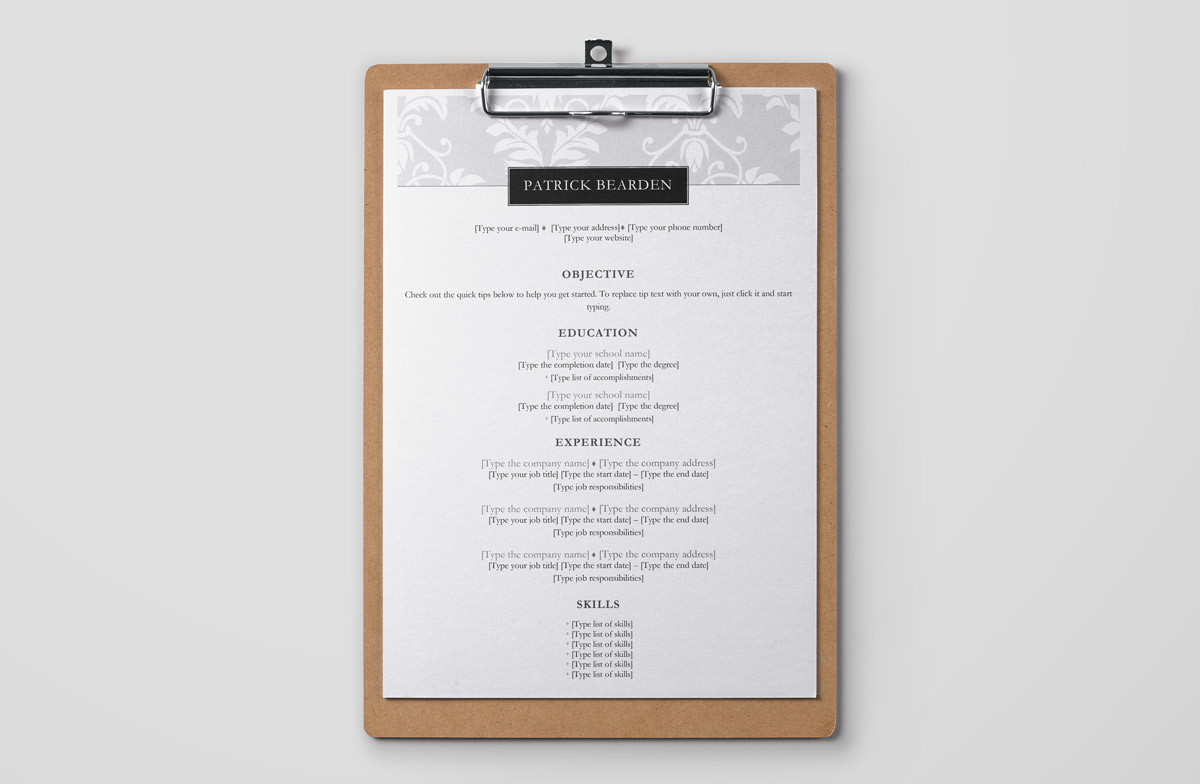 This free Microsoft Word resume template by Black Tie Design is simple to use and perfect for just about any situation. It's a single-column layout, but it is rather unique in that everything is center-aligned on the page.
A floral header in grayscale allows your name to stand out at the top, and easily-replaceable sections and headings inform you exactly where to place what. A "quick parts" menu quickly lets you add more sections and even a profile photo, if you wish.
Here's the link to this free resume template for Word.
12
Super Skimmable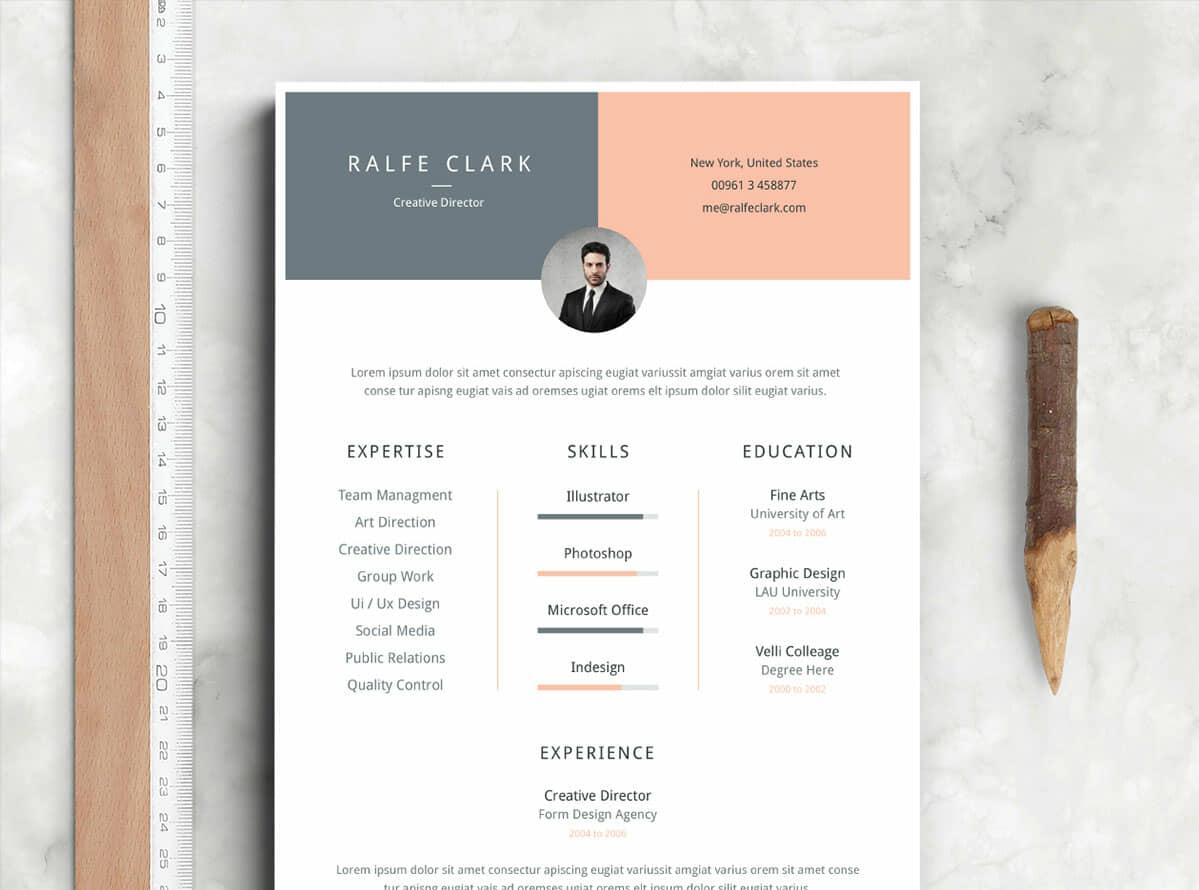 Wassim Awadallah's "Best Free Resume Templates" is a whole package with many different resume templates, all free and all designed well. There's so many to choose from in his package that there's no use in describing some of the features, as you'll surely be able to find what you need within.
Here's the link to this template.
13
Double Diamonds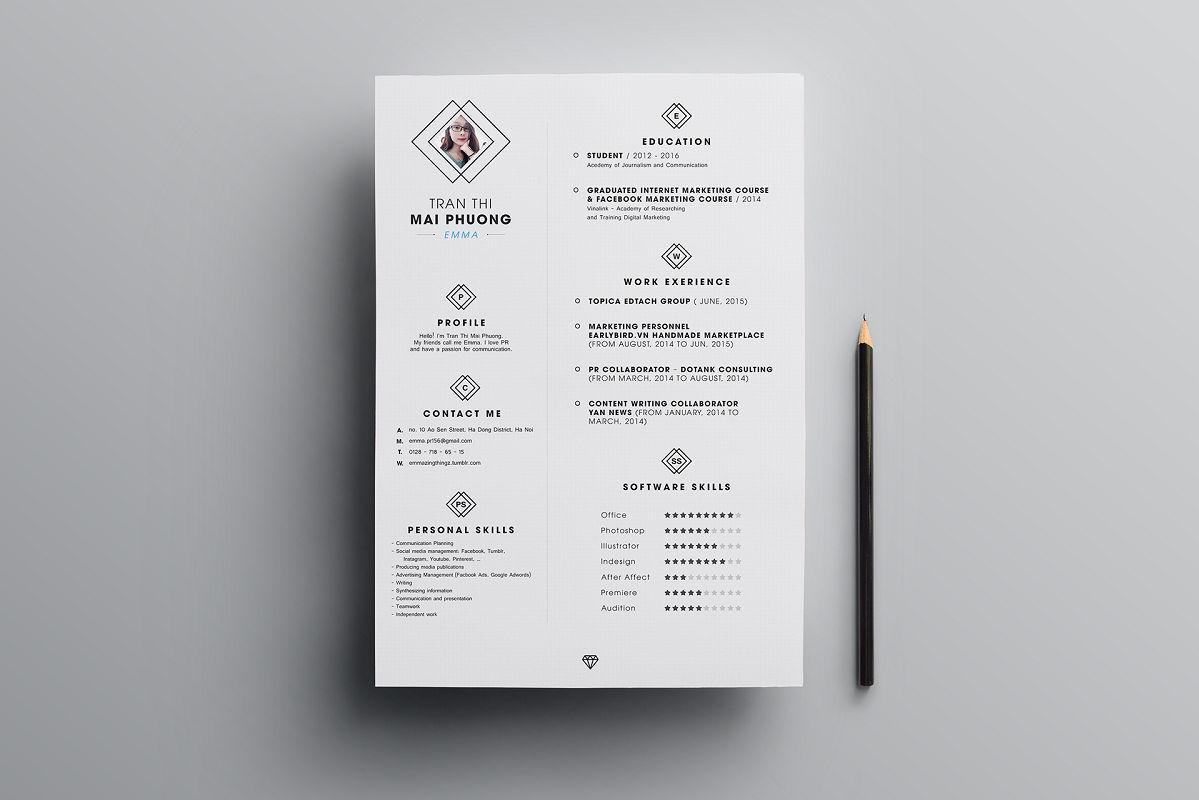 "FREE Resume Template" by Dzunh Le on Behance offers you a nice branding experience with its double diamond design which sets each section and subheading apart from the others. A clean design and easy scannability round this template out to make it on our list.
Here's the link to this template.
14
An Organized Mess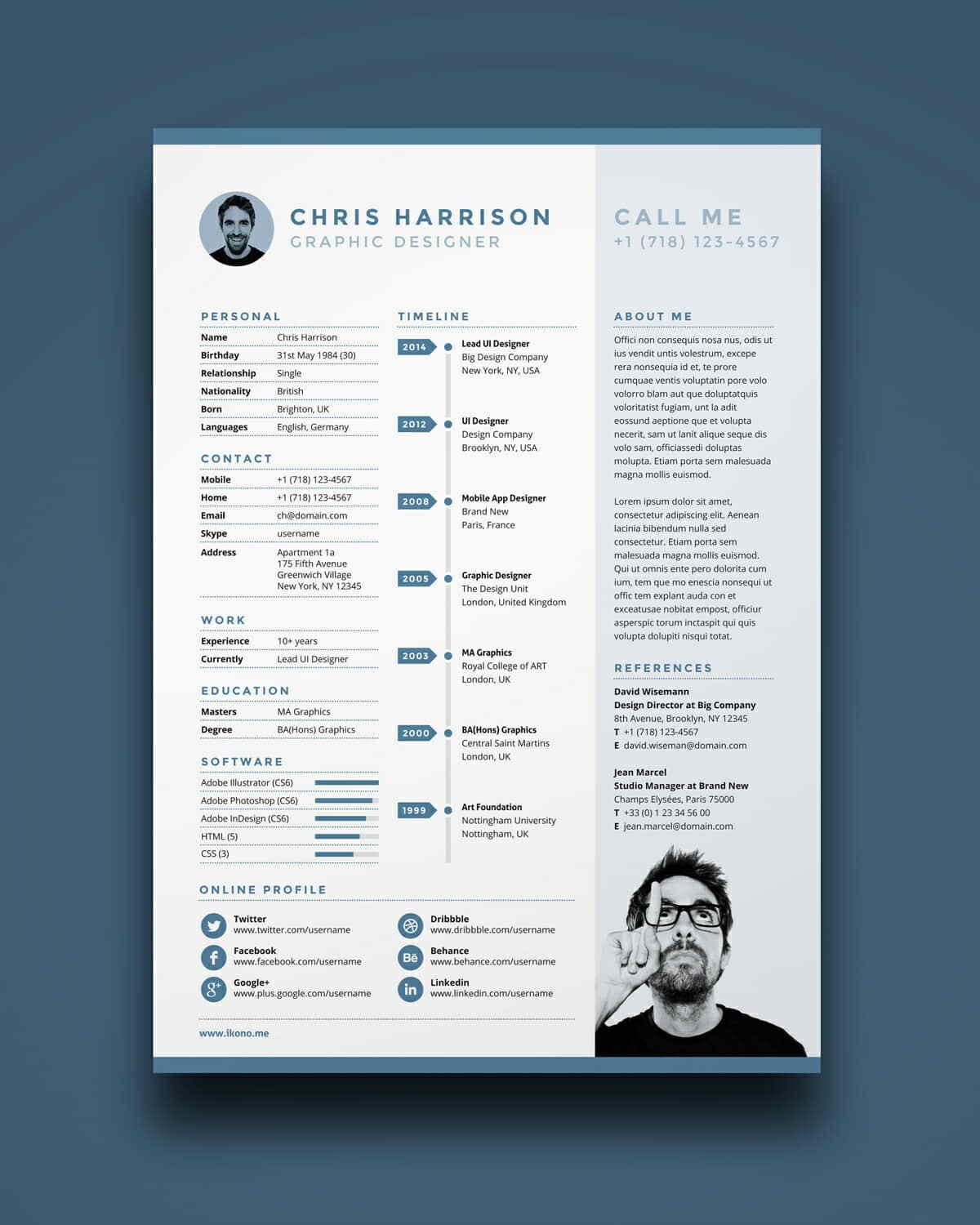 "Free A4 Resume" is offered by Ikono.me and perfect for creative individuals and IT workers who need to fit a lot of information onto a one-page resume. Its three columns at its core give way to a more standard two columns at the header and footer.
Here's the link to this template.
15
Material Design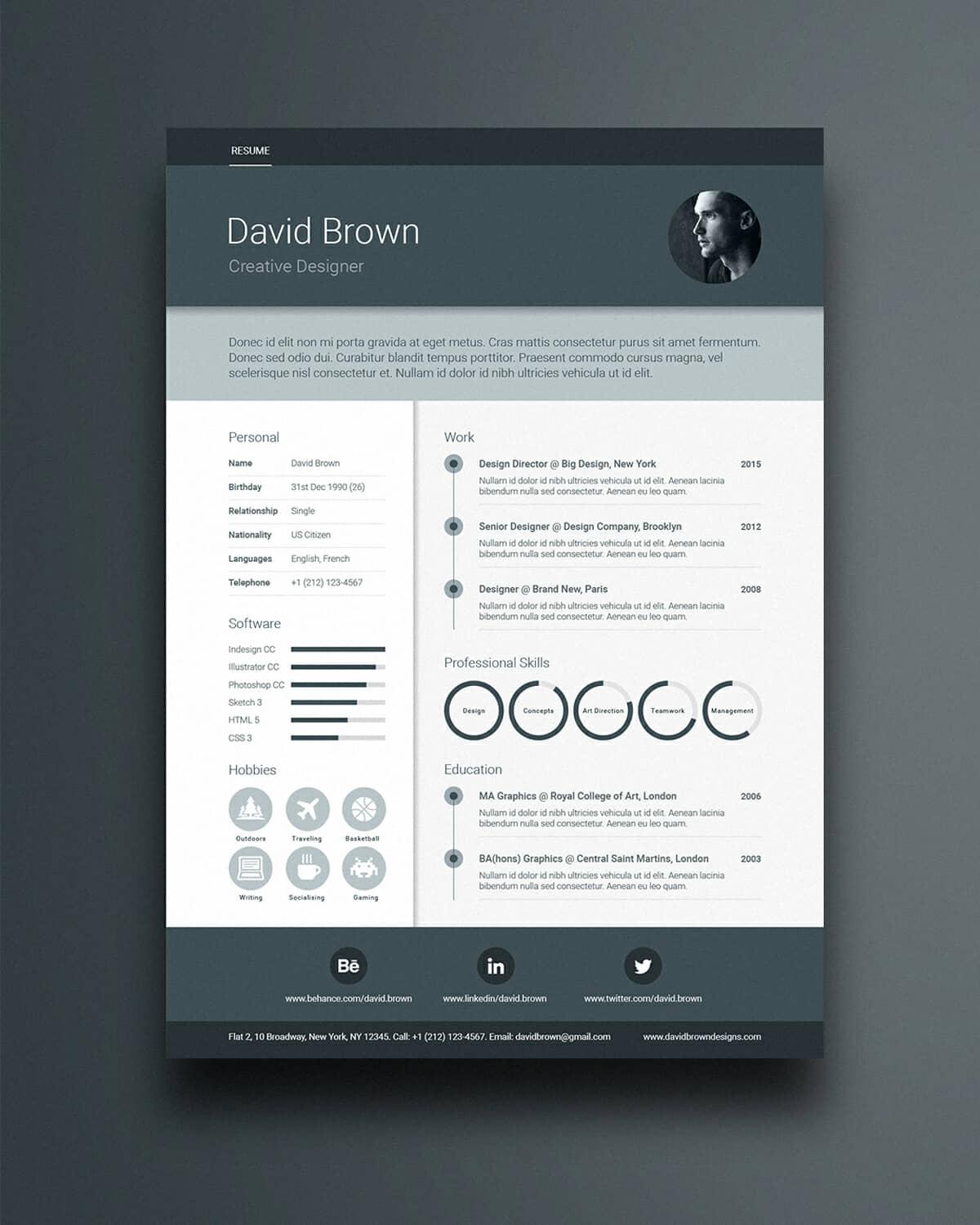 Another offering from Ikono.me, "Free Material Resume" was created as a tribute to Google's Material Design standards. This infographic-style resume template is free, but for a small fee, you can download additional templates to make matching business cards and portfolio pages.
Here's the link to this template.
16
Far Out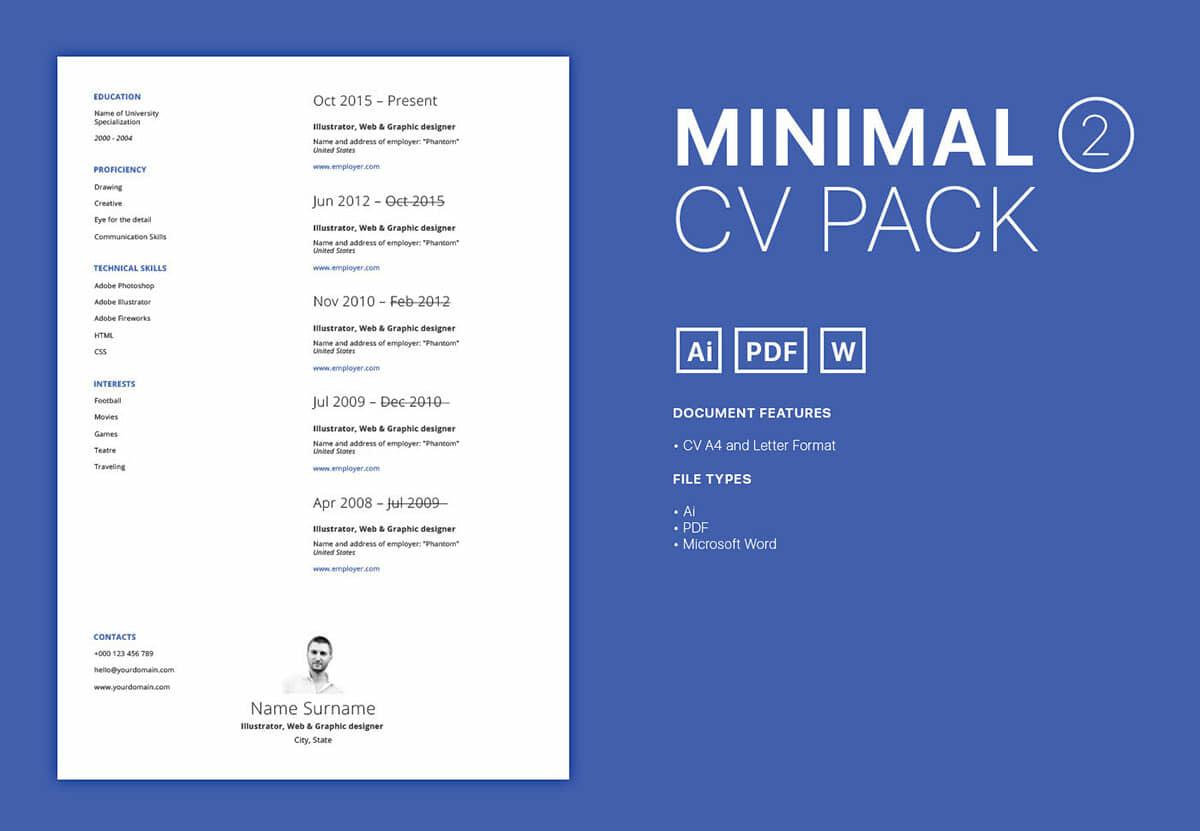 The "Minimal CV Pack" by Svilen Petrov on Behance is just that - a full package that gives you multiple basic resume templates with minimalistic design, all available as a free Microsoft Word download, PDF, or Illustrator.
Here's the link to this template.
Basic templates for resumes don't have to sacrifice quality. Check out more of them: Basic Resume Templates (15+ Examples to Download & Use Now).
17
Not Too Shabby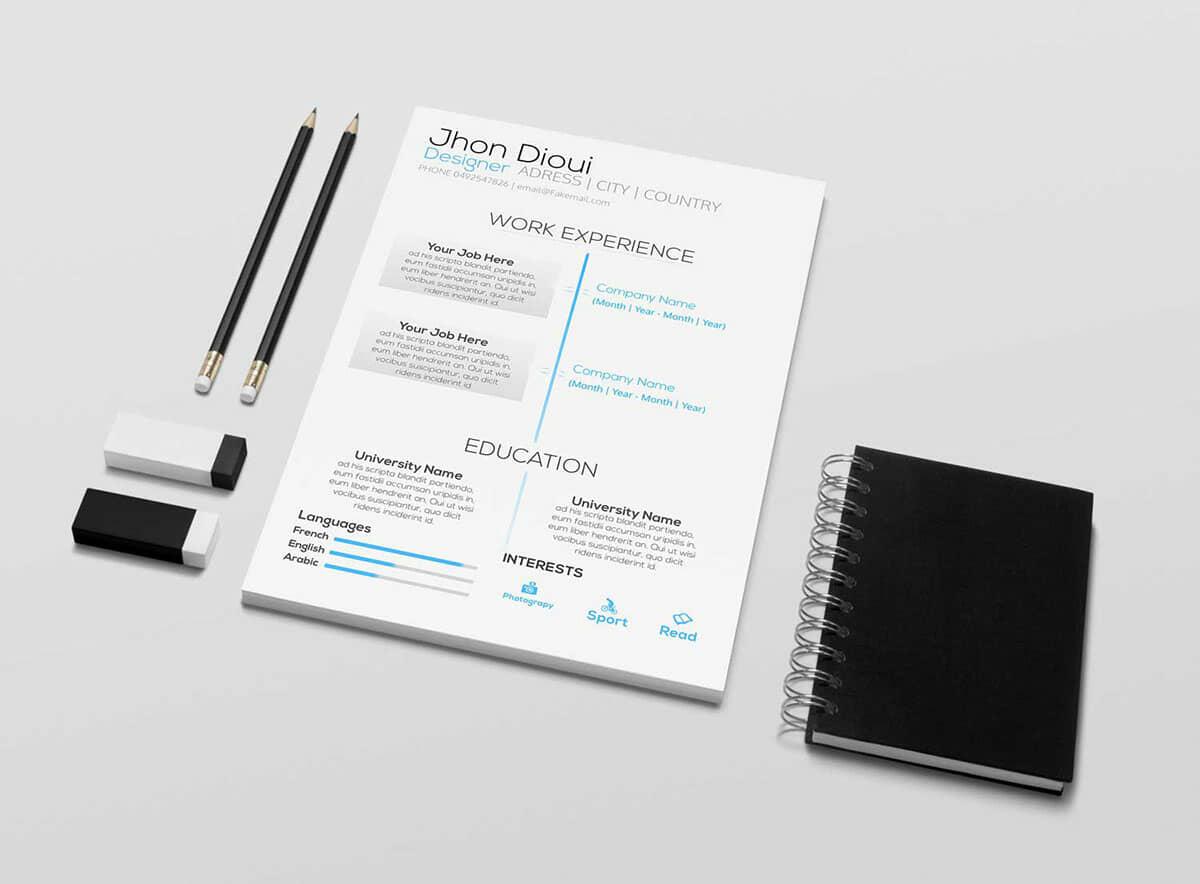 "Free resume template psd" by Ahmed Seneina is the last one, but certainly not the least. A coordinating color gives this simple design a bit of flair, while the large, bold headings ensure that the recruiter sees the important bits immediately. You'll be certain to ace the interview with this one!
Here's the link to this template.
18
Free & Clear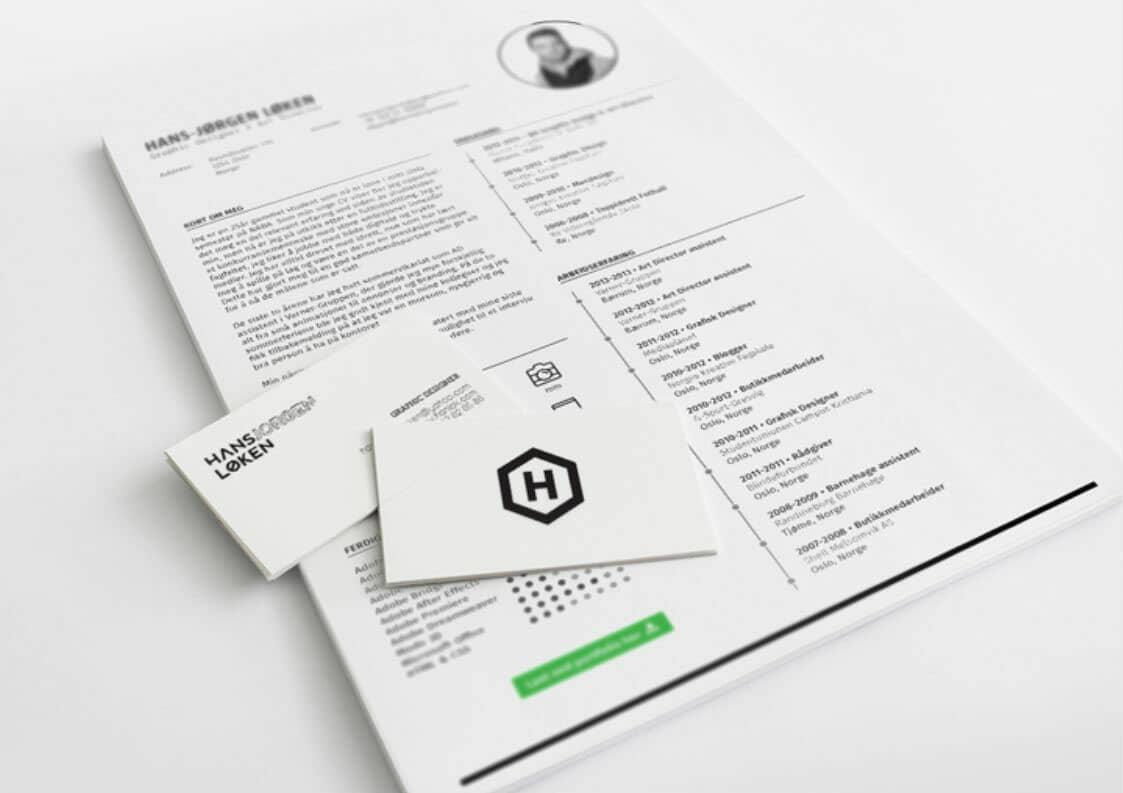 Hans-Jørgen Løken on Behance gives us the works for his aptly-named "free resume template / CV" - His downloadable InDesign resume template is not only free, it's also a package complete with all the best resume fonts and icons you need to make your unique resume look as good as the one you see here.
Here's the link to this template.
A great cover letter that matches your resume template will give you an advantage over other candidates. You can write your cover letter in our resume builder here. Here's what it may look like: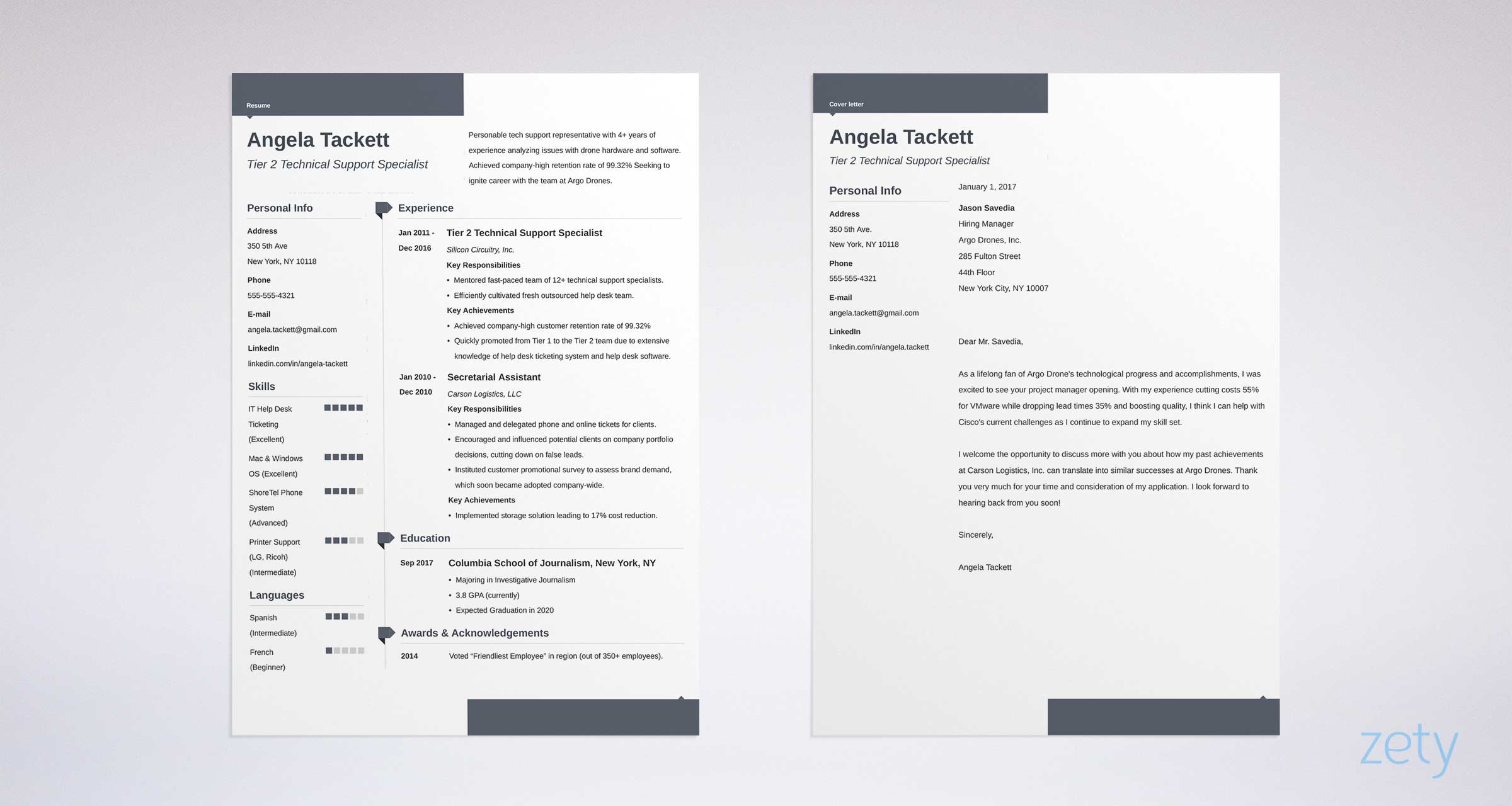 See more templates and create your resume and cover letter here.
Done with writing your stunning resume? Make sure you didn't miss anything that could cost you the job of your dreams! Get our handy free checklist: 46 Things You Need To Do Before You Send Your Resume
Key Takeaway
So, as you can see, if you do a bit of digging, you can find some great resume templates that are free.
The internet is a wealth of items like this.
Do you have any other free resume templates that are amazing and deserve a mention?
Let us know in the comments below and we'll be happy to consider adding your template or answer any question you might have. Thanks for reading!