You're about to choose from the most professional resume templates, but first, think about this:
There are thousands upon thousands of resume templates out there, just waiting for you to use.
You need just one, and it needs to be professional, just like you.
Not to worry!
Together with my pleasant and personable peer, Luiza, we journeyed far and wide across the internet in our search. Some are ours, some are theirs, but all of them are the best of the professional resume templates out there.
1
Cascade by Zety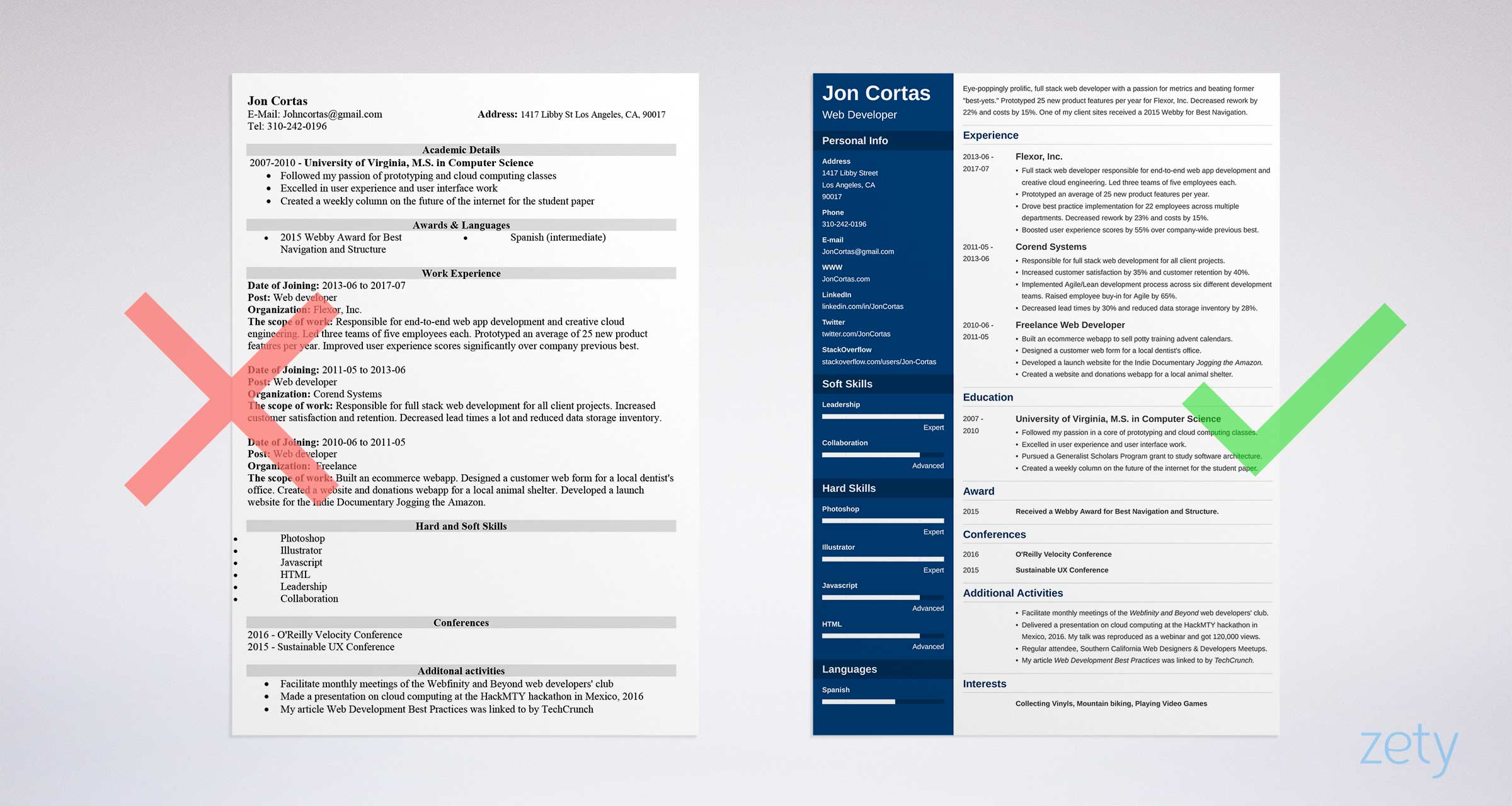 Want to save time and have a professional resume ready in 5 minutes? Try our resume builder. It's fast and easy to use. Plus, you'll get tips and right vs. wrong examples while writing your resume. See 20+ resume templates and create your resume here.
This is one of the pro favorites here at Zety - the Cascade professional resume template created using our resume maker.
Use the artfully-crafted bar graph for your skills and language sections. Put that sidebar to use to fit more in your limited space. It's got subtle shading differences in the green (or whichever color you choose) but distinct black and white in the text for readability.
Dozens of color combinations make this pleasing resume template an instant hit with candidates and recruiters alike. Cascade is included along with many others in our resume builder. With our resume builder, you can create a professional resume simply and quickly.
2
A Delicate Touch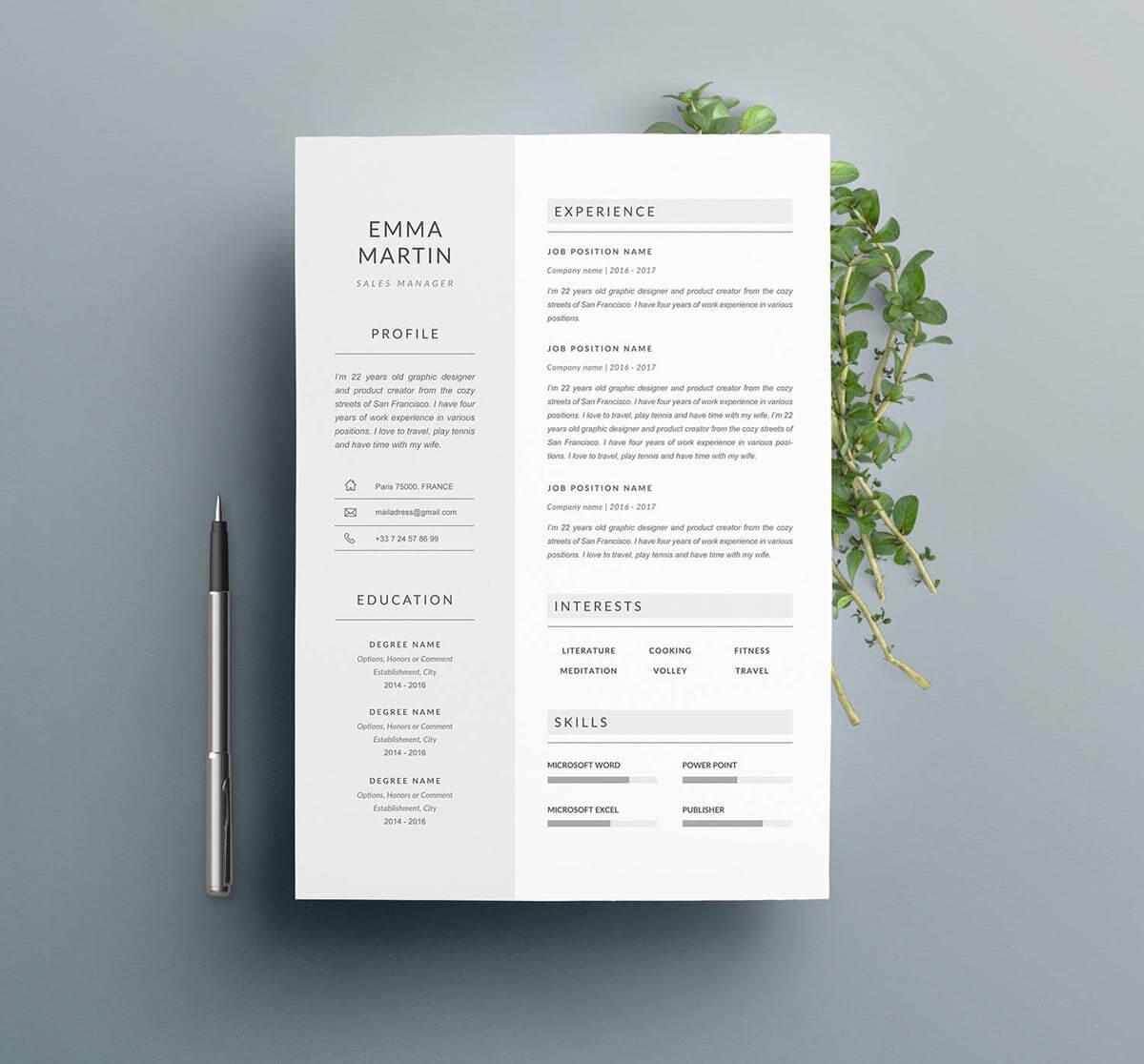 Le Colibri Creations over at Etsy brings us their "Emma" professional cover letter and resume templates. It's modern and minimal, but you still get to fit all the important bits in there. The sidebar has a subtle gray background to make your info pop, while the remaining sections have subtitles enclosed in the same, elegant shade.
Here's the link to this professional template, which comes with a fonts package, 1-page and 2-page resume templates, cover letter (see our cover letter tips), and a help file in both English and French. This template is one of the best in part because it's quite modern. Check out other contemporary ones: Modern Resume Templates & 18 Examples [A Complete Guide]
By the way, worried about how many pages should a resume be? No need, we've got the right guides for you:
3
Bordered Basic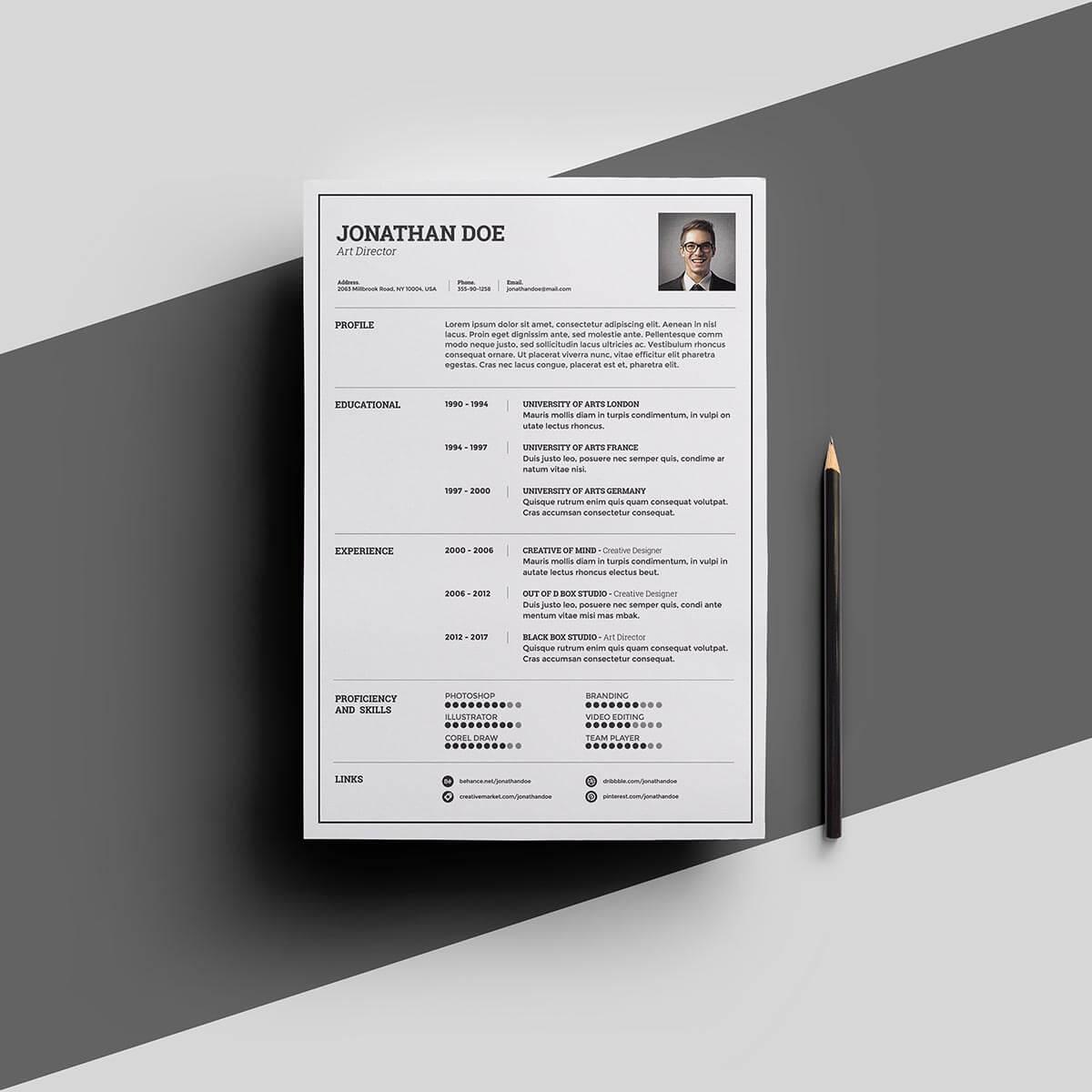 The "Light Resume Template" by Gilang Tito Dharmawan is like a modern revamp of the traditional classic resume. Black and white are the key colors here, and the top-down layout is probably familiar to older job hunters, but the rest is all contemporary. A right-side profile picture can be included, and the dates for your education and experience are neatly separated from the items they describe. You'll be sure to ace the interview with this one!
Here's the link to this template for resumes on Behance, available as a download for Microsoft Office and Adobe Photoshop.
4
File Folder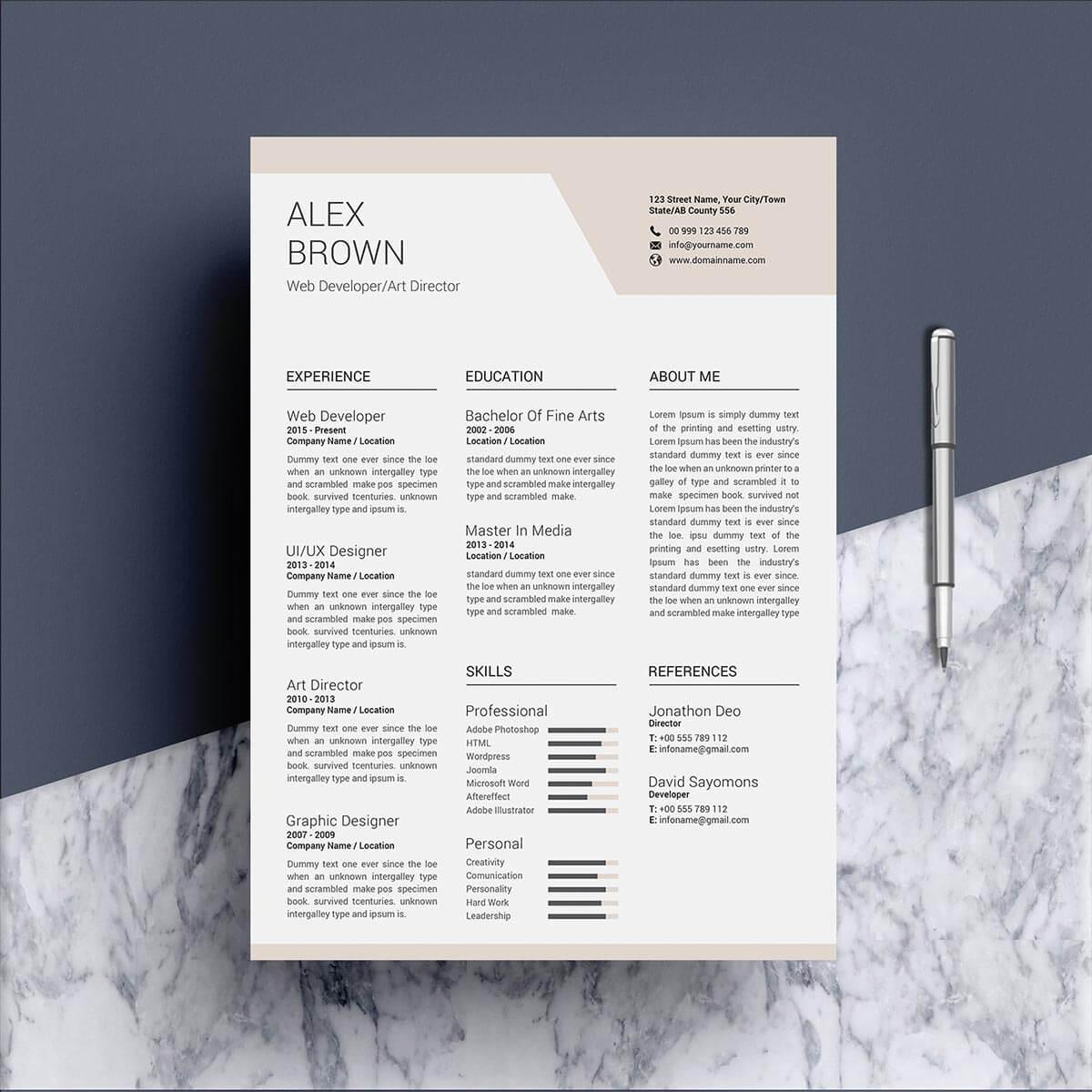 Jpixel55's pro resume template has the subtle design of that old-school manila file folder, a perfectly slick way to hand in all your details to the hiring manager. Split into three, evenly-spaced columns, you're given plenty of real estate to pitch your candidacy.
Here's the link to this template on Behance, available to download for Adobe Illustrator, Photoshop, and Microsoft Word.
5
Elegantly Easy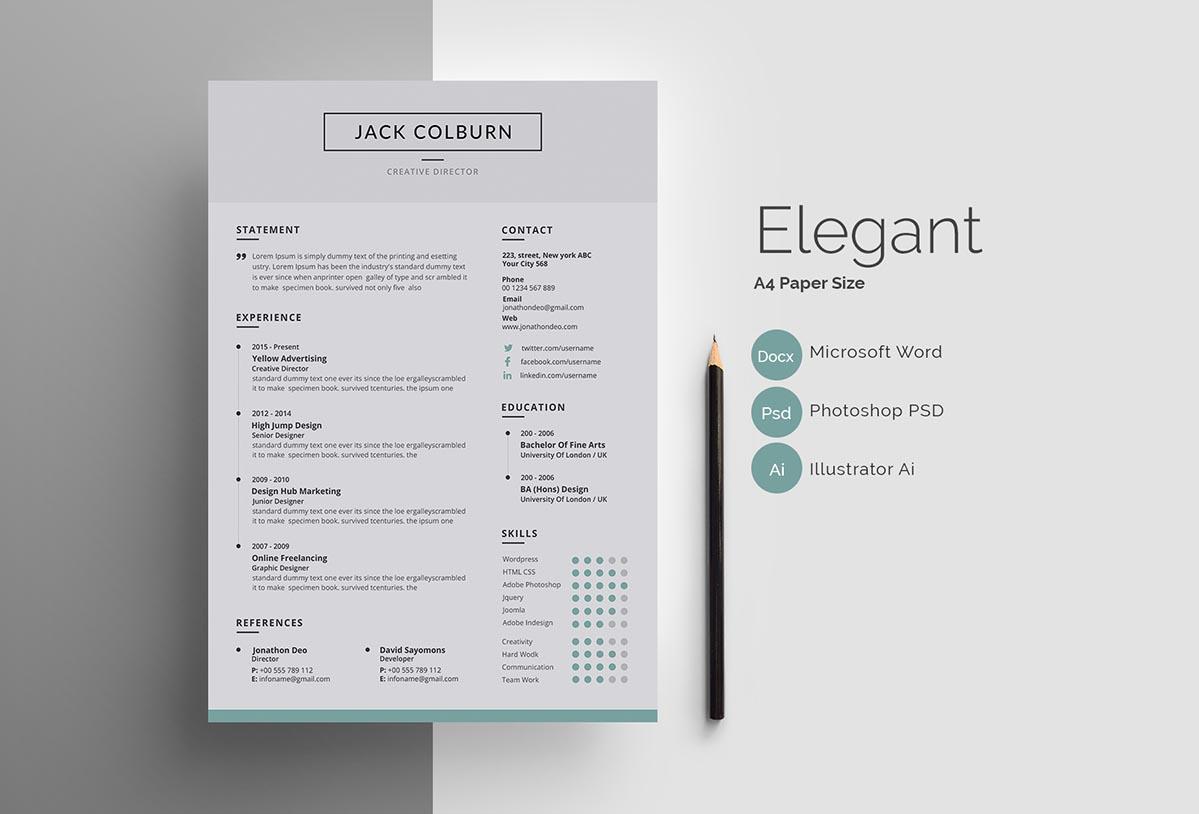 Here's another professional resume template from Jpixel55, and another winner, for sure. Like the last one, the styling is subtle and toned down, but classy in its minimalism. The bottom border's color is used to accentuate your skill.
Here's the link to this template on Behance, available to download for Adobe Illustrator, Photoshop, and Microsoft Word. Simple doesn't have to mean uninspired and boring. Check out our curated list of simple resume templates: Simple Resume Templates: 15 of the Easiest Resume Examples to Use
6
Cubic by Zety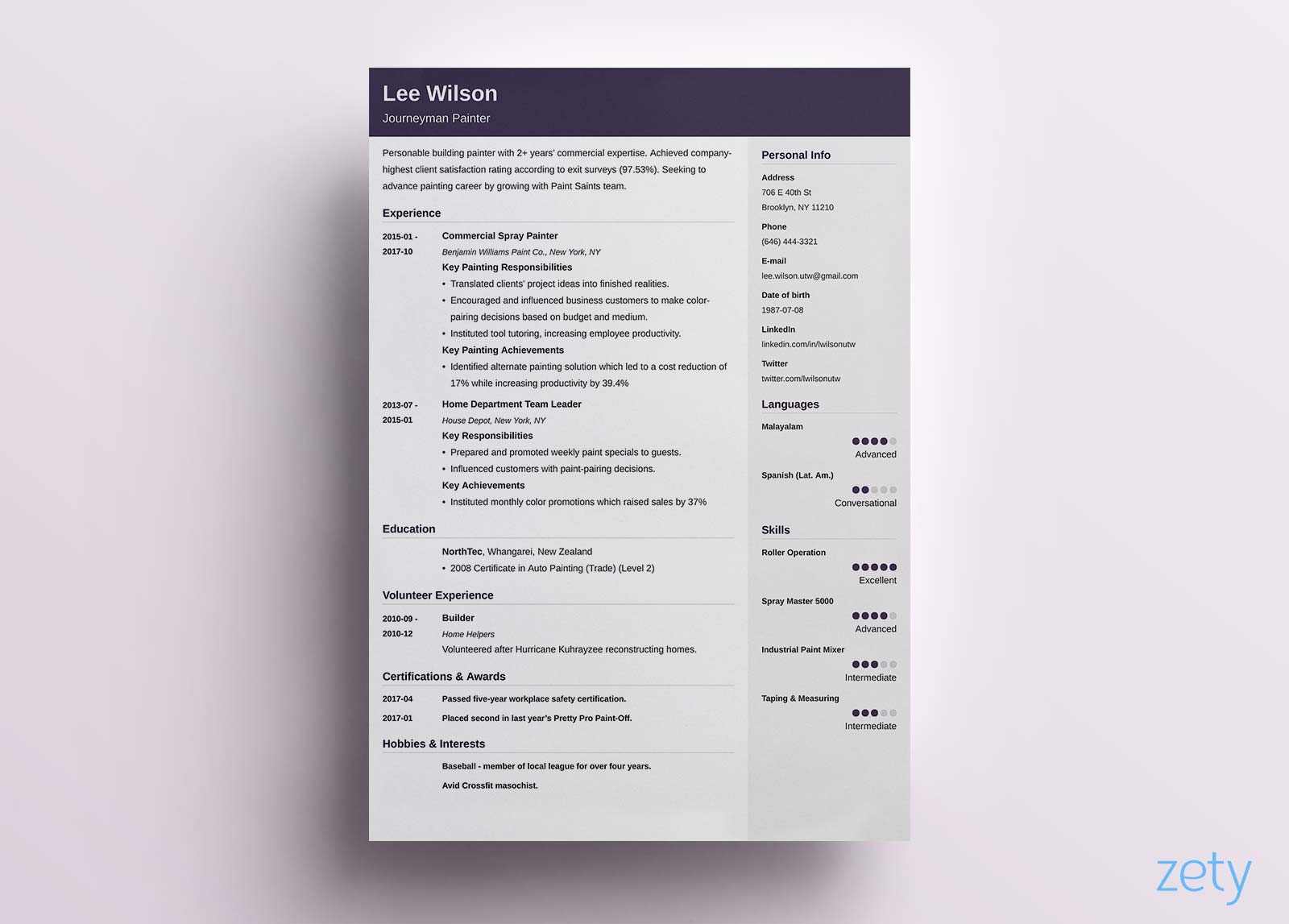 Cubic's one of ours, a clean, elegant take on what we believe makes a perfectly professional resume template.
The top header is reserved simply for your name and profession title to stand out, while the right-hand sidebar switches it up from the sea of left-hand sameness. Filled-in circles for your languages and skills allow you to showcase your expertise in style.
Cubic is included along with many others in our resume builder. With our resume builder, you can create a resume simply and quickly.
7
Facile Familiarity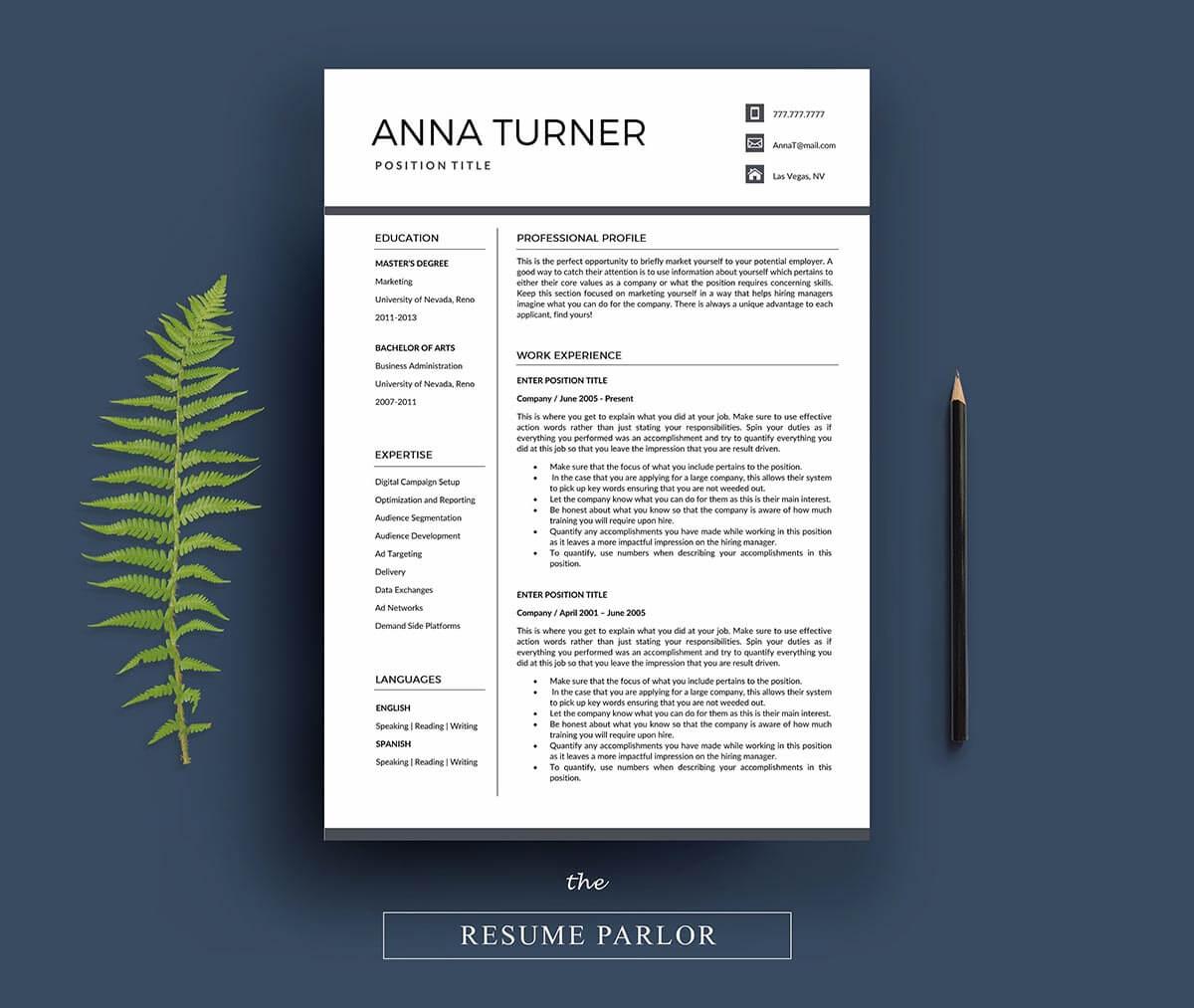 This 4-page (!) resume template by The Resume Parlor feels like a contemporary redesign of the old faithful. The full-width header has plenty of space for your name and title to stand out, while the 2-column body is just what you expect nowadays.
Here's the link to this template package, which comes with a fonts pack, cover letter template, reference page template, and a professional resume template in both A4 and US Letter sizes.
8
Clean & Compact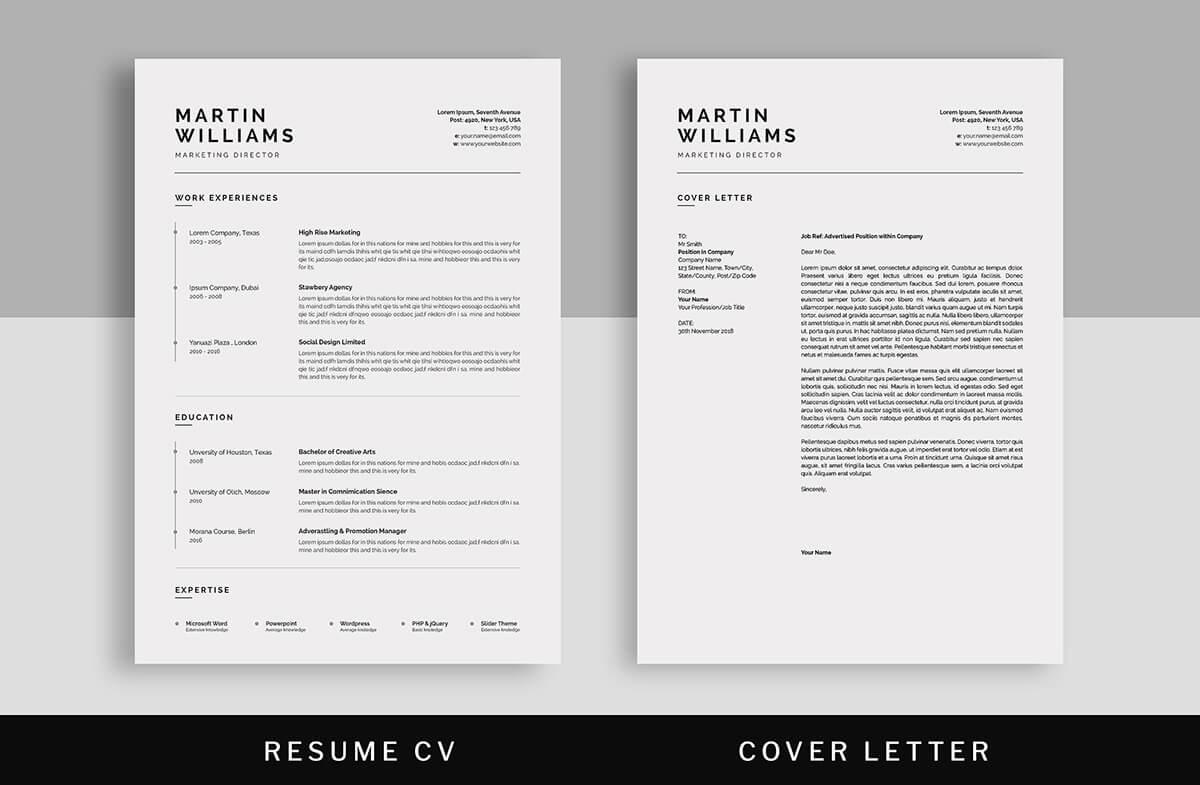 "Resume/CV" can be found on Creative Market by seller UX-Group which they describe as a "bold, dynamic and professional resume template designed to make an impression." And that's hard to disagree with.
It is a resume template that is clean and minimal, and the white space here is perfect for scannability and guiding the hiring manager's eyes to the important bits. An elegant resume font (also included) has been chosen that works well with the overall aesthetics of this resume layout.
Here's the link to this pro template for resumes, business cards, and cover letters, in both A4 and US letter sizes, available as a download for Microsoft Word, Adobe Photoshop, and Adobe InDesign. Being creative on a resume like this one is tough, but our guide and examples make it easy: Creative Resume Templates (15+ Examples & Complete Guide]
9
Bolder Borders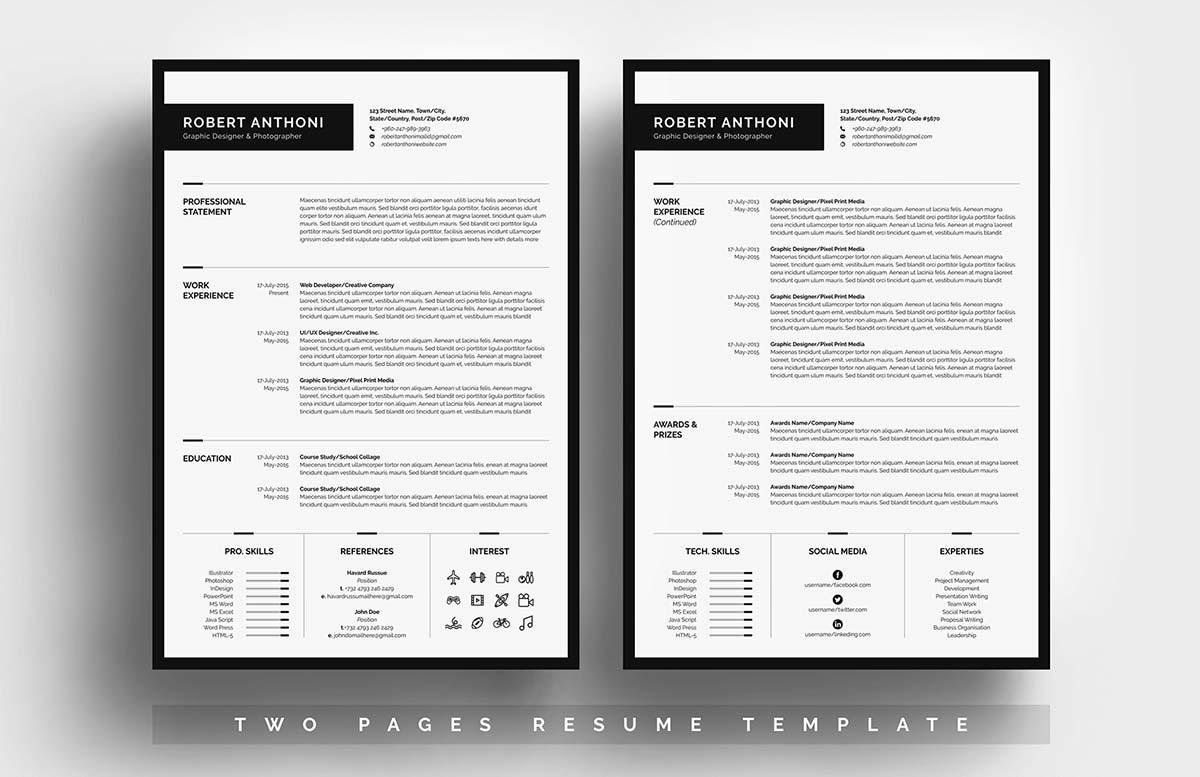 White Graphic's "Clean Resume Template 4 Pages" is a new one for 2018. Bold black borders the entire resume, and the varying 1-column to 3-column layout allows you to prioritize what's important.
Here's the link to this template on Behance, available to download for Adobe Illustrator, Photoshop, and Microsoft Word.
10
Simply Scandinavian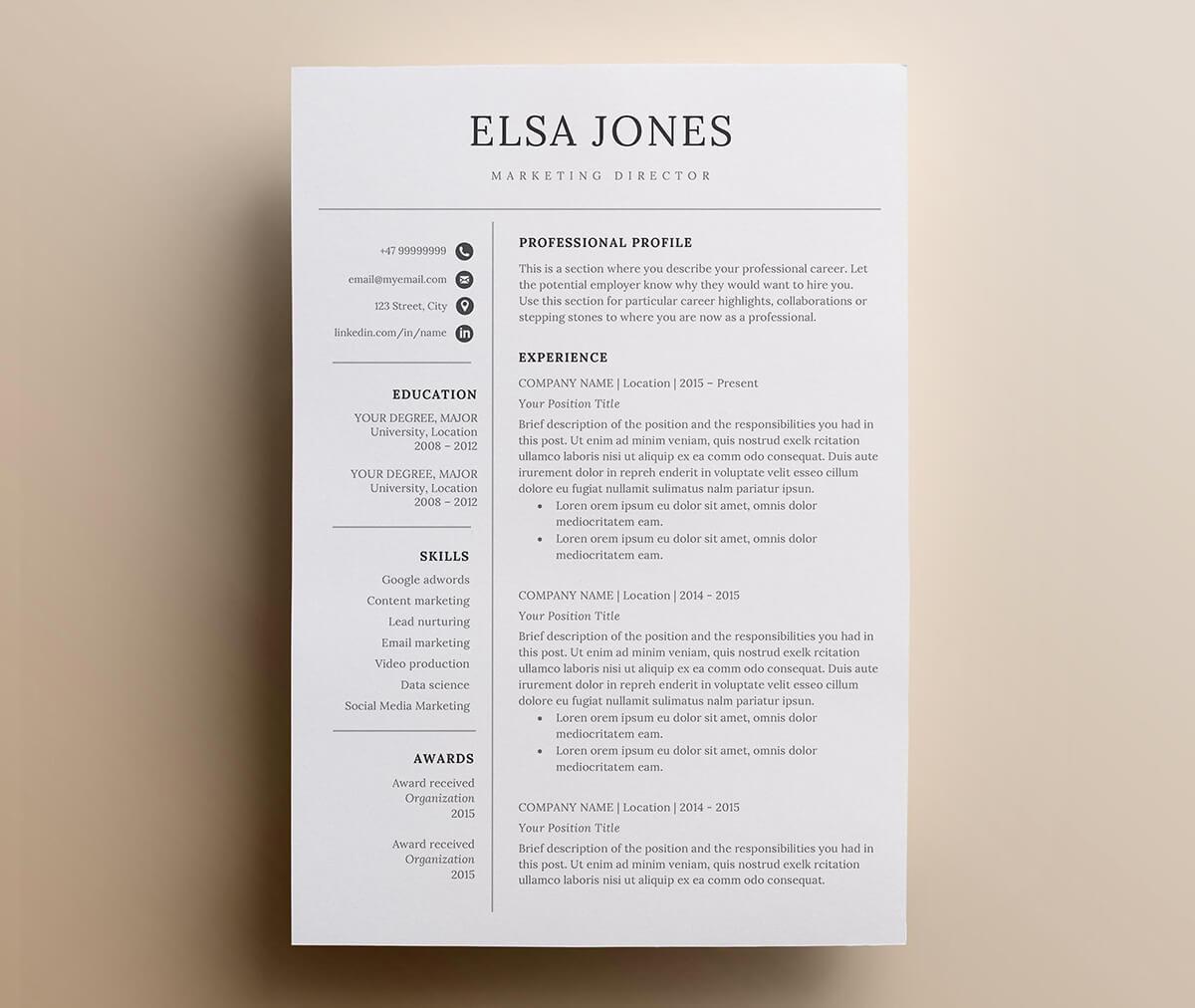 The "Resume Template / CV" by Nordic Designs is just as their company name suggests, and the Scandinavians are experts at minimalistic creativity. A minimalist professional resume template with two columns, this one showcases your name and title at the top in the center before delving into your work history, accomplishments, and achievements.
Here's the link to this template on Creative Market, which is fully customizable in Microsoft Word. It comes with a two-page resume draft and a matching cover letter template. For more of the best resume templates we've found around the web, see: Best Resume Templates: 15 Examples to Download & Use Right Away
11
A Professional Pitch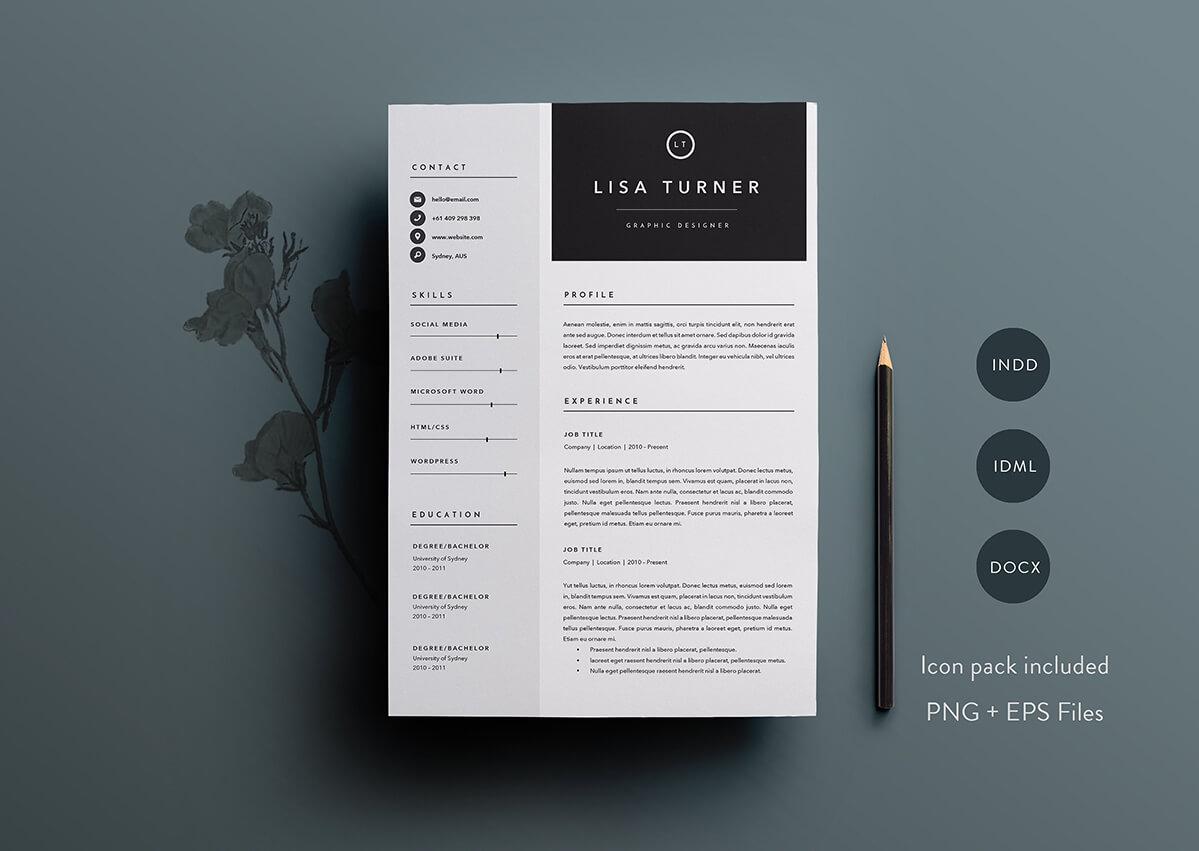 Basic Creations offers up their "3 Page Resume Template," which is split into thirds, each with a different background color. The sidebar is perfect for listing your contact info, skills, and education, while the main content area is ideal for your experience section and the resume summary or objective. Oh, and it can be rotated with a horizontal resume template included, as well.
Here's the link to this resume template on Creative Market, which comes in DOCX, IDML and INDD formats with extra icons in editable EPS files and PNG files.
12
Modern Musings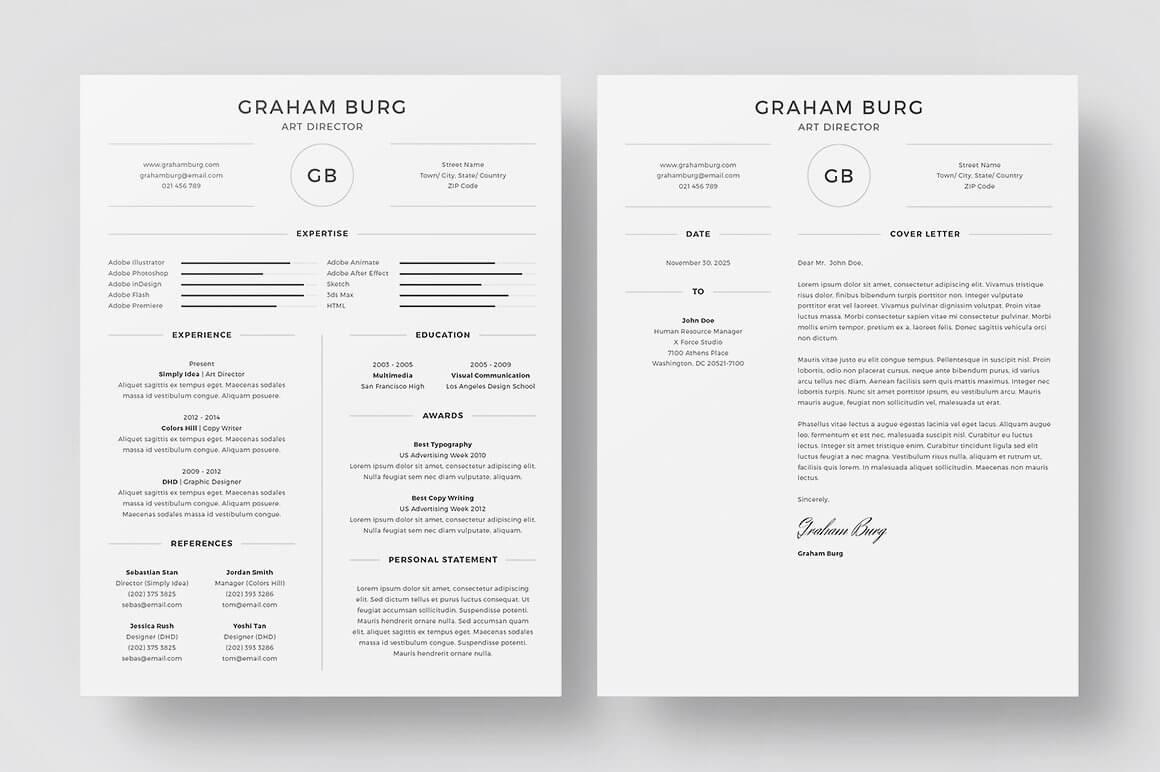 Broductive offers up a clean resume design with this one. While it may just be black and white, its style and layout really set it apart from others. A gorgeous header fans out from a central logo of your initials, while the remainder of the pro template for resumes is split into an even two columns.
Here's the link to this template from Creative Market, available to use with Microsoft Word or Adobe InDesign.
13
Vibes by Zety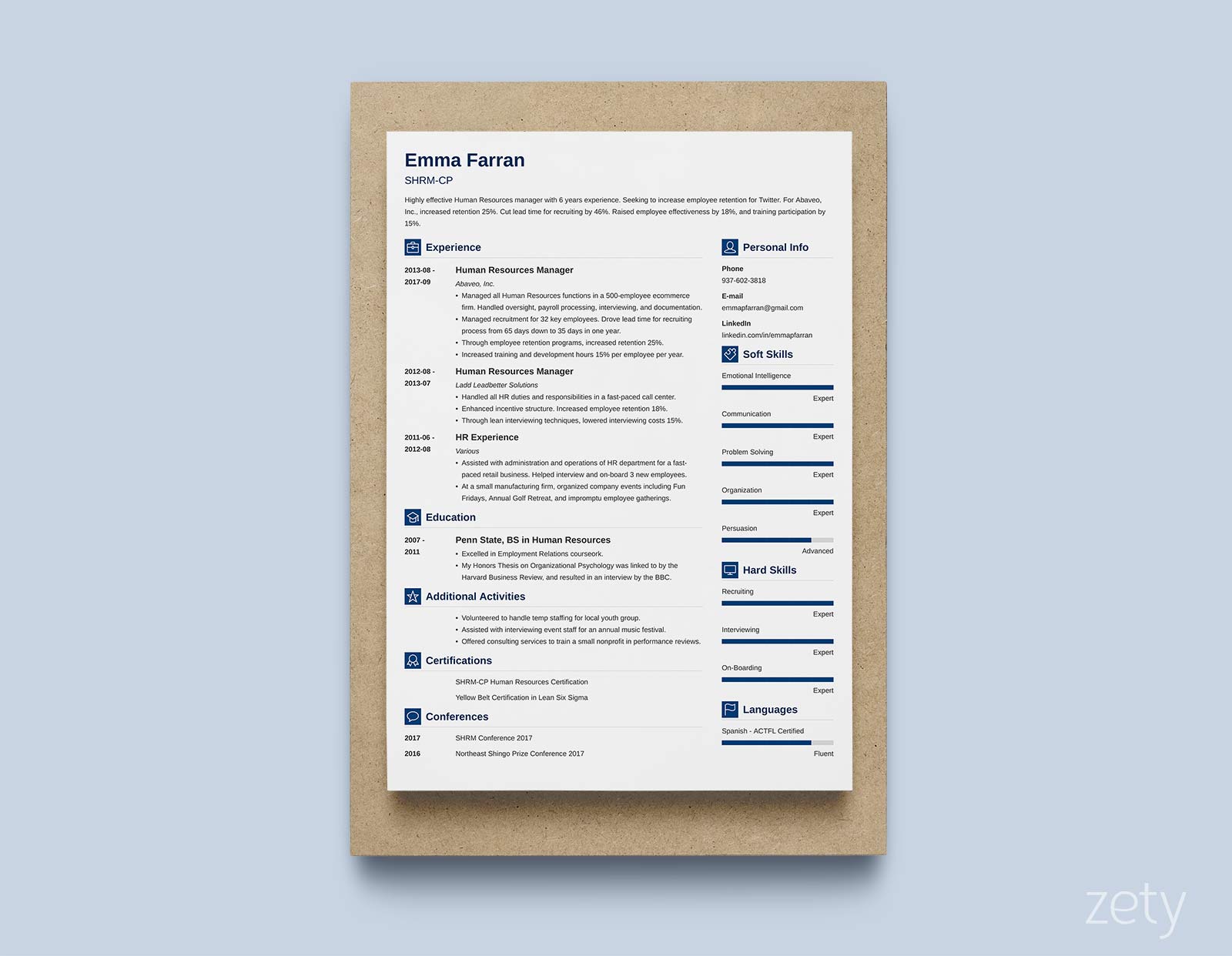 "Vibes" is one of our great resume templates, and it definitely has some of the most professional features out on the resume-writing market.
A very well-designed resume template, it has the full-width header for your name, title, and heading statement. A left-hand sidebar promotes your skills and achievements as bar graphs. Square icons make it easy for the hiring manager to locate each unique resume section.
Vibes is included along with many others in our resume builder. With our resume builder, you can create a resume simply and quickly.
14
An Executive Resume Template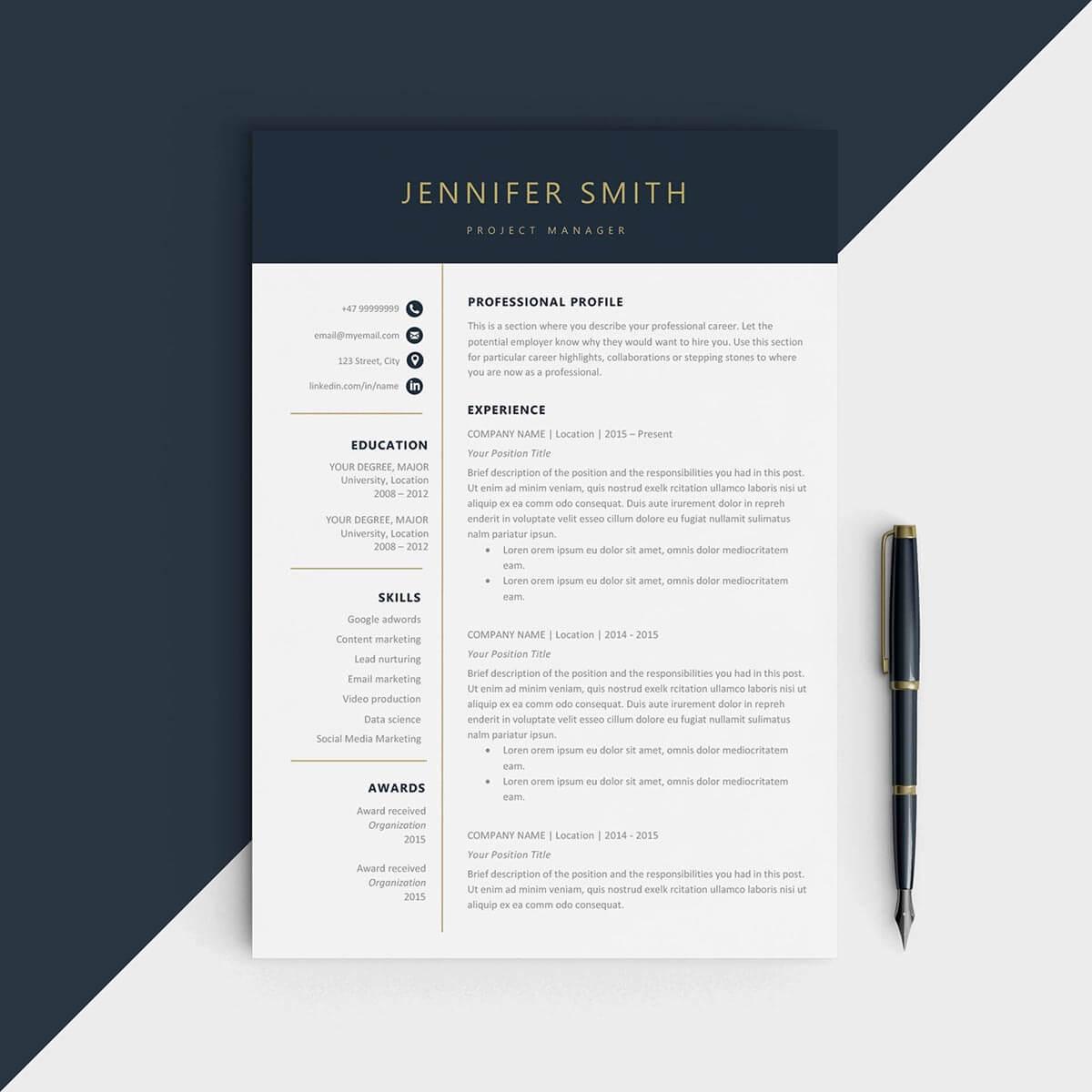 This "modern resume template" is from the Comely Design Studio on Etsy. This template just screams "executive material," and the blue and gold accents add a vintage touch to this contemporary design. A neat, two-column layout separates your short-form content from your longer information.
Find this top-notch professional resume example through this link to Etsy. Basic templates for resumes like this one don't have to sacrifice quality. Check out more of them: Basic Resume Templates (15+ Examples to Download & Use Now)
15
Segmented Sections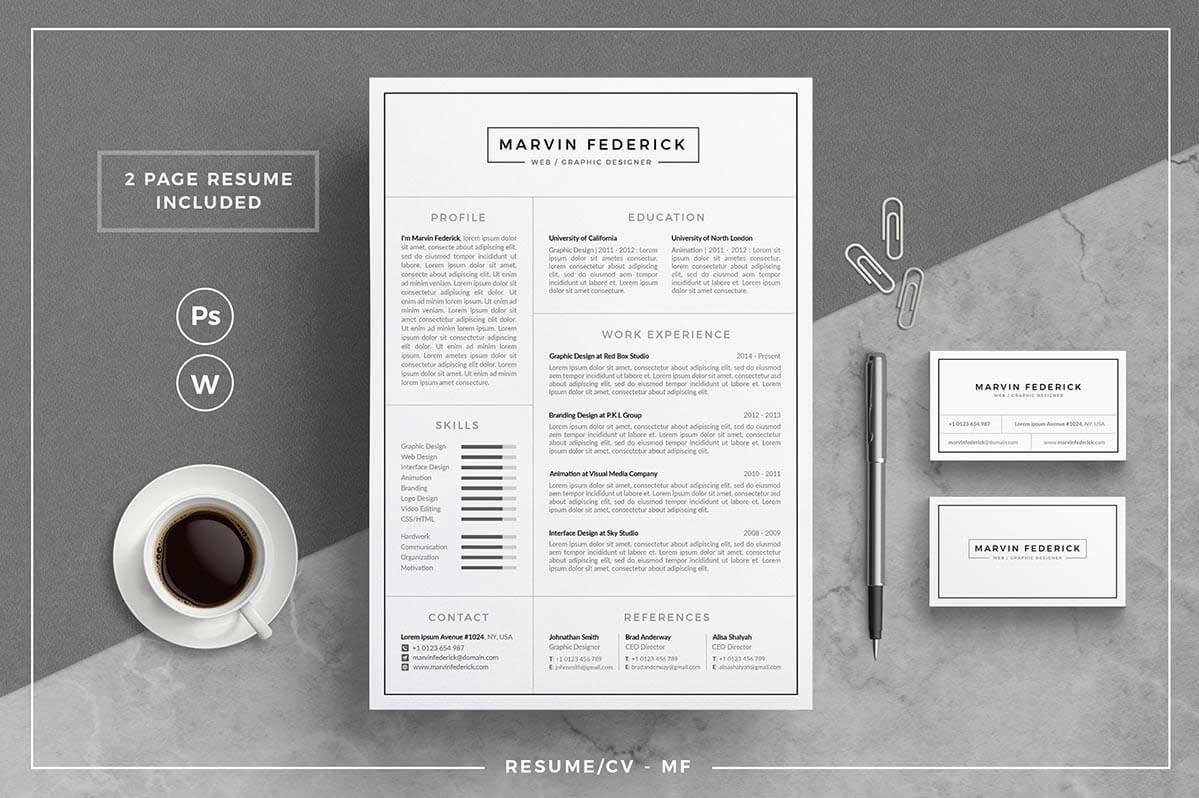 This creative one comes from TNS Design, and it uniquely features each resume section in its own separate block, with a border around, and a bold black border framing the entire document. You have plenty of space to talk about your achievements and experience, especially with the 2-page resume template that's included.
Here's the link to this template at Behance, and it comes as a 2-page resume template for professionals in both Adobe Photoshop and Microsoft Word compatibility.
Nothing is more professional than being concise. See great one-pagers here: One-Page Resume Template: 15 Examples to Download and Use Now
Key Takeaway
Creating a professional resume is more than just drafting up your skills and experience on a standard template.
Hopefully, you'll turn in a professional resume template you're proud of with one of these examples we've included here.
Do you have any questions on how to write a professional resume? Not sure how to describe your skills or achievements in a professional way? Give us a shout in the comments below and we will answer your question. Thanks for reading!