Resume Templates
Pick your favourite from our best resume templates below. Create a professional resume in just a few clicks and land the job.
Rated excellent on Trustpilot
Free Canadian Resume Template for Word or Google Docs
Personal Information
[Your Name]
[Your Job Title]
[Phone Number]
[Email Address]
[LinkedIn]
[Optional: Personal Website, Twitter, Instagram, Or Other Relevant Links]
Resume Summary or Objective
Dependable/Detail-oriented/Creative [Your Job Title] with [X] years of experience in [Your Industry/Niche]. Helped [increase revenue/cut costs/train employees/other achievements] by [X]%. Looking to join [Company Name] to ensure [the highest customer satisfaction scores/a steady boost in ROI/prompt project delivery/other metrics and KPIs you hope to deliver for the prospective employer].
Work History
[Your Job Title]
[Company Name]
[Date Range]
List your jobs in reverse-chronological order. Go with the most recent one first.
Go back no more than 15 years of your work history.
Use up to 6 bullet points to describe your work history. Don't cram your resume with unnecessary details. As you go back in time, limit the number of bullet points under each entry.
Focus on your relevant achievements and skills. List them as accomplishment statements beginning with action verbs, e.g., [Boosted sales/cut costs] by [X]% through implementing a new system of [invoicing/project management/procurement, etc.].
Stay on one page.
Education
[Degree]
[University Name]
[Graduation Year]
If you have a few years of professional experience, limit your education section to your highest degree.
If you don't, leverage your academic achievements. Include your GPA if it's higher than 3.5 and relevant extracurricular activities.
Skills
[Skill #1: Advanced]
[Skill #2: Advanced]
[Skill #3: Basic]
Additional Resume Sections
[Certificates And Licenses]
[Volunteering]
[Industry Conferences]
[Awards]
[Foreign Languages]
[Hobbies And Interests]
Create your Resume Now
Stand out from the crowd
Use icons to draw attention to your assets and save valuable space. Pick a single or two-column resume template design to create balance. Show your skill mastery with bar, circle, or star-shaped ratings. Choose whatever you need and attract well-deserved attention from recruiters.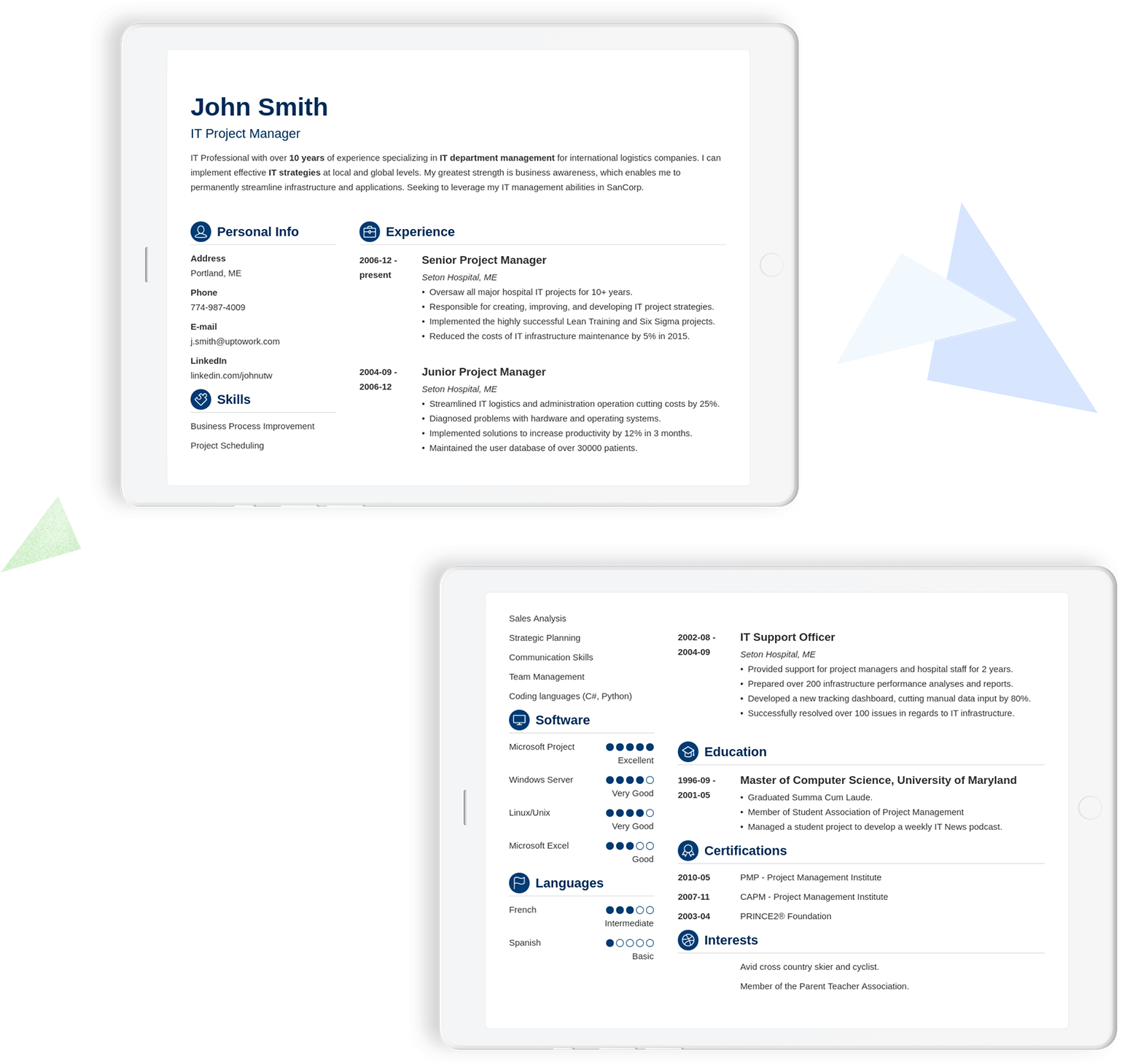 Take it easy
Building a resume with us is as simple as online shopping—just click what you like and put it in your resume. The Zety resume wizard will guide you through the entire process with expert tips and examples. You just follow along.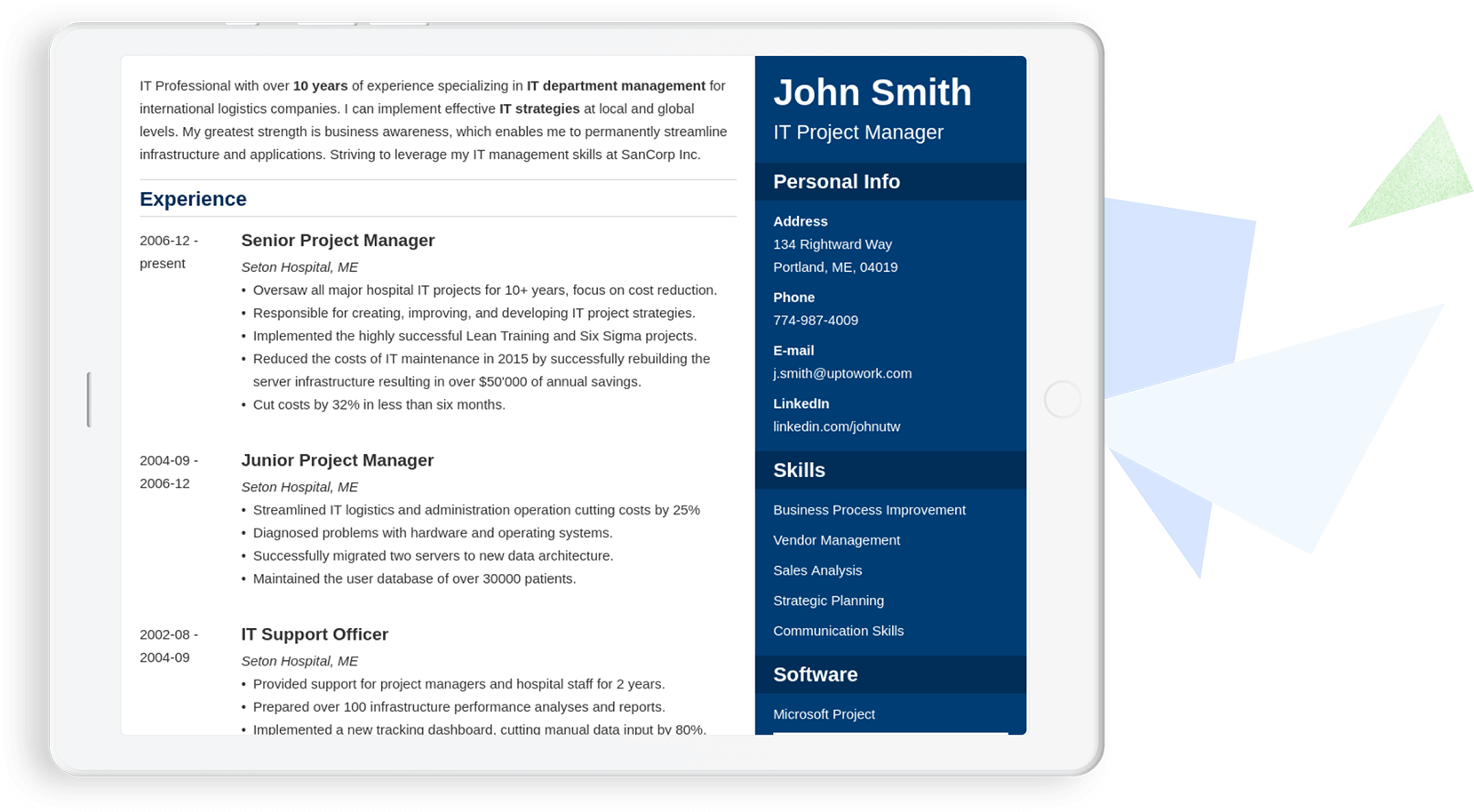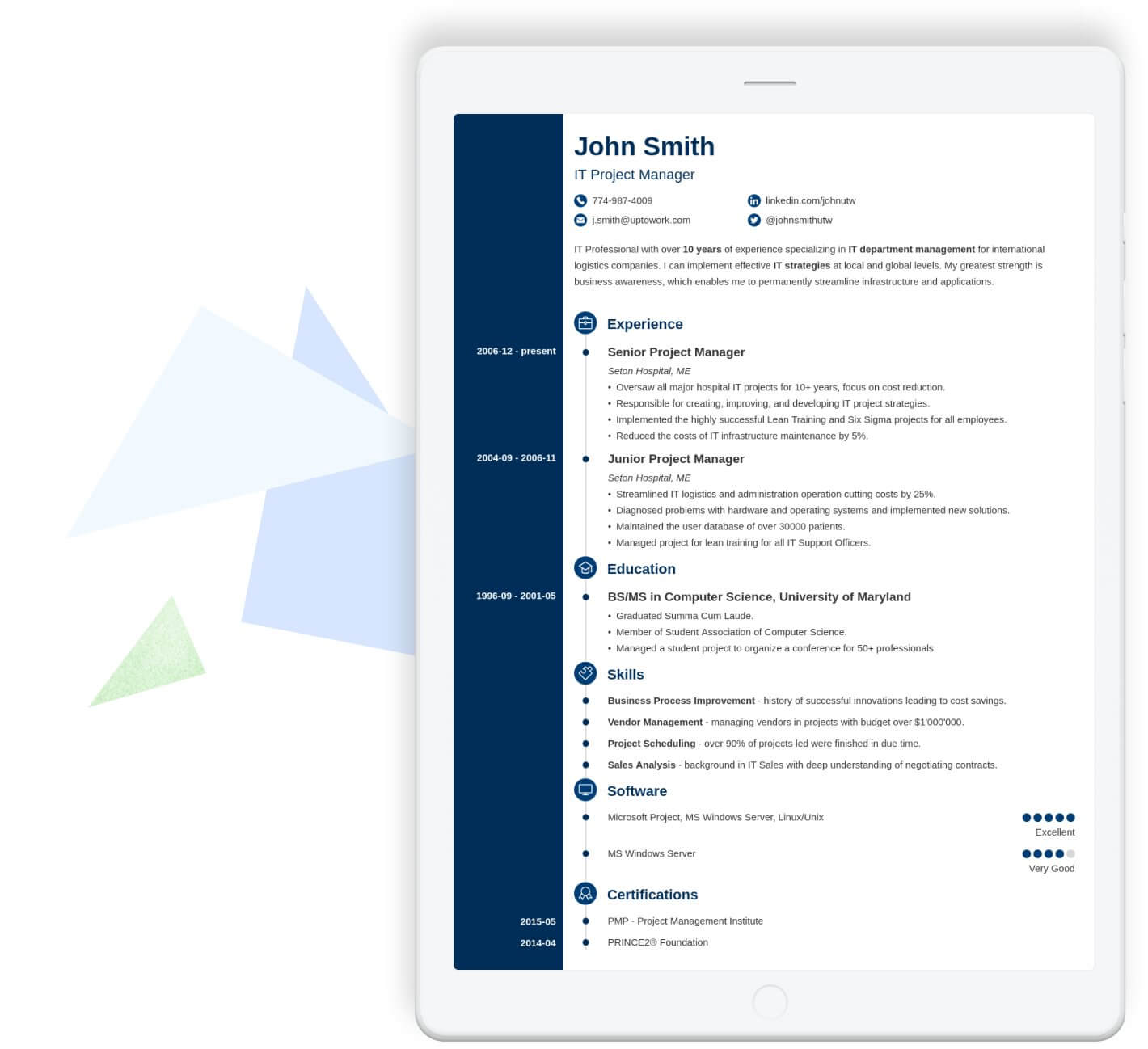 Save time
Focus on building a career, not a resume. Choose a professional layout, follow the resume wizard app, and have an attractive resume ready in minutes. You can then easily import it to our cover letter builder and start the application process right away.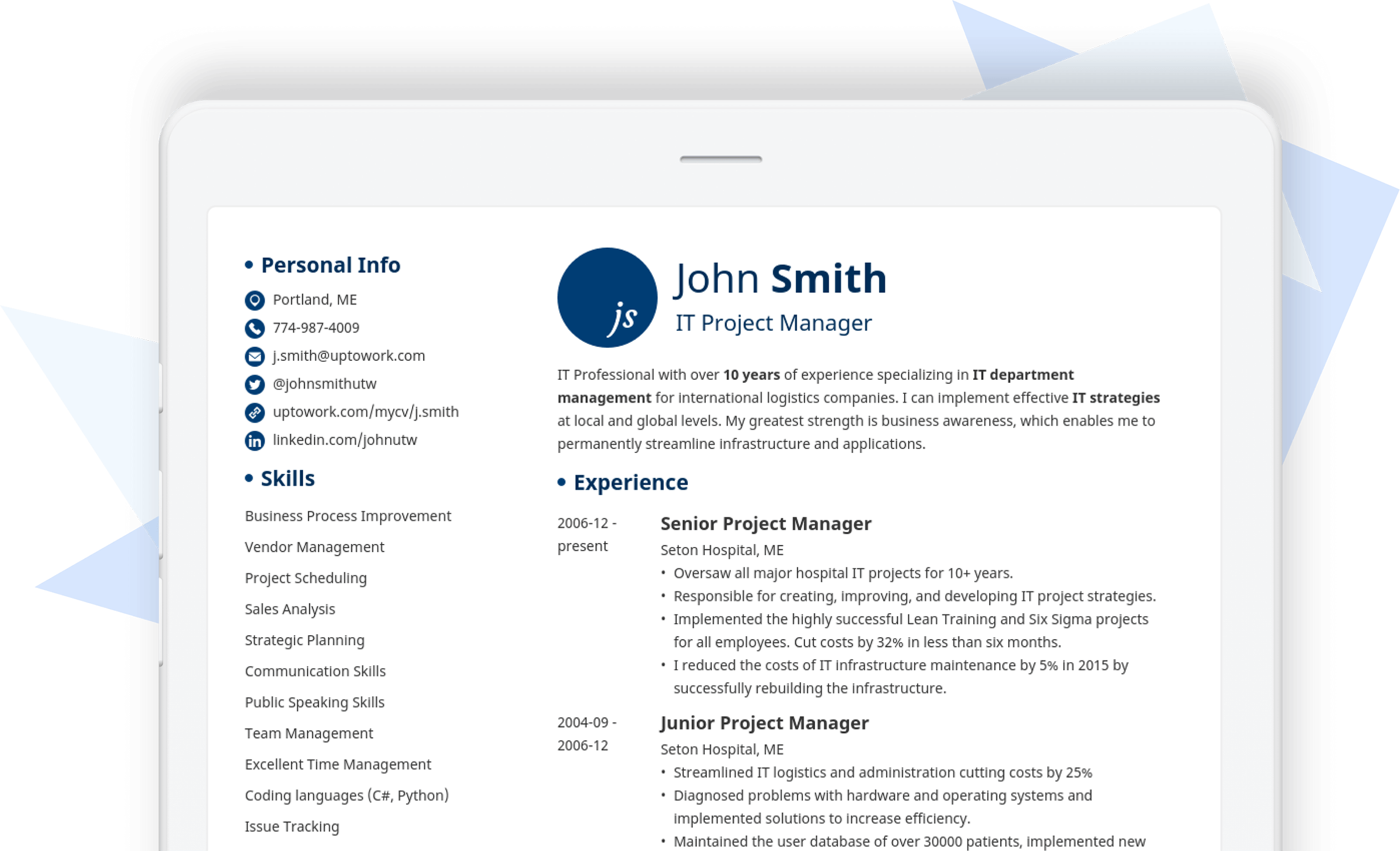 Boost your confidence
Prove yourself effective without having to stretch your results. Write a resume from scratch or update an existing one by following hints from recruitment experts. Their tips will help you realize you do have a successful track record.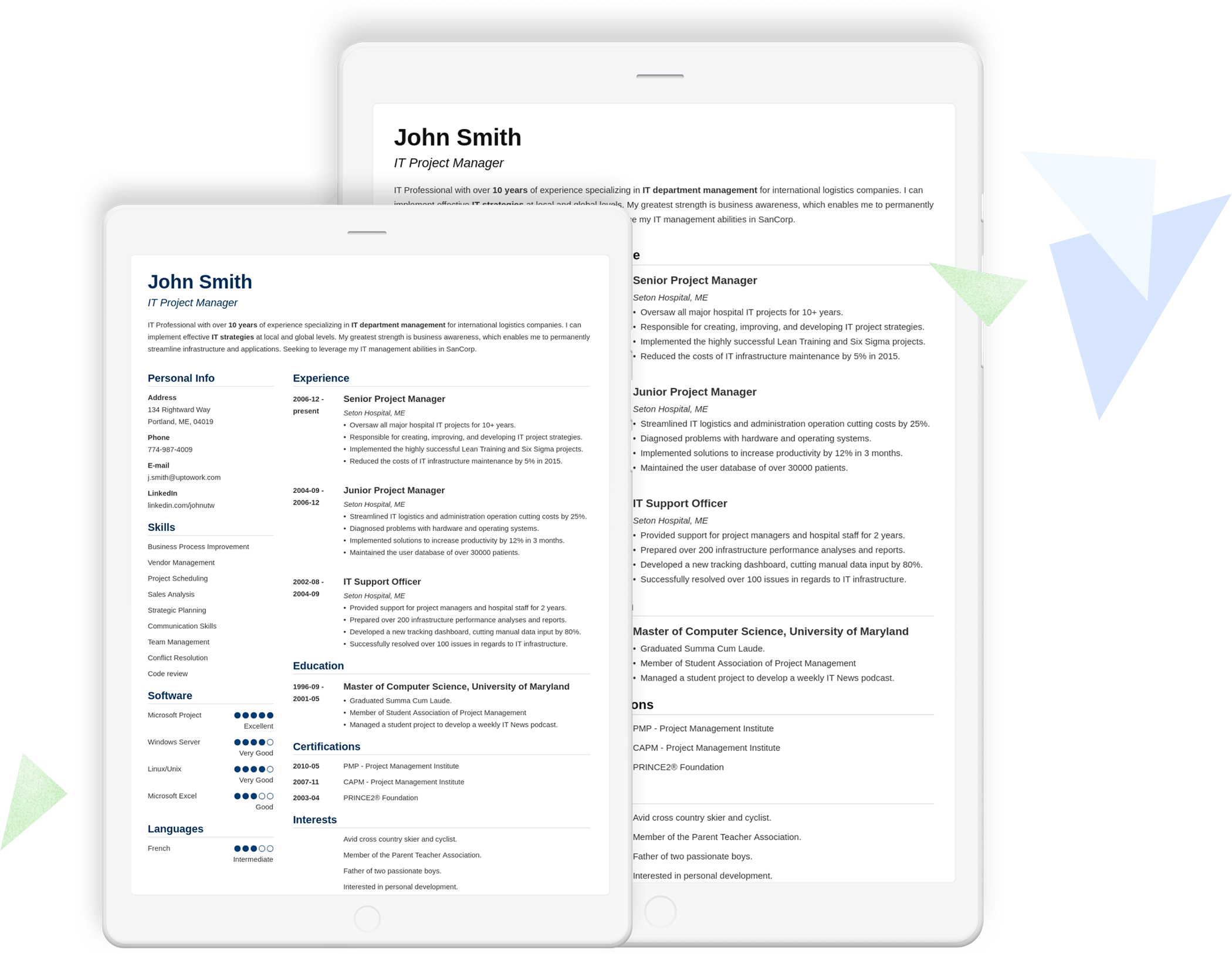 Get hired
With the right balance between modern and traditional design, Zety resume templates are easy to read for hiring managers and recruitment software alike. They'll have no trouble recognizing you for who you are—the perfect candidate.