Professional & Free Resume Templates
for Any Job in 2024
Get hired faster with our HR-approved resume templates. Pick a resume template, add ready-made content from Certified Professional Resume Writers (CPRW), and have a resume ready in no time.
Create your resume now
Our customers have been hired by:
Here's How Our Resume Templates Can Help You:
Resume Templates Created by Experts
Each resume template in our builder has been created by a team of HR experts and graphic designers, guaranteeing your resume will get all the must-have content and great looks.
Tailored Resume Content for Any Job Title
With Zety, you won't have to create your resume from scratch. Leverage our ready-to-use content, written by Certified Professional Resume Writers for every job title that exists. Just drag and drop to have your resume ready in minutes.
Upload and Refresh Your Old Resume
Got an outdated resume? Simply upload it to our builder. We'll transform it into one of our polished resume templates automatically. Plus, we'll score it and suggest enhancements to boost your odds of securing that job interview.
Resume Templates Recommended by Hiring Experts
The worker's market has created fierce competition for roles. Your resume is the first impression and an essential opportunity to distinguish yourself. I have reviewed thousands of resumes in my coaching practice and the Zety Resume builder and templates are an outstanding resource to help you put your best professional foot forward. User friendly with recruiter insight to help you shine.
What I like about Zety resumes is their user-friendly interface and customization options. You can choose from 18 sleek templates and easily modify the design, layout, colors, and fonts to create a unique and professional-looking resume. Additionally, Zety offers pre-written content tailored to different job positions, saving users valuable time compared to crafting their resumes from scratch.
The templates look great and the fact that they're optimized for ATS is super helpful. When I used the resume builder tool I was absolutely blown away. I've used TealHQ, a really powerful (paid) tool. But Zety goes further by suggesting not just keywords to use, but entire phrases. Truly impressive! You've really taught me something and given me an incredible way to serve my clients.
Free Resume Templates to Copy and Use
Contact Information
[Your Name]
[Your Job Title]
[Email Address]
[Phone Number]
[LinkedIn]
[Optional: Personal Website, Twitter, Other Relevant Links]
Resume Summary Statement
Dependable/Detail-oriented/Creative[Your Job Title] with [X] years of experience in [Your Industry/Niche]. Helped [increase revenue/cut costs/train employees/other achievements] by [X]%. Looking to join [Company Name] to ensure[highest customer happiness scores/a steady boost in ROI/prompt project delivery/other metrics and KPIs you hope to deliver for the prospective employer].
Work Experience/Job Description
[Your Job Title]
[Company Name]
[2012–2019]
Use bullet points to describe your work history.
Add up to 6 bullet points. Focus on what applies to the job you're trying to land, don't cram your resume with unnecessary details.
Don't just list your responsibilities. Focus on your achievements!
Maybe you saved your company money? Boosted sales? Optimized processes? Trained new employees? Show it off! Have a look:
Responsible for [your responsibilities].
[Boosted sales/cut costs] by [X]% through implementing a new system of [invoicing/project management/procurement, etc.]
[Your Previous Job Title]
[Previous Company Name]
[2008–2012]
List your jobs in reverse-chronological order. Start with your current or most recent position, then follow it with the one before it, and so on.
As you go back in time, limit the number of bullet points under each entry. Employers are more interested in what you've been doing in the last few years, not in the dim and distant past.
Don't list over 15 years of relevant work experience on your resume.
Education
[BA/MA in Your Major]
[University Name]
[Graduation Year]
Not much experience? Leverage your academic achievements. Include your GPA if it's higher than 3.5, mention extracurricular activities.
If you have a lot of professional experience, limit your education section to your highest degree.
Skills
[Skill #1: Advanced]
[Skill #2: Advanced]
[Skill #3: Basic]
Additional Resume Sections
[Certifications]
[Volunteer Experience]
[Conference Participation]
[Hobbies and Interests]
Want more free resume templates with content prepared for you by Certified Professional Resume Writers?
With the Zety free plan, you can create and download as many free resumes with customized content for your job or industry as you like. All you need to do is log in to the Zety builder, upload your old resume, or start from scratch by picking any of our free resume templates and let the wizard autofill your resume. After a few clicks, your resume will be ready to download for free as a .txt file.
And with our paid plan, you can do even more:
Fix your existing resume to boost your chances of getting hired.
Style your resume to make it look better.
Put your resume online and track visits to your profile.
Search and apply for jobs with your resume sent directly from the builder.
Download your resume as a PDF or Word document.
Create a matching cover letter in minutes using ready-made content.
Create a Resume Now
Free Resume Templates by Job Title
Our Resume Templates Will Boost Your Job Hunt:
Use resume templates designed by career experts
Every resume format template in our collection is the product of a collaboration between Certified Professional Resume Writers and graphic designers, ensuring they meet the highest HR industry standards. This lets you immediately bring your skills and experience in the most favorable light.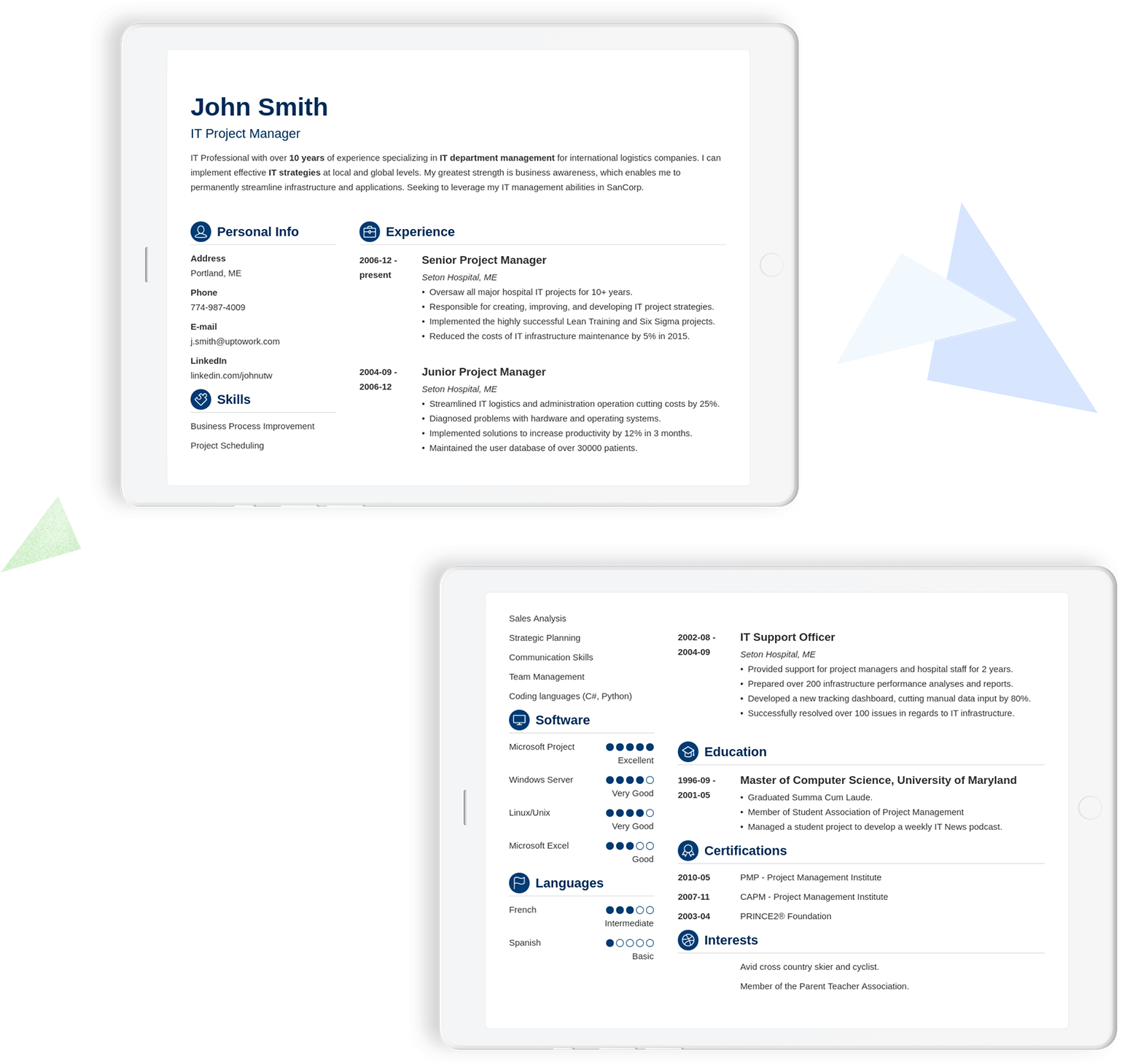 Create your resume with ease
Say goodbye to hours of making a resume from scratch, dealing with broken formatting, and struggling with clumsy text editors. Simply choose a resume template that suits your style, use our industry-specific, ready-made content for each resume section, and have a resume ready in minutes. Download it for free in a .txt format, or opt for our premium plan to unlock more features.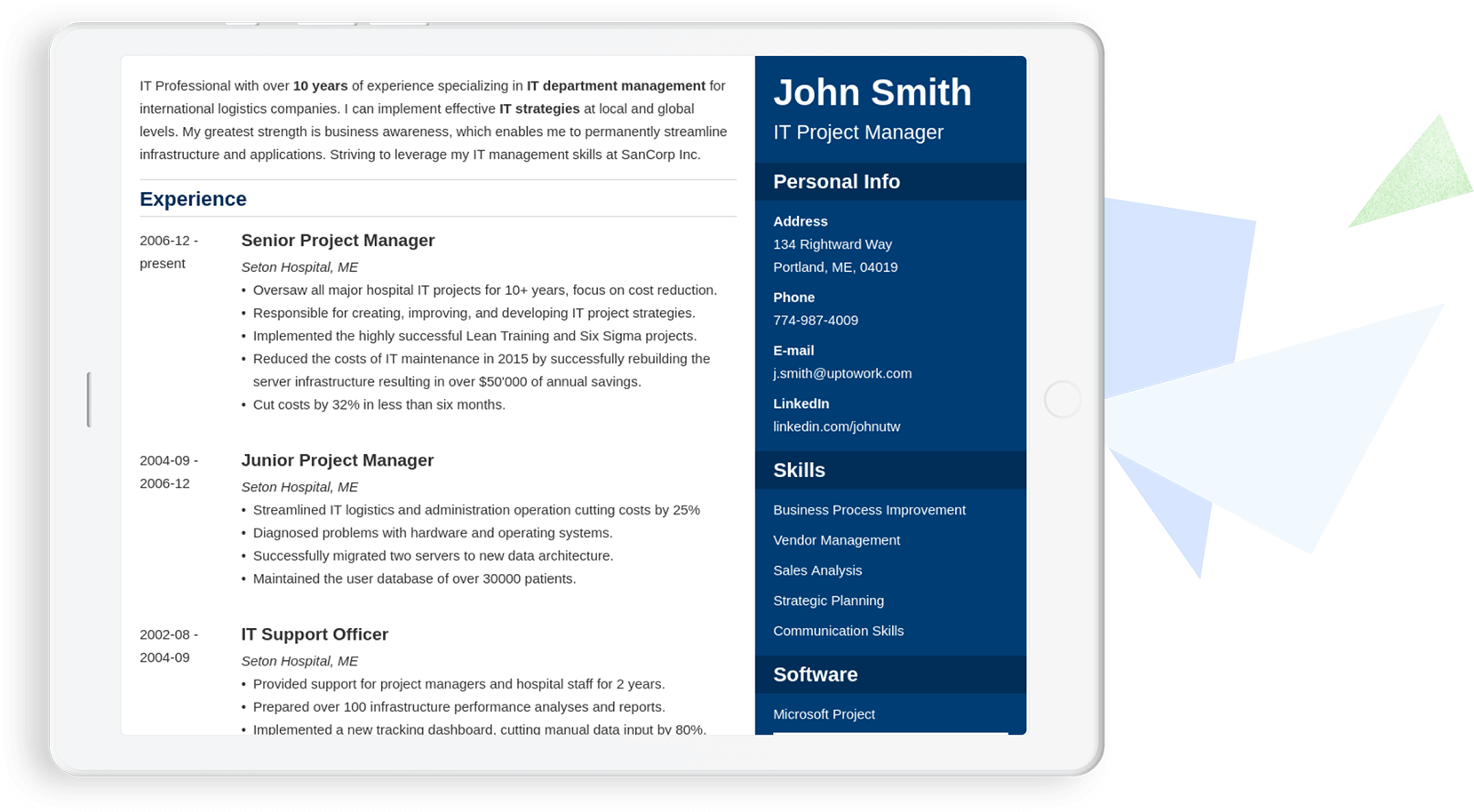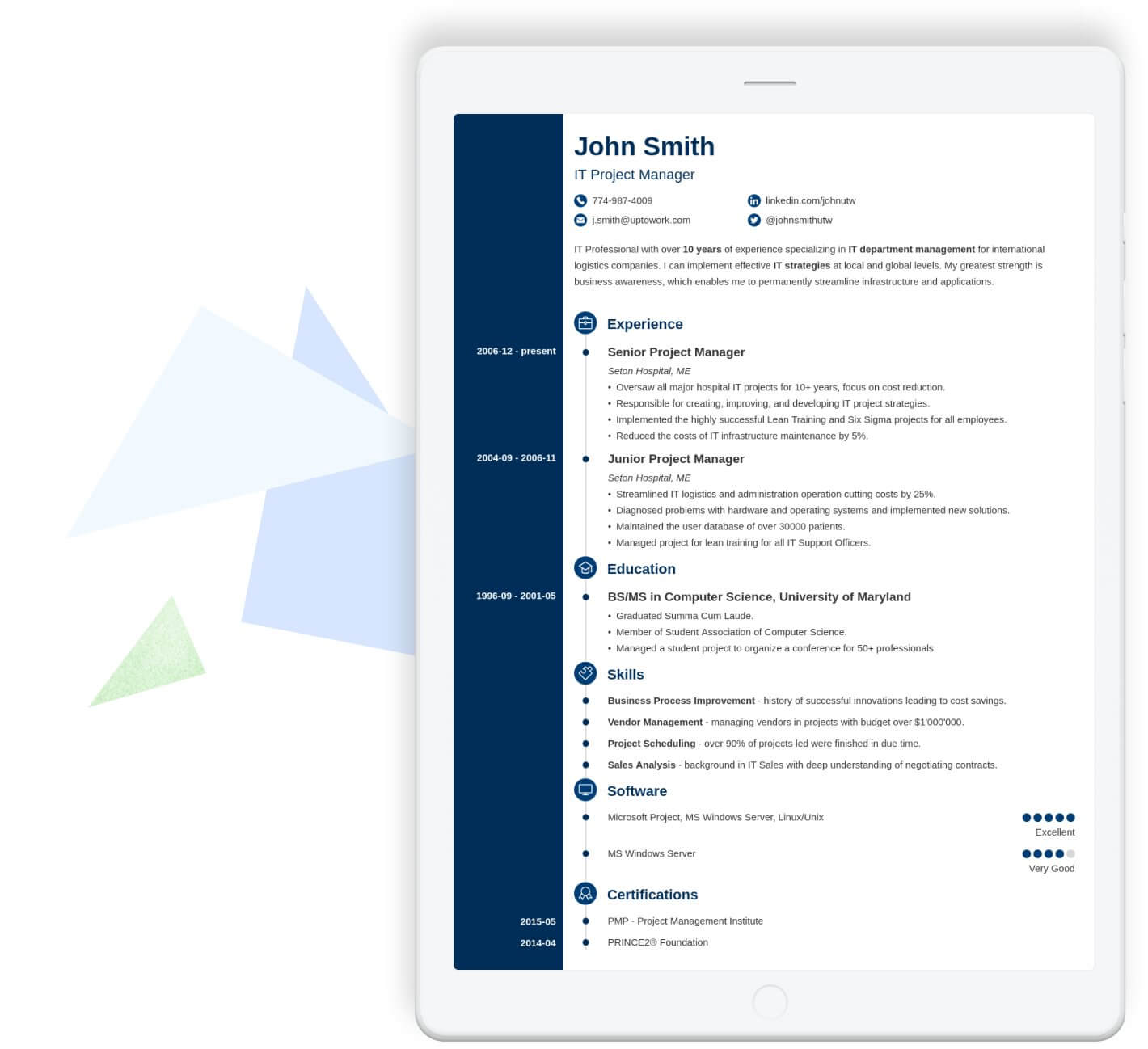 Save a lot of time
Your time is better spent forging a career, not working on a resume. Save valuable time by picking a free resume template in our builder and download a job-winning resume in minutes. Don't forget to create a cover letter, too—it significantly increases the likelihood of your resume being read. With our smart content suggestions, creating both is a breeze.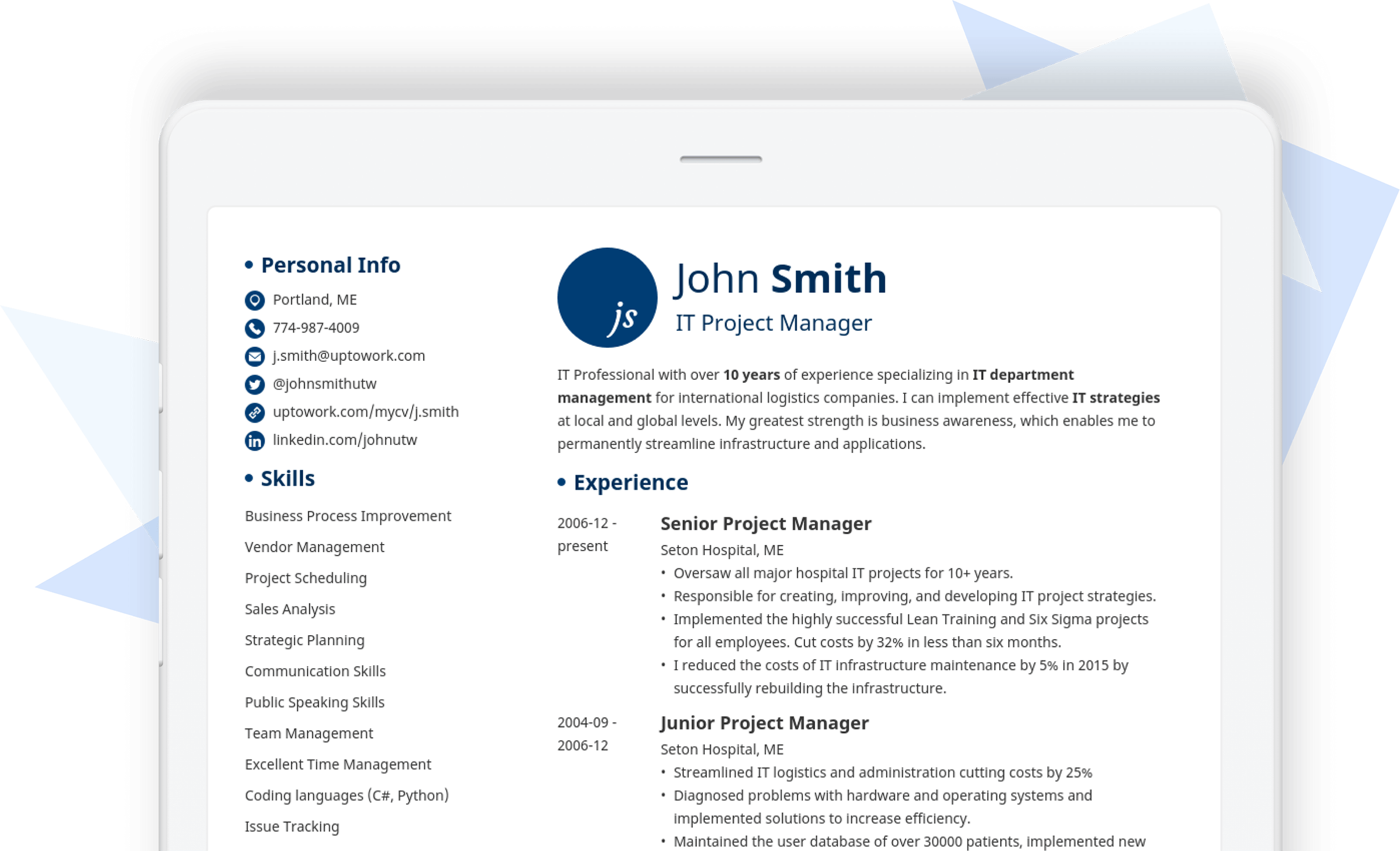 Make your resume shine
Customize the resume template to suit your preferences. Alter the font, color, and various other aspects to truly reflect your personal brand. But that's just the beginning. Enhance your resume with our ready-made content suggestions, tailored for various jobs and industries, and get hired faster.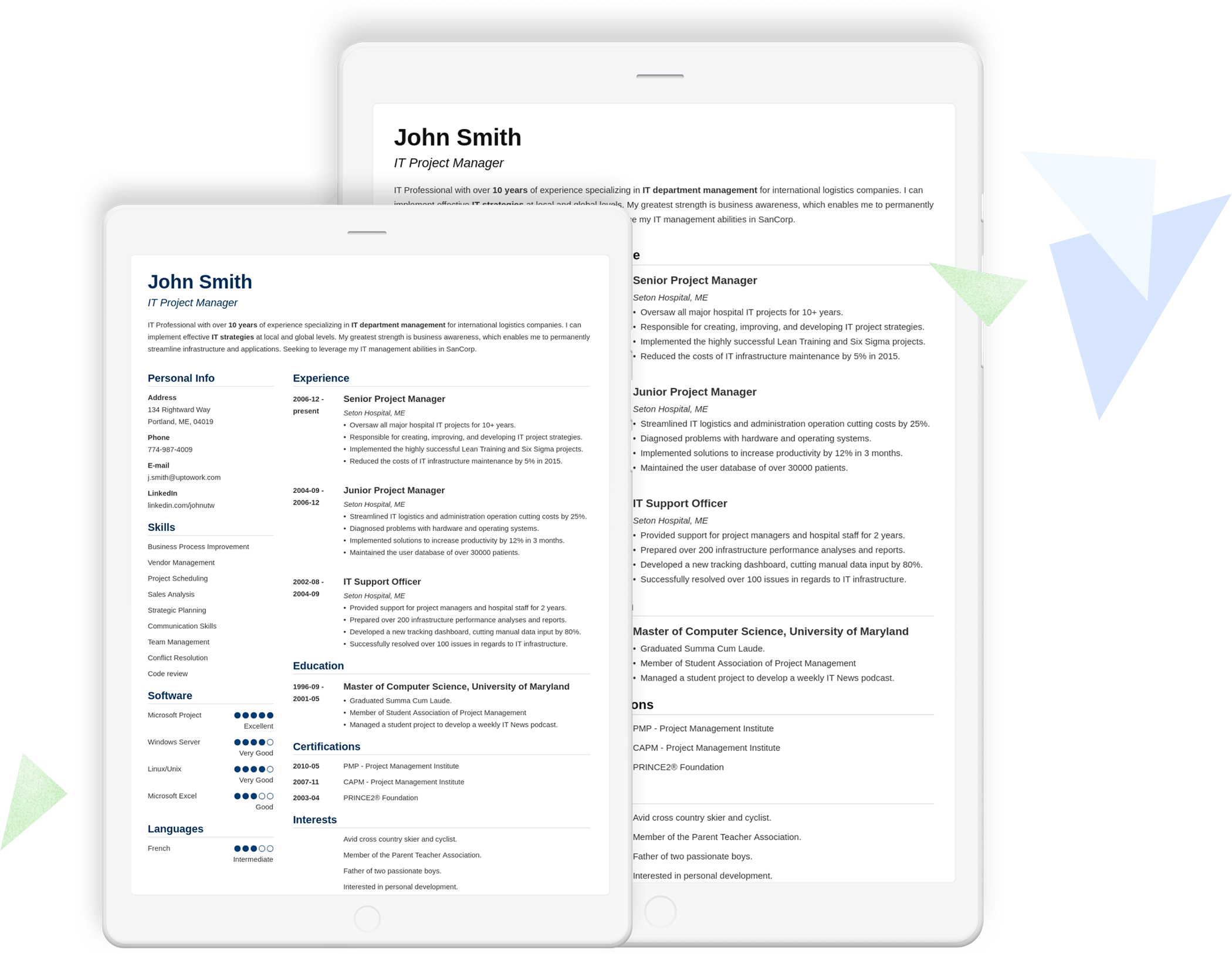 Find your dream job
Our customers have done more than just revamp their resumes—they've transformed their lives. Our templates for resumes helped them to find their dream jobs, securing multiple interviews and offers. Let us help you improve your resume and your future.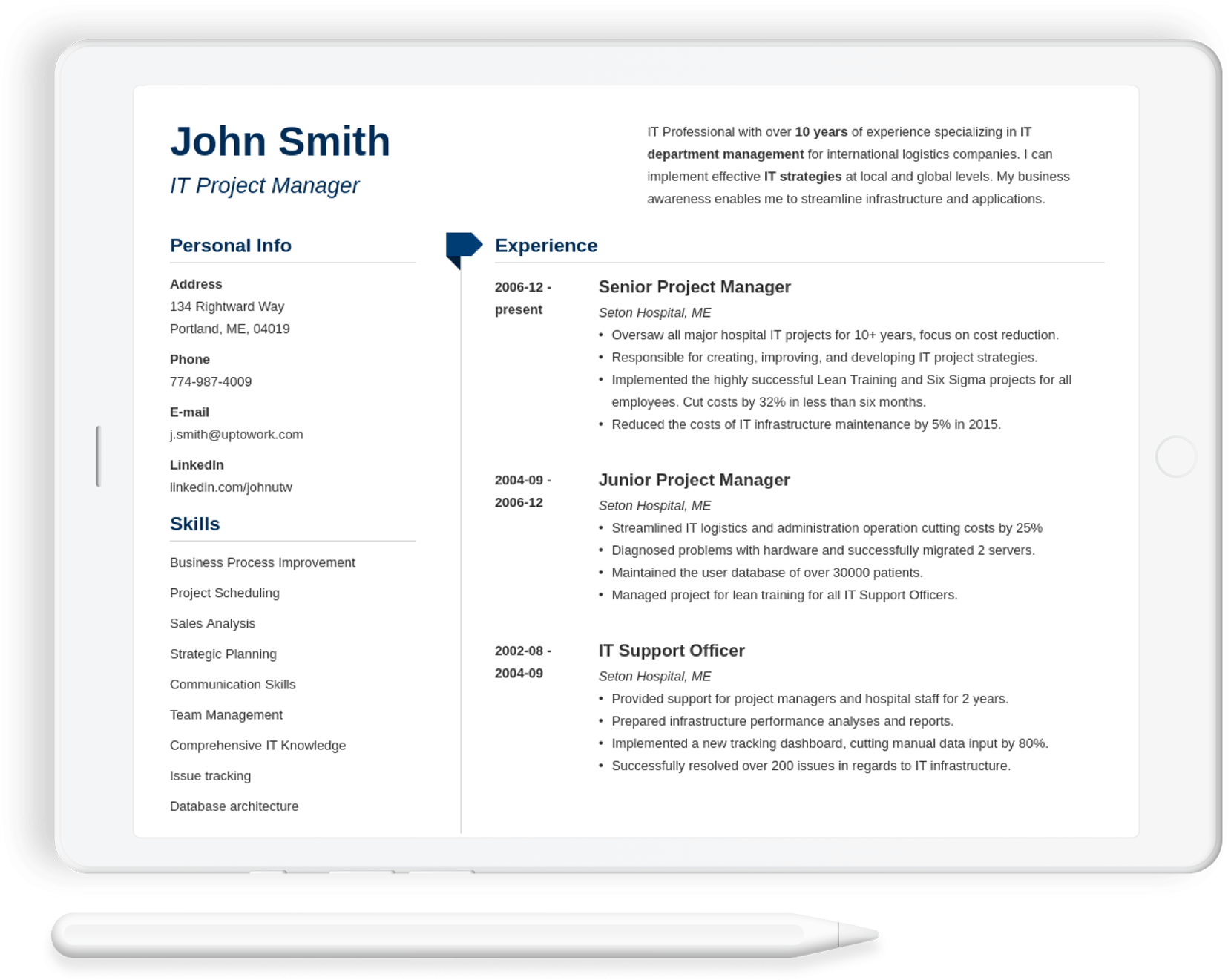 Why users choose our resume templates:
Frequently Asked Questions about Resume Templates