Great Accomplishments / Achievements on Resumes: Examples
Responsibilities will get you to Woop Woop. To reach Jobdale, you need to learn how to navigate achievements. And you've just found your guide.
"Throwing the best barbies in the neighbourhood."
"Found Nemo."
"Best friends with Crocodile Dundee."
Blimey!
I'd hire you in this instant if I saw such accomplishments on a resume. But sadly, I'm not hiring.
You need to try harder to get your recruiter's attention.
It's time to learn how to write achievements on resumes that are relevant and help you get the job.
This guide will show you:
Accomplishments examples for more than a dozen of industries.
How to give best work accomplishment examples and impress the recruiter.
Why it's crucial to write achievements on a resume, not responsibilities, and differences between the two.
Where to list achievements in a resume, also for freshers, to get them noticed.
Want to save time and have your resume ready in 5 minutes? Try our resume builder. It's fast and easy to use. Plus, you'll get ready-made content to add with one click. See 20+ resume templates and create your resume here.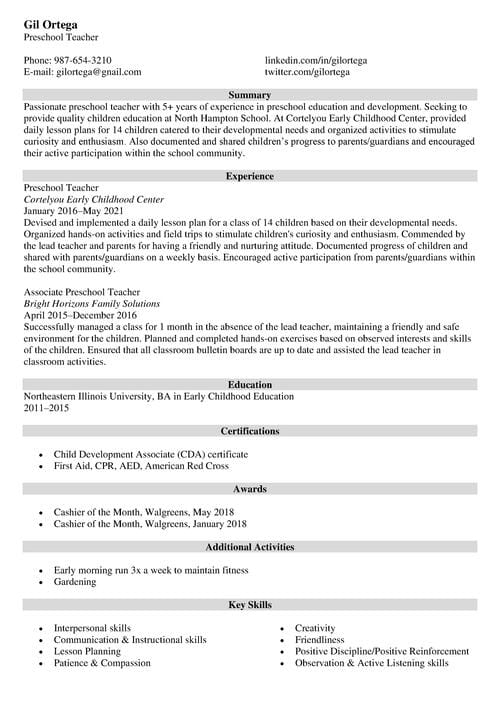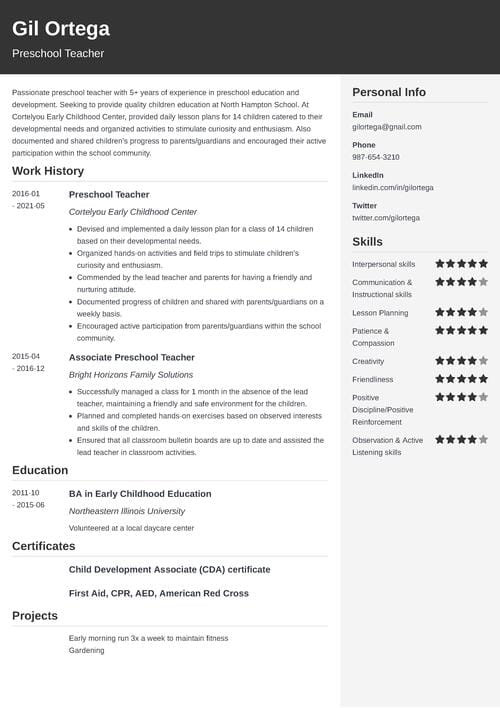 Sample resume made with our builder—See more resume examples here.
Get quicker to the sections of the guide with this list of contents:
Resume Achievements Examples per Industry
Find 40+ resume achievements examples for all industries:
Administrative
Reviewed employee complaints, cutting turnover by 15% in 6 months.
Offered detailed support to 25+ coworkers to ensure smooth operations in the office.
Identified and coordinated implementation of a new employee records system provider, increasing employee satisfaction by 30%.
Creative
Run online webinars for creative writers, raising traffic 15-20% each month.
Designed and implemented new branding and UX for client websites, boosting conversion by 30%.
Led the team to receive the first "Best Media Outlets Award" for the agency.
Customer Service
Designed a new complaint reporting system, increasing accuracy to 99%.
Resolved 90% of issues at the first point of contact.
Implemented changes to the onboarding process for clients, raising CSR by 16%.
Education
Exceeded the student registration goals 6 months in a row.
Awarded over $250,000 in grants for the Department of Sociology.
Created an inclusive environment for students, increasing the student retention average by 15%.
Engineering
Created new shift procedures, saving 12 labour hours per week.
Successfully installed 73 HVAC systems on ca. 2,000 sq/ft in a new residential estate.
Designed and delivered HAZMAT training to 200+ coworkers.
Finance
Diversified the branch's customer portfolio, attracting 5+ new, high net-worth clients.
Audited 100-position vendors list, bringing ca. $20K in annual savings.
Discovered inconsistencies in invoicing, saving an average of $23,000 yearly overpayments.
Hospitality
Improved online hotel ratings from 4.0 to 4.6 in a year.
Built and led a team of 6+ employees speaking fluently in 11 foreign languages.
Implemented a new check-in procedure, resulting in 98% guest satisfaction.
Informational Technology
Suggested automation opportunities, raising procedure efficiency by 10% in 3 months.
Conducted regular maintenance of hardware and software, reducing downtime by 20%.
Designed a new mailing app feature in 5 active days, bringing an award in the Best Email Campaign category.
Legal
Led 100 litigation mediations with 92 advantageous settlements.
Maintained an annual average of 1800 billable hours.
Delivered 7 litigation briefs, receiving commendation from litigators about each.
Management
Grew a small business over 300% in under 4 years.
Managed projects budgets, accumulating to $5M on average.
Helped cut company spending by 35%, forecasting demand and detecting cost-cutting possibilities.
Media
Run a vertical in a newspaper with a 500K readership.
Received regular accolades from Editor-In-Chief for excellence.
Built long-term relationships with 36+ journalists.
Marketing
Increased sales by 15% with no budget on marketing campaigns.
Wrote new copy for lead magnets, boosting subscription rates by 23%.
Created a viral Instagram post, growing the number of followers from 70,000 to 130,000+.
Manufacturing
Run inventory in 6 warehouses, reporting to over 100 stores ahead of schedule.
Managed the supply chain for a company with $700M in revenue.
Improved the QA process, cutting lead time by 20% across departments.
Healthcare
Handled a 30-bed unit at Paediatric ward in the Community Hospital.
Introduced consulting services for patients, increasing satisfaction rate by 30%.
Individually developed a personalised nutrition program for athletes, resulting in signing long-term contracts with 2 national athletes.
Sales
Organised a car sale, leading to 4 car purchases and 3 other full-price deals.
Closed a deal for a 5-bedroom residency, resulting in a $30K commission.
Regularly beat store KPIs by 10-20% with customer service skills and product knowledge.
Let's dig Hawkesbury-river deep into how and where to write accomplishments on resumes.
When making a resume in our builder, drag & drop bullet points, skills, and auto-fill the boring stuff. Spell check? Check. Start building a professional resume template here for free.
When you're done, Zety's resume builder will score your resume and tell you exactly how to make it better.
How to Write Achievements in Resumes?
The Labour Market Information Portal projects growth in employment in 17 out of 19 industries in the five years to November 2025. And the four broadest industries will create as many as 600 000 new jobs alone!
That's sick!
Imagine the opportunities.
To get where you see yourself satisfied, you'll have to rethink how you write your resume.
Just look at it.
More responsibilities than achievements, huh? You've been doing it all wrong.
Your potential employer wants to see you as an achiever, not a doer. And only accomplishments can show off your results.
But I'm guessing you've just felt a shrug down your spine because you don't know how to write them?
Take a look at the below examples first:
RIGHT
Redesigned the customer loyalty program, leading to a 23% customer retention boost.
WRONG
Responsible for the customer loyalty program.
RIGHT
Received "The Best E-Commerce Shop" award 3 years in a row.
WRONG
Building an e-commerce website.
The right examples are great achievements that prove you brought results.
The wrong ones, though, are mere job duties that'd put koalas to sleep.
So—
Here's how to write achievements that don't put people to sleep:
Achievements for a Resume
Use the PAR formula (Problem–Action–Result) to build your accomplishment statements. Start by telling what the problem was, how you solved it, and concluding with the final result.
Open with an action word in the past tense.
Avoid using "I." It takes the attention away from the results.
Write in active voice instead of passive. The successes are yours, aren't they?
Include numbers whenever possible.
Choose achievements that have to do with time (weekly, in 3 months), scale (an average of $23,000, by 20%, with 36+ journalists), or range (by 10-20%, from 70,000 to 130,000+). But—
Achievements don't always have to be quantifiable. Receiving an award or delivering before the deadline are just as impressive. Non-quantifiable accomplishments are a great way of proving yourself if you haven't tracked your outcomes and haven't got exact figures to describe them.
Tailor your achievements to the job you hope to land. Among requirements and responsibilities in the job description, you'll find keywords referring to resume skills and experience (time management, Tableau reporting, quality assurance, etc.) that you need to match your accomplishment statements with.
Let's say there's a job for a Senior Copywriter who has the know-how about conversion rate optimisation.
Here's how they should write about that in an accomplishment format:
Increased landing page conversion rate by 36% in 4 months for an e-commerce site.
Now that you know how to write achievements in resumes, learn where to write them.
Where to Put Achievements on Resumes?
Ideally—
Your recruiter should observe achievements on your resume as if they took a Parkes Telescope.
To give them a high-definition stargazing experience, include your achievements in the following resume parts:
1. Personal Statement
A personal statement is the first thing your recruiter sees on your resume, and it should make them excited to read on. So—
What else could make it more exciting than one of your significant achievements?
See how you can use this section to drop a few achievements in both career summary and objective:
Project Manager Achievements Example
RIGHT
Result-oriented Project Manager with 7+ years of experience. Oversaw all stages of the $22M Lava project and delivered before deadline. Effective troubleshooter and risk mitigator, saved $2M thanks to noticing doubtful third-party provider forecasts. Excited to use cost management and data analysis skills at Cancel Inc.
Achievements to Put on a Resume in High School [Example]
RIGHT
Highly motivated and outgoing high school student passionate about the world's cuisine, seeking to become a prep cook at Tres Leches. A winner of Peter Gilmore's "Aspiring Young Chefs" competition in 2020, with a steady place among the best 10 students at Superth High.
Last time I saw something so thrilling was when I did whale watching.
That's awesome!
Choose the most sparkly yet relevant achievement for your personal statement to set yourself apart from other candidates immediately.
Pro Tip: Write it last. It'll be easier to pick your key achievement for a personal statement when you have them figured out in either your work experience or skills sections.
2. Work History
Although your personal statement is first to get read, your work history is the most important.
Here, recruiters look into your past achievements to see whether you're likely to bring results for them in the future.
That's another reason why responsibilities never work. They don't say anything about you, and anyway, your employer probably already knows what duties were involved in your previous jobs.
Check below resume achievement examples for a customer service representative:
Customer Service Achievements Example
RIGHT
Customer Service Representative
Unstuff, Perth
January 2018–January 2019
Responsibilities and Achievements:
Successfully managed a client database with over 300 accounts.
Recorded 250+ cases a week, including orders, cancellations, complaints, and returns.
Offered detailed advice about company products and services, boosting the NPS score by 15%.
Received the highest score for helpfulness and friendliness in the customer satisfaction survey.
Identified and removed a bottleneck in the client-side return process, raising the CSR by 29%.
It's popping with achievements!
In your work experience section, write up to six bullet points with achievements. And don't be scared to use adjectives next to power words to add value.
Now see what accomplishments a junior applicant could include in their work history:
How to Write Achievements in a Resume for Freshers [Examples]
RIGHT
Application Developer (Summer Internship)
Pear, Melbourne
July 2021–September 2021
Responsibilities and Achievements:
Collaborated on an application development project with a team of 6 interns, including DevOps, software engineers, and product owners.
Acted as a communication link between the team and client, receiving a 98% satisfaction rating at the end of the project.
Closed sprint tasks ahead of schedule every two weeks.
Successfully debugged 30+ issues.
RIGHT
Childhood Education Volunteer
Early Discovery, Adelaide
April 2019–June 2019
Responsibilities and Achievements:
Cocreated educational programs for different age groups (2-3 years and 3-4 years).
Supervised 11 pre-kindy children during play and social activities.
Received 5/5 (outstanding) rating from mentors during final practice assessment.
And they said they had no work experience…
If you're an entry-level candidate, use side jobs, volunteering, internships, or work shadowing experience to prove you're perfect for the role. Non-quantifiable accomplishments can do wonders for you, too.
Do you know what else can do that?
Achievements in the—
3. Education Section
Including such achievements as receiving scholarships, graduating with distinction, or making the Dean's List will get you top of the interview schedule.
Engagement in learning gives you an advantage, and there are heaps of opportunities to show it.
Have a look at those from a Communication and Media graduate:
Achievements in a Resume for Students [Example]
RIGHT
BS Communication and Media
University of Wollongong
2014–2016
Academic Achievements:
Graduated with High Distinction.
Received the 2015 Future Media Scholarship.
President of the Proversation Program.
Run the online campus newspaper and included a new, independent Diversity, Inclusion & Equity digital column, raising readership by 65%.
Once again, achievements with no figures to describe them prove they're equally important.
"President of a student program."
Nice, right?
I can already tell they have excellent time management, organisation, and communication skills. Not to mention their motivation for taking the initiative.
Speaking of skills—
4. List of Skills
That's another place where you should speak the language of resume achievements.
The best proof of you having a skill is describing how you used it and with what result. When your employer sees solid evidence, they won't dare bring you in for questioning (unless it's a job interview).
Have a look at the below accomplishments examples for an executive assistant:
Executive Assistant Accomplishments Example
RIGHT
Time management. Saved around 8 hours/week per manager, thanks to excellent planning.
Event planning. Noticed a 40% boost in employee engagement in internal surveys, thanks to organising valuable events.
Detail-oriented. Increased executive documentation accuracy to 90% with proofreading.
You get the drift, don't you?
Read more: How to Write a Resume: Full Guide & Examples
5. Additional Sections
So far, I've covered the required sections in every resume. But—
You can always do more, do better.
To make your employer happy as Larry, add a few accomplishments relevant to the industry in the additional sections:
Awards
Publications
Projects.
Geek into the sales assistant achievements example below:
Sales Assistant Achievements—Example
RIGHT
Awards
The Sales Assistant of the Month 7 times a year thanks to excellent customer service skills and exceeding monthly sales targets.
Publications
Published a guest post on Tanica Simpson's blog about starting a career in sales, "Big Or Small, Own Initiative Takes You Places."
Key Projects
Organised and run a sponsorship event with a famous influencer, boosting brand awareness by 40%.
Fantastic.
Like the above guest posting example, personal achievements will do your resume a world of good, if only they relate to the job you're after.
And as far as awards go, you can write them together with your achievements in the work history or educational background or create a separate section to single it out.
Last but not least, remember to save some achievements up your sleeve for when you're writing a cover letter!
Plus, a great cover letter that matches your resume will give you an advantage over other candidates. You can write it in our cover letter builder here. Here's what it may look like: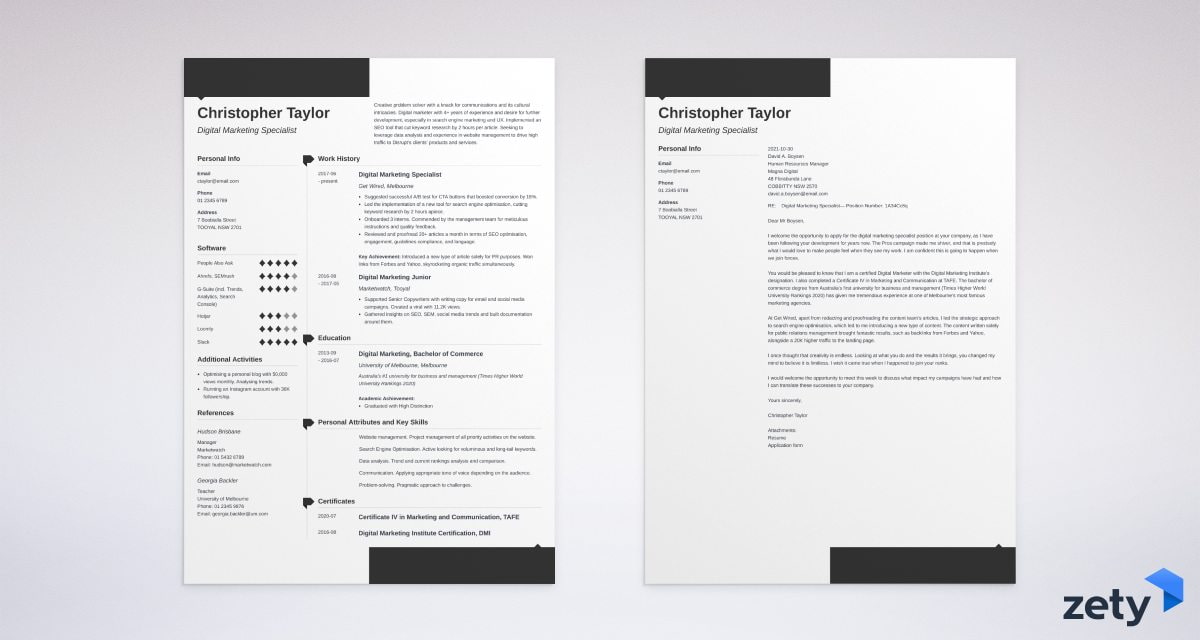 See more cover letter templates and start writing.
Key Takeaway
Take these home:
Responsibilities won't help you land jobs. Achievements will.
Achievements don't belong to your work history alone. Include them in your personal statement, education, skills, and additional sections, too.
Quantify, but remember to give also some love to the non-quantifiable achievements.
There's no such thing as "too many achievements." These are your successes, so let others know about them.
Now that you know exactly what makes for a winning resume, have fun changing your responsibilities into achievements!
Please tell us—
Do you have questions about professional achievements on a resume? Do you track your major accomplishments? How do you feel about coming up with an achievement list instead of writing your duties?
Give us a shout in the comments! Let's get the conversation rolling.