You're looking for good resume templates. Well, we've got 'em! But first:
Resume templates on the internet are a dime a dozen, but good resume templates are much harder to find.
But don't worry.
Together with my partner in crime, Luiza, with her discerning eye and flair for creativity, we've taken the time and effort to sift through the web to bring you good templates for resumes that will be sure to impress.
Some are ours, some are theirs, but all of them are resume templates that are just plain good.
This good resume templates guide will show you:
Over a dozen good resume template examples better than 9 out of 10 other resumes.
Our top picks of simple, good templates for resumes available online.
Samples of good resume layouts from all over the internet.
1
Cascade Template by Zety
Want to save time and have your modern resume ready in 5 minutes? Try our resume builder. It's fast and easy to use. Plus, you'll get tips and right vs. wrong examples while writing your resume. See 20+ resume templates and create your resume here.
One of our users, Nikos, had this to say:
[I used] a nice template I found on Zety. My resume is now one page long, not three. With the same stuff.
Note: we have designed all our resume templates to be ATS-scannable.
This is one of the favorites here at Zety - the favorable Cascade resume template created using our resume maker.
Use the artfully-crafted bar graph for your skills and language sections. Put that sidebar to use to fit more in your limited space. It's got subtle shading differences in the green (or whichever color you choose) but distinct black and white for the text for readability.
Dozens of color combinations make this pleasing resume template an instant hit with candidates and recruiters alike.
Cascade is included along with many others in our resume builder. With our resume builder, you can create a resume simply and quickly.
2
A Light Touch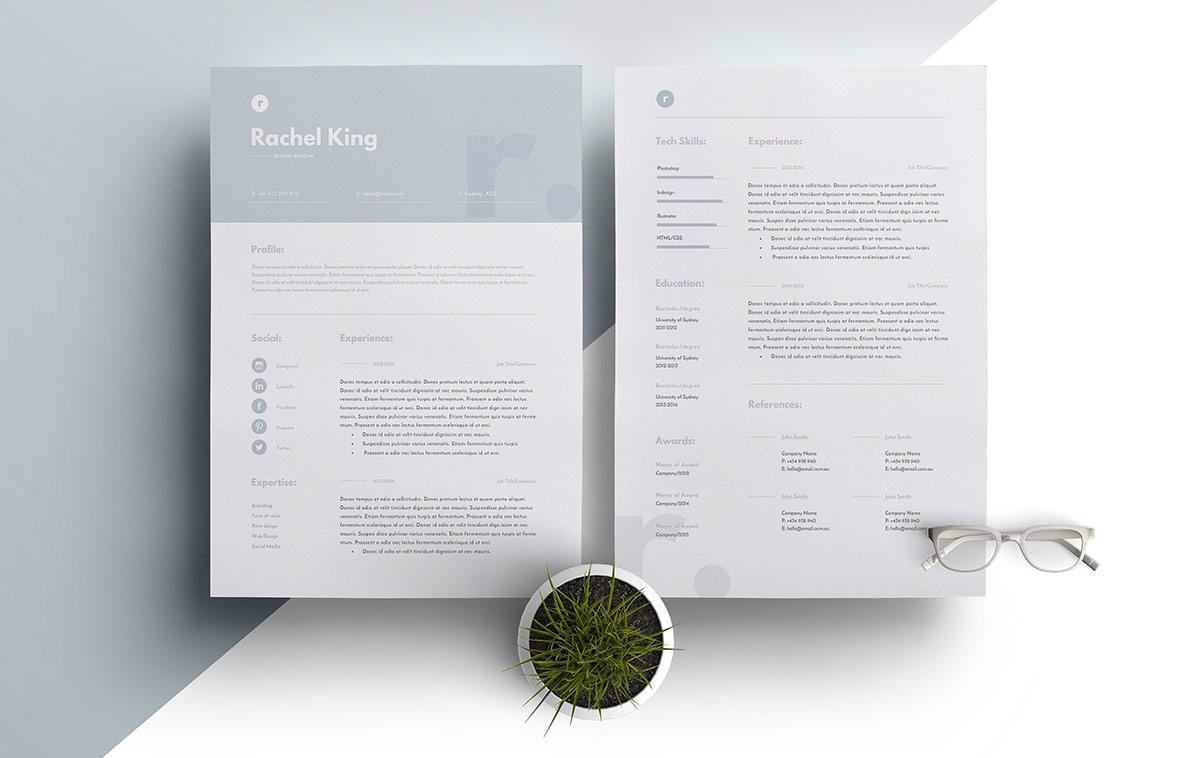 "Resume Template 3 Page | CV Template" by The Template Depot on Creative Market is a satisfying template for resumes that has modern design elements and features. It offers a 2-page resume template and a matching cover letter template (for a total of 3 pages). This resume template is good for those job applicants who don't need to fit everything on one page, instead maximizing white space for easy skimmability.
Here's the link to this template from Creative Market. For more of the best resume templates we've found around the web, see: Best Resume Templates: 15 Examples to Download & Use Right Away
3
Blue & Gold #1
Brian Champ's "Free Resume Template & Cover Letter" has an executive air about it. The header area promotes your brand by simply stating your name and professional title. The rest of the resume gets a boost in real estate as the contact information has been minimized and pushed down into the very bottom of the footer.
Here's the link to this template on Behance, available as a Microsoft Word download, or for Adobe Photoshop, InDesign, or Illustrator.
4
Pastel Diamonds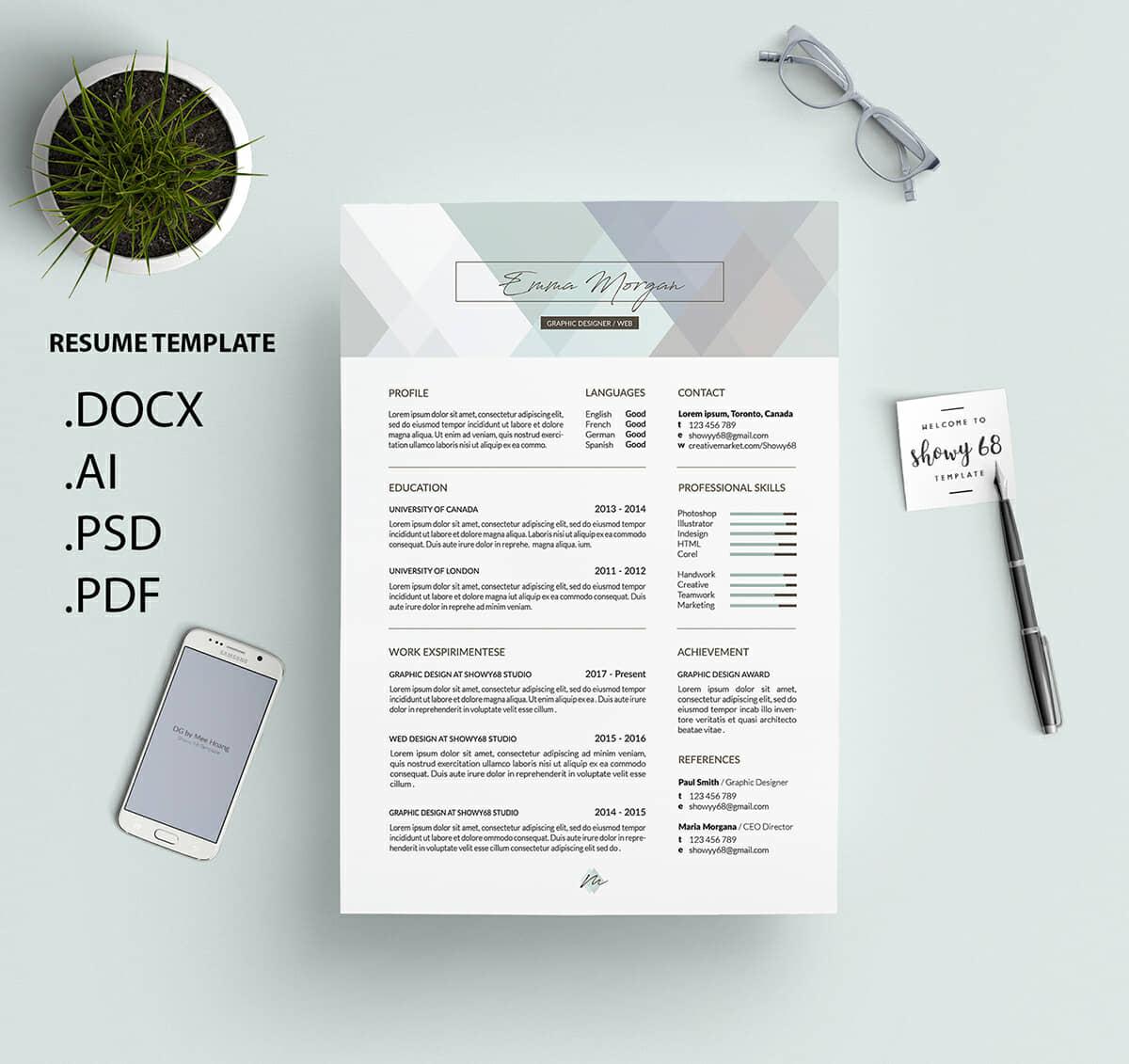 Mee Hoang's "Crystal Pastel Resume Template / CV Template" on Behance is simply one of the most agreeable templates for resumes out there. A subdued header made up of a colorful diamond pattern frames your name and branding statement, while the body with right-hand sidebar gives you plenty of room to make your case.
Here's the link to this good resume template on Behance. It can be used as a Microsoft Word resume download or with Adobe Illustrator.
This template's a good one, but it's also quite modern. Check out other contemporary ones: Modern Resume Templates & 18 Examples [A Complete Guide].
5
Throwback to the Future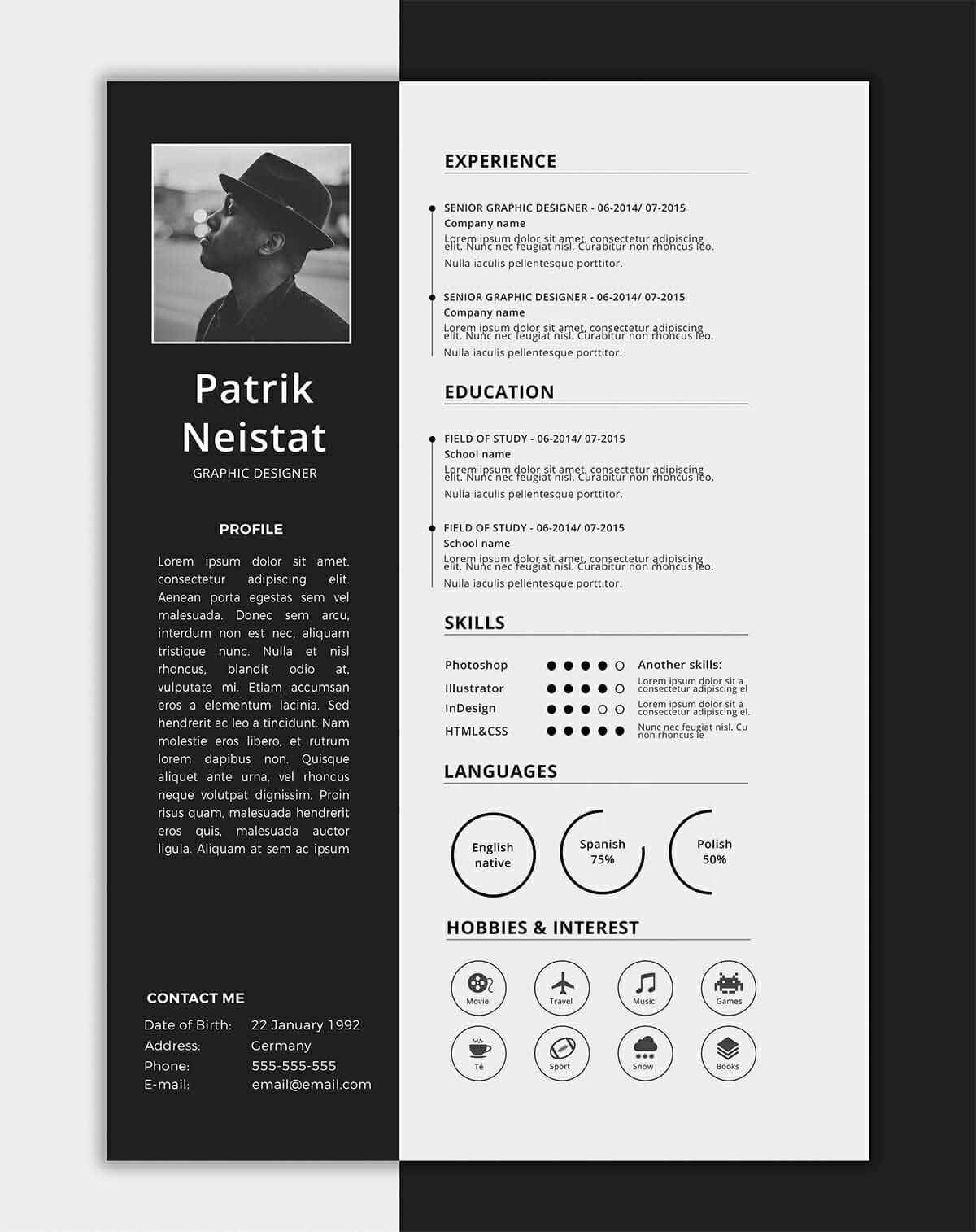 The "SIMPLE RESUME TEMPLATE - FREE" by Julio A Ramirez De Freitas has a throwback feel, perhaps due to its black-and-white color scheme or the similarly-shaded profile photograph. However, that's where the old-timey feel ends, as the rest of this good resume template is all modern, with descriptive icons, circle graphs, and the sidebar.
Here's the link to this PSD resume template for Photoshop, along with downloadable icons and professional resume fonts that you see in this mockup.
6
Cubic Template by Zety
Cubic's one of ours, a clean, elegant take on what we believe makes a good resume template.
The top header is reserved simply for your name and title to stand out, while the right-hand sidebar switches it up. Filled-in circles for your languages and skills allow you to showcase your knowledge in style.
Cubic is included along with many others in our resume builder. With our resume builder, you can create a resume simply and quickly.
7
Miami Nice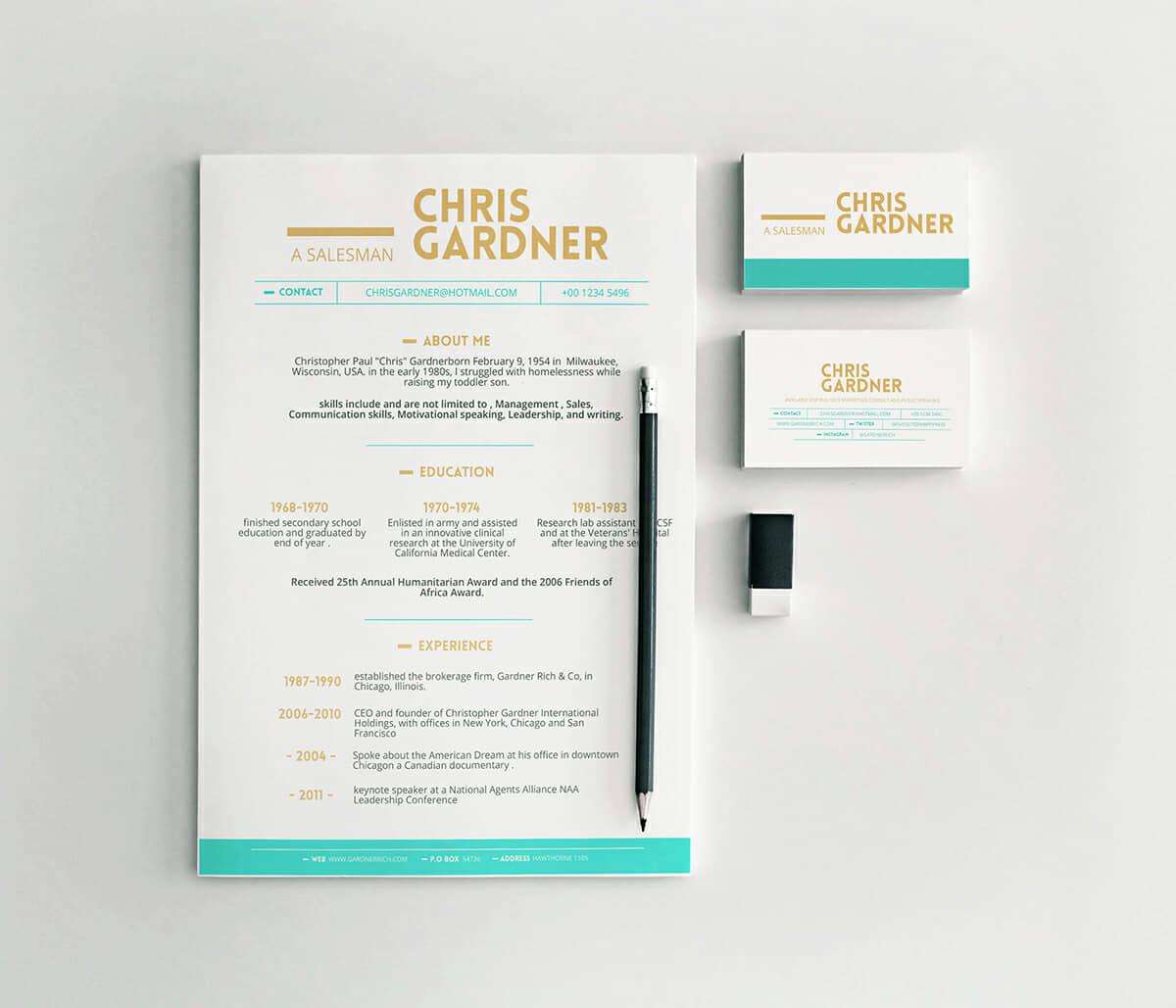 Fay Zodiac's "Free Minimalistic Resume" feels like a resume template you make while relaxing surfside during the summer in the Caribbean, doesn't it? The coral coloring is a pleasant touch, and this one includes a matching business card template. Another thing that makes this one stand out as a good resume template is that it is available to download for Microsoft PowerPoint as well as Photoshop.
Here's the link to this template on Behance.
8
Blue & Gold #2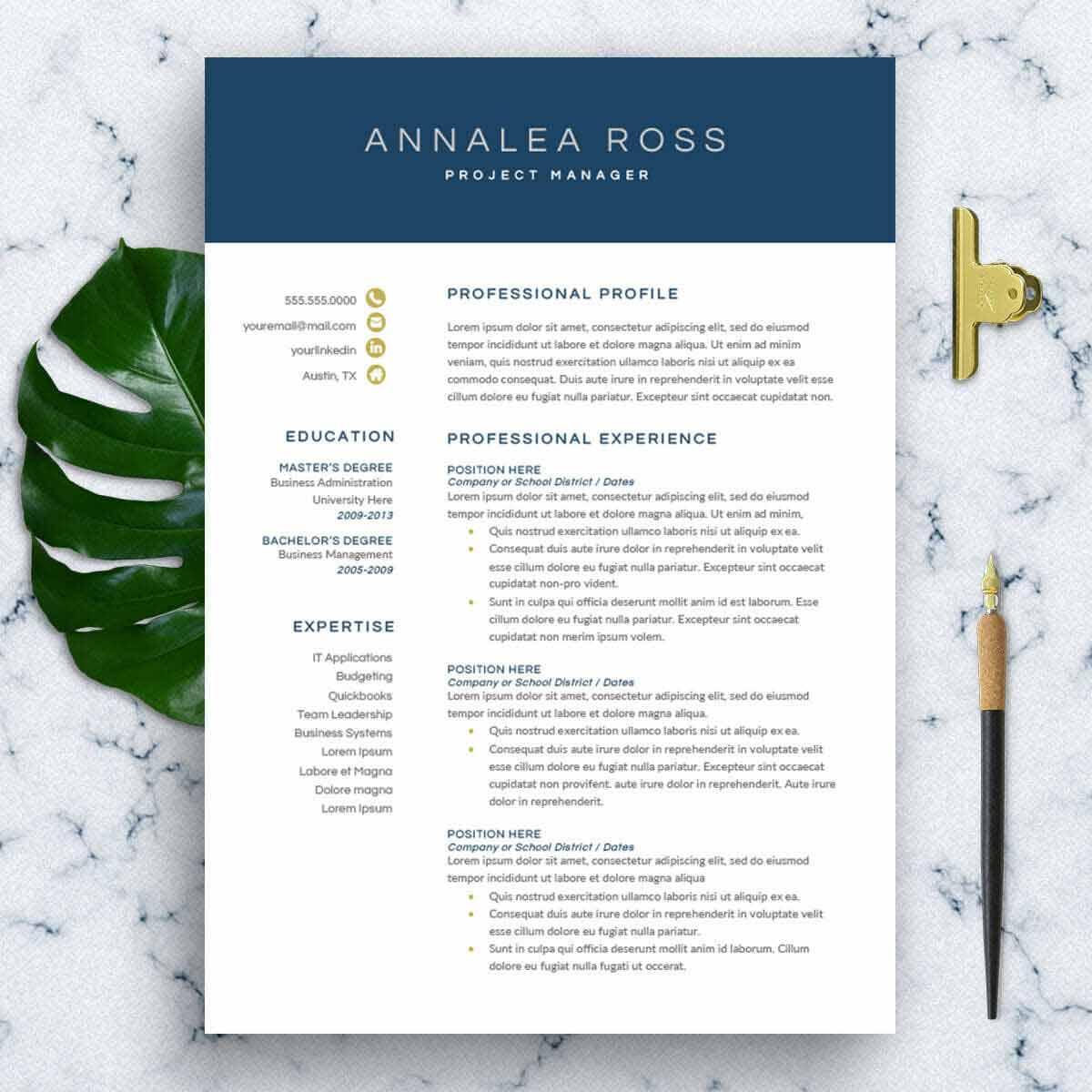 The "Modern Resume Template for Word" by Sharp Resume Foundry will be sure to get you the job. Not only is this top-notch template for resumes clean and stylish, but their resume package includes up to three pages for the price!
This downloadable Microsoft Word resume template can be found via this link.
Being creative on a resume like this one is tough, but our guide and examples make it easy: Creative Resume Templates (15+ Examples & Complete Guide].
9
The Bailey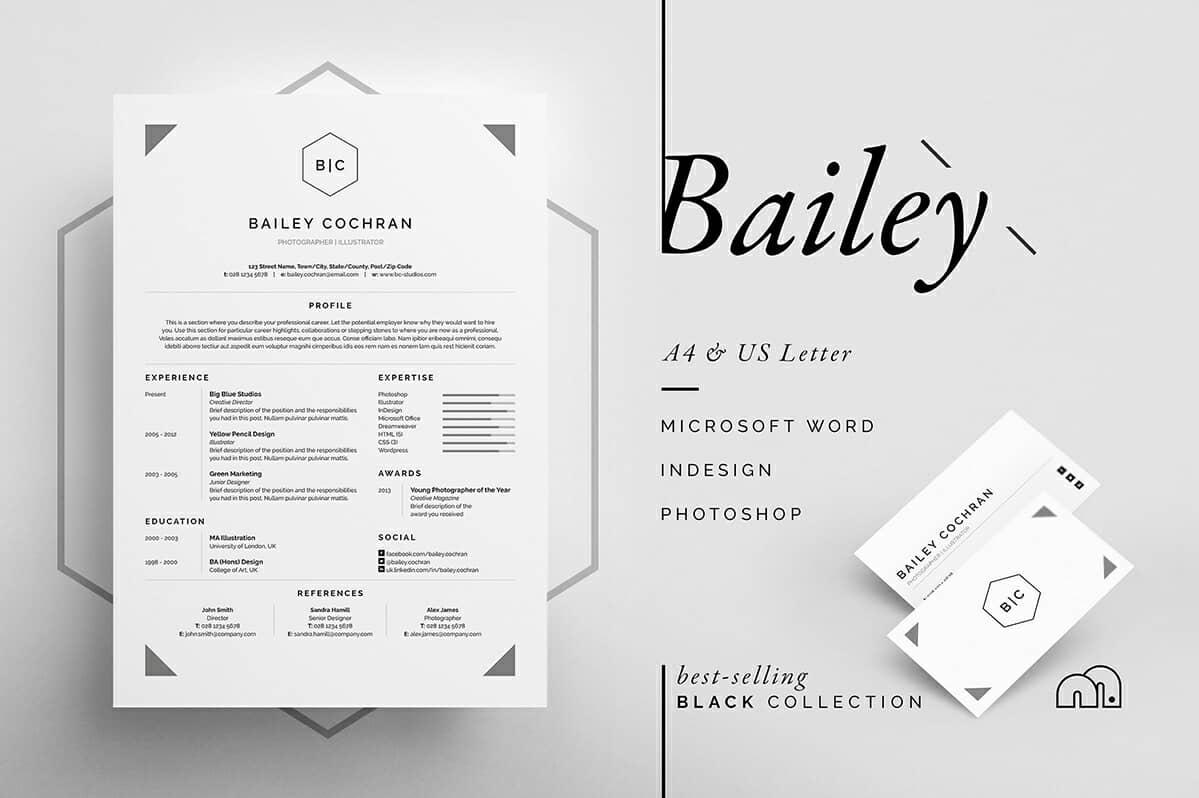 The "Resume/CV - Bailey" by Creative Market's Bilmaw Creative is a good cover letter template and resume design with matching business cards. This one really frames your whole summary onto a one-page resume, and the simple, two-tone color design doesn't feel as old as it sounds.
Here's the link to this good template for resumes, available as a Microsoft Word download, download for Photoshop, or a template for InDesign, any of which can be chosen to be used in US or A4 letter sizes.
10
Good & Skimmable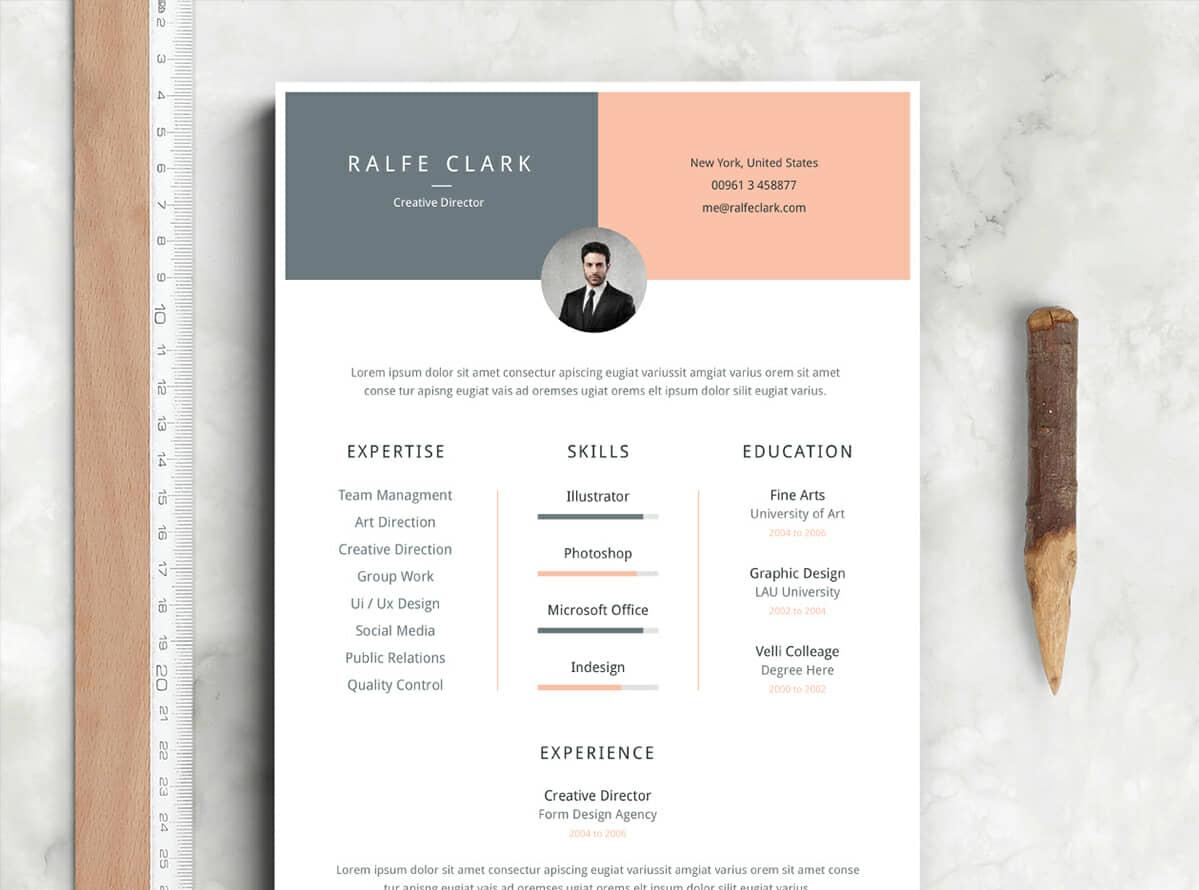 "Best Free Resume Templates" by Wassim Awadallah is a whole package with many different clean and simple resume templates, all free and all designed well. There are so many templates to choose from in his package that there's no use in describing some of the features, as you'll surely be able to find what you need within.
Here's the link to this template on Behance.
Simple doesn't have to mean uninspired and boring. Check out our curated list of simple resume templates: Simple Resume Templates: 15 of the Easiest Resume Examples to Use.
11
Clear & Concise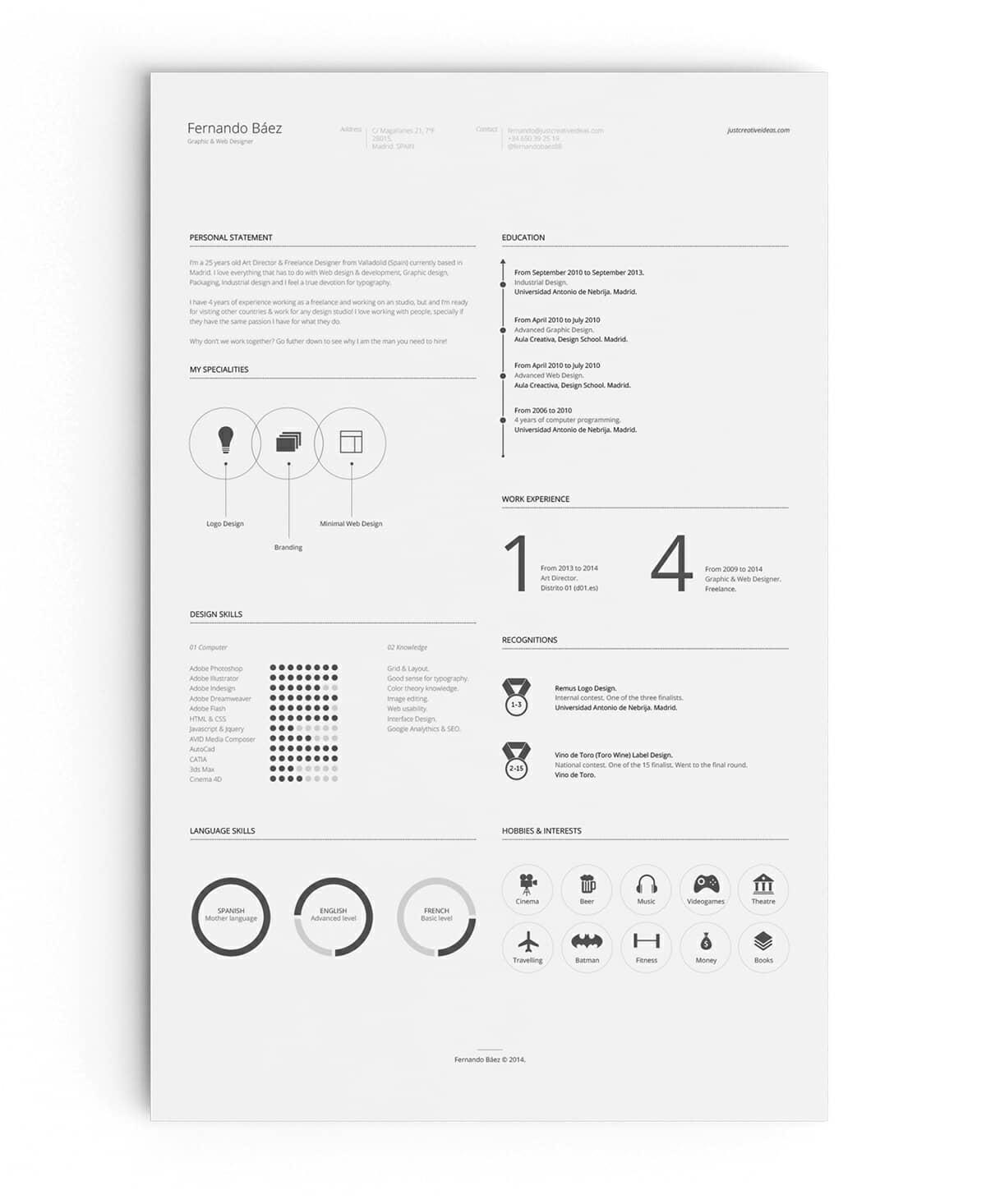 With over 105,000 (!!!) likes, Fernando Báez' "FREE Resume Template" is one of Behance's all-time favorites. Sure, it's a free resume template downloadable for Adobe Illustrator, yet it's so much more.
With its two even columns, beautiful icons, circle graphs, and a bar rating system for your skills to shine, this 4-year old resume template is sure to stay favorable for years to come.
Here's the link to this free resume template download on Behance.
Free resume templates don't have to sacrifice quality. Check out our curated list of free templates to download: Free Resume Templates: 17 Downloadable Resume Templates to Use.
12
Vibes by Zety
With a name like "Vibes," you know it's gotta be good. It's one of ours, but it definitely has some of the most innovative features out on the resume-writing market.
A very well-designed resume template, it has the full-width header for your name, title, and heading statement. A left-hand sidebar promotes your skills and achievements as a bar graph. Square icons make it easy for the hiring manager to locate each resume section.
Vibes is included along with many others in our resume builder. With our resume builder, you can create a resume simply and quickly.
13
Rosy Bookends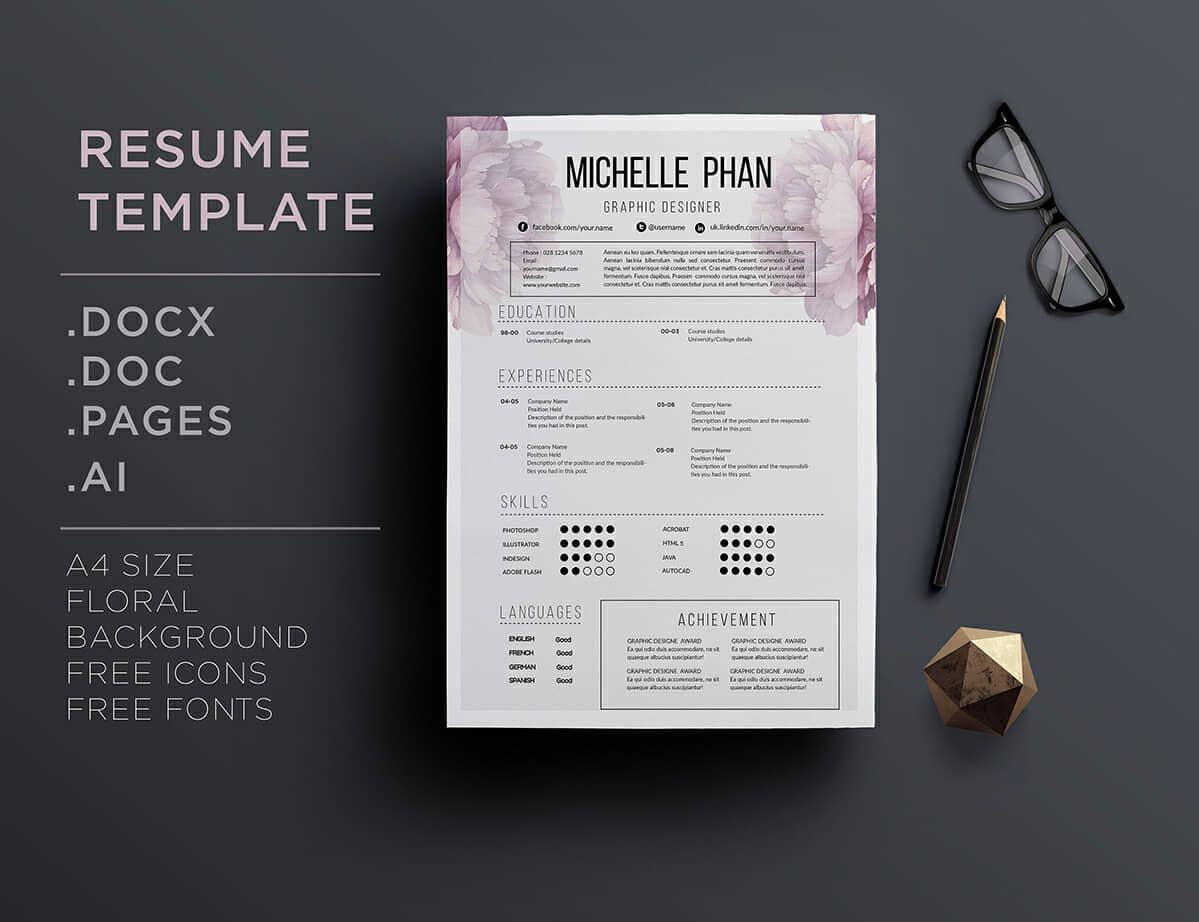 "CV template + cover letter" by Chic Templates on Creative Market starts off with your name, professional title, and contact information bookended by a pair of gigantic pink roses. The rest of the resume body is divided into two columns, giving you plenty of space to talk about your achievements, work history, education, and skills.
Here's the link to this template for Microsoft Word, Adobe Illustrator, and the Pages app (for Mac users).
14
Four to Score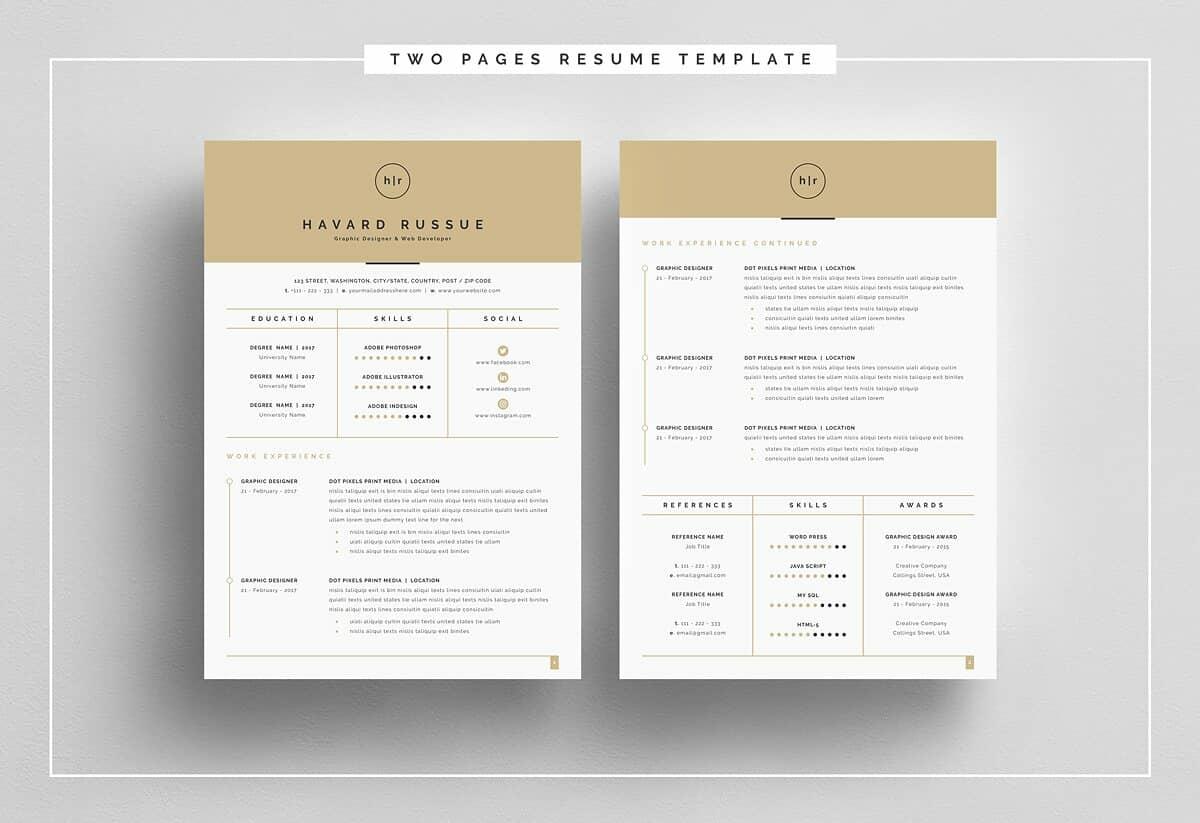 White Graphic's "Professional Resume 4 Pages" is a complete resume package, with a two-page resume template, a reference page template, and a cover letter template, all with matching layouts. Its good design is most prominent in the skills and education section, which resembles a modern table of three columns.
Here's the link to this template on Creative Market, which includes a free download of 30 different icons for use on your resume.
15
Modern & Minimal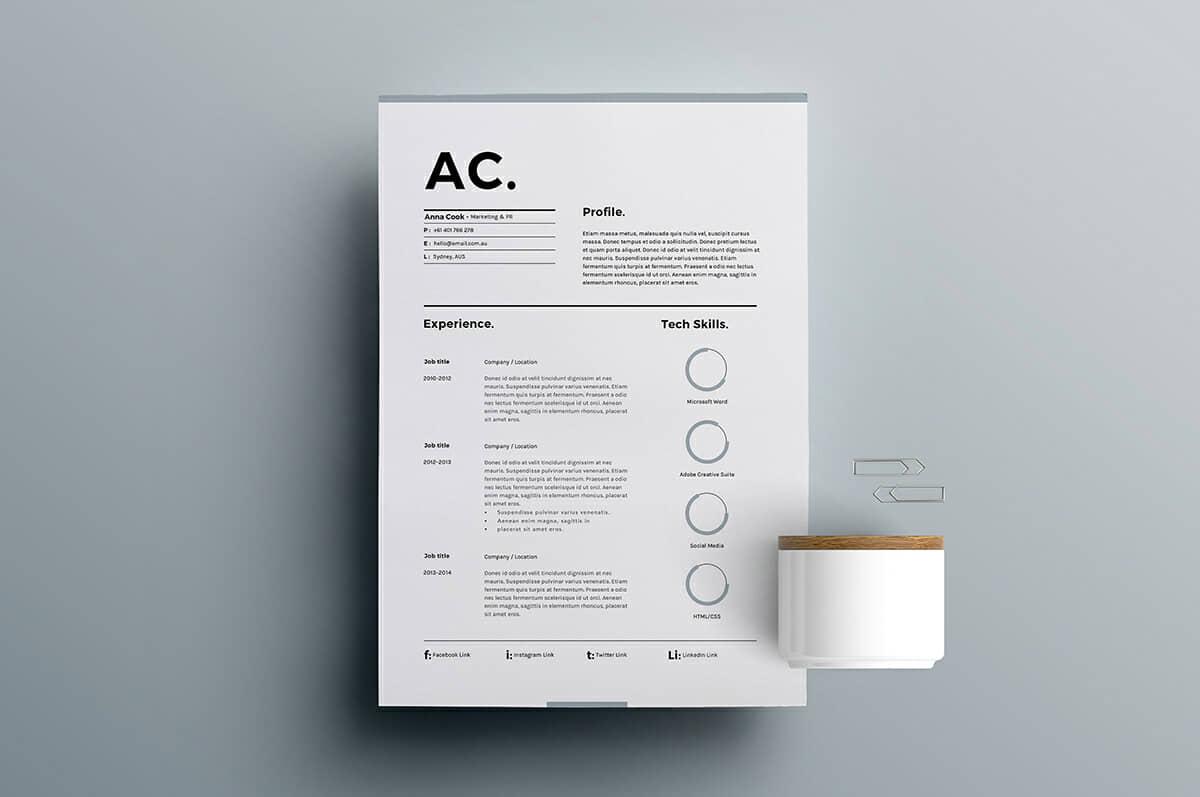 Another good resume template by the folks over at The Template Depot (though the shadowing on the cup and the resume go in different directions), the "Resume Template 3 Page | CV Template" accentuates your name, contact details, and resume summary or resume objective at the top, followed by your work experience and education below and your relevant skills in a separate column.
Here's the link to this template on Creative Market, available in .docx, IDML and INDD format (in A4 and US Letter).
16
Crisp by Zety
If you're looking for good resume layout examples, you can't go wrong with the clean Crisp design made using our resume builder. Like Cascade, it also has a left-hand sidebar, but a full-width header area up top for your name, title, and resume summary or objective.
The skills and language sections have creative colored circles which detail your level of each. Icons make it easy to focus on each individual resume section.
It incorporates a white background, black text, and a theme color of your choice for heading titles and icons, or reverse that, if you wish, with dozens of color combinations to choose from for this primo resume template.
Crisp is included along with many others in our resume builder. With our resume builder, you can create a resume simply and quickly.
Done with writing your stunning resume? Make sure you didn't miss anything that could cost you the job of your dreams! Get our handy free checklist: 46 Things You Need To Do Before You Send Your Resume
Key Takeaway
Keep these things in mind:
Good resume templates are not at all hard to find.
Modern elements can be paired with touches of color and design for an exceptional template.
The internet offers myriad good resume templates, and we hope that we've given you the very best of them.
Do you have any other good resume templates that deserve a mention? Let us know in the comments below and we'll be happy to consider adding your template or answer any question you might have. Thanks for reading!